Email – an intimate tool that integrates so well into our professional and personal lives that we almost forget to make the best use of it.
The internet has been going on about how email is not so efficient anymore and how it is going to fade away soon but well, soon isn't here yet and it may never be.
Also, consider this, email is the most professionally accepted communication tool – we send tasks on email, we make cold outreach on email, we coordinate with a team member in some remote location using email, we book meetings and appointments using email and the list can go on. In fact, did you know that 58% of adultscheck their email first thing in the morning?
With such a multitude of utilities, we can safely assume that email is going to be on the forefront of communication and coordination for the foreseeable future.
There are 900 millionGmail users. According to a 2012 study, employees waste a quarter of the day in reading and attending to emails. What's really going wrong here?
The truth of the matter is that we lose much time on emails mainly because of the inefficient use of this tool.
For example, you are a team lead and every day in the morning you assign tasks to all the team members. Without the right tools, the whole process can take upto 2 full hours, depending on the volume, which is nearly 25% of a normal work day.
Hence, efficiency is the real problem here.
So you think your email collaboration techniques are just fine? Think again!
More often than not, our emails contain so much more than information. They contain client requests and queries, tasks which need to be delegated to the employees, vital project updates and much more. So definitely effective collaboration is mandatory to achieve high productivity.
So what is the problem?
Well, unfortunately for us, email platforms like Gmail and Outlook don't come with the convenience of being able to create streamlined workflows and to intuitively manage tasks.
Without the such an intuitive feature on the email platforms, we end up collaborating on email using crude and time-consuming ways.
Let's see some ways in which you could be getting your collaboration wrong:
Forwarding emails to the employee to assign a task. That could work for one or two tasks, but beyond that, it would be terribly time-consuming to forward every single email.
Additionally, via mail forwarding it is nearly impossible to track and monitor all the tasks. You will have to check in with each employee individually to get the status. Like I said, crude!
Okay, so you decide to go a step ahead and use a task management tool. There are a gazillion task management tools out there, but they don't exactly work from your inbox. Hence, you have to keep going to and fro to transfer information from inbox to your tool.
Using the right tool is paramount in putting these troubles to bed.
One such tool, which addresses and solves many of the issues in email collaboration, is Hiver.
It helps the user build intuitive workflows with a shared mailbox approach and help smoothly manage tasks in various functionalities like customer support, project management and sales management, right out of the inbox.

Delegate tasks in a jiffy
Delegating task is undoubtedly one of the most important functions of Gmail. The problem though, is to effectively delegate tasks; like mentioned before, most of us use the mail forwarding technique which can be chaotic and time-consuming.
The shared labels feature in Hiver presents an alternate solution. Now, Gmail allows you to create labels to organise mails; the shared labels feature let's you share these labels with another employee/team.
For example, you have to assign a customer support query to your customer service head Linda. You can create a label named 'Task : Linda' for the email and share it with her. Linda receives a notification and she starts working on the task. After she is done, she will add a label 'Task : Done' and you will get a notification of the same.
This way you can assign tasks right out of your inbox plus you can track the status too. No fuss, no mess!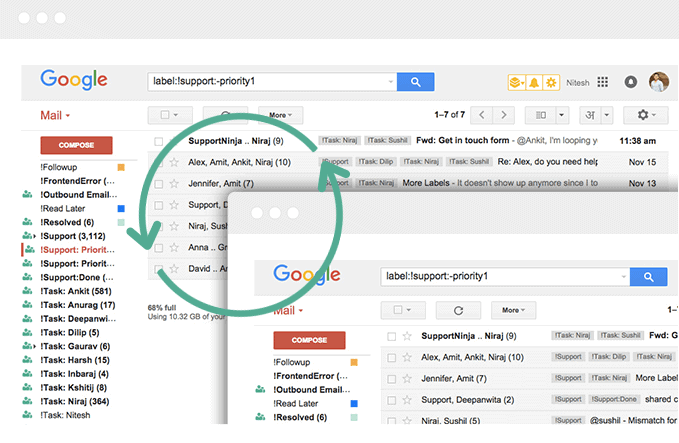 Get your email's very own sticky notes
Take project management for example – quite predictably, throughout the entire workflow there will be many updates, changes, and revisions and you need to pass on this information to your team.
Sending mail to the respective employee every time you get an update from the client isn't practical, as it results in long chains of emails.
And if you have to look for the update later in future, you will have to comb through every single email. Not good!
Also Try: How to Create Professional Signature for your Emails (FREE)
Now, shared notes let you attach notes to the email itself and you can fill these notes with relevant information/updates; the notes are accessible for others to read. In short, it works like a sticky note to the email.
Manage leads/prospects effectively
The contact list of leads, prospects, or clientele is an important asset to the company. How do you ensure that every time a new contact comes in or an old contact gets updated, all your employees have access to those updates?
Hiver's shared contacts allows you to maintain a centralized contact list. It helps you avoid the chaotic to and fro of sharing contact information amongst your team.
Okay, here's an example, one of your sales person finds a new lead and gets their contact information: They can update this new lead's details on the shared contact list and everyone else with whom the contacts have been shared will have access to the updates made by that salesperson.
Simple and effective, isn't it?
Here are few more features that are a demonstration of Hiver's intuitiveness:
You can add reminders to your emails, so that you don't miss out on replying to important emails.

Track email opens and clicks. Much needed information to track your progress.
Shared email templates allow you to share a standardized email template with  your team, saving time in drafting emails.
Scheduled emails is a feature that lets you schedule when to send the email, so that it can reach the intended person at the right time.
May be Helpful: Learn How to Send Encrypted Emails from Gmail
Again, all this can be done right out of your inbox, i.e when you open your inbox you have access to all the information you need for the day.
From personal experience, I have learnt that ignoring email collaboration adds more hours to your work, stealing that time away from your family, or yourself. Plus, unnecessarily spending a huge part of the day squinting at emails and bent over the inbox is bad for both your work efficiency and your well-being.