Want to streamline copy-paste functionality on your Mac? Do you feel that the universal clipboard manager that comes with Mac is too basic? Do not worry, this article will have the most useful and powerful Mac clipboard manager apps for you to download. Keep scrolling!
Does your work involve a lot of copy and pasting? Do you use Mac for your work? In that case, the limited features of the built-in clipboard are not going to satisfy you. Here, the only function is you can copy and paste something.
Now, Mac users who don't think about clipboard history will not care about its functionality. But, if copying and pasting is a major part of your work, then the standard clipboard feature on your Mac is not going to benefit you.
It might even cause some hindrance. In that case, taking the assistance of third-party clipboard managers for Mac is an excellent idea. Choosing the right one will offer a wide range of functionalities such as copying numerous text snippers, supporting several buffers, and much more.
Why Do you Need Another Clipboard Manager for macOS?
Apple has improved its operating system significantly over the last few years. The recent versions have been an absolute delight for Mac lovers. However, unfortunately, the clipboard has remained the same. The extremely limited function of the official Mac clipboard leads to frustration among users.
For instance, on Mac, the clipboard only lets you copy and paste one item at a time. It means that when you copy a picture, text, or even a URL, it will override the last one. Have to restart Mac? Get ready to find the clipboard empty!
Now, people might argue that Mac offers a secondary clipboard. Sure, it does, but what if you want something more? For instance, you want to have the history of what you are copying so that you can look at it anytime you need.
To help you deal with the limitations of the in-built Mac clipboard app, you can use another clipboard manager for Mac. The various functionalities of third-party clipboard manager apps make them even more popular.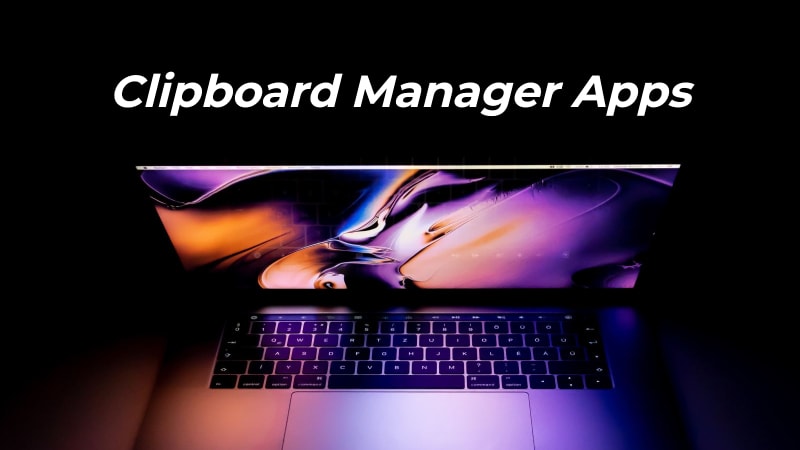 8 Best Clipboard Managers for Mac
There are numerous useful clipboard managers apps available for macOS. You just need to pick the one that suits your requirements the most. Here is a list of the top 8 clipboard managers. Have a look and find the best clipboard manager for macOS.
1. Maccy
One of the best clipboard manager apps on the list is Maccy. It is a reliable, open-source clipboard management app. Here, you will get keyboard shortcuts to handle the operations. Moreover, the app also keeps a track of the copy history that you can access whenever you want.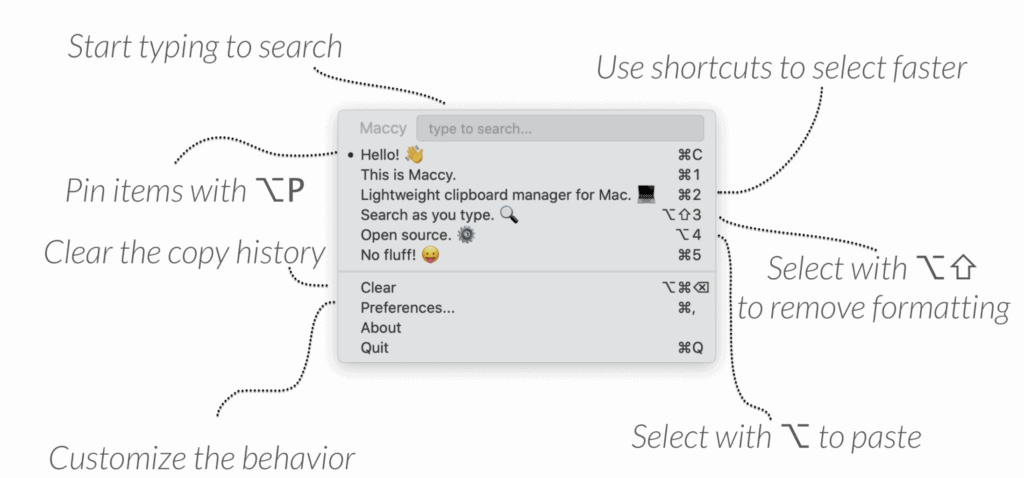 Pasting the content you want from the clipboard is relatively easy. With the aid of keyboard shortcuts, you can pin items and paste clippings without much hassle. You can clear the clipboard history too!
The app is extremely fast and lets you work within a fraction of a second. With Maccy, you can exclude apps that you don't want to record. It assists in ensuring that any personal or sensitive information is not recorded or stored. The app is easy to download and is available for a one-time fee of $9.99.
2. Paste
Do you want to opt for the best interface-based clipboard manager? In that case, selecting Paste is an excellent idea. Here, you can choose how many snippets you want to store. The number is unlimited. When you have made the choice, you can access and organize everything that you have copied on the clipboard.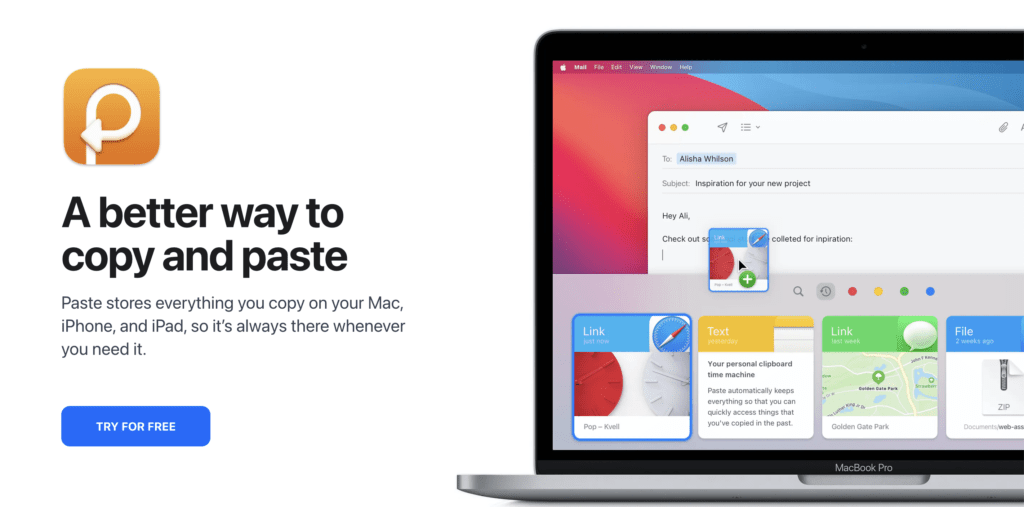 Moreover, copying anything to Paste is extremely easy. All you have to do is press Shift + Cmd + V, and you can copy text, tables, and images with ease. With Paste comes Pinboards, where you can organize the snippets into folders.
You can also opt for the search feature to locate the particular snippet you are looking out for. After that, you can double-click on it and paste it wherever you want. You can use Paste on iPhones and iPads too. That way, you can purchase the app once and use it on Mac, iPhone, and iPad.
This best Mac clipboard manager is free to download, but you will have to pay the subscription fee of $0.99 each month to use it. Take advantage of the 14-day free trial right away!
3. Copy 'Em
One of the most reliable clipboard manager apps for Mac is Copy 'Em. Here, you will get a wide range of features that will instantly make you like this clipboard manager for Mac.
After the installation of this best Mac clipboard manager, you can access the clipboard library of Copy 'Em in the menu bar. You can check out the library to assess the things you copy, such as images, text, URLs, files, code snippets, and many more.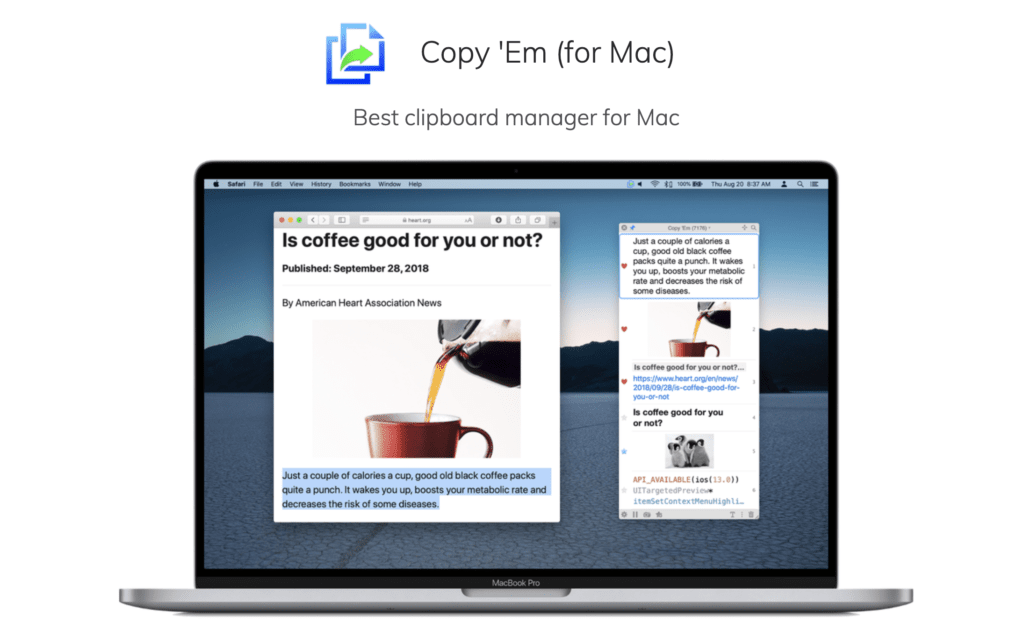 Moreover, it is extremely easy to sort all that you copy on the clipboard. For that, you can click on the item to copy them. Another alternative way is to opt for the drag-and-drop approach where you can place the items wherever you want. Even if you are copying several items, you don't have to worry. You can sort them into lists with ease for easy access.
One of the most exciting features of Copy 'Em is that you can obtain screenshots and save them into the clipboard manager directly. You can even get Paste Queue along with Copy 'Em. Copy 'Em charges $14.99 and Paste Queue $6.99. If you get it together, it will cost $17.99.
4. Pastebot
Another excellent clipboard manager app for Mac is Pastebot. This app is specifically for those who want something more than the basic features. You will need to pay a one-time fee of $12.99 for the app. You can try out the free trial on the website.
Pastebot is a menu bar clipboard management app. The interface is easy to use and makes the app more appealing. Do you want to search for something you copied a long time back? With Pastebot, it is easy to search as you can open the window that shows a sorted list.

When you click on the entries, you can copy the file or text into the clipboard. The presence of different filters, such as the HTML is impressive. Other exciting features include iCloud sync, custom pasteboards, keyboard shortcuts, blacklisting, and many more.
If you can handle the advanced features of this app, you will fall in love with it instantly. The wide array of features makes Pastebot a highly popular and best clipboard manager for Mac.
5. CopyClip – Clipboard History
If you are not too tech-savvy yet still want to take advantage of the functionalities of a clipboard manager app, you can choose CopyClip. This best Mac clipboard manager app has an extremely user-friendly interface that lets you use the app without much hassle. After the installation of the app, you will see it on the macOS menu bar.
Are you satisfied with the basic features of a clipboard management app? In that case, opting for CopyClip won't cause any regrets. The app is available for free, making it even more appealing.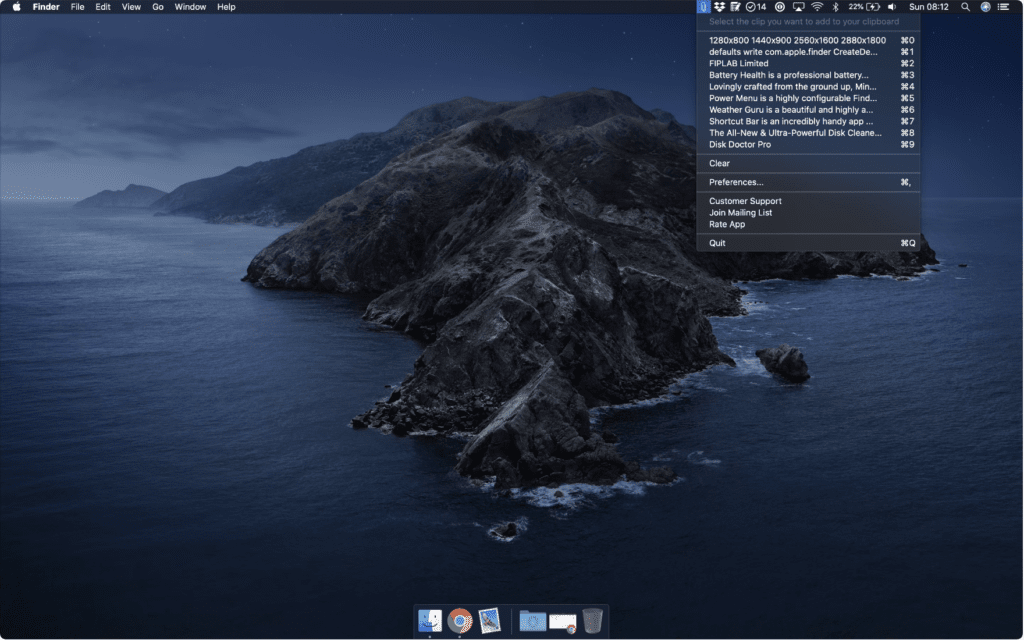 With CopyClip, you can now access the copy or cut snippet anywhere on the system. It is because the app is installed in the menu bar. Apart from that, here, you can also take advantage of the number of clippings you want.
You can exclude apps that you don't need for content recording. That way, you can avoid the storage of personal and sensitive information. Choose CopyClip and start working right away!
Download CopyClip – Clipboard History
6. Alfred 5
A widely popular and award-winning clipboard manager for Mac is Alfred. It offers tons of features that explain why it is preferred by millions of people across the globe. You can use this app to search and browse apps and files on your system. You can save a significant amount of time with the assistance of keyboard shortcuts and hotkeys.
Did you know that the clipboard history feature of Alfred doesn't let you type the same thing again and again? Now, you can use a short abbreviation to search for the snippet you are looking for. It is extremely easy to find text, image, or URL and paste it.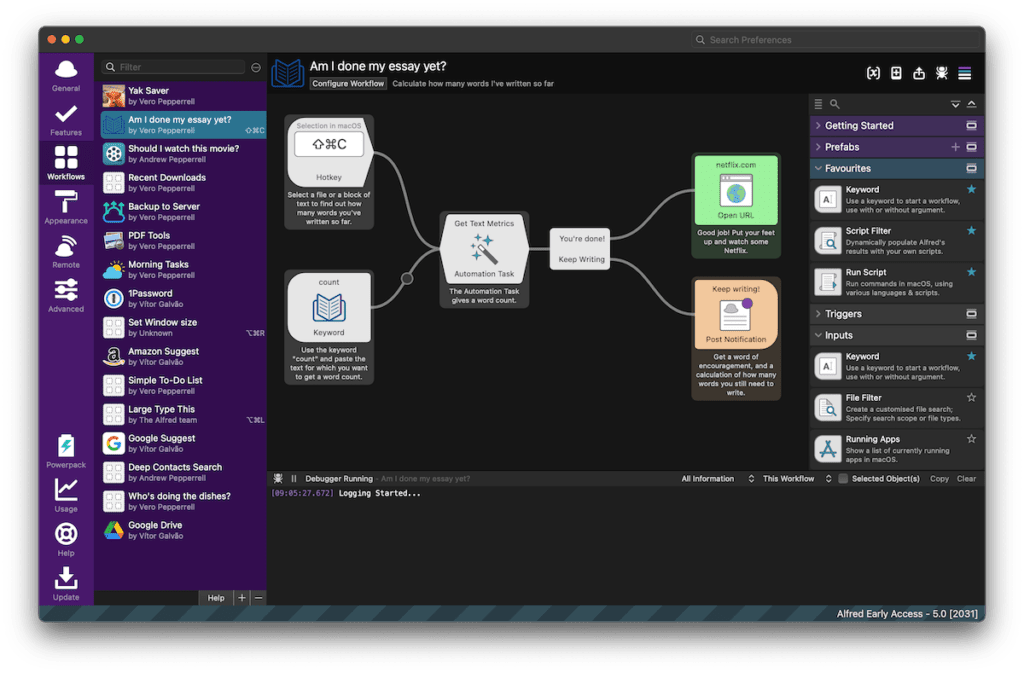 Apart from texts and images, you can also copy the result of maths calculations on your clipboard. The app, without a doubt, boosts work productivity. Other exciting features include searching the web within the app, spell correction or definition, system commands with keywords, clipboard history, snippet expansion, etc.
You can get Alfred core for free. But you will need to pay £29 for the single license and £49 for the Mega Supporter in the Alfred Powerpack. In the case of Alfred Remote, you will need to pay $4.99.
7. Flycut (Clipboard Manager) for Developers
Created for developers, Flycut is an excellent, open-source clipboard manager for Mac. That doesn't mean that non-developers can't use it. This app is based on Jumpcut, another highly popular clipboard manager. Here, you will not be able to cut or copy tables or images.
Non-developers might find this app a little bit lacking, but for developers, it is an excellent way to manage the workflow. Moreover, downloading this app is easy, and it is available for free. Once you install the app, you will notice the icon in the menu bar.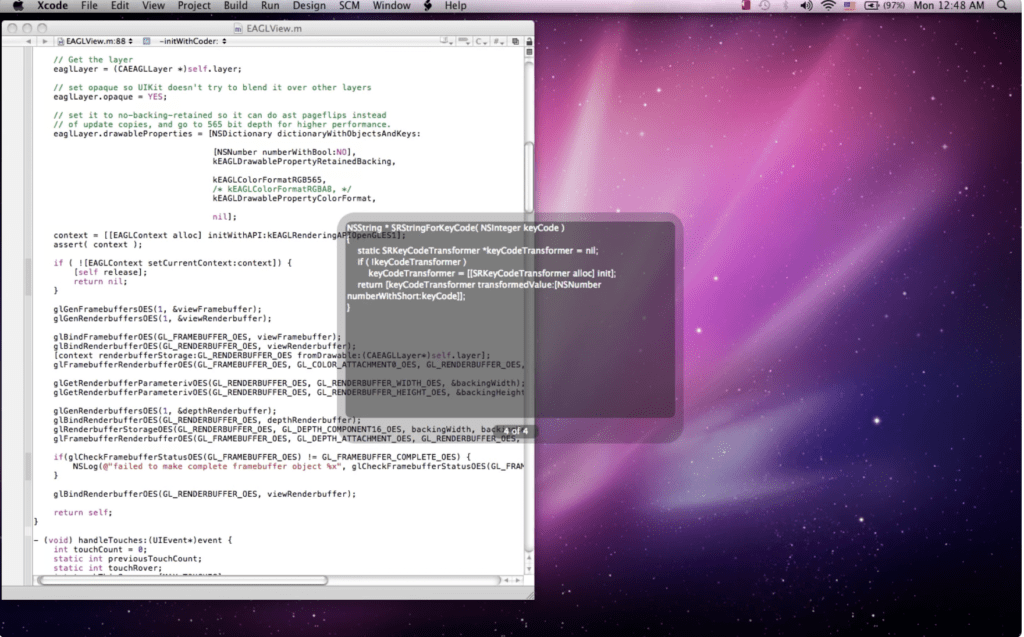 Start copying and pasting snippets on the clipboard. After that, you can access these snippets by pressing on the Flycut app icon. You can control-click the snippet that you want with relative ease.
The easy-to-use aspect of Flycut makes it even more appealing. You can simply use Shift + cmd + V and opt for the usage of right or left arrows to view the clipboard library.
Moreover, the app allows you to customize the keyboard shortcuts to your preferences. The app also syncs with Dropbox and makes sure that you have a backup of the clipboard library.
Download Flycut (Clipboard Manager)
8. Copy 'Em + Paste Queue: Powerful Clipboard Manager Combination
One of the most amazing combinations that lead to an excellent clipboard management app is Copy 'Em and Paste Queue. Copy 'Em offers a wide array of features such as taking screenshots, pasting snippets with keyboard shortcuts, copying and pasting in batches, and much more. Paste Queue is an excellent partner for Copy 'Em.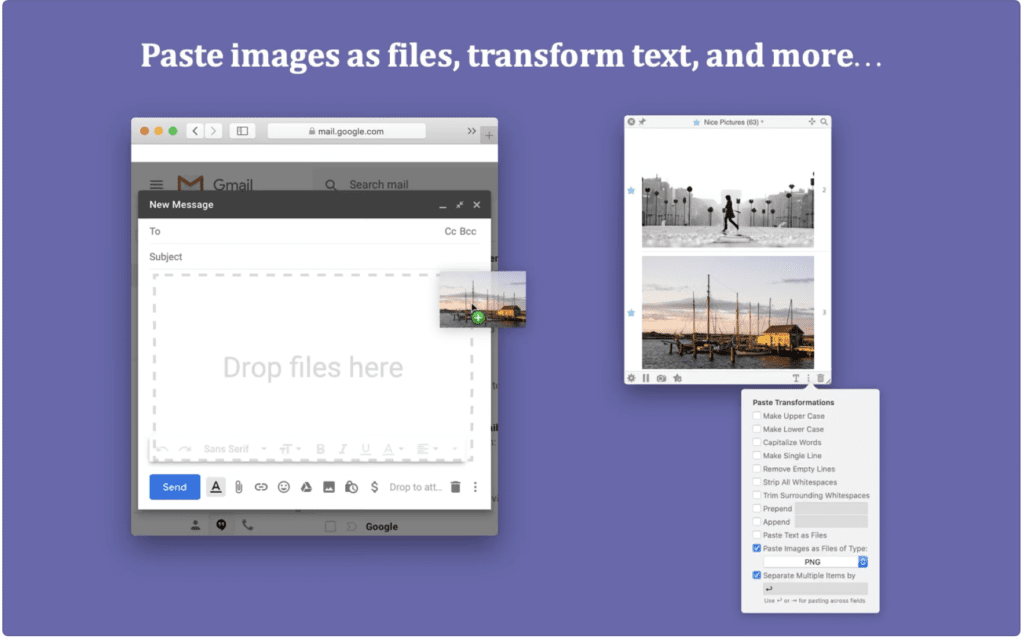 The combination of both these apps enables users to copy and paste different items in the same order between locations. You can simply copy all the items and paste them at once.
You can also paste one by one, but you don't have to undergo the hassle of copying and switching back to pasting. This saves a great deal of time. These apps are compatible with one another and run efficiently. This app bundle is only available on the Mac App Store and is one of the best Mac clipboard manager apps on our list.
You can get Copy 'Em + Paste Queue at $17.99.
Download Copy 'Em + Paste Queue
What's your Favorite Clipboard Manager for Mac?
So, these are some of the best Mac clipboard manager apps that would surely make your copy-paste job on your system easy.
The limitations of the Mac clipboard indeed make users frustrated and annoyed. It is time Apple oversees the issue and takes active steps to offer a high-quality solution. For now, you can download any of these best clipboard manager apps for Mac. These can aid in increasing work productivity without causing any interference with the workflow.
The only thing that you have to do is take a look at the features and choose the best clipboard manager for Mac that fits your needs the best!