Downloading videos from different websites and platforms is nearly impossible with the number of restrictions imposed by the developers. CleverGet Video Downloader is a perfect option for users looking to download videos from various social media and streaming platforms.
Many users might have depended on free websites found on the web for downloading. However, these websites may contain trackers and harmful virus attacks while downloading your desired videos.
The wide range of support on the OTT streaming platforms and social media websites makes the CleverGet downloader an easy pick among many downloading tools. Furthermore, the video downloader tool features a wide variety of format support and up to high-resolution downloading.
Besides, this video downloader has a few other perks, which we will discuss later in the review. Let's dive into the complete feature list and check the in-depth evaluation of CleverGet Video Downloader without any further ado.
CleverGet Video Downloader Key Features and Supported Platforms
The CleverGet Video Downloader stands out in the crowd, where there are possibly hundreds and thousands of downloading tools on the web. The software interface has an easily approachable options menu that even features an in-built browser.
However, the broader support of streaming services and social media platforms on the tool plays a significant role. Including more than 1000+ websites related to media, streaming is an added advantage for users. This helps in download their favorite shows, movies, and videos all in one place.
The tool can download videos in a more expansive range of resolutions. The downloader even contains the lossless 8K format for ultra-high-definition viewing. Not only regular movies and TV shows, but CleverGet's video downloader can bring your favorite live streaming into an offline form of your desired kind.
Moreover, the downloader tool even features an in-built converter for your downloaded videos. This makes converting videos easier than looking for different software for the same purpose. You can directly download the video and convert it to MP4, MKV, WEBM, or other popular formats for more diverse usage across the web or anywhere else.
Key Features of the CleverGet Video Downloader
Batch Processing: Multiple downloading tasks are processed in batches simultaneously
Playlist and Channel Downloading: Support downloading all videos on YouTube playlists or channels
Remove Ads from Video: Ads from source videos are removed automatically for undisturbed viewing.
Save Metadata Info:  Well-preserved metadata information for future management.
Supported Video Resolutions and Formats for Downloading
Video and Audio Resolutions: Upto Lossless 8K VIDEO AND 320 KBPS Audio Downloading
Output Video formats: MP4, MKV, WEBM, 3GP
Output Audio formats: WEBM, M4A, MP4, MKV
Output Subtitle formats: SRT, SUP
CleverGet Video Downloader Review and Tutorial
The CleverGet Video Downloader's official website features a software installation package for Windows and macOS machines. The tool, with its built-in browser, can help you not only download the videos but even let you watch them simultaneously. The support for different video formats such as MP4, MKV, WEBM, 3GP, and audio formats like WEBM, M4A, MP4, and MKV is a perfect offering for the users.
The list of websites provided with the CleverGet Video Downloader includes Twitch.tv, Netflix, Amazon, Disney+, HBO Max, U-NEXT, YouTube, Instagram, Facebook, Twitter, Tiktok, Vimeo, Dailymotion, Metacafe, MySpace, MSN, Veoh, VideoBash, LiveLeak, MyVideo, FunnyOrDie, Nico Video, and 1000+ other video sharing sites. You can directly check out the videos from the browser and download them right away without any delay.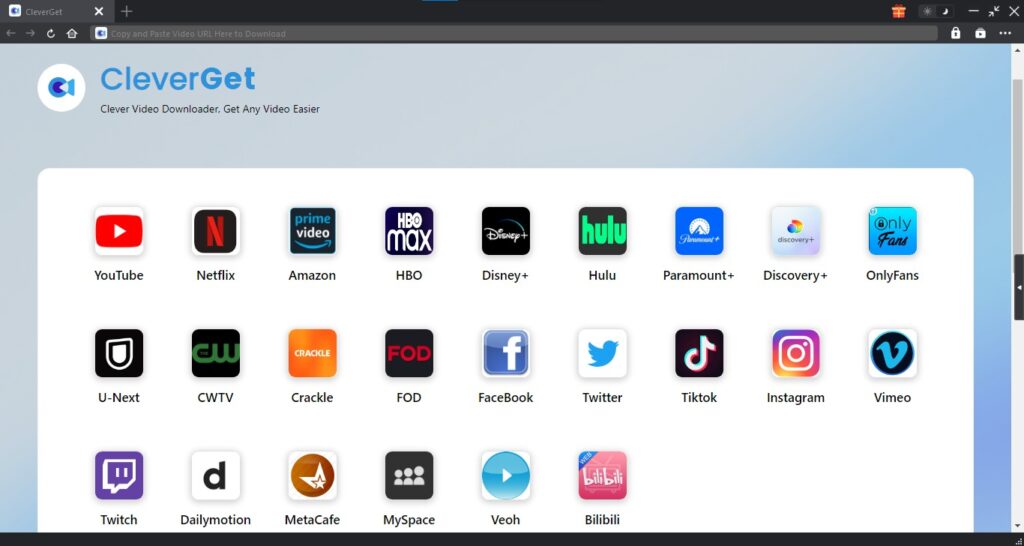 The fair use policy of the CleverGet downloading tool allows video downloading only for personal needs. Besides, the policy even states that downloaded videos are strictly prohibited for any third party or business purpose. The User Interface, with its long list of websites and an easy pop of downloading video window, works flawlessly.
You can directly open the website or platform you watch often and easily download them quickly in your desired resolution and format. Let's check out the process of downloading videos on the CleverGet Video downloader with your preferred resolution and format.
Downloading Videos using the CleverGet Video Downloader
This tutorial will show you how to download videos using the CleverGet Video Downloader, which requires a computer with a browser and an active internet connection. You have total control over downloading your desired resolution, and each video choice has different storage sizes and distinctive formats. Here's the step-by-step guide on downloading a video using the tool.
Download CleverGet Video Downloader software package and install it on your machine.
Now, open the downloader tool after successful completion of the installation.

Here, you can choose YouTube or directly paste the link of the video into the address bar.

Let the page load, and a window pops up with multiple resolutions and format options.

Select your desired resolution and format of the video and click on the download option.

You can find the downloaded video on the right sidebar, where you can open it and watch it.
Final Verdict
The CleverGet Video Downloader works effortlessly in downloading videos of different resolution sizes and formats in a jiff. The wide range of websites, social media platforms, and OTT streaming sites present on the video downloader gives an optimal way to watch videos offline.
Moreover, the downloader at the bottom of the menu has a "SUPPORTED BUT NOT LIMITED TO." This menu on the CleverGet downloader has alphabetically ordered all the websites where you can find thousands of platforms in one place.
Overall, the video downloader tool, with its friendly navigation space and a large variety of streaming and video websites, helps you download any video instantly. Albeit this was our take on the CleverGet Video downloader with its trusted downloading preferences comes as the ultimate option for downloading and converting videos in offline mode.