What we think about
CleanMyMac X
If you are looking to save your MacBook from potential harm, inefficiency, clogged storage, and poor management, there are not so many software applications that can provide such luxury. There are indeed software applications that vary in their numbers aiming to help you maintain your MacBook better, but it is the case that most of these software applications provide for some of the features the CleanMyMac X offers, and usually not all.
TLDR; Yes, it works! I have tried CleanMyMac X on my MacBook Pro 2018 and managed to delete over 10 GB of unwanted files and it helped me in uninstalling a lot of unused applications.
CleanMyMac X is a macOS exclusive application that is primarily operational for your MacBook Pro and MacBook Air. The utility of the app does cuts through plenty of necessary things that are needed to help you enjoy your MacBook better. This major software program with the crud function; helping me remove junks from my laptop as well as properly analyzing the storage. The climax of the software application's utility lies in the fact that it even helps to organize my MacBook.
Following the basics, CleanMyMac X does have an interesting User Interface (UI) and User Experience (UX) design which helps users properly navigate the utility of the app. In terms of navigating the app properly, outside the rather simple UI design the UI design that is rather simple – yet of an interesting attraction, the application has itself divided into major categories.
Each category has a section that entails different actions and features that result in different objectives, based on the one you want. Essentially, the objectives are tailored towards organizing your MacBook, cleaning it, and freeing it of storage space where clogged by unnecessary items.
Getting Started With CleanMyMac X: Categories
The categories provided for by the CleanMyMac X application are seen at the extreme left side of the application. It comes in the form of each category having a collapsed tab. The tab is the primary indicator of what the features under it aims to achieve summarily, from a general point of view.
The first tab provided for by the CleanMyMac X application is a standalone Smart Scan tab, without any options under it. In essence, the tab need not be collapsed because it is both a tab and a feature. Perhaps, the reason for this has to do with the importance of the tab, as will be further seen.
The mentioned tab is titled "Smart Scan". Based on the objective of the app generally, it goes without saying that to properly enjoy the use of the app and utilize its utilities, you must go through the phase of this option – a scan. To be aware of the junks needed to be deleted, the storage space needed to be freed, and the organization your MacBook needs, it is of importance to run a scan.
Just like an illness, to properly deal with it and get a diagnosis, you would need a scan. Without a scan – which the "Smart Scan" tab aims to aid, there would not be a point using the CleanMyMac X software application in the first place.
If you are someone who doesn't like checking all the features of software but wanted to get the work done in a single click, then Smart Scan is designed especially for you. This feature will scan your entire MacBook Pro/Air to find all possible optimizations and security improvements.
However, if you are like me who wants to try each feature in deep, there are other separate tabs of equal importance incidental to the "Smart Scan" tab. They include;
1. Cleanup
The Cleanup Tab deals with how you can both free your storage and aid your MacBook's efficiency. I have a habit of installing every new software I found on the internet, try it for a few days and uninstall them later when I found them not useful anymore. But I know even after uninstalling software, they will leave a lot of redundant application files in the computer and technically they are not completely deleted. I always wanted to delete those redundant files of uninstalled applications and luckily CleanMyMax X's Cleanup feature is the one I'm looking for which can delete a lot of Junk from your machine. It includes System Junk cleanup, Photo Junk cleanup, Mail cleanup and much more.
A. System Junk
Under the Cleanup Tab occupies the "System Junk". The primary aim of the "System Junk" feature is to ensure that your MacBook is optimized for max efficiency. This is done by first removing temporary files from your system to free up space and smoothen performance, files like; system cache files, broken login items, user cache files, etc. It also resolves all kinds of errors by getting rid of various broken items which may result in wrong application behavior, based on sub-options chosen. It would also be required that you grant the software application access to your Disk Storage.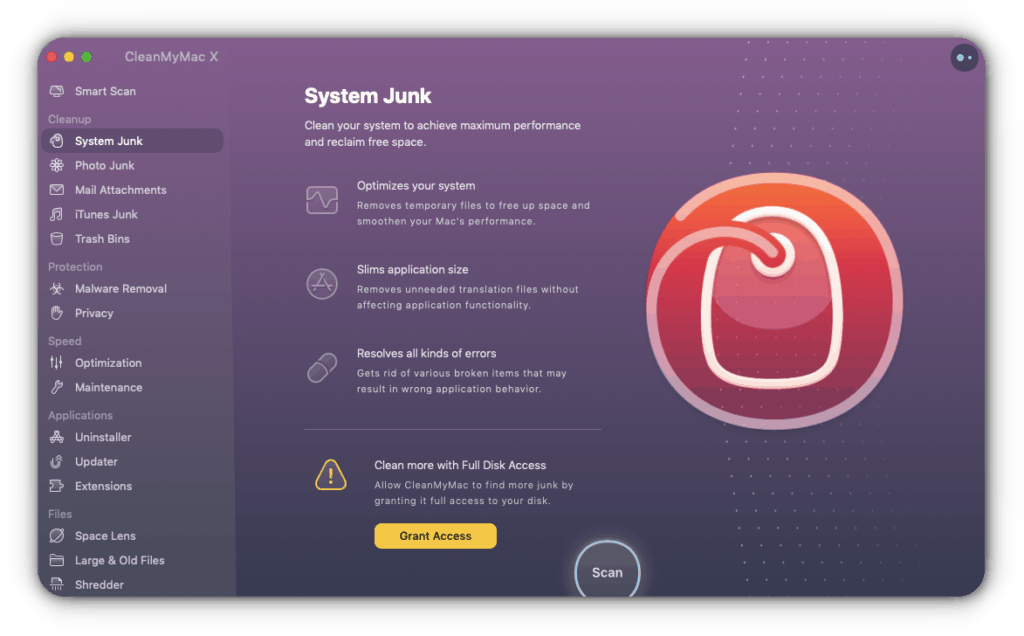 B. Photo Junk
Next on the list of features under the Cleanup Tab is the "Photo Junk". As the title implies, it aims at dealing with junkies as related to photos on your MacBook. When you capture a photo, it saves a lot of invisible information like location, date, title, etc which will slightly increase the image file size. CleanMyMac X will help you remove that information from your photos. Also if you have a lot of duplicate images, you can easily get rid of them using Photo Junk option. Since I'm using a 512 GB SSD, my MacBook keeps running out of space but with this option, I can delete local iCloud caches to free more space.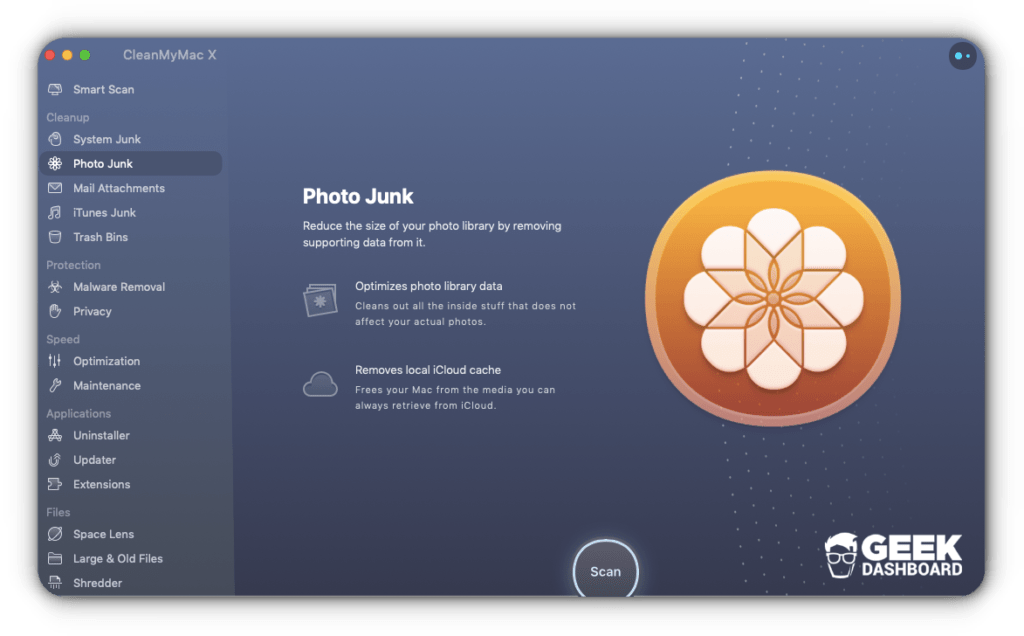 C. Mail Attachments
Following the thread is the "Mail Attachments" feature. Here, this option aims at ensuring your MacBook's storage capacity is extended, while also retaining its efficiency. The difference between this and other options is that this works with your mails.
As a general overview, the "Mail Attachments" feature primarily removes local copies of email downloads and attachments, since they can be accessed, when needed, online. Depending on how large the email attachments are, this can be a wonderful way of you freeing space, if you are on the large side. This feature helped me a lot to delete very old email attachments that saved on my MacBook for offline access.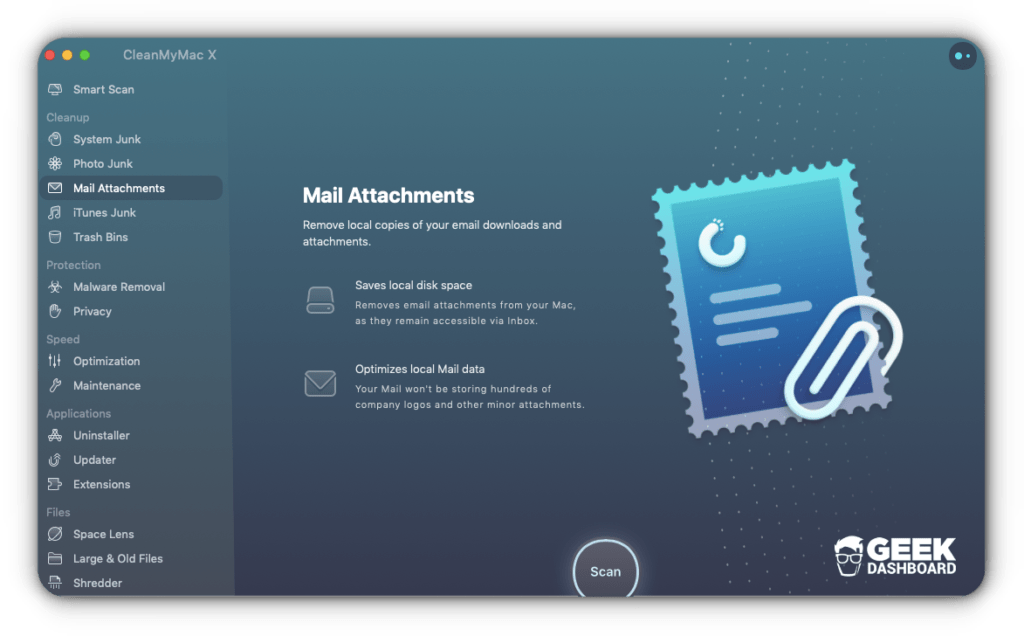 D. Trash Bins
Finally, while there are other options, another important one is the Trash Bin. Works like cleaning the Recycle Bin in Windows OS. However, you can do the same action just by right click on the Trash icon from your Dock and selecting the Empty Trash option.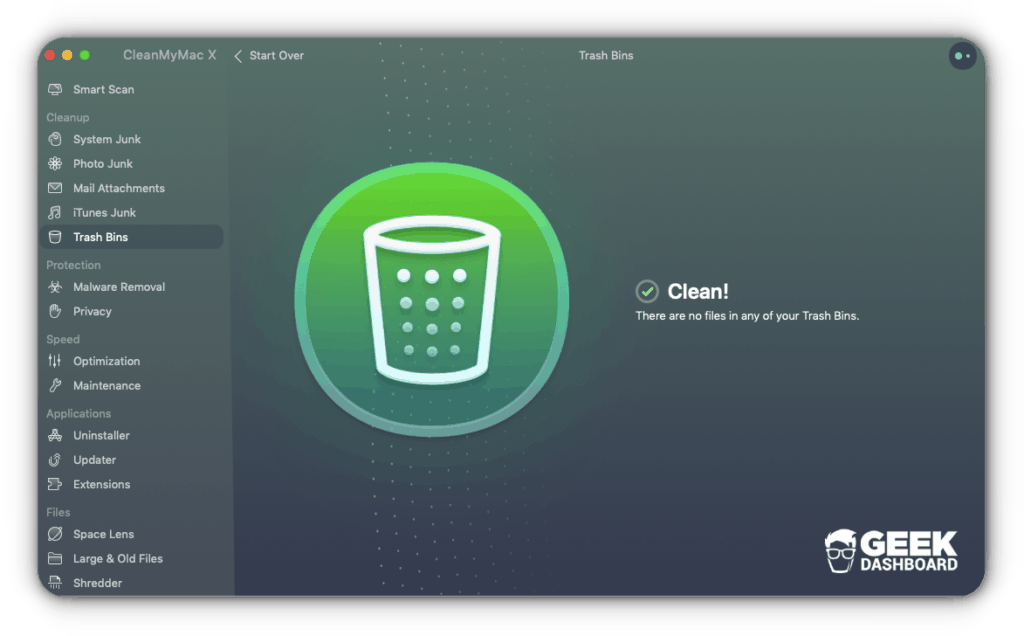 2. Protection
The Protection Tab aims at making sure your MacBook does not get infiltrated by things that may be harmful. The said things can come through exposure to a website, and, even particularly, through files and extensions.
The objective of the tab is pretty simple and straightforward, and so are the features under it. The Protection Tab boosts enough confidence in me while downloading the files from external websites. If I accidentally download any malware or if my MacBook has any vulnerabilities, CleanMyMac X is always there for me to notify immediately.
A. Malware Removal
First, there is the "Malware Removal" which performs an in-depth checkup of your MacBook to identify all kinds of vulnerabilities and expunge the potentially harmful bits that might have taken advantage. This is done through the removal of malicious files, which refers to threats, as well as proactive measures to ensure the system is free of vulnerabilities, through the use of sub-options.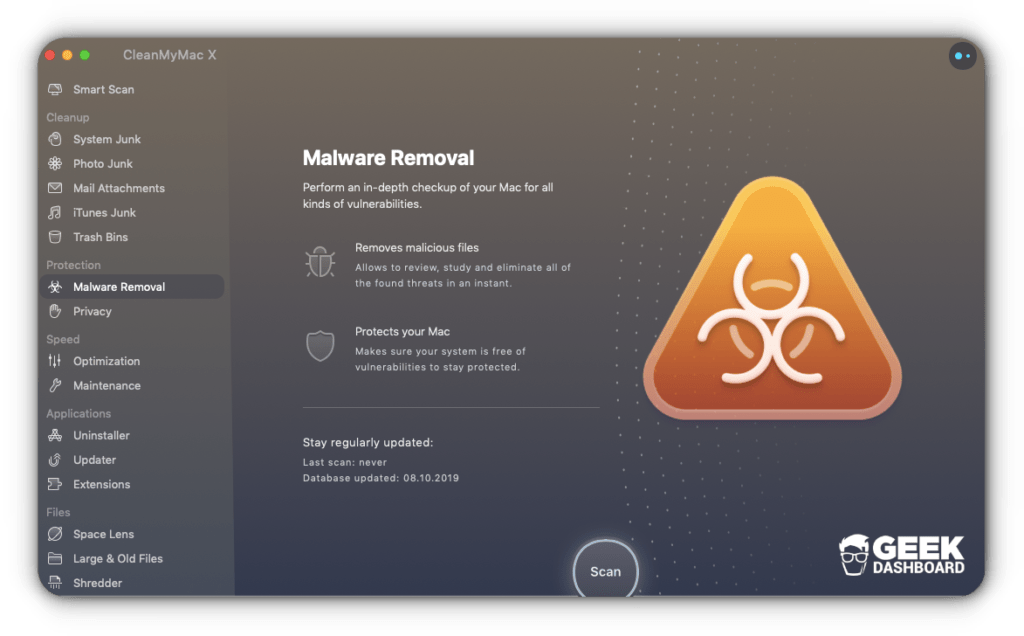 B. Privacy
Next on the list is the "Privacy" which is pretty much straightforward. This feature helps me to keep track of the traces I leave on the internet, as well as clearing them if I would want.
A list of the Wi-Fi networks you visit is also kept, in the event you would like to end an automatic connection with evidently insecure ones. More utilities are still contained in the "Privacy" option waiting to be tried.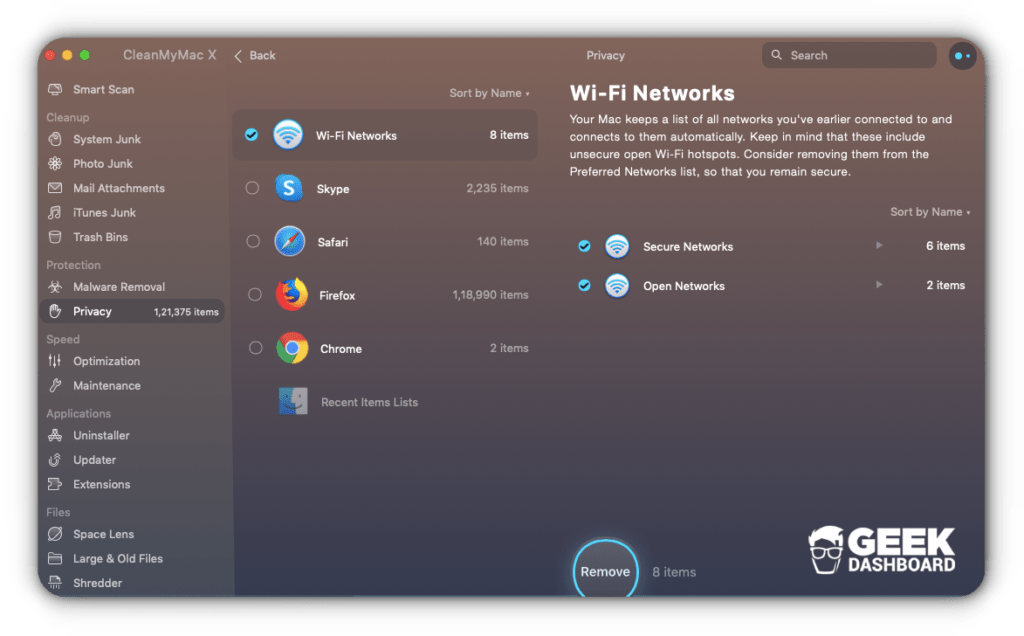 3. Speed
Under the Speed Tab are also two straightforward features, namely; the "Optimization" and "Maintenance". These two ensure that the efficiency of your MacBook is not threatened, or clogged, as efficiency majorly depends on speed.
A. Optimization
With the Optimization feature, I discovered a couple of rarely used softwares on my Mac which are auto-logging after system boot. After disabling them, I noticed a reasonable performance improvement while rebooting the MacBook. So this helps you in finding the softwares that auto-start and minor helper (invisible) applications of already installed softwares. You can delete or disable them to optimize the MacBook to a great extent.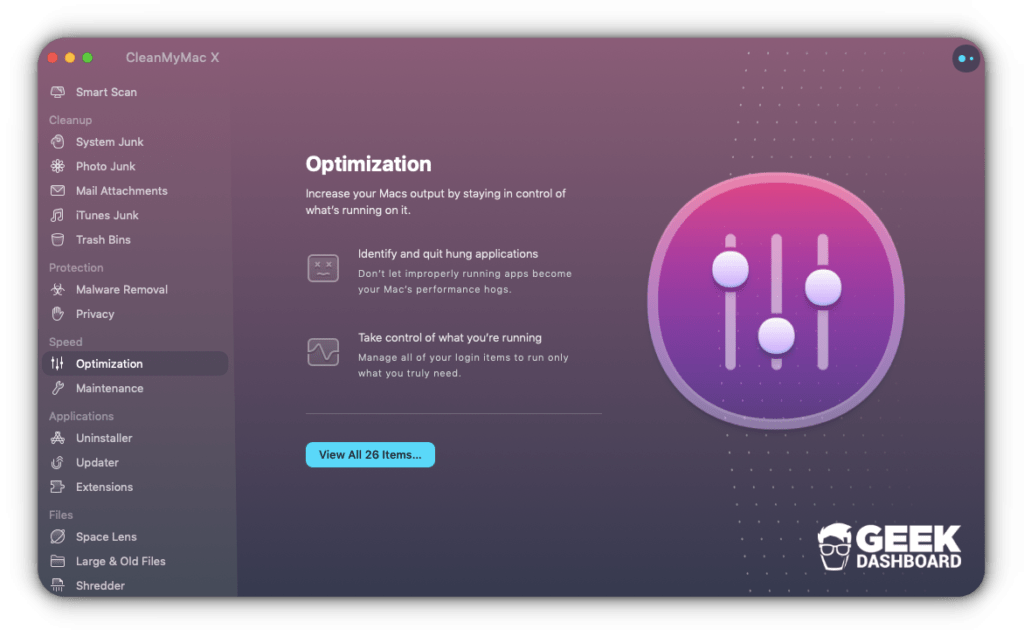 B. Maintenance
The maintenance option is my all-time favorite in CleanMyMac X. Whenever I feel my MacBook is running slow or taking more time than normal while opening applications, I immediately hit the Run button in the Maintenance window and it will automatically free up RAM, purgeable space, flush DNS cache, reindex Spotlight for quicker search results and more. I bet you will use this option every often.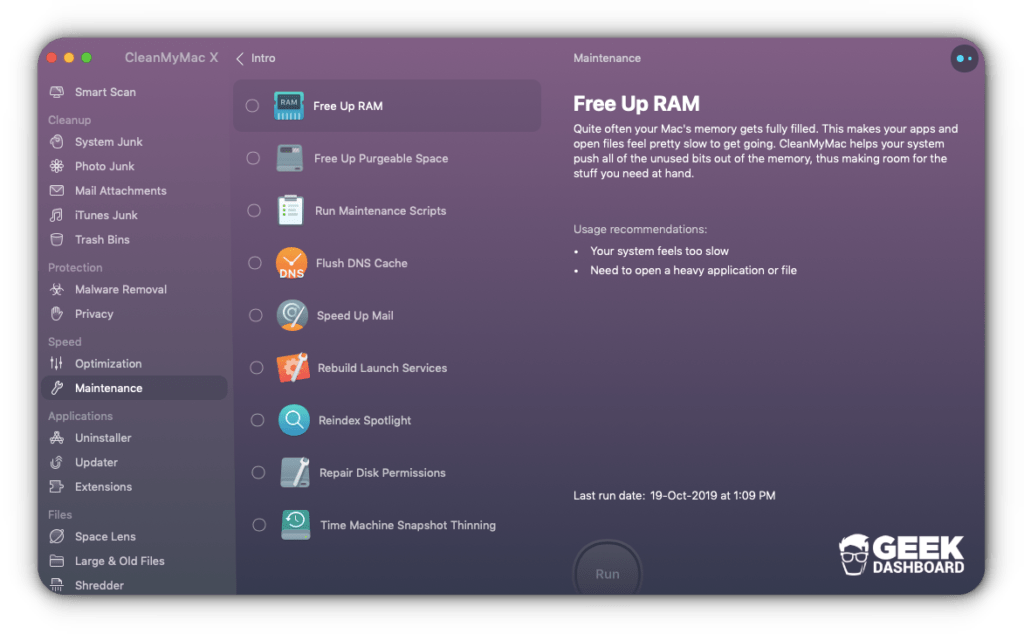 4. Applications
This tab contains applications and nothing more. It is the part of the CleanMyMac X that particularly helps you organize your system, from the applications point of view. The Tab has under it three features, namely the "Uninstaller", "Updater", and "Extensions". While they may perform different operations, they are intertwined.
A. Uninstaller
With respect to the "Uninstaller", this deals with applications that are safe and secure. Hence, it is the case that these applications are still on your system because they have not been popped up for possible or actual obliteration by the "Malware Removal" or the "System Junk" features under the Protection and Cleanup Tabs respectively.
Generally, these are safe software applications, but most probably ones no longer – or less – in use. In essence, the "Uninstaller" brings up all your software applications, allowing you to choose which ought to go, and then choosing the particular software application.
When you delete an application by long clicking on the icon, it leaves a lot of traces unremoved. So, I always recommend uninstalling an application using CleanMyMac X to get rid of all related files permanently.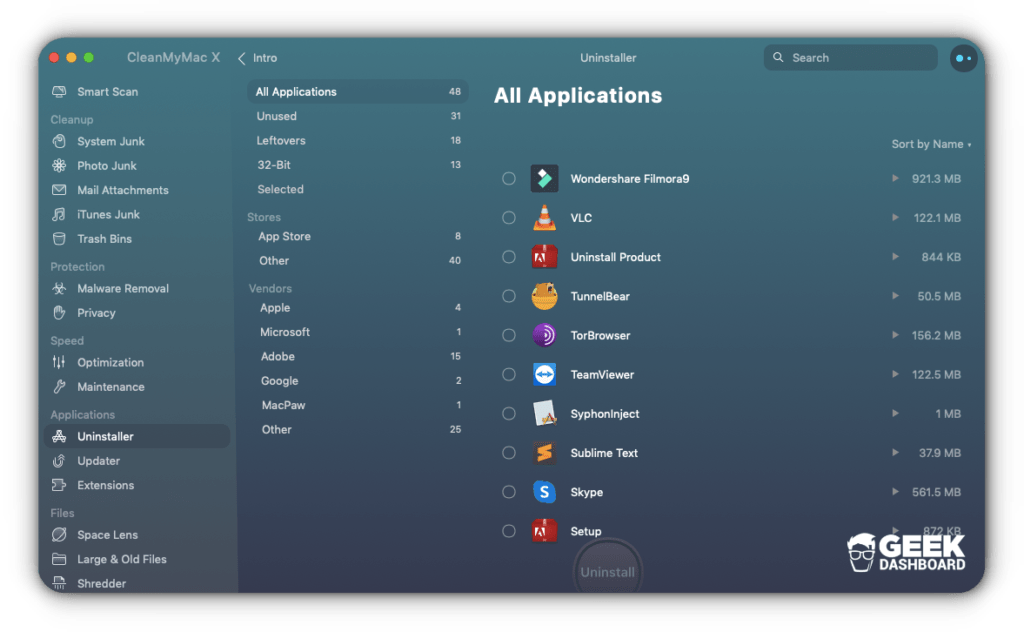 B. Updater
The "Updater" feature,  on the other hand, does pretty much the opposite of the "Uninstaller". Here, you might be enjoying a particular application and be unaware that a better version is out there. The "Updater" helps you in this regard. It pops up your applications and notifies you which one is due for an update, allowing you to pick and choose the one of importance. Even more, you can tick all of your apps having an available update and update them all, depending on data charges. This comes very handily for me to know all available updates, so I can update them all at once overnight.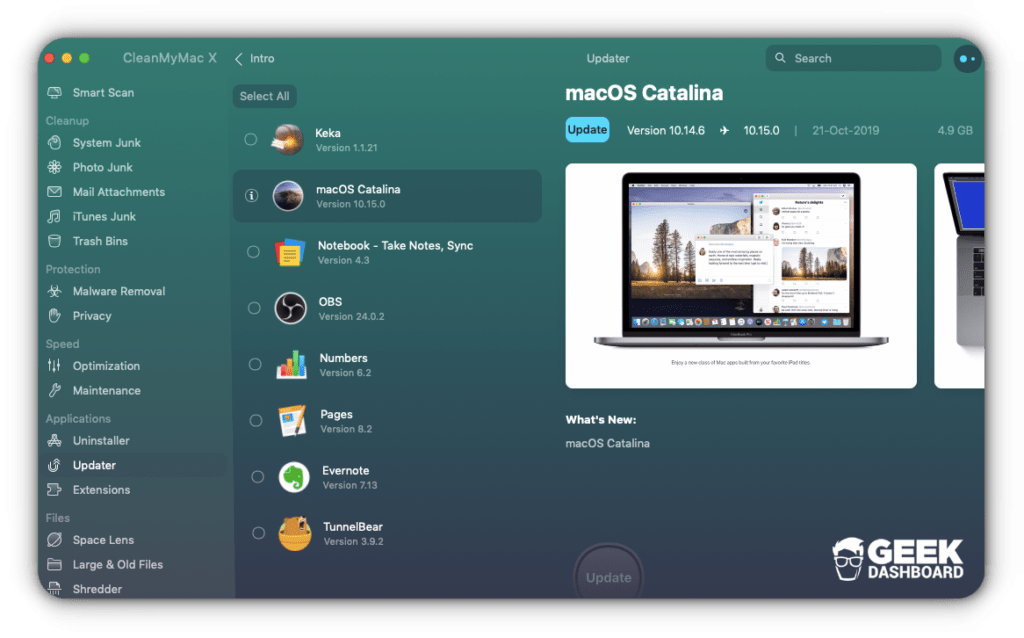 5. The Files Tab
The Files Tab predominantly concerns itself with file related affairs, as the tab title infers. Under the tab are the features; "Space Lens", "Large & Old Files", and "Shredder".
A. Space Lens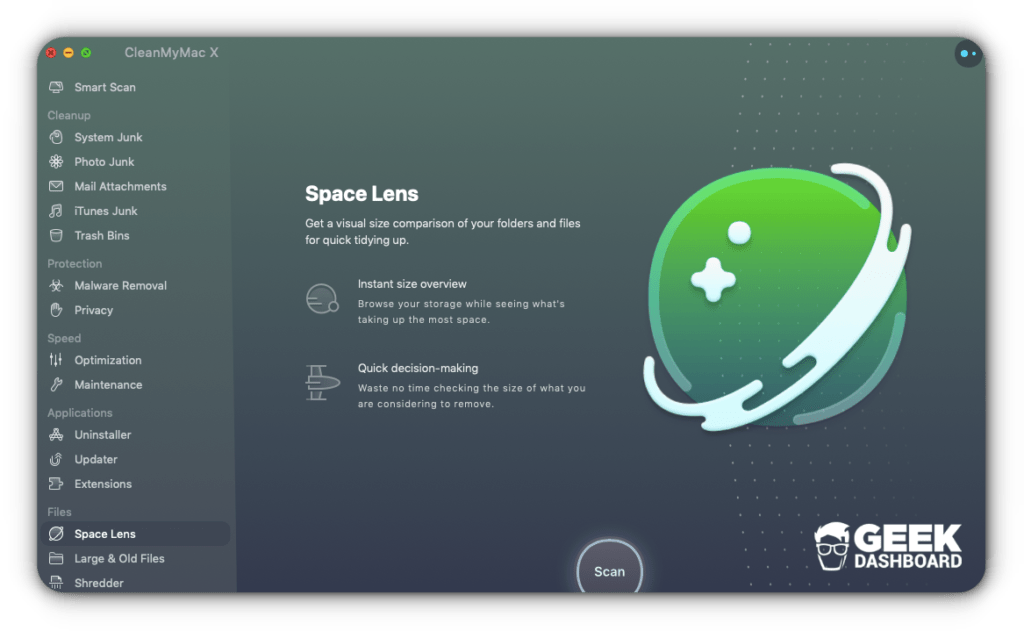 Space Lens feature in CleanMyMac X gives you the visual size comparison of all files and folders on your MacBook. This helps you in sorting the files based on their size thus making your work easier in identifying the unknown and unused huge files residing on your MacBook.
B. Large & Old Files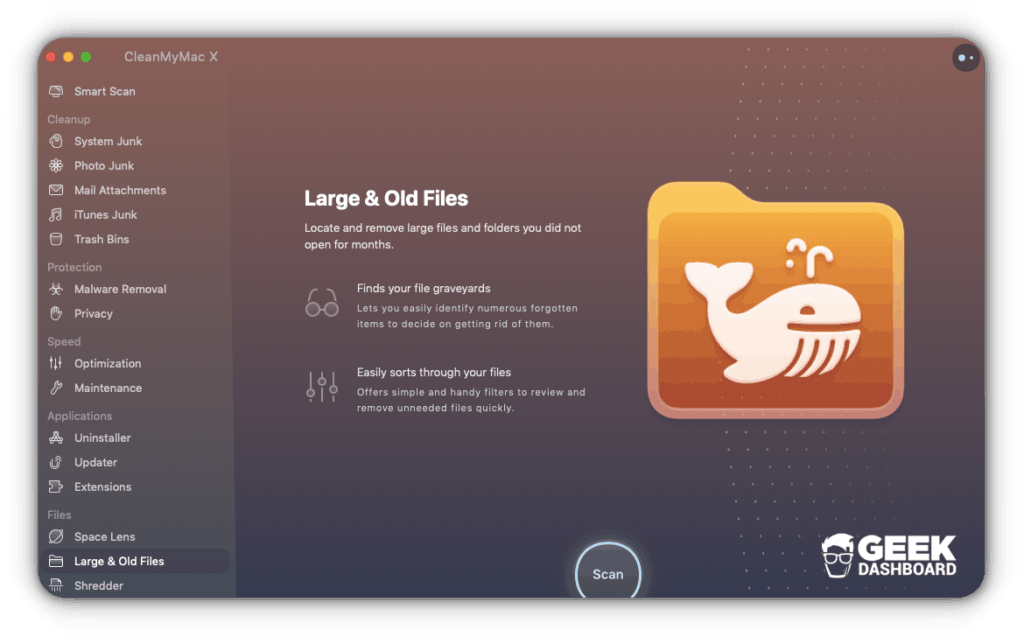 The "Large & Old Files" feature helps you to access files of a large storage nature and ones that are old as well. The essence of this is indeed relevant. With respect to large files, the software application is bringing it to your knowledge of the files that are consuming your space and the files to consider when you want to free space on your system – or when you would like to.
C. Shredder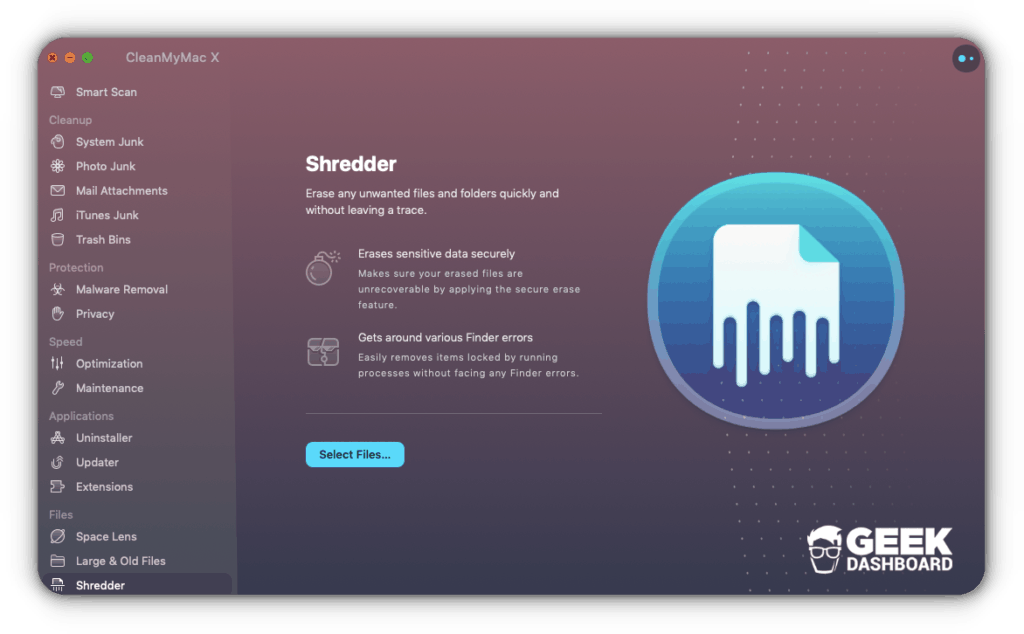 As for the old files, CleanMyMac X is bringing it to your notice that some files are rather old and they might have become redundant. In essence, it is suggesting you get rid of old files, or archive them in your cloud storage. However, whatever you choose should be aimed at freeing local storage.
Conclusion
Without a doubt, if you are looking to save your MacBook from potential harm, inefficiency, clogged storage, and poor management, there are not so many applications that can provide such luxury. There are indeed softwares that vary in their numbers aiming to help you maintain your MacBook better, but it is the case that most of these software applications provide for some of the features the CleanMyMac X offers, and usually not all.
However, CleanMyMac X does appear to be the savior in this regard, providing all of these necessary features and more, with efficiency and a good UI/UX as well. You should give it a try and explore it.
What we think about
CleanMyMac X