ChatGPT after its debut on iOS for iPhone has now finally arrived on Android devices. The AI company OpenAI announced last week about the roll-out of the dedicated application for Android devices. The platform has seen a massive increase in traffic since its launch and has become the fastest platform to amass many users
The innovative AI tool has made a massive wave in terms of generating content and providing human-like responses. After the introduction of the OpenAI chatbot, big tech giants like Google have brought their chatbot, Bard. The AI space has now a lot of competition as Microsoft has integrated the AI chatbot of Open AI into their Bing search engine increasing the reachability.
OpenAI brings ChatGPT Application to Android Devices
The ChatGPT app for Android from OpenAI is currently available on the Google Play Store. Users that are interested to try out the application can download it directly from the Play Store. Just search for ChatGPT in Play Store or visit this link to install the ChatGPT application on your device.
The developers at ChatGPT have given more focus to keeping the privacy of users intact while providing in-depth and context-sensitive dialogues. The new application made for Android will work similarly to the web and iOS versions of ChatGPT with a user-friendly interface. Users can easily interact with the bot and start a conversation that has an abundance of knowledge on many subjects.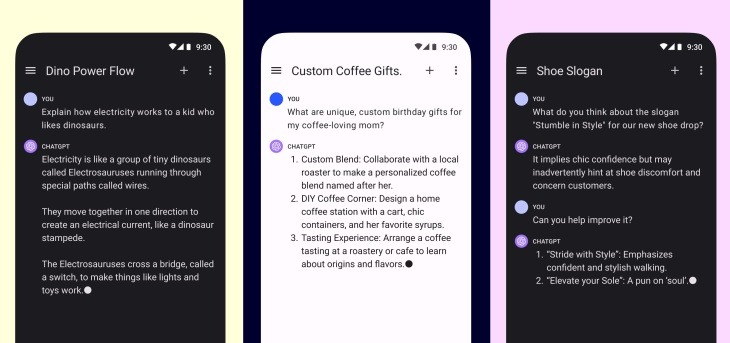 Bringing the application to Android devices will make the chatbot available to much wider audiences across the world. This recent move made by OpenAI will help in making the experience of interacting with AI chatbots much simpler. However, Microsoft Bing serves the same purpose with a much more interactive interface and points provided for every search.
On the other hand, Google is making its own updates for its Bard search engine that comes with AI capabilities. The competition has become more interesting since tech giants like Meta, Google, and Microsoft are now striving to capture more user base.
ChatGPT which was launched in November of 2022 with its web version has enrolled more than 100 million users initially. As time went on, the platform witnessed traffic of more than 1.6 billion users generating billions of responses each day. The traffic has come down significantly in the past few months and OpenAI is making efforts to keep up with the user base.