What we think about
CactusVPN
CactusVPN is one of the best VPN you can try on your PC or MAC which allows you to access blocked websites easily. Internet connection won't slow down more even when you are connected to VPN.
A relatively new entry into the virtual private network providers league, the Moldova based CactusVPN has been talked about a lot lately. So I've divided to give it a shot myself. The results are akin to what I've heard of it – mostly positive.
In this CactusVPN review, you'd learn about the VPN service provider from my first hand experience with it.
The user interface
I first start with the intuitiveness of the user interface because, for most people the whole purpose of using a third party VPN client is to easily setup the servers. It is darn geeky to set up a VPN on Windows or Mac manually.
We need to be primarily be concerned about how easily we can go about using the software. CactusVPN is a fairly intuitive software with a clear interface. The user account in the CactusVPN website too is as user-friendly.
Below is a demo of the CactusVPN client as featured on CactusVPN's official YouTube channel. It can be termed as the only video tutorial one needs to learn to use the VPN client in all its capacities.
The Support
The support that one receives from CactusVPN is quite dependable. I had raised 3 support tickets so far. Once only to test their promptness for the purpose of this CactusVPN review, and for some doubts at the other two instances.
I always had my problems resolved quickly. On the more, CactusVPN by itself ensures that its clientele is presented the most comprehensive guide for using its service. This is pretty much evident from the setup video guide you see above.
Also, CactusVPN official website's support tab offers extensive user guide covering almost all possible queries not just pertaining to installation and usage of CactusVPN, but even the most teensy questions regarding the concept of VPN like when to use which proxy and so on. It is designed in a way that is comprehensible to the layman. A quick browse through the support section can largely help you avoid raising a help ticket with their customer care.
Connection Speed
The prime concern of VPN users is the degradation of the network speed. Many use a VPN to gain access to live streaming websites like Hulu. Lamentably, the moment VPN is setup the speed gets preposterously sluggish.
I expected the same with CactusVPN. I won't say that there was nil slowdown in my connection speed. There indeed was. But surprisingly, the difference in the speed was not so bad that I had to wait for stuff to load. The streaming happened just as it would when I stream without the VPN.
A quick speed test gave me the below results.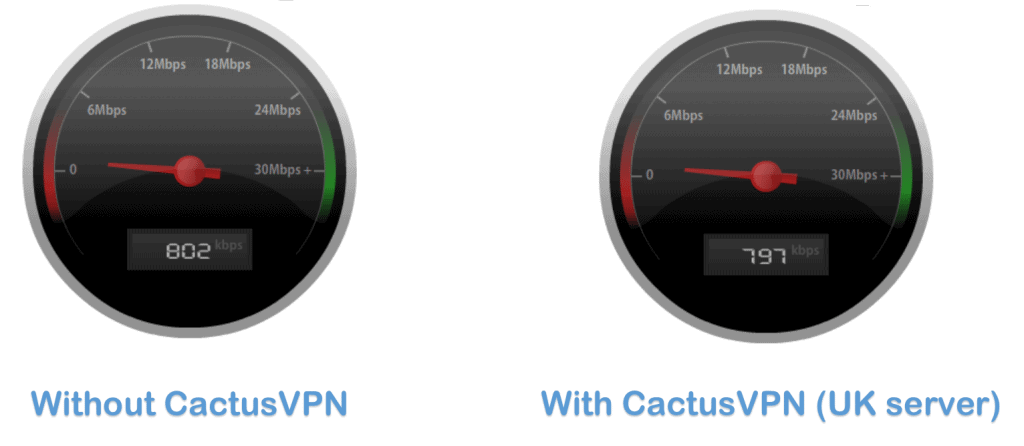 Compatibility
We'd see the CactusVPN's compatibility in two terms – the devices and the protocols it supports.
CactusVPN  has a cross platform compatibility with support to almost all major operating systems i.e., Windows, iOS, Android, Ubuntu, etc. One can use the same account on three different devices at once provided they are connected to different servers.
The proxy can be setup on top web browsers like chrome, safari, firefox, opera, IE, skype and Boxee Box. It also supports live gaming through PlayStation 3 and  XBOX 360.
Also Read: Over 200 Websites Including Google Docs is banned in India
5 VPN protocols as mentioned below are supported by the 12VPN servers across 3 countries (US, UK and Netherlands) which unblock websites that are blocked in several parts of the world.
The VPN protocols offered are –
PPTP
SSTP
L2TP
OpenVPN
SoftEther
Confused huh? I too was.
Thanks to CactusVPN. It laid down this chart that helped me choose the best protocol as per my need.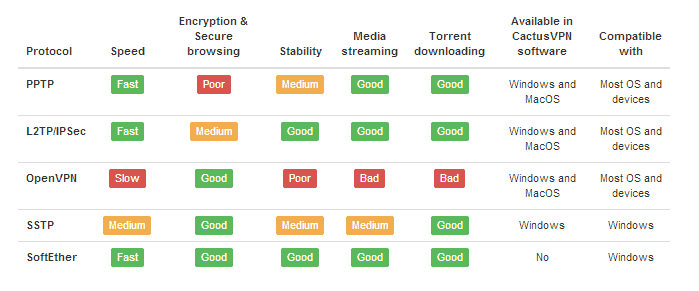 Privacy
The whole idea of using a VPN is to hide our digital trails and browse anonymously safeguarding our privacy. Using a VPN would go futile if the service provider keeps track of our online whereabouts.
So I made sure to check with CactusVPN's customer support to inquire about user logs. The CactusVPN representative confirmed that they don't retain any logs of which applications we are using, which site we are surfing and what downloading/uploading happens with us.
That is a good thing. But again, the VPN account cannot be bought anonymously, which is kind of a negative point. But I guess this is too much of an expectation anyway (tongue on cheek).
CactusVPN uses different type of encryption for different protocols.
Pricing
The pricing of a CactusVPN account is as under.
Embossed is the best package of all; i.e., the VPN+Smart DNS plan worth $6.99/month.
This plan is money saving as one can enjoy connection from all the servers and the flagship SmartDNS service too.
The Smart DNS is simply a way to access around 90 blocked website with jet speed. It powers up the standard VPN pack.

CactusVPN also launches seasonal offers like the recent FIFA World Cup, UEFA and Easter discounts.
Also, one gets a flat 50% off on purchase of a second VPN account.
And lastly, the 30 days money back offer is always there with this confidently upcoming VPN provider.
I suggest that you go for the free 24 hours trial which gives you access to all of the servers and Smart DNS letting you test the full power of CactusVPN.
App Kill Function
CactusVPN comes with App Kill function which helps you to kill any application your choose when VPN connection is lost.
My Verdict on CactusVPN
I find CactusVPN a good deal.
It costs reasonably low.
Ensures good privacy (no logs maintained)
Consistent speed pre and post VPN connection.
Easy to use with good customer support.
Great P2P downloading.
Things I didn't much like about CactusVPN are
No OpenVPN on Android.
Simultaneous usage of VPN on multiple devices is not allowed on the same server.
Have you used this VPN?
If yes, please feel free to leave your version of CactusVPN review in the comments below.
What we think about
CactusVPN