The whole country is swept by Jio Mania. And, they managed to get over 70 million paid customers by March 31.
Ever since Jio came to Indian telecom field, the tariff rates turned their way in a direction profitable to the customers. Almost every network came up with competing plans to take down Jio.
BSNL announced a Rs. 339 offer as a part of their Jio combat mission. Yesterday (21/04/2017), they have come up with a new offer dubbed as Triple Ace Plan.
BSNL Comes up with Three New Plans and Makes Changes in 339 Plan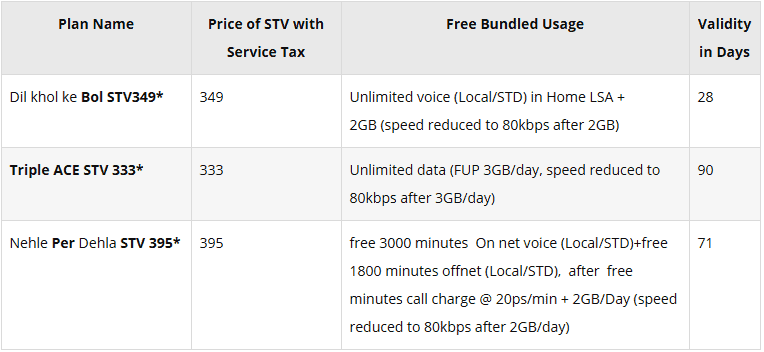 Reliance Jio broke every customer growth rate record in the Indian telecom history with their free plans and then with Summer Surprise and Dhan Dhana Dhan. The state-owned BSNL couldn't sit back and watch all their customers shifting to Jio.
As a part of the plan, they have launched three new offers as reported by Track.in. They have been named as Dil Khol Ke Bol (Rs. 349), Triple Ace (Rs. 333), and Nehle Per Dehle (Rs. 395).
Users subscribing to Dil Khol Ke Bol get 2 GB 3G data per day along with free local and STD calls in the home circle. It is true that Jio offers 1 GB 4G data at around the same price. Still, the BSNL offer is a sweet steal provided the 3G speed in your area is decent.
Triple Ace Offer priced at Rs. 333 is the most economical among all the operators as it offers 3 GB data per day for three whole months. Means you get 270 GB in total and makes per GB price only Rs. 1.23. The Jio counterpart, Dhan Dhana Dhan offers only 1 GB data per day for 84 days (you need to pay about 200 more to double the quota). On comparison, there is no complication in finding the best plan in terms of data to price ratio.
The third plan named Nehle Per Dehle gives 3000 free BSNL minutes along with 1,800 other network minutes and 2 GB 3G data per day at Rs. 395.
BSNL didn't go back with the three new offers. They upped the data quota of the previously announced Rs. 339 plan from 2 GB to 3 GB. Everything else (unlimited VoIP calling and 25 minutes of non-VoIP calls per day) remains the same.
So, what do you think? Does BSNL aim to grab a spot in the top telecom networks users love using?