What we think about
Boom 3D
Boom 3D audio enhancing software for Windows & macOS transforms your audio and delivers the most immersive and magical experience on any headphones!
There is no delight in watching a movie or listening to a song if your PC or Mac has an awful sound. So, what do you do? You hunt for some excellent sounding headphones or speakers. But many times, if your system is at fault, the headphones won't help much. So, what now?
In comes Global Delight's Boom 3D. This software will boost your audio experience with only a few tweaks from your side and lets you have control over the audio outputs from individual apps!
What is Boom 3D?
Boom 3D is audio enhancing software for Windows & macOS that "transforms your audio and delivers the most immersive and magical experience on any headphones!"
Whether you listen to songs, podcasts, audiobooks, binge-watch movies, or play video games, this software will enhance your audio experience. Boom 3D gives the user access to over 40,000 local and international Radio and Podcast stations in 120 countries.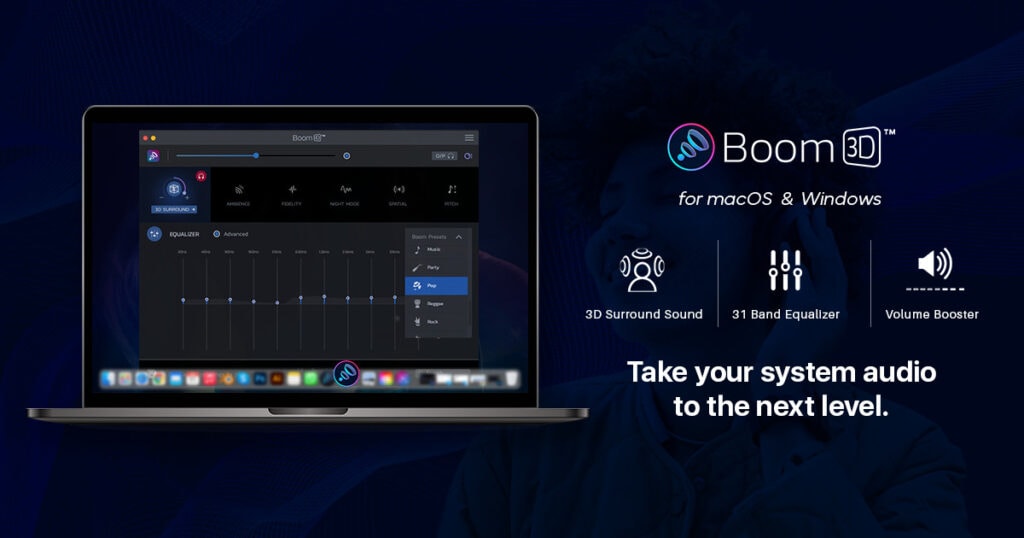 Boom 3D, developed by Global Delight, was released back in 2017. Predecessors of Boom 3D, Boom, and Boom 2 were always popular and highly acclaimed for their performance in enhancing audios in Mac.
Initially, Boom 3D was only available for Mac users at the time of its release, but Global Delight released the windows version later in April 2019.
Boom 3D User interface
Boom 3D offers all the necessary features and tools neatly. You won't have to spend hours on YouTube trying to understand how the app works. It is simplified so that you don't have to waste too much time finding what you wish to use.
We will say that the UI is not at all cluttered and challenging to navigate, so even if you are a newbie, you won't face any problems. Here is what the user interface looks like.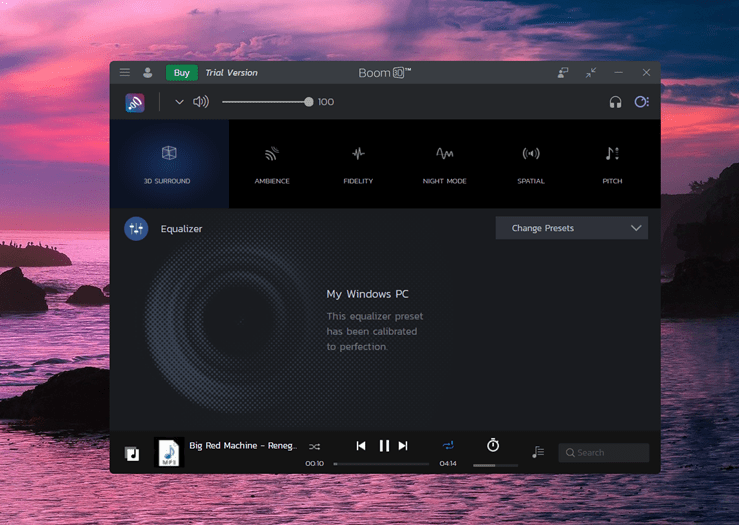 Boom 3D Features
While Boom 3D does not come with a hoard of features, it offers simple elements in an understandable way that you can get the hang of in a few minutes. Let's have a look at the feature of Boom 3D.
3D Surround
The app is called 3D for a reason, folks. This is the main feature of this app and the one we promise you will be using the most if you download this app. The 3D Surround gives you high-quality, detailed sound that one might experience in movie theatres!
If you click on the arrow, you get a whole new set of options like intensity and bass control that you can utilize to get the sound of your liking.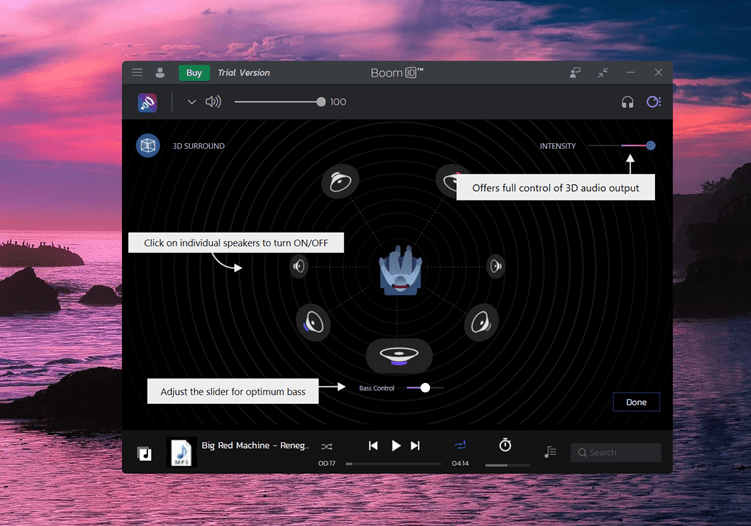 It can be highly advantageous when you are playing online games because you would know where your enemy's footsteps or gunshots are coming from.
Equalizer
Another widely used feature of Boom 3D is its Equalizer. It comes packed with 25 presets ranging from Game, the 60s, Acoustic, and Classical to Jazz, Pop, Reggae, and Hip Hop. And if the sound still does not live up to your expectations, you can play around with these sliders to get the sound of your liking.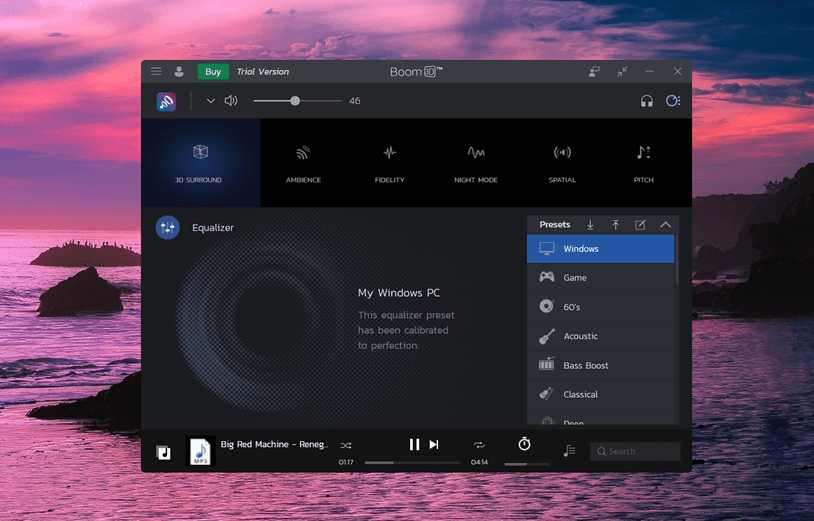 There is another option, Advanced, which, as the name suggests, has advanced sliders for pros.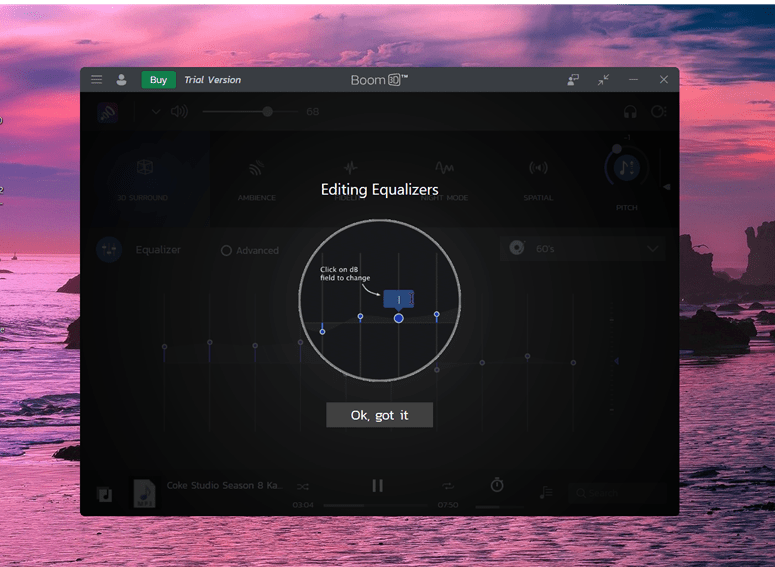 Volume Booster (Mac Only)
If you like to drag that volume slider as high as it would go, Boom 3D's Volume Booster might just be the right choice for you. But unfortunately, there is a catch, this fantastic feature is not available in the Windows version of the software, only on Mac.
This tool is perfect if you are looking for one hell of an audio experience. And another remarkable characteristic of this tool is that it increases volume safely and soundly without any distortion like annoying hiss or white noises. Volume Booster works wonders when you are watching movies and playing games.
For now, we can only hope Global Delight launches this tool in the Windows version soon.
App Volume Controller
This takes the Volume Booster tool to the next level and is available on both Windows and Mac versions. This tool allows you to control the volume of each of your apps separately.
For example, you can listen to music as a background sound while your focus could be on an audiobook or your Game, or you can use it when you don't want your notification to ping too loudly.
This tool can be used to control the audio outputs of any apps like Netflix, Google Chrome, iTunes, Skype, and many more.
Radio Stations
Boom 3D allows you to listen to the radio without any external hassle. You just have to click on the folder and music symbol at the bottom left of the page. It will open a list of items under the head Radio.
There is another list under the head Explore with Moods, Spotlight, Tags, and more. Click on whatever filter you like and select the station. It will start playing.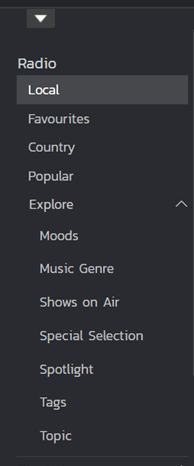 And since Boom 3D offers over 20,000 plus local and international Radio stations in 120 countries around the globe, it can be challenging to keep track of what you like.
Worry not. You can add the stations you like into the Favourites folder by clicking on the heart beside the play button.
Built-in Player
Having a built-in player is a must when your primary use of Boom 3D would be listening to music. To get your audio files into the software, you just need to drag and drop them in the app. You can do each track one by one or in groups to create playlists.
Now, if you are using the desktop version, there is no way to connect the software to your music streaming platforms, but if you are using the Android or the iOS version, you can load your music library into Boom 3D through Spotify or Tidal.
Audio Effects
Boom 3D does not stop here. Apart from all these outstanding features, it also provides five different types of audio effects – Ambience, Fidelity, Night Mode, Spatial, and Pitch.

Ambiance
This effect works wonders for gamers and binge-watchers. It enhances the sound of ambient movements like the rustling of leaves, footsteps approaching, etc. This gives out a much more realistic and detailed sound that you will surely love.
The only difference between this and 3D Surround is that Ambience only focuses on the surrounding sounds.
Fidelity
This effect increases and develops the sound of weaker frequencies that cheap speakers and headphones often miss. It balances the overall sound giving you vibrant and alive audio.
Night Mode
This effect reduces the louder noises such as guns firing, bombs, etc., and enhances the softer sounds, like whispers or wind breeze, making the total audio balanced, so you don't disturb anyone during nighttime.
Spatial
This audio effect enhances the 3D sounds to give a more realistic and deeper audio. With this effect on, it feels like the sound source is farther than it actually is.
Pitch
This effect is not something you would want to use when watching movies since it changes the pitch of the audio. However, if you are into recording and music production, this effect would help a great deal.
Price
Boom 3D on macOS and Windows allows its users to enjoy a 30-day free trial period for all the features.
Keeping that aside, the price of the software is not that expensive.
Boom 3D costs $15.99 on both Windows and Mac (you need to buy Windows and Mac licenses individually). You only need to pay once, and you will get the software. There is no confusion about monthly subscription fees or hidden charges for features.
It's on sale for a limited time, and you can try it for free for 30 days before you buy.
You can run Boom 3D on two devices with one account. But if you are using the mobile, you will have to pay a monthly subscription fee of $2.99.
The Final Verdict
Keeping all the points mentioned above in mind, it is pretty clear that Boom 3D is a unique audio-enhancing software that anyone can use. It has special options while still being good at its primary features.
The only thing we would like to point out is that the Mac version has one additional feature than the Windows version — Volume Booster. Although we are pretty sure that the developers of Boom 3D are working their best to ship Volume Booster in the Windows version too.
Keeping that one flaw aside, we highly recommend Boom 3D whether you are into movies, gaming, music, podcasts, radio, or audiobooks.
What we think about
Boom 3D