We're here today to guide you to book IRCTC tatkal tickets online faster than usual. I'm one of those many frustratedusersr who always fail to book tatkal tickets on IRCTC. All you have to be lightning faster and should act wisely while you're on duty of booking IRCTC tatkal tickets. IRCTC, Indian Railway Catering and Tourism Corporation; allows you to book Indian railway tickets from your home. As everyone is addicted to online booking these days, most of passengers developed a habit of booking their tickets on IRCTC. This not only saves their time but also many things.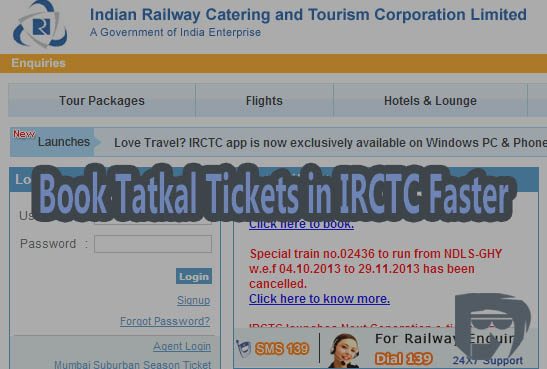 If you're facing problems and can't succeed with tatkal booking and interested to know how to book tatkal tickets on IRCTC easily without difficulties, then you landed at perfect place. Generally, you need to travel from one place to another all of a sudden; then the most convenient and cheapest mode of transportation is Railway, Right? If your plan is all of a sudden, then there is no another choice; you should end with booking railway tickets in tatkal quota
Tatkal tickets gets booked within few minuets. So, a little sign of negligence or over confidence will surely end you in waiting list. Well, this guide will show you how to book IRCTC tatkal tickets easily and very quickly.
Pre-Requirements
Before setting your goal for booking a tatkal tickets, there are few things you should be ready with. Make sure you have all below listed things ready with you before proceeding.
Valid ID Proof
Keep anyone of valid government issued ID proof like, Bank Passbook, Bike License, PAN Card, Voter ID etc. Because you must provide a valid ID Proof in order to book a tatkal ticket and even make sure you maintain that valid ID Proof with you on data of journey. You may be asked for verification.
Station Codes
Note down IRCTC station codes of your starting and ending points as some big cities may have more than one codes.
Free your Internet
You may download torrents and other stuff if you have unlimited data connection; pass them for a while while booking tatkal ticked on IRCTC and also make sure no one is sharing your WiFi connection. It will help you to connect to IRCTC servers easily in no time.
Multiple Browsers
To be on safe side; open booking page in multiple browsers; just in case if Google Chrome has stopped working or crashed
Also Read: 5 Best Web Browsers for Windows PC and Laptop
How to book IRCTC Tatkal Ticket online very quickly
So till now we have arranged all importing stuff and even taken care about few things to be on safe side. Now starts the real hurdle, When IRCTC tatkal booking stars at 10:00 AM IST, everyone will start rushing and it is proved that all 95% of vacant seats are being booked in first 45 minuets. So you have to be very quick in filling all passenger details
Normally it takes more than 2-3 minutes to type passenger details in reservation from and even more if passengers are more. While do this; hundreds of tickets are being booked and you'll enter into waiting list ultimately.
Here comes a tool from +Amit Agarwal from Labnol.org, He developed a tool named Magic AutoFill which can auto-fill passenger details to save time.
How to use IRCTC Magic Auto Fill
This tool is very simple to use and free of cost. Before starting working on this tool, Login to you IRCTC account and enter all required details like FROM, TO and Data of Journey before 5-10 minutes. I mean before 10:00 AM, IST, i.e. 09:50 AM, IST and leave that tab a side.
Now open Magic AutoFill i.e, at 09:50 AM, IST and click Step 1: Fill Reservation Form
Now enter Passenger details, Age, Sex, Berth Preference (I recommend to pick "No choice"), ID card type, ID card number and Passengers mobile number at bottom of the page.

As in tatkal reservation, you can only book 4 tickets at a time and no senior citizen option, Enter only 4 Passenger details and leave senior box unchecked.
Ultimately click Step 2: I'm Feeling Lucky
You should now drag Magic Fill button to bookmark bar. If you're using IE; right click on Magic Fill button and select "Add to Favorites" Just in case if Bookmark bar is not showing in Google Chrome, Press Ctrl+Shift+B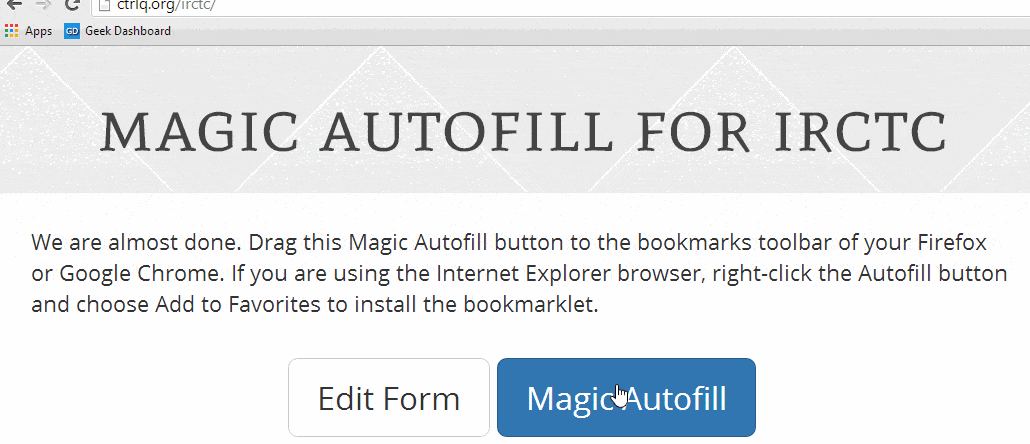 You're almost done. Now if time hits 10:00 AM, IST; Navigate immediately to previously entered IRCTC page and hit "Find Trains" and without wasting time, select train and click Book.
You should now see a page to fill passenger details, no need to do it again; just click the bookmark we have created in the earlier step. That's it your details will get entered automatically and finally click "Plan my trip" and continue with payment.
You have now saved time in filling passenger details. This will surely help you to book IRCTC Tatkal ticked very quickly easily.
Important things to know about Tatkal Booking in IRCTC
Tatkal booking is not exactly like normal booking. There are many interesting things you should consider while booking tatkal tickets. I have listed them as FAQ's. Most of the frequently asked questions are listed below, Have a look and make you mind clear.
1. What are Tatkal Booking timings in IRCTC?
A: You can book tatkal tickets from 10:00 AM, IST to 12 noon.
2. How many days before can I book a Tatkal Ticket? 
A: You can book a tatkal ticket just 24 hours  before the time of departure of your requited train at very first station.
3. How many tatkal tickets can I book at a time? 
A: You can maximum book up to 4 tickets
4: How many times can I book tatkal ticket from my account in a day?
A: You can make payment only 2 times from one account in a day. i.e, you can maximum book up to 4×2=8 tatkal tickets
5. Can I cancel my ticket to get refund?
A: You wont get any refund if you cancel a tatkal ticket, in case if you seat is conformed. If you're on waiting list; you will get a refund with small charge
6: Am I eligible as a Senior Citizen?
A: Our bad, Senior Citizen quota is disabled for tatkal booking. It seems all are equal in this case.
Hope this detailed guide about how to book IRCTC tatkal tickets easily and very quickly helps you in some manner and let us know if you have anything more to be added. Have a happy and safe journey