I understood you must be fed up with annoying Candy crush Saga requests/invites on Facebook. I know that feel and pain when someone keeps sending you Candy crush saga game requests even though you are not interested to play that game. I have seen many Candy crush saga posts on my timeline and tons of pending notifications to help them with lives. I can't handle it anymore and decided to take an action. If you are like me and looking for the solution to block Candy crush Saga game requests and invites, here you go: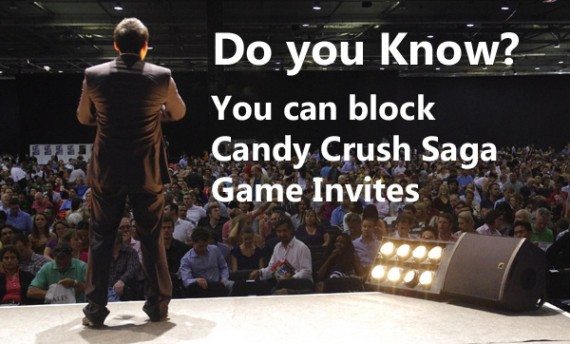 Candy crush Saga is really in amazing game but at the same time addictive too. In some cases irritating as well. Candy crush saga game developers makes money from offering lives when player is out of moves. Many people are not in a position to buy them. Such people either wait for few minutes or send Candy crush game requests on Facebook requesting their friends to play the game, in return they get free lives. Who wait's if they have a way to get lives instantly right? This is why Facebook timelines and notifications are flooded with games requests and invites of candy crush.
Easy trick to permanently stop receiving game invites from Candy Crush Saga. Works on moth Facebook Web and Android Phones
This procedure is same to both Facebook web and Android devices. Even it will work on Windows Phones too. If you find any difficulties in doing this trick on smartphones, I suggest you to do the same on either PC or laptop.
Log on to your Facebook account to access your profile.
Click the small arrow pointing down to get a list of options and Select Settings.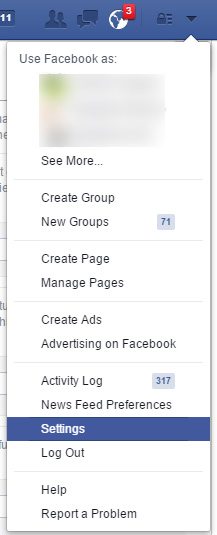 From the left side vertical menu, navigate to Blocking tab to get a bunch of useful stuff.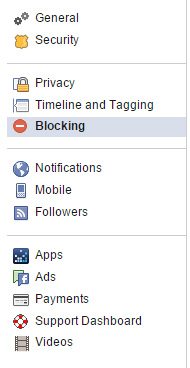 This is the right place to block anything that annoys you on Facebook. It may be friends, pages, apps, invites from friends and lots more. Scroll down a bit till you see "Block apps".
In the text box available, start typing "Candy Crush Saga" and Facebook will automatically display game name as a drop down. Select it.

Alternatively, you can just block any invites from specific friends too. This comes to handy if only few of your friends are annoying you with all kind of invites. It is also helps you to partially block the candy crush saga invites. I mean, this way can still show candy crush saga invites from your crush 😉 (assuming you ignored "Block apps" option).
To do this, go to "Block app invites" filed.
Bonus: Know how to check messages without sending Seen stamp to your friend
Once, you are done blocking Candy crush saga and other games like Cityville, Criminal case etc you will see a list of all blocked games. You can add any number of games.
Check out these shocking facts about Facebook you might not know
Another simple method for blocking Candy crush Saga game invites directly from notifications
If you found above method complex and looking for even simpler version to block candy crush invites, this is for you:
Wait till someone sends your candy crush saga game invite. You will get a notification once you receive any invite. Open it, hover your mouse on it and click X mark.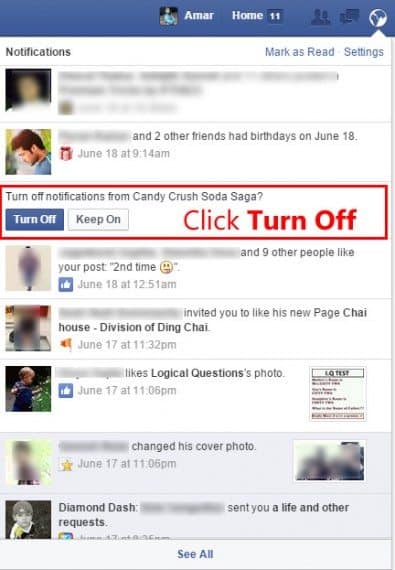 You will get a two confirmation boxes, click Turn Off.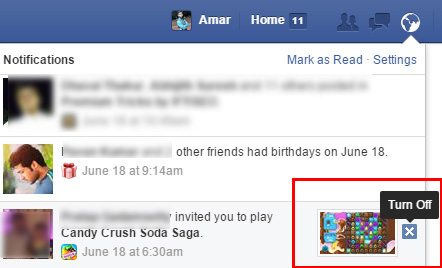 That's it, it will automatically add Candy Crush Saga game in the blocked notifications. To conform this, visit Settings, then Notifications. We just Turned Off "Candy crush Soda Saga" notifications and it is automatically modified in "App requests and activity"
First method is manual process and second one automated trick. Hope this guide helps to from annoying candy crush saga game invites. Trust me, you have successfully blocked Candy crush soda saga & candy crush saga game invites and requests and  you will never see them on your timeline and notifications unless you unblock them. I recommend you to follow first method as it is more effective in working.