Have you ever felt awkward to have peepers around you while using your phone? Even if you choose to minimize the brightness to the least possible level, they don't give up.
BlackBerry has come up with a solution for those who are tired of peeping. You can now use your phone during the journey in a public transport vehicle without worrying about the peeking.
BlackBerry Launches Privacy Shade to Keep Your Screen Private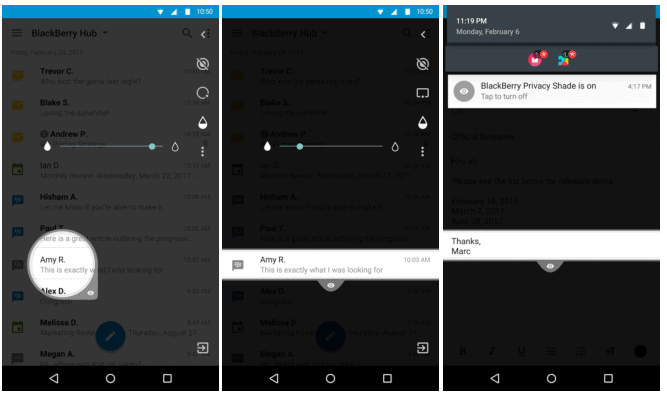 An app like Privacy Shade is a necessity, especially for those who spend a lot of time among strangers or family members. We all are members of some weird WhatsApp groups, where we don't have any idea about the upcoming messages. And, some of us don't want to reveal our message threads to others as well.
Privacy Shade is the solution to all your issues of people around you, seeing the content on your phone screen. Wait, it's not the time to get excited!
The app is only available for BlackBerry devices now. When I had heard about the app, I rushed to the Play Store. Guess what? An incompatible label was waiting for me.
Download on Google Play
But you can seek the help of a third-party app named BlackBerry Manager to use every BlackBerry app on any of your phones. The Android version should be 5.0 or higher.
The working of the application is simple. When you start using the service, it will darken your screen. But you can choose a particular portion to stay visible (in rectangle or circle). It is possible to make the screen completely dark or you can choose to go with semi-opaque nature.
In fact, the visible part is the one you choose. Of course, you can move around or expand the selection. You can even shade the viewable area to keep the peepers at bay.
As stated earlier, the app is officially available for BlackBerry devices only. We are unsure about it coming out to other devices.
Even if BlackBerry chooses to keep Privacy Shade exclusive, chances are other developers will come up with similar applications. So, you don't have to worry about having a non-BlackBerry device.
There are some applications already available on the Play Store that claim to avoid prying eyes. But the implementation is flawless on Privacy Shade as compared to others.
If you can't wait to use the app, go on and download BlackBerry Manager. Or, just wait to have it (or similar app) officially on your phone.