It hasn't been quite long since gaming phones became a thing. We have seen Asus, Razer, ZTE, and Xiaomi to step into the segment. They have even released the second iterations of the device to woo hardcore gamers.
Xiaomi came up with their Black Shark 2 gaming phone in India a few weeks ago. In case you have bought the device, you may find yourselves in disappointment to read the news. The company is planning on releasing a Pro version of its latest gaming smartphone.
Xiaomi to Launch Black Shark 2 Pro with Snapdragon 855 Plus Chipset on July 30
We have covered Asus's Rog Phone II here on GeekDashboard. The company chose the overclocked version of Snapdragon 855 to power the device. Moreover, Asus integrated some nifty features to outperform others in the same category as well. Maybe that's what triggered Xiaomi to plan for another gaming device.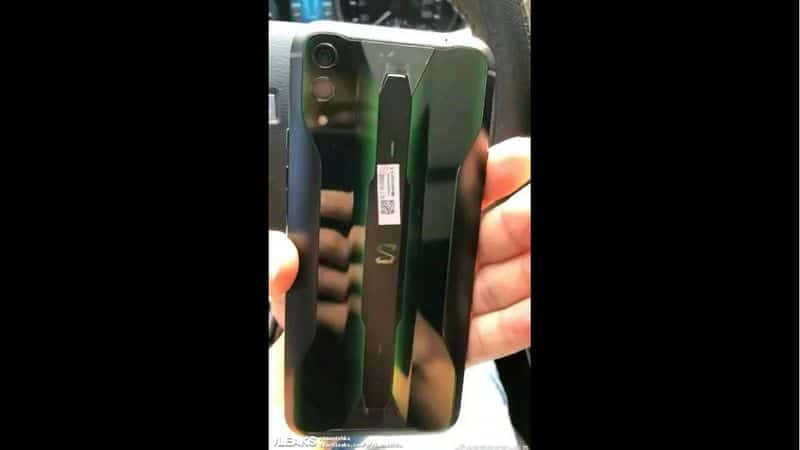 A live image of the phone has surfaced online, which gives out the design details of the back body. Going by the image, we will see a refined design on the back. The AnTuTu listing revealed the specifications too. If it's true, we will get Snapdragon 855 Plus SoC underneath Black Shark 2 Pro.
You know Asus embedded RGB lighting on the back panel of Rog Phone. It looks like Xiaomi has got a hang of it. The leaked image of the back hints at having a green LED strips. Unlike the previous generation, this one has more glass than Vanilla color.
Looking into the AnTuTu listing, you can grab a few more specifications. It would possibly feature a Full HD+ screen with 1080x 2340 resolution.
We couldn't get details about the refresh rate, though. Along with Snapdragon 855 Plus, Adreno 640 GPU will look after the gameplay without stutters.
The model we spotted on AnTuTu features 12 GB RAM and 128 GB internal storage. In the tests, the device scored 405,598 whereas Black Shark 2 only touched 375,592. Of course, it will have a skin but on top of Android 9 Pie.
Xiaomi doesn't seem like they have worked in the camera department. The new one also has a dual rear camera setup. Being a gaming phone, Black Shark 2 Pro, in Xiaomi's eyes, doesn't need to have the best camera.
The Black Shark 2 starts from around Rs. 40000 in India. That means the Pro version will cost more. Maybe, they will slash the pricing of the existing model.