What we think about
Bitdefender Internet Security
Bitdefender Internet Security is top notch Internet security suite which provides quality security to all your data, keeps all your online transactions secure through its wallet facility, checks your kid's internet usage and restricts them whenever needed and also protects your Facebook profile with its 'Safego' technology.
The world is growing larger and larger every day, with new technologies arising every minute. And as the technologies increase, smart, evil minds want to take over. And internet acts as an infamous medium for all of them. With so much happening, what one needs is not just simple anti-virus software but something more. And that, exactly, is what Bitdefender Internet Security 2014  has got for us. Apart from effectively cleansing your data by keeping it away from malicious files, it also makes it easier for you to manage your kids' activities and online money transactions.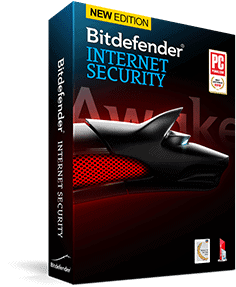 Setup
If your mind wanders in ambiguity regarding the purchase of the software, Bitdefender provides a free 30 day trial. Once you download the executable file and run it, the suite automatically initializes a system scan in order to ensure if the system is clean or not, before installation. Once the scan is done, the installation files are downloaded and the setup is commenced with. It might take some time for this process to finish. 10 – 30 minutes, probably.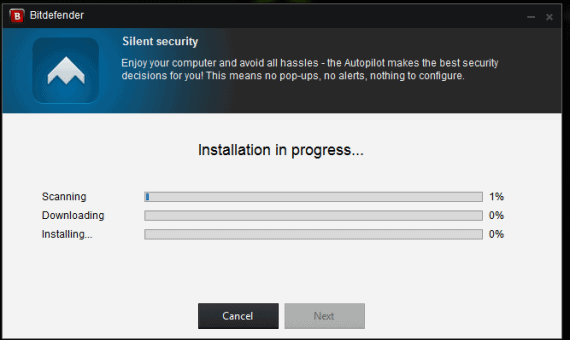 Interface
This software provides a pretty good interface and is user-friendly. On the first sight, it puts forward all the modules available in a horizontally scrollable list. The initial interface provides eight modules namely Antivirus, Privacy Control, Firewall, Update, Antispam, SafeGo, Parental Control and Wallet. This interface can, however, be changed into a grid format for easier visibility.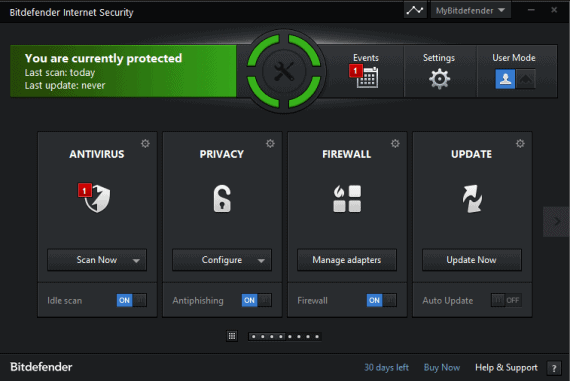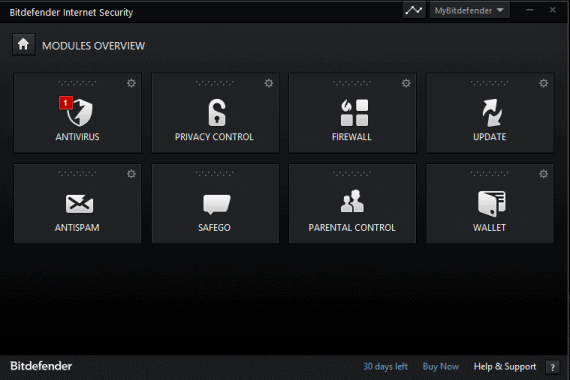 On the top right of the horizontally scrollable interface, you can find three icons – Events, Settings and User Mode.
Events – give us an overview of the events that has been performed in each of the module. For example, if there has been any update in the software, an event is shown in the update module saying that there has been an update in the software recently. It makes it very easy for the user to keep a track of what all is happening.
Settings – symbolized by a gear, is the place for you to customize the software as you wish. Detailed settings for each module are provided there which will help you run the anti-virus as per your requirements.

Mode – The mode option lets you select the mode in which the software should run on your system. It can either be User mode or an Auto-pilot mode. User mode runs the software based on your requirements and customization. If you do not want the suite to disturb you, switch the auto-pilot mode on. It will take care of everything, without even popping up a notification. Peace, right?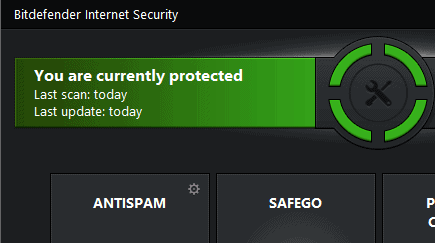 On the top left, there's a notification panel which keeps you updated of all the notifications such as your last scan, last update, and if your PC is safe or infected.
It also provides a desktop widget that shows you the security status at a glance. Although it is provided at the right bottom of the desktop, it is portable.
Features
Bitdefender Internet Security 2014 provided various options with a simple On/Off tab. This helps the user tailor his software as per his requirements very easily. Sometimes, you have to share your PCs with your friends. At such times, if you feel your friend can manipulate your anti-virus settings, you can simply stop it from happening for Bitdefender provides a password facility which restricts access to the settings.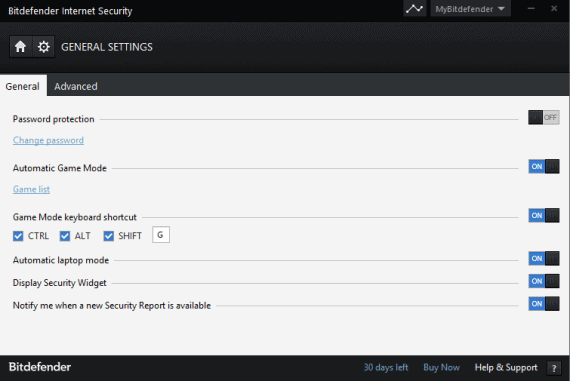 Want the software to check for vulnerabilities automatically from time to time without you manually doing it? Yes, you can. Protection against fraud and phishing and encrypting your chat messages are other key features the Bitdefender Internet Security 2014 suite provides us.
It provides a strong firewall feature, whose strength can again be varied by the user depending on his internet usage and on what all he wants to allow. However, when the firewall is in an aggressive stage, it efficiently flags the key logging attempts, gives good protection against dll injections and against installation of malware.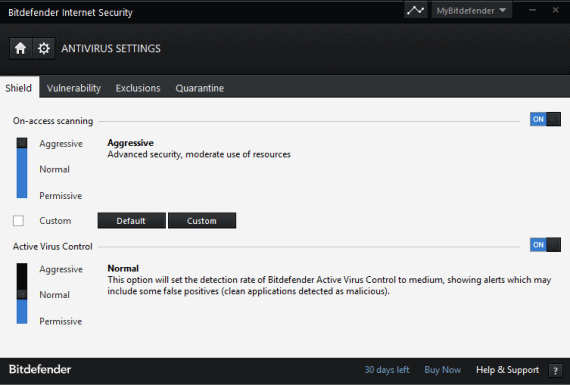 Anti-spam helps you by blocking various spam emails. You can also play a part in its development by submitting spam samples to Bitdefender cloud.
Apart from all these features, it provides the general ones also like checking for weak passwords, critical window updates and scanning of CD/DVDs and USB drives. Level of protection can be set on almost every key feature so that the usage of resources can be managed efficiently.
Safego is a feature which provides protection to your Facebook. It gets linked to your Facebook profile and scans for potentially malicious links. As it is linked to your profile, it can read your privacy settings and will make suggestions on improving the settings based on the current ones. Many people have liked this feature and many have said that this feature cannot be used regularly. However, it depends on the user. You may like it. Your wife might not.
Wallet
This feature is something new and advanced and is one of those features that make this product exciting. Life has become so digitalized that now, most of us make recharges and pay our bills online.
And for all of those, we need to type credentials of our accounts which is definitely not safe on the internet – unless we have something to help. Wallet, from Bitdefender, is a place to securely store confidential information like credentials of our cards and accounts, login details etc.
Wallet
provides a space for you to store all your important information and then locks it and only a Master password, which you will set, will help you get through. This Master password can be entered when you login to your PC or when you open your web browser. If you leave your PC unattended for a while, it will automatically get locked in order to avoid the unpredictable. Few other options regarding Wallet are provided in the  Wallet settings.
Also Read: Best Web Browsers for Windows 8
Few browsers like IE, Firefox and Chrome and apps like Skype and Yahoo Messenger are offered special capabilities like saving your time by auto-filling the login details.
Parental Control
Bitdefender Internet Security provides an interesting Parental Control module. Parents can create profiles for their children who will have their details such as name, age and gender. In that profile, one can contain the accessibility one's child will have like the website he/she should not visit, the emails to which they don't want their child to communicate with etc. A list of reports containing the child's browsing history and apps used is supplied to the parents. When a child opens a website that is blocked using this suite, he'll get a message saying that his/her parents' have blocked this site.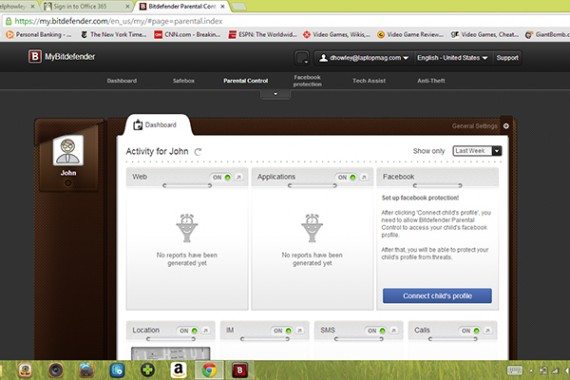 Although Kaspersky Internet security has offered a similar feature, Bitdefender Internet security has given the parents an extra feature to smile for. Parents can block few video games based on the rating given by the Entertainment Software Rating Board (ESRB).
Performance
After various tests performed on various systems, Bitdefender has averaged a 98% detection of zero-day exploit malware attack from the Internet. According to tests conducted by PCmag, Bitdefender blocks 92% of the malware and removes 83% of those.
It is also quite sensible about the usage of the system. Whenever the system is running on battery, it detects and switches off the auto scan and auto update feature in order to conserve battery. As soon as the laptop is plugged back in, it activates the auto scan and auto update and runs at full throttle.
Conclusion
With an increase in demand of Internet protection and Security, Bitdefender has once again proved that it is a top challenger in the field. With features like Wallet, Parental Control and Safego, it has kept its word in being a complete package. Although it is extremely fast, it occupies lots of space and takes ample amount of time for installation. It is a top-notch Internet security suite, but I'd recommend you try out the trail version before buying the product for different people have different tastes. The trail version comprises of all the features the full version has but has a validity of only 30 days.
What we think about
Bitdefender Internet Security