Due to the COVID-19 pandemic, almost everyone is implementing the concept of work from home. Thanks to the internet that connects us to the outer world while living inside our home. From a tiny smartwatch to a big size refrigerator, every essential thing in our life now is internet-connected.
However, this also creates a distinct pathway for cybercriminals. They constantly seek new ways to access your sensitive/personal information through the internet. So, before carrying out the work from home approach, a security check of all your internet-connected devices is a must.
Bitdefender launched a smart home network security system – Bitdefender Box to solve this pain problem. But does it really secure you from fatal internet vulnerabilities and help you accomplish your work from home goals, even in this critical COVID-19 pandemic period?
Let's find in this comprehensive Bitdefender Box review
Bitdefender Box Review
Bitdefender Box is a security solution for internet connected devices to secure all the smart devices of your home/workplace. And with Bitdefender IoT Security, you can protect your smartphones, PC, baby monitors, game consoles, smart TVs, and every IoT device that's connected in your place. Bitdefender Box lets you access all your connected devices from a single phone.
It uses multi-layered cybersecurity and machine-learning algorithms to capture the fatal virus and unusual behavior in the system. Bitdefender Box adds a security layer and gives you peace of mind while you work from Home.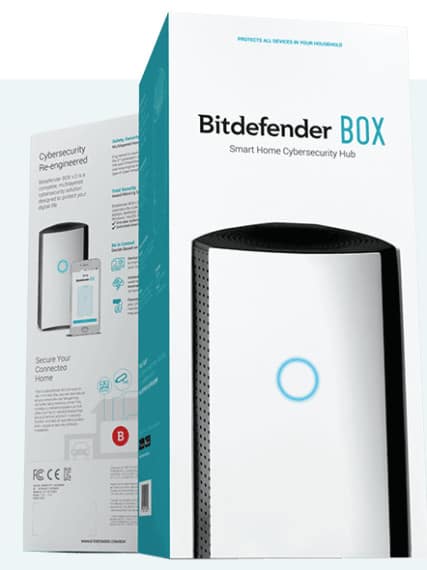 Design and Dimensions
The shipment box comes with a manual guide of a few pages, a 1m ethernet cable, an adapter and Bitdefender Box itself. It shows up in a metallic body in elegant white color. Plus, darkish black color on its 3 thick sidelines, rear, and top of it.
It carries a cylinder-triangular shape with a dimension of 29 x 13.7 x 11.8 cm and a lightweight of 1 pound. Although shipment weight could vary from 2 to 3 pounds.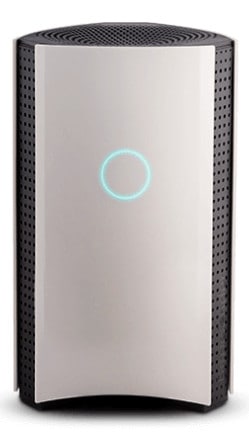 On the front side, you'll see a thumb-sized circle glowing up when you plug it into the power supply. On the backside, there will be two (one LAN, one WAN) 1GB ethernet ports, a DC port, and a little button to reset the settings. Overall, it has a futuristic and sleek look. It doesn't cover much space wherever you place it, and it looks perfect on a PC setup desk.
Specifications and System Requirements
Bitdefender Box has a 1.2GHz Dual-Core Cortex A9 processor with 1GB RAM of DDR3. It supports a flash memory of 4 GB, which gives a fast throughout speed of 1GB. Moreover, it has a Wi-Fi of 802.11a/b/g/n/ac Wave 2 @ AC1900. Also, it supports concurrent dual-band wireless of 2.4Ghz and 5Ghz with MU-MIMO and 3×3 antenna configuration IEEE. Both the ports (LAN and WAN) come with the same connectivity specifications of 10/100/1000BASE-T Ethernet.
To run the setup properly, you need a broadband Internet connection (Cable/DSL/UTP) and a Bitdefender Central Mobile App.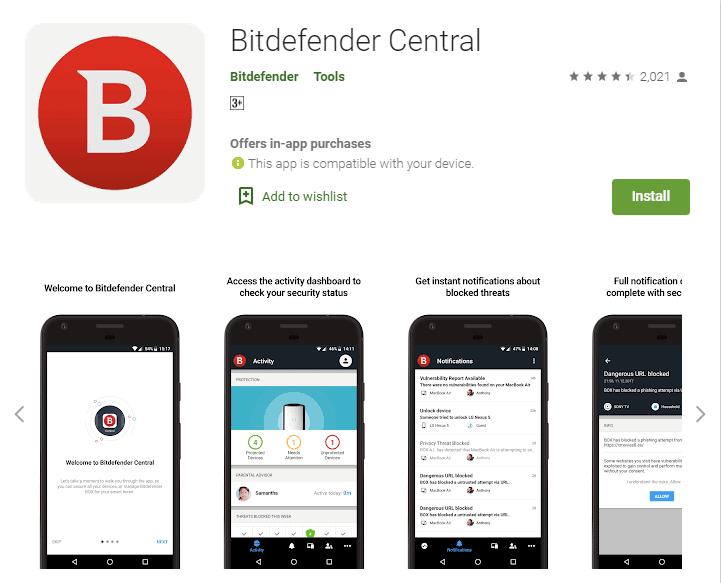 The phone should have a 4G/3G data connection to start that app. Currently, the app runs on iOS 9 or higher and Android 4.4 or higher.
Features and Benefits
After downloading the Bitdefender Central app, you've to complete the setup. Once you finish the setup, your phone will start getting notifications. These notifications will help you update with current security updates. And to take action immediately if it finds something suspicious.
The phone with the central app helps you to monitor and control all the connected devices to Bitdefender Box. For example, it'll show a website you visited days ago is now tracking your smart TV information, failed brute-force attempts, or a malicious URL.
It comes with a Parental Control feature that allows you to block a certain website on your children's phone. Also, you can see the time they're spending on a certain device/website. It allows you to control the screen time of all these devices too. Moreover, it also filters the spam emails that are asking or trying to gather personal/sensitive information such as your credit card details.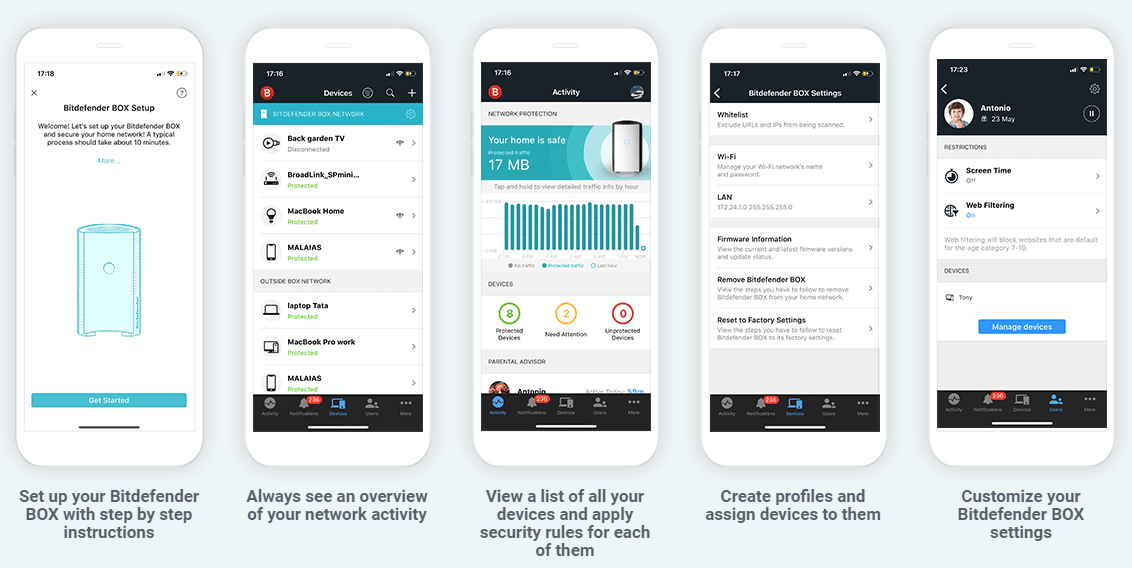 Bitdefender Box comes with a safe browsing feature to save you from malware and any kind of fraud while making a purchase online. It also benefits you with features like network vulnerabilities prevention, content filtering, Amazon Alexa enabled, Google assistant supports and sensitive data protection even while surfing your Social media accounts.
Except for these security features, Bitdefender Box comes with a flash memory of 4GB. You can also use this memory to store your work data, multimedia files, and backup your important files. They provide a 24/7 free setup and tech support too. So, you don't have to worry if you're stuck somewhere while installing/using Bitdefender Box. You can call them and get some professional help to solve your annoying problem, anytime.
Pricing
Bitdefender Box is a subscription-based product that costs you $199 for the first year. You'll get a 1-year subscription including the BOX network security hub. After the first year, you must pay a subscription fee of $99/per year. Plus, you will get 2 freebies with Bitdefender Box – Bitdefender total security and Bitdefender Tech Assist.
You can install it in an unlimited number of connected devices (Support Both Windows and Mac devices). Moreover, it comes with a 30 days return policy. So, it is a risk-free investment.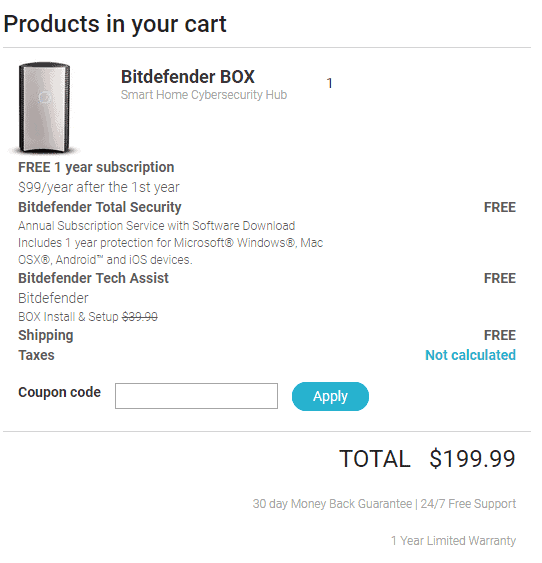 Stay safe with Bitdefender Box when working from home
In this critical COVID-19 crisis, work from home approach seems the wisest and practical choice. It still helps you to wrap up your business without risking a precious life. However, we can't ignore the increasing number of cyber-crimes. Also, a person who works from home has lots of things to manage.
Bitdefender Box simplifies their life by giving them the power of controlling. With Bitdefender Box, you can control, secure and monitor every digital device of a home with a single phone. Although it's a little complex to install the first time. But after that, it does a pretty job to protect you from serious malware and hackers to steal/reveal your data.
Let's know how's your experience with Bitdefender BOX. Also, share this review with someone who works from home and genuinely cares about the security of their home devices.
Pros
Cons
Complicated to set up for the first time.
Limited number of ports
Can't install the central app in more than one phone.
Bitdefender Box smart home network security system will secure all smart devices at your home. It protects your smartphones, desktops, consoles, smart TVs and any other IoT devices when you are working from home.