Bharti Airtel is going to take up the mobile business of Tata Tele Services Ltd. The company has announced the news in an email statement. Unlike the usual mergers, Airtel is NOT going to take up all the debts and liabilities of Tata. Instead, they will clear the financial problems and hand the business over to Bharti Airtel.
In an interview, a Tata spokesperson said that they would be finalizing the deal within the next five weeks.
Tata Docomo- Bharti Airtel Merger; All You Need to Know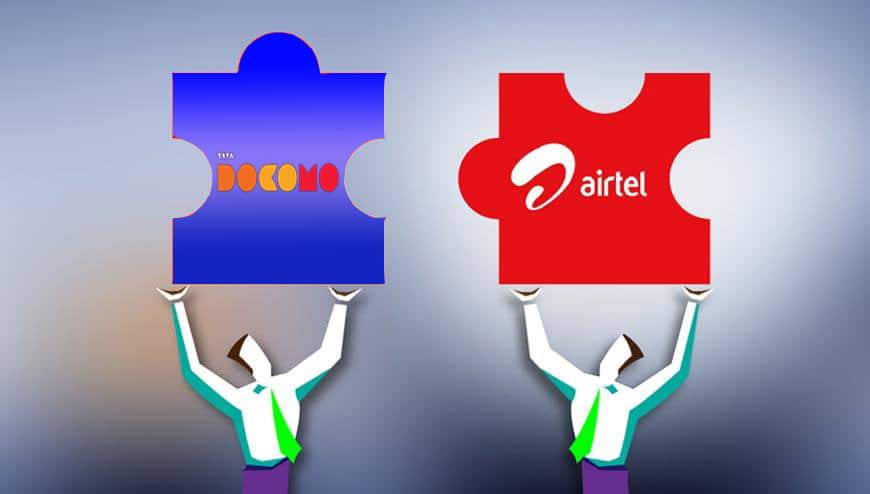 India is the second largest mobile phone market around the globe and we have about a dozen of telecom carriers to choose from. Then, Reliance Jio, helmed by the richest man in India came up with many offers, which we might not even think possible. And, it has shaken the profit level of all the other carriers and they decided to sail with the flow by announcing some similar offers.
The main reason why Tata is handing over their mobile network business to Airtel is the huge debt and loss. The mobile division of Tata is facing a loss of 2,409 crores to Rs 4,617 crore year-on-year. Then came Reliance Jio, worsening the already-bad situation of the network.
The Airtel-Tata merger is going to happen on a debt-free, cash-free basis. On the other hand, Airtel will pay a portion (about 20%) of the unpaid spectrum liability. Tata has almost 100000 million INR liability on the spectrum fees itself.
Once the deal happens, Airtel will get all the customers and the mobile spectrum of Tata Tele Services and Tata Tele Services Maharashtra. They have about 40 million customers in 19 telecom circles, which increase the total subscriber count of Airtel to 320 million.
After the deal, Airtel can own 1800 MHz, 2100 MHz, and 850 MHz bands in 178.5 MHz spectrum. They will also take care of the employers of Tata Tele Services. The merger will give an edge to Airtel as they are fighting Reliance Jio. They bought the business of Telenor in seven circles early this year.
Idea and Vodafone already announced their merger to take down Jio. Once that merger happens, theirs will become the largest telecom network in India with 400 million customers. Jio managed to cross 130 million-milestone in the number of subscribers within a short period of only one year.
As a customer, you get wide coverage all over the country with some handy offers. The deal has to be verified by several governmental controlling agencies. (Tata Tele Services include Docomo and Photon).
In the past, Tata was in talks with Vodafone to take over their mobile business. However, the heavy debts and liabilities pulled them back from making the deal.