The Union Home Ministry of India has asked soldiers posted along the Indo-Chinese border (Line of Actual Control aka LAC) to uninstall applications such as TrueCaller, WeChat, UC Browser, UC Mini, and Weibo.
The Union Ministry gathered inputs from Intelligence Bureau (IB), Research and Analysis Wing (RAW), and the National Technical Research Organization (NTRO). According to the information, foreign agencies from China and Pakistan are trying to spy on the soldiers to leak the confidential data. The government even asked the troops to format their devices altogether to prevent information espionage.
Apps like TrueCaller and UC Browser might Felicitate Information Espionage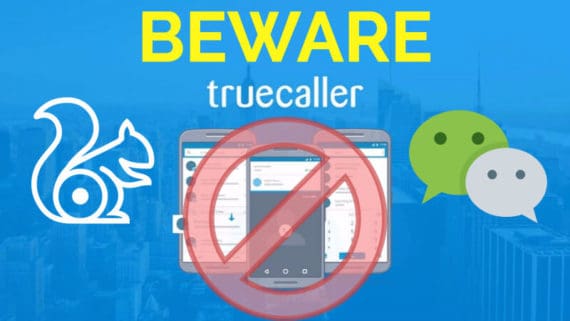 The Government deployed the Indian Army and Indo Tibetan Border Police (ITBP) along the Line of Actual Control. They always get security guidelines to prevent spy attacks from across the border. As a caution of being secure online, the security personnel along the border have been asked to uninstall certain Chinese apps and format their phones altogether.
The Intelligence Bureau even released a list of 42 Chinese apps, which might encourage online spying. UC Browser came under government scanner a few months earlier due to the clamor that they send identifiable personal data to a remote server situated in China.
An official told the media that every member of the forces should maintain the security of their phones despite personal or official as well as computers. He also added they release such cautions and alerts about Chinese-origin mobile applications and electronic gadgets from time to time.
In 2012, India faced the biggest cyber attack aimed at the security wing. The Indo Tibetan Border Police force was compromised badly that the positions, troop movements, and other critical information made their way to the people who initiated the attack (later, the analysis pointed the origin as North Korea). The cybersecurity agencies have warned ITBP this time too in a fear that the history might repeat.
In 2010, the Union Ministry was about to ban Huawei and ZTE devices in India. Of all the devices they sold, the network modems raised the biggest threat to the privacy and security.
The Indian Air Force (IAF) recently warned its officials and family members of Chinese Xiaomi mobiles and notebooks. They took such a measure to prevent even the slightest possibility of data breach across the borders if any.
Chinese army started building barracks and tunnels near the disputed region. They have built about 16 barracks so far to increase the number of troop members in Doklam area.
You might have also read that UC Browser recently got delisted from Play Store for its malpractices in increasing the installations.