The beauty of word games is that they are easy to learn yet challenging to master. Word games take a relatively straightforward premise that becomes complex during actual gameplay. Word games began their rise to popularity with the first published crossword puzzle in The New York World in December 1913.
Since then, an entire industry of board games has been built around the same premise with their unique flavors to the game. These word games have been a staple in almost every family game night across the United States for decades.
Word games can quickly turn into hours of fun for the whole family while also being educational. Today, these games are still teaching children new words and sharpening the minds of adults.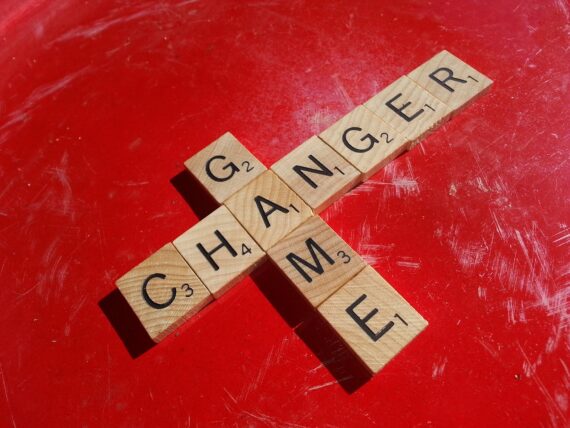 This article will tackle some of the most interesting things about the classic word game Scrabble. Specifically, it will cover the best and sneakiest strategies and the word unscrambling apps you need to try.
Cheeky Scrabble Strategies
Scrabble is arguably the best and most iconic word game in the world. If you talk about word games, this game is likely the first thing that comes to mind. Like most word games, the game's mechanics are simple but have a ton of competitive plays. Players start the game by drawing random letter tiles from the tile bag. Each player then takes turns forming new words on the board using these letter tiles.
The board's layout will look like a free for all crossword puzzle as players form new words. Additionally, Scrabble boards have premium squares like double-letter squares and triple-word squares. Players can strategically place letter tiles on these squares to earn extra points for the words they form.
The typical strategy for intermediate-level players is to expend all seven-word tiles to maximize their scores. However, hardcore players use cheeky methods like 's' plurals, two and three-letter words, and hooks to get ahead in the game.
The "S" Plurals Strategy
One of the most straightforward and sneakiest Scrabble strategies you can exploit is the "s" plurals strategy. This strategy is so overused by hardcore scrabble players that it should be illegal in the official Scrabble rules. Nevertheless, it's still a viable strategy both in the classic Scrabble board game and the Scrabble online game.
The objective of the strategy is to exploit existing words with "s" plurals to create a new word. Essentially, a player only needs to look for words on the board they can pluralize with the letter "s." Some players can even find angles to exploit both "s" plural words and bonus tiles. Examples of words with "s" plurals include:
Star
Ad
Rose
Act
Hat
Face
Oath
Rail
Tear
Unit
Nail
 Ear
However, it's essential to note that the "s" tiles are severely limited in a classic game of Scrabble. The typical setup only contains about four "s" tiles, so save those "s" tiles for game-winning plays. It's ideal to reserve "s" tiles for words that will garner you ten points at minimum for pluralizing them.
The Hooks Strategy
The hooks strategy is another cheeky play knowledgeable Scrabble players often exploit. A hook describes single letters a player can insert into an existing word to generate a new one. While the hook strategy shares similarities with the "s" plural strategy, it's not as frowned upon by other players.
It takes a somewhat strong vocabulary and clever tile positioning to pull it off. However, when mastered, the hook's strategy is very powerful and can easily catch other players off guard. The most common hooks masters of the strategy use are the letters "y," " d," "r," and "e."
The Two- and Three-Letter Words Strategy
The two- and three-letter words strategy is one of the more challenging to master among the three approaches. That is because it takes some level of memorization for some words most people do not usually use.
However, a player familiar with all the two- and three-letter words can exploit nearly every section of the board. That means players can abuse bonus tiles by exploiting the smaller spaces with only two or three tiles. With proper positioning, you can garner about 50 points using this strategy with little effort. Examples of two- and three-letter words include AID. GO, LA, AIR, WO, WE, GAD, and JAB.
Top 6 Must-Try Word Unscrambling Apps
Using unscramblers may not be considered a strategy because it technically uses an external application to gain an advantage. Some people regard it illegal in some word games because these tools are suitable for formulating new words.
However, even if you cannot use them in-game, you can still use them to sharpen your vocabulary. Here is a list of the five-word unscrambling apps you can use to get better at word games.
1. Unscrambled Words
Starting with what is arguably the best among the entries on this list is Unscrambled Words. The user interface and design are straightforward and well-executed. The word search engine is intuitive and provides additional features for editing search parameters. These include "words that start with," "words that end with," and "words that contain."

It also has filters for search results like word length and switches for United States and United Kingdom standard dictionaries. Additional features include an anagram solver, Wordle solver, and crossword solver. The website even has interesting articles like "Tips and Tricks for Placing Words" and "Highest Scoring Scrabble Words and Plays in History."
2. Jumble Solver
The Jumble Solver app is one of the most simplistic entries on this list. The user interface is straightforward, and searches automatically show results for 7-2 letter words without needing filters to specify parameters. Additional features include an anagram generator and a crossword solver.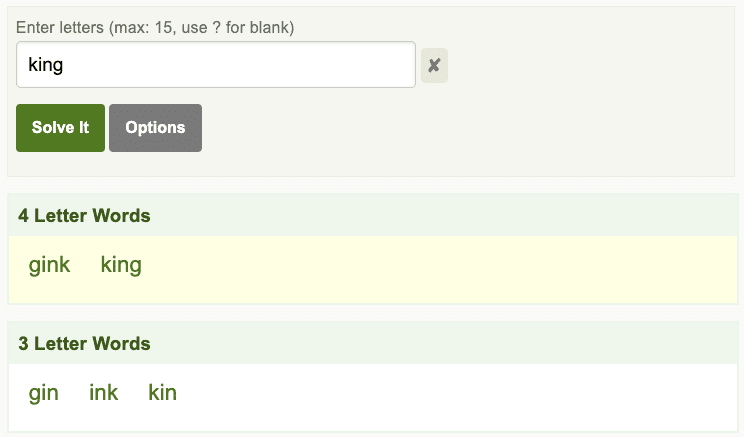 3. Word Finder
The Word Finder's user interface takes some getting used to because of the additional features. These features include options for "starts with" "contains" "ends with" and "excludes" You can adjust the search filters to sort by length and include a filter for different versions of Scrabble. The Word Finder website also has Scrabble word lists and a Sudoku solver.

4. Spelling Bee Solver
Called SB Solver, for short, the user interface is pretty straightforward and simplistic. The word search function also provides possible words that combine letters inside and outside the searched letters.
You can even narrow your search with their multiple filter checkboxes. These include hiding solution sets, hiding letter distributions, showing a 2-letter tally, showing disallowed matches, hiding 4-letter words, and disabling word links.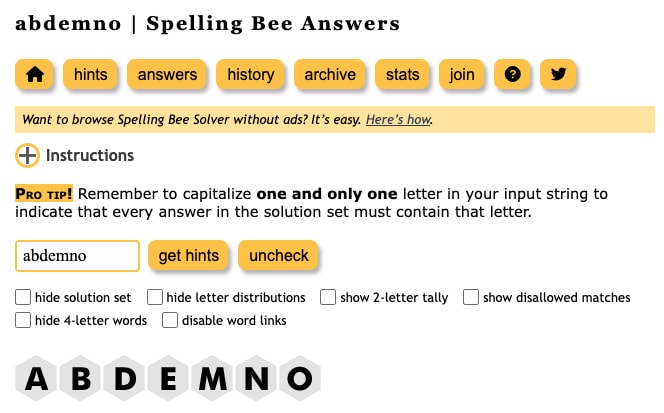 The website also has a charming feature similar to "word of the day" engines. These are everyday hints and answers for the New York Times spelling bee.
5. Word Descrambler
Word Descrambler user interface is simple and similar to Jumble Solver, with the interesting addition of other unusual features. These include word lists, a scrabble word finder, and name sites.
The basic word search is straightforward and allows you to use filters like "starts with" and "ends with" It even includes other language options such as English, Spanish, Scrabble for US and Canada, and Scrabble for all others.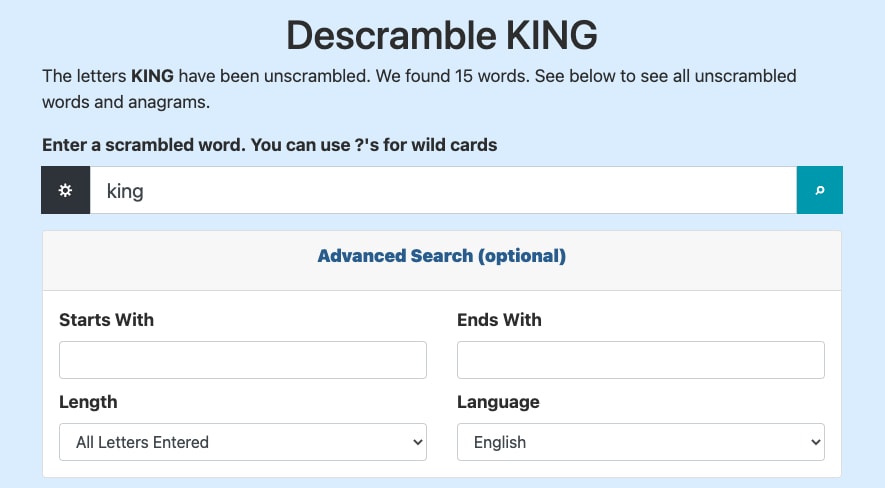 Additional charming features are the name sites linked to the website. On these name websites, you can search and generate baby names or a combination of two different names.
6. Letters-Words
Letters-Words.com is a word search engine for students searching for synonyms and antonyms, puzzle enthusiasts to find the solutions for scrabble and crossword solutions, and everyone who wants to find plenty of English words.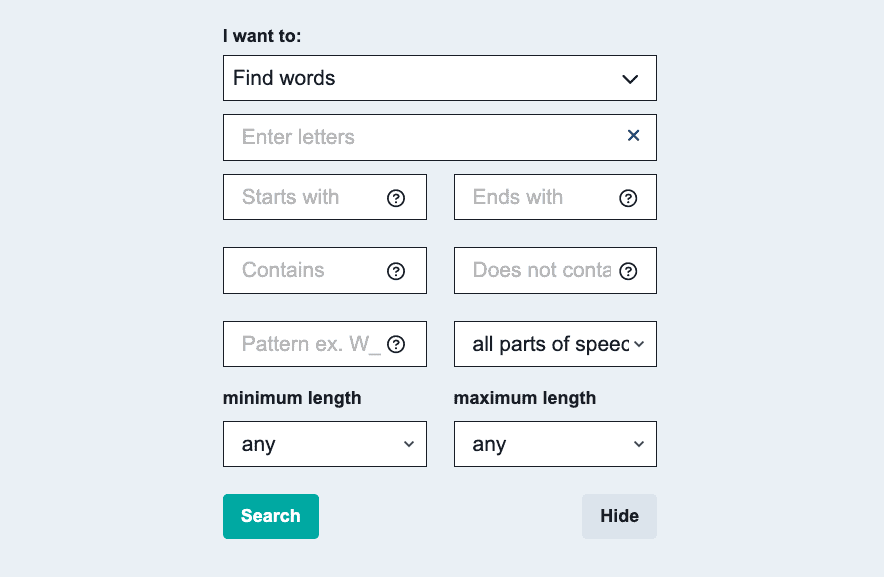 It offers a variety of tools like word games, puzzles, word generators, crossword solvers, synonyms, antonyms, and much more. It also offers many features that allow users to search words based on the length of the word, matching with a sequence of letters, etc. The website is built user-friendly, responsive, and easy to navigate.
Improve Your Way With Words
Word unscrambling apps have many practical applications, from getting better at word games and crossword puzzles to creating fun anagrams. Word unscrambling apps can also help people improve their vocabulary by discovering new words in and out of the Scrabble board. With the five options on this list, you will surely get better with words.