WhatsApp is one of the most popular mobile messaging services. Facebook recently bought WhatsApp for a whopping $19 billion US dollars, which is a huge amount of money for a messaging platform. There are a lot of WhatsApp tricks and tips that can make your experience with WhatsApp better and promising. Well, you might have already discovered some of these WhatsApp tricks and tips, but to know whether you have missed anything from our collection, do check out this article on the best WhatsApp tricks and tips 2108.
Best WhatsApp Tricks and Tips
Here is a huge collection of 26 best WhatsApp tricks. These WhatsApp tricks will mostly work on all operating devices and some of these WhatsApp tricks need root access in case of Android devices.
1. How to hide Last Seen Timestamp on WhatsApp
Along with WhatsApp Status, now you can hide last seen timestamp too. WhatsApp has a feature which shows the time of last time a user is active in WhatsApp. Many of us like this feature but some does not. And if you are not in favor of the Last Seen time stamp feature of WhatsApp, then you can easily disable it in both iOS and Android.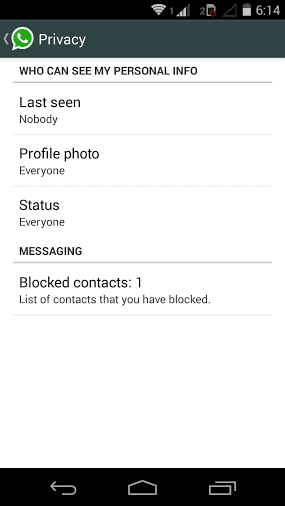 In iOS, to disable Last Seen, go to Settings>Chat Settings>Advanced and Turn OFF the Last Seen Time option.
In Android go to Settings > Account > Privacy. Here you can make changes such that your last seen can be seen only for people you set.
2. How to Backup and Restore WhatsApp Messages
WhatsApp regularly takes an automatic backup of all your messages, however, in case of an emergency, or in case if you want to hard reset your Smartphone, you can always take a manual backup of your latest WhatsApp messages.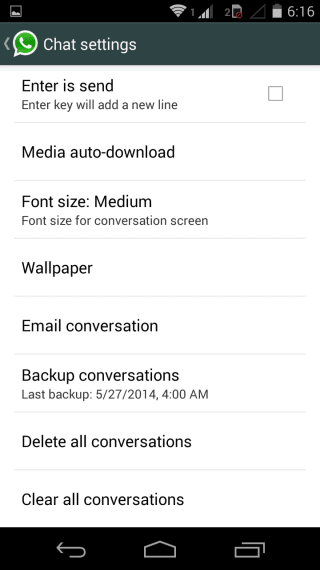 On iOS, go to Settings>Chat Settings>Chat Backup> then click on the Backup now option.
On Android, again go to Settings>Chat Settings> and then click Backup Conversations. This will create a backup. To back up, your media content, copy the media content from the backup folder using file managers.
3. How to Set Password For WhatsApp
Not everyone is ready to give their Smartphones to others with some personal information and messages in WhatsApp. If you are a similar person, then you would probably want to set a lock for your WhatsApp account, so that no one other than you can access your WhatsApp messages and application.
You can set lock or password for WhatsApp on both Android and Blackberry operating systems. For Android, simply download the WhatsApp Lock application and configure it to set a lock or password for your Android WhatsApp application.

For Blackberry, download and set up the Lock for WhatsApp application to set up a lock/password for your WhatsApp application.
4. Create Shortcuts for Contacts On Homescreen
Do you have chatter bugs on your WhatsApp contacts list with whom you are always chatting? Do you find it annoying to go each time through the application to access messages from those favorite contacts?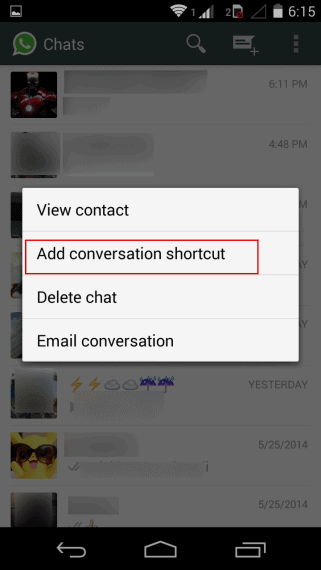 Then you can simply create a shortcut for your favorite contacts on your Android home screen easily.
Take your WhatsApp contacts list, and then long-press on the contact of whose shortcut you need to appear on the home screen. A popup menu box will appear, and from the menu, click on the Add Conversation Shortcut button and now you will see your contact shortcut on your home screen.
5. WhatsApp+ with Holo Themes
WhatsApp+ is not yet released officially, however, we can install .apk file directly to use it. Users have claimed that they have seen absolutely zero errors on their smartphones while trying this apk file.
6. Get Profile Pictures of your Contacts
WhatsApp will not provide any option to download our contacts profile pictures but it will save them on our memory card, most people are not aware of this. To see profile pictures of your contacts, go to microSD card > WhatsApp > Profile Pictures. Here you can have all profile pictures with their mobile number as the image name. You can copy them to make use of them.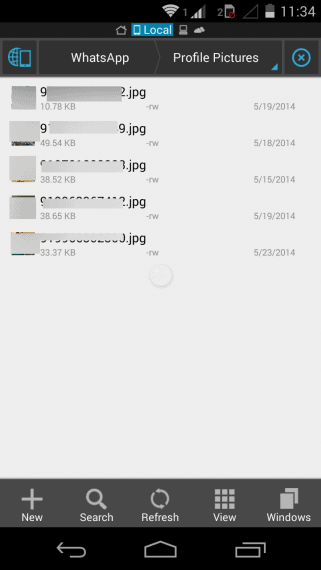 7. Send and Receive WhatsApp Messages in PC
This is one of the best WhatsApp tricks. You can now send and receive WhatsApp messages directly from your computer, no matter whether it is Windows or Macintosh.
Update: WhatsApp released WhatsApp web to use it from any computer directly without using add-ons like Remix OS.
8. Change Background Image
Changing Background image is one of the interesting WhatsApp Tricks you must try. If you are bored with default WhatsApp background while texting, you can now change it and set your own picture but it is recommended to set light color backgrounds as dark backgrounds look messy.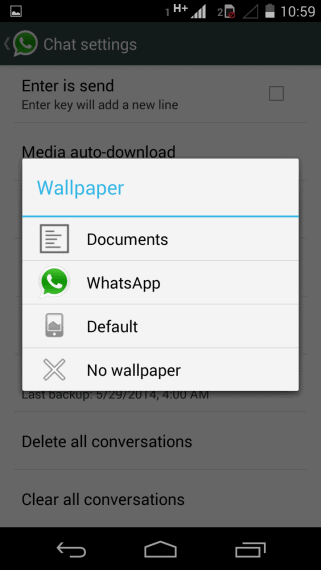 To change WhatsApp background image, go to Settings > Chat Settings and click Wallpaper.
9. Disable Auto download
By default, WhatsApp downloads all images, videos and voice notes to your memory which will create a lot of mess in your gallery. You can disable this option from Settings > Chat Settings > Media Auto Download. If you want to completely disable auto download, make all options to No Media.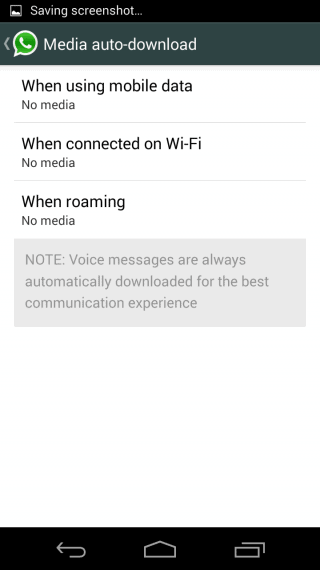 10. Delete Backup Messages and Media to save memory
If you enable auto-download media, WhatsApp will start downloading and save all images and videos you receive in chat along with your friends profile pics. When time passes, it will create a lot of mess inside which drinks lots of memory. So here is a cool the WhatsApp trick to clean them in a single click.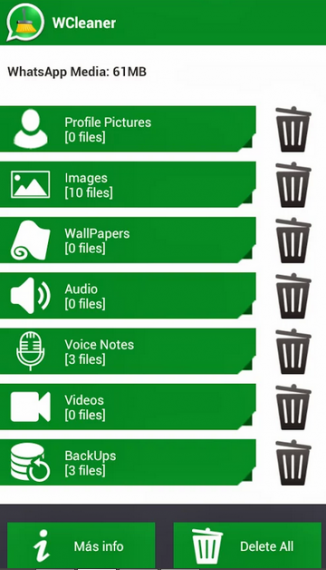 If you are an Android user, Install WCleaner on your device and run it. It will automatically detect all WhatsApp files and sort them into 4 categories namely images, videos, audio and backup's along with total space they occupied. Simply click the trash button to delete them permanently to release free space.
11. Transfer Conversation
Moving Conversation is one of the cool WhatsApp tricks and tips you must try immediately. This trick will help you to send an entire conversation between you and your friend via email directly with a simple click. To email a conversation, long press on conversation and select Email Conversation. You have the option to exclude media as well. The conversation will be sent as a text file.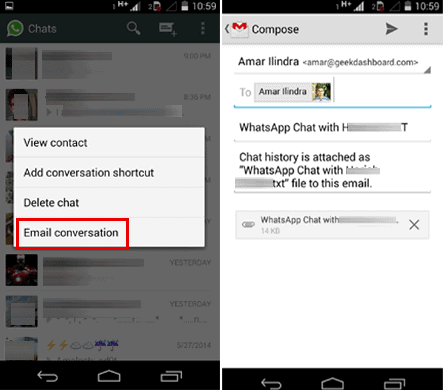 12. Install WhatsApp on Android tablets
WhatsApp is built only for Smartphones but not for tablets. But nothing is impossible with Android right? You can run WhatsApp using your land-line telephone on Android tablets.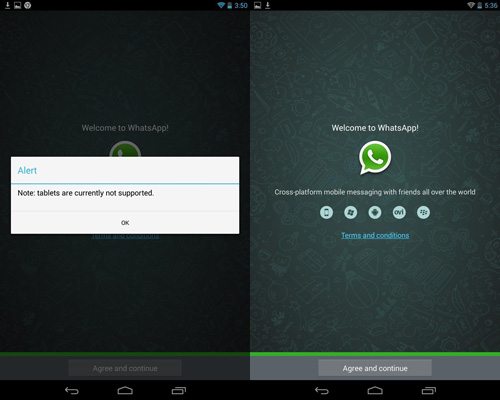 First download Android apk file of WhatsApp from play store
Next Download SRT AppGuard application on your tablet and now install them.
Run AppGuard first and from Dashboard, Select WhatsApp and click Monitor. Once it completes monitoring the application, scroll to phone class section and disable read phone status and identity.

Open WhatsApp normally and configure it using your Land-line. You can verify your tablet using verification code when you get a call to your land-line.
13. Chat heads like Facebook Messenger
Facebook Messenger released Chatheads which is really an awesome thing for chat addicts. You can get same type Chatheads for WhatsApp as well. Currently, we have no choice of depending on the third party and also your mobile must have root access. Rumors say that WhatsApp will add this feature in coming updates.
Update: Now, you can use WhatsApp Chat Heads without root access. Scroll down to WhatsApp trick #25 to know how.
If you really want Facebook Style Chat heads and you have a rooted device running on Android ICS or higher, then follow below-mentioned steps:
Download Chat Heads for WhatsApp application from Google Play Store and installs it on your Smartphone.
Run Chat Heads for WhatsApp application and click allow root access and click ok when a popup asking to enable accessibility service.
This will take you to accessibility settings and simply turn on Seebye Chat Heads 
Chathead will get activated immediately after getting a new message in WhatsApp. Anyhow UI of this Chatheads is not same as Facebook Chatheads but it looks convincing.
14. Stats about your Messages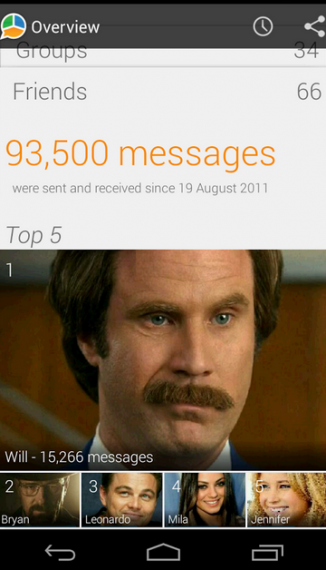 This is a really interesting WhatsApp trick. If you're an Android user and really interested in checking your stats of total messages you made from the very first day of installing WhatsApp, then this third party application is waiting for you. Using WhatStat application, you can check how many messages you sent in total and to an individual person. It will also show the top 5 friends you chat the most.
15. send zip, apk files
For security reasons, WhatsApp allows only images, audio, and videos to transfer between contacts. Emergency situations force you to send pdf, zip, and other formats. Making use of a third-party app like WFS: WhatsApp File Sender you can send any files of any size via WhatsApp.
Note: Both the sender and receiver must have WFS: WhatsApp File Sender application installed on their smartphone.
16. Restore deleted messages
This is a bit tricky and one of the best WhatsApp trick everyone should try. If you're non-techie, try this trick with the presence of mind. WhatsApp by default saves all received and sent messages to your memory which everyone will ignore. In case if you deleted any conversation by mistake or thinking to get deleted messages back again, you can do this from WhatsApp database.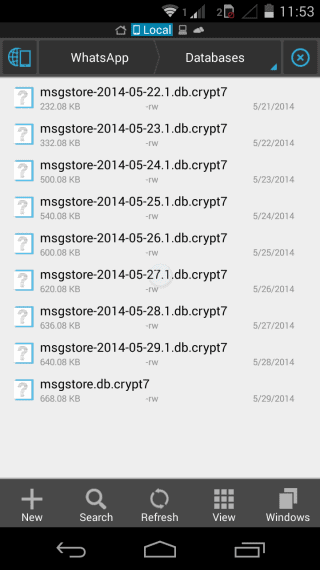 Please note that we're just restoring to an older date, so all new messages you received or sent after that date we're restoring are gone forever. However, if you apply this same trick again, you can see new messages again but this time older messages will disappear.
To restore deleted messages, go to microSD card using any file explorer application, navigate to WhatsApp and then to Database. Search for two files named msgstore-yyyy-mm-dd.1.db.crypt5 and msgtore.db.crypt.
'yyyy-mm-dd' represents date and '1' represents that it is the first backup made on that day. msgtore.db.crypt is the actual file from where all our messages are being displayed.

Rename msgtore.db.crypt to something you like, for example rename it as whatsapp_tricks_msgtore.db.crypt
Now look for the date before you deleted the required conversation and rename that file to msgtore.db.crypt. 
Uninstall and re-install the application. Select restore while installing WhatsApp again. This will restore all data present is msgtore.db.crypt which we renamed earlier. As a result, the new database is now replaced with the old database where your deleted conversation will still present.
17. Change your friend's profile picture
Really you can't change your friend's profile pic in WhatsApp database, but the fact is you're just changing only on your device. This is one of the coolest WhatsApp tricks in our collection – WhatsApp tricks. Make use of this WhatsApp trick to troll your friend.
Go to Google and look for funny image and download it.
Re-size it to 561×561 pixels using any online tools or Adobe Photoshop.
Now save that re-sized image to WhatsApp > Profile Pictures. Make sure the name of the pic is as same as your friend's phone number (Without country code). Overwrite if asked.
This will replace the original picture with a just copied picture. If you're connected to a Wi-fi or Mobile data, WhatsApp will update the profile pic automatically. So make sure you disable both Wi-fi and mobile data before starting prank.
18. Schedule Messages in WhatsApp
Many relations gets even stronger if you wish them on all occasions. You may ignore those days in your busy schedule. Make it never happen again with [WhatsApp] Scheduler ROOT BETA, where you can schedule your message at the desired date and time. It will take care of the remaining things. This WhatsApp trick will only work on the rooted device.
19. Create Fake Conversation
If you are one who usually tries to prank your friends frequently, this WhatsApp trick is waiting for you. You can create a fake conversation between you and your friend to prank him. Use this application for fun and never misuse it.
20. Change Number in WhatsApp
WhatsApp (2.11.98) let you change your phone number directly without using any third party applications and the best part is, it is completely official now. It will surely help you if you change your mobile number instead of taking backup and restoring it again, this option may make your work even easier.
Download WhatsApp (2.11.98) to Change your WhatsApp Number
21. Install WhatsApp in Nokia X, X+, and XL
Recently Nokia released an Android tablet N1 and few smartphones running on Android. WhatsApp installation is blocked or not supported by those devices. Here is a simple WhatsApp trick to install WhatsApp on Nokia devices running on Android. Click here to know the trick.
Special Bonus for WhatsApp Tricks: Check our latest collection of WhatsApp dare messages and games.
22. Use WhatsApp Desktop Apps
Recently released native desktop apps for Windows and MAC. These desktop apps work very similar to WhatsApp web but the only difference is it won't run in browsers, they work like normal application software. Try new WhatsApp native apps here.
23. Use Full Size DP without cropping
The most common problem in WhatsApp is cropping the image while changing the profile picture. Sometimes it is not possible to fit all persons in the picture due to cropping.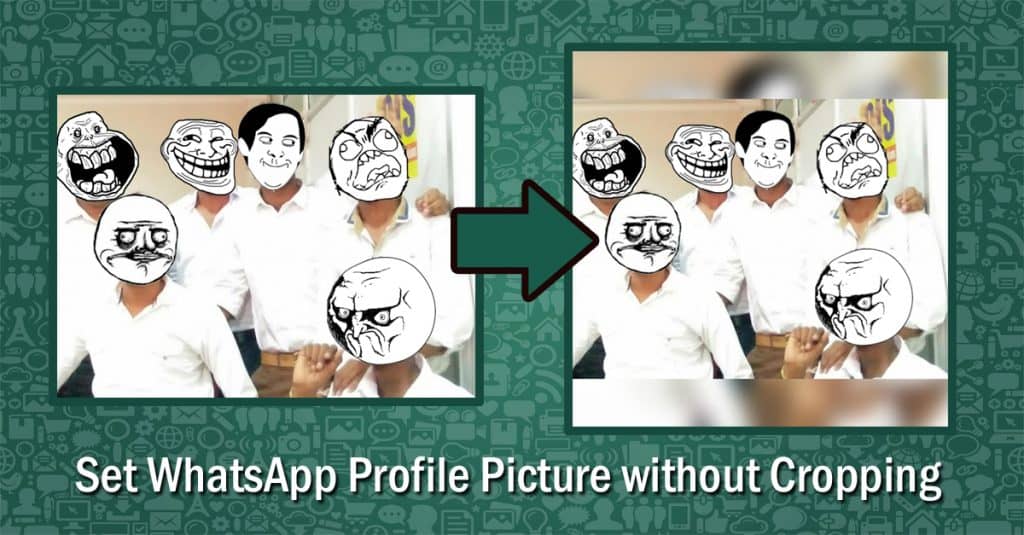 To avoid cropping and making your rectangular image to a perfect square, you can try this WhatsApp picture trick which helps you to skip cropping images.
24. Enable WhatsApp Chat Heads [No Rooting Required]
You might have used Chat Heads on Facebook messenger which popups on any screen and helps to reply instantly. You can do the same with WhatsApp as well.
25. PIN WhatsApp Chats to top
In the recent update, WhatsApp released a new update which allows you to pin your favorite chats to the top. This will help you access your frequent chats easily without scrolling and searching for it. To do this, all you need to do is long press the chat you need to pin and tap the PIN icon on the top menu.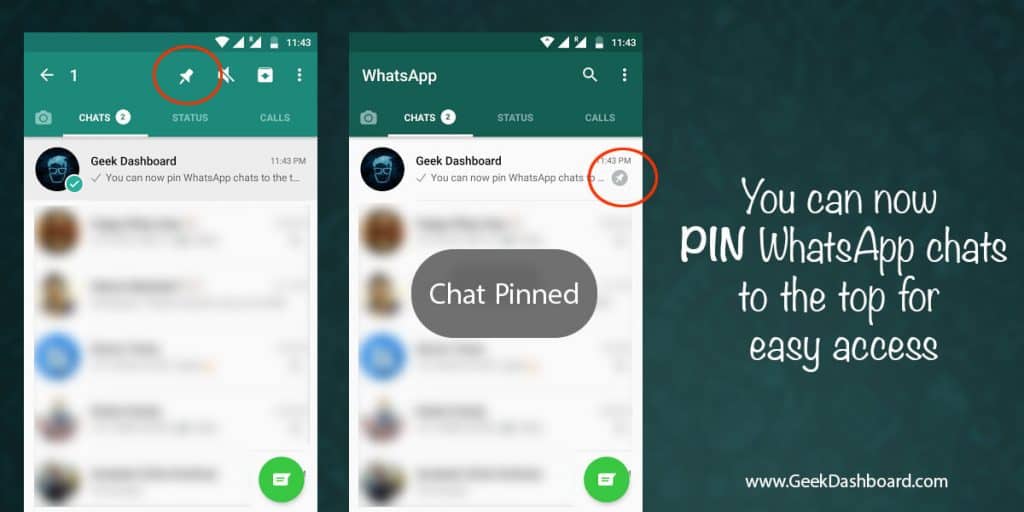 That's it, your chat is pinned to the top and can be accessed easily without scrolling every time.
26. Read Deleted Messages in WhatsApp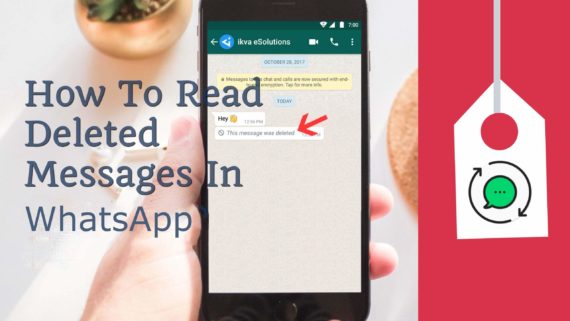 In 2017, WhatsApp released a new feature call "Delete for Everyone" to undo the sent messages in WhatsApp. But it is not 100% secure. We can listen to the WhatsApp notifications to store the message even before that message is deleted.  To do this, you need an app called WA Delete for Everyone which will show you the deleted messages you received after installing the application.
Hope these best WhatsApp tricks and tips are useful. If you have more such interesting WhatsApp tricks with you, do share it with us.