Weather is something that we check before heading outside for work or anything else. It plays a vital role in our lives and affects our mood in some ways. Nevertheless, to check the weather, we look towards the weather apps.
Every weather app offers different features and user interfaces; hence, choosing the best weather app is challenging, especially when searching for the best weather apps for Android.
The default weather apps are sometimes all we need, but it misses out on the key features available on other third-party apps. Through this guide, we'll show you the best weather apps for your Android device.
Best Android Weather Apps You Should Try!
Weather apps are abundant on the Google Play Store, and that's what makes it hard to choose between the weather apps scattered all over the place. Leaving the research to us, we've found some of the best weather apps that you can try on your Android smartphone.
1. Overdrop – Best Weather app for Android
When it comes to minimalism and better interface, Overdrop is a killer in its class. Over that, you also get support for multiple themes. This app comes in a minimal and modern style interface that looks pleasing to the eyes. You get all the basic things like showing the weather data in real-time, weather alerts, 24-hour and 7-day forecasts, and many more.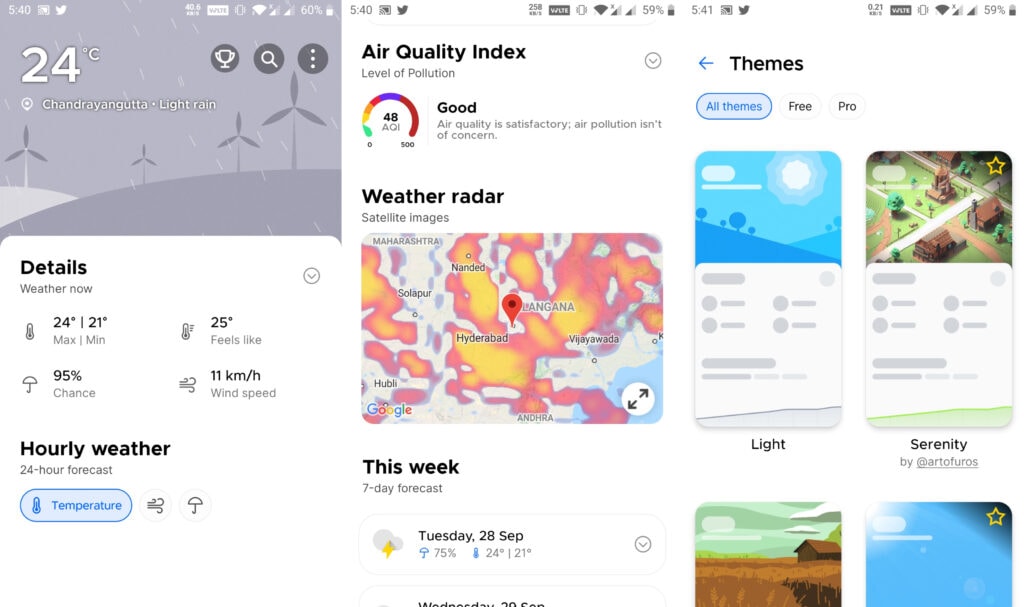 Overdrop also has many features like the Air quality index and weather radar, making it different from other apps. But that's not the best part of the Overdrop, and it's the widgets. Overdrop comes with many Widgets, and you can even customize them to your liking—from icons to their position and colors, you name it. That's what makes it one of the best weather apps on Android.
You can also make the weather app stay in the notification in a compact form, so you're always up to date with the weather. You can choose from four weather providers—WeatherBit, Dark Sky, AccuWeather, and OpenWeatherMap. The only downside is that it isn't free; with ads here and there, you'll need to get the full version. It costs $8.99, which gives you an ad-free experience.
2. The Weather Channel: Weather Radar & Live Widget
The Weather Channel is an app from the house of weather.com, and it's a reputed weather reporting channel. As a result of this, you can take The Weather Channel app as a reliable source. Coming to the app itself, you see a simple and easy-to-use traditional interface. Even though it's not modern, this app displays everything in more of a TV channel's way.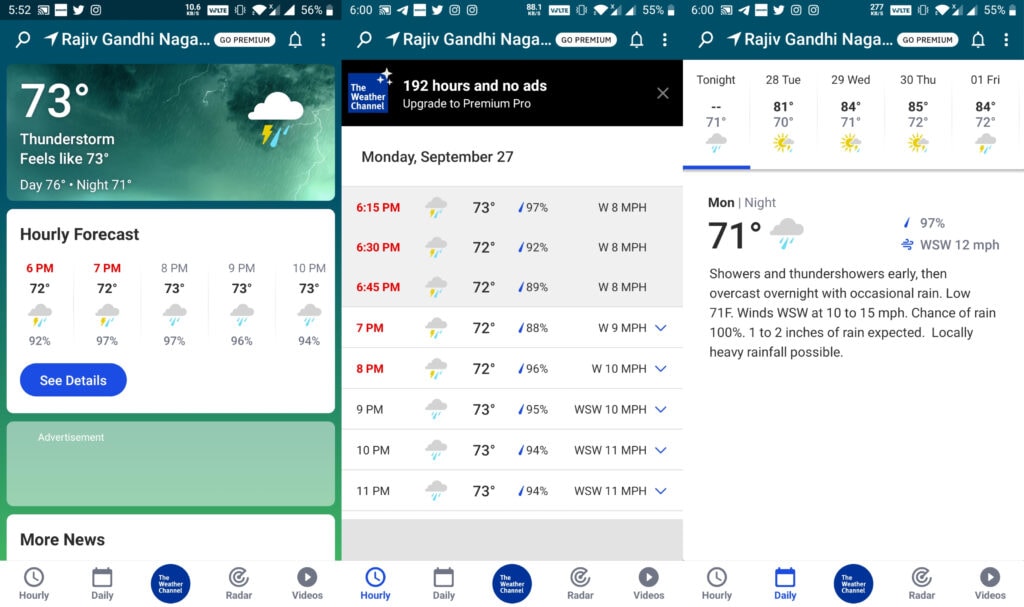 When it comes to unusual weather alerts, the app is quite reliable and displays warnings like earthquakes, thunderstorms, and many others. You get other essential features like the hourly, daily, and weekly forecast. That said, it also comes with live widgets that update often. Similar to the Overdrop app, you also get the Weather Radar view, giving you an overview of the past weather in any given region.
In addition to that, there's also the Doppler radar data that displays an interactive map to show rainfall, severe weather alerts, and many more. The free version is good to use, but it comes with ads while browsing the app. Albeit, you can remove them by going for a yearly subscription at $29.99. This subscription gives you an ad-free experience and provides you with weather predictions for the next 24 hours and many more.
3. Weawow: Weather & Widget
Weawow stands out to be a beautiful weather app on this list and also free of advertisements. It provides you all the essential features that a weather app can, like live weather, hourly, two-days, and weekly forecast, and many more. You get accurate and detailed Forecasts with beautiful images that match the weather.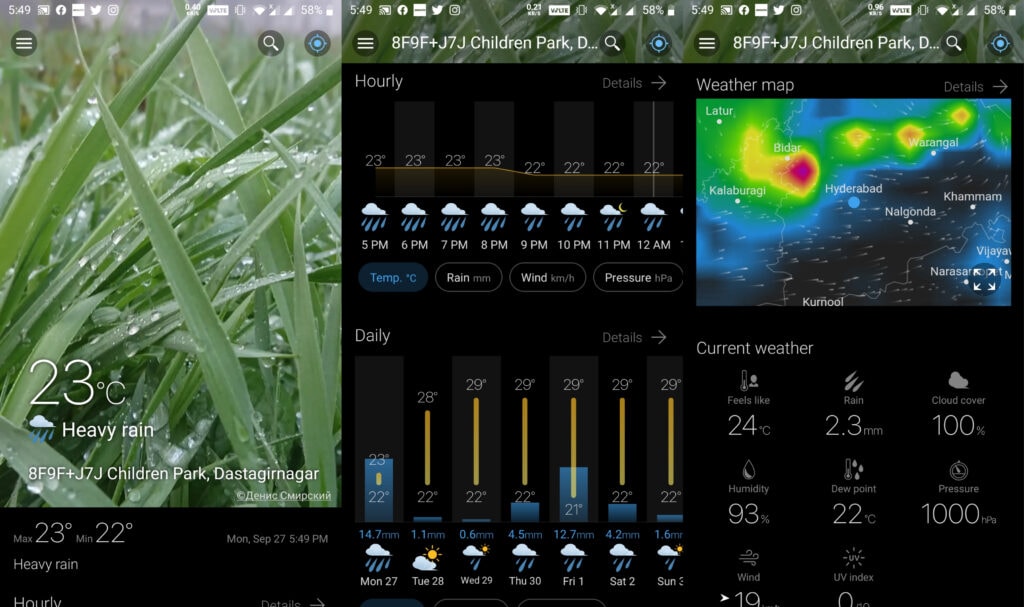 You also get other information like the probability of rain, dew point, humidity, air quality, speed of the wind, UV index, and many other unique features. It comes with a few weather providers like MET Norway, Weatherbit, OpenWeatherMap at no cost. However, some providers aren't free and only available for those who donated to the app developers — AccuWeather and Foreca.
Furthermore, you get the ability to set up weather alerts, notifications, and reports at certain times or intervals. Similar to other apps, this weather app also supports different widgets. There is support for dark mode, and the app is entirely free. You can make a small donation to the app if you want to support the developers.
4. AppyWeather: Best Simple Weather app for Android
Appy Weather is more of a simple and easy-to-use weather app. It doesn't complicate the UI but keeps it straight to the point. You get the current weather summary in simple and plain-spoken language using a unique timeline that you won't see anywhere. The app is so well-designed that it won Google Play's Best of 2019 Everyday Essentials award and many publications praised it.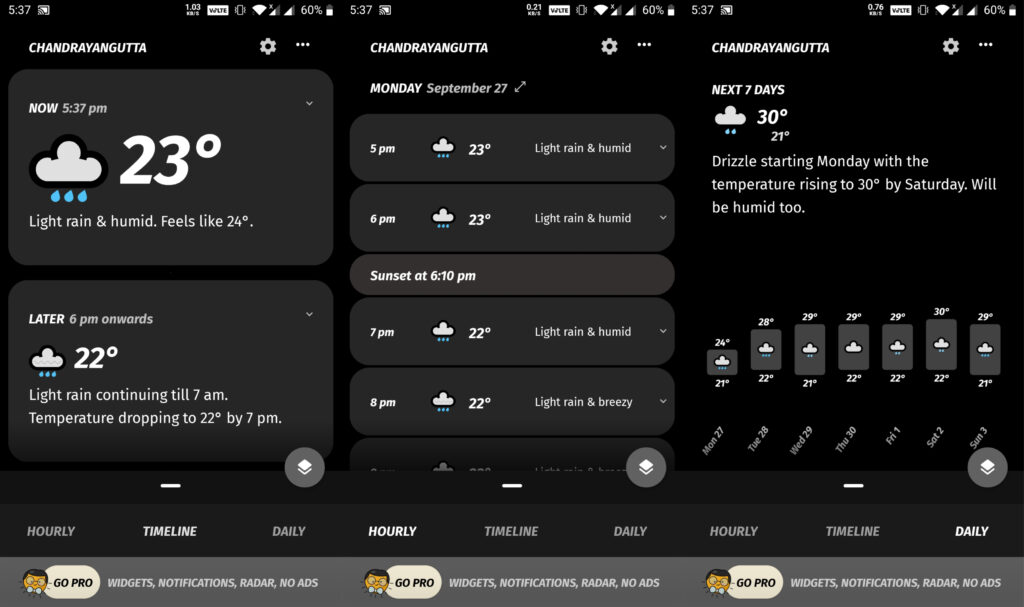 The language used here is quite user-friendly, and anyone can understand it. If you want to glace over the weather and don't want to complicate anything, the Appy weather is the perfect one for you. You get the Forecasts hourly and daily; the timeline shows you your essential current climate. It also comes with multiple notification settings.
Appy Weather app provides you with three app tiers — Plus, Pro, and Lightning Pro. These subscriptions enable features like widgets, notifications, more weather service providers. That said, Appy Weather puts privacy first and doesn't collect any user data. If you come from Dark Sky, this would be an excellent replacement for you.
5. AccuWeather: Weather Alerts & Live Forecast Info
When it comes to weather apps, there's no doubt that you haven't heard of AccuWeather. If you haven't, you might have been living under a rock all these years. Many users didn't prefer the AccuWeather design, and thus it got a redesign recently. The app is known for its accuracy in weather Forecasts since it is a weather service provider itself.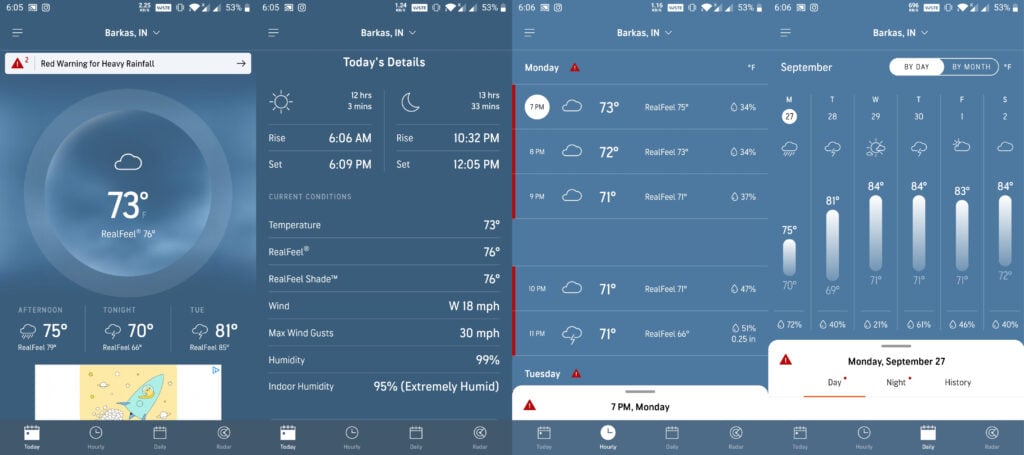 The app offers detailed weather reports like humidity, UV index, wind speed, and many more. There are also hourly and daily weather forecasts and weather radar that enhance the experience further. Moreover, the app has its WearOS app, which looks impressive on any smartwatch running WearOS.
The best part about AccuWeather is the MinuteCast feature that predicts rain on a per-minute basis, so you're updated and plan your day in a better way. It comes with widgets on Android, and you can get rid of the ads by paying a yearly subscription fee of $8.99.
6. Weather & Radar: Storm Radar
You can't ignore the Weather & Radar app for accurate data in weather apps. It has all the features that any radar app offers and makes it easy to navigate through the layout. You can add different locations, and it'll update you with real-time weather data.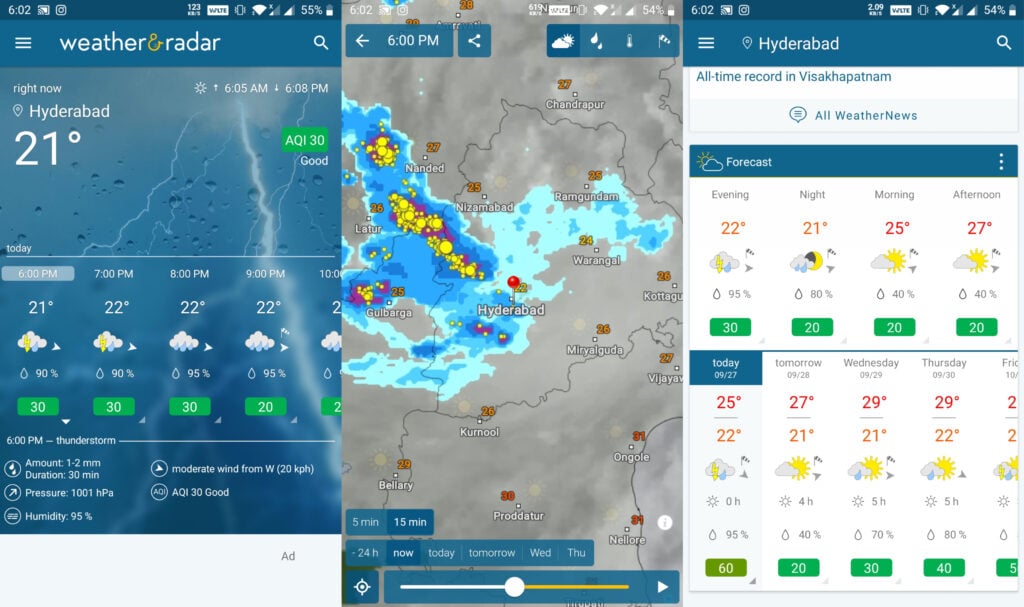 You also get unusual weather alerts when there's an earthquake or thunderstorm brewing up. In addition to Unusual weather alerts, you also get weather news which gives you a detailed report of what's going on with the weather. It has the coastal conditions feature that allows you to get an idea of the coastal temperatures.
The 90-minute nowcast feature in the Weather & Radar app gives you precise predictions of the upcoming 90 minutes. It uses weather observations and some high-resolution models to provide this data to you. You can also get to see the world's weather without moving from your seat, similar to other weather apps.
7. Morecast – Weather Forecast, Radar & Widget
Similar to Weather & Radar, the Morecast app also gives you the precise accuracy of the weather. Moreover, it takes it to the next level by giving you the pinpoint accuracy of streets in locations like the US, Canada, and Mexico. It comes with a weather radar that gives you an overview of the weather. Moreover, Morecast has backed by around 28,000 sources for Weather Forecast.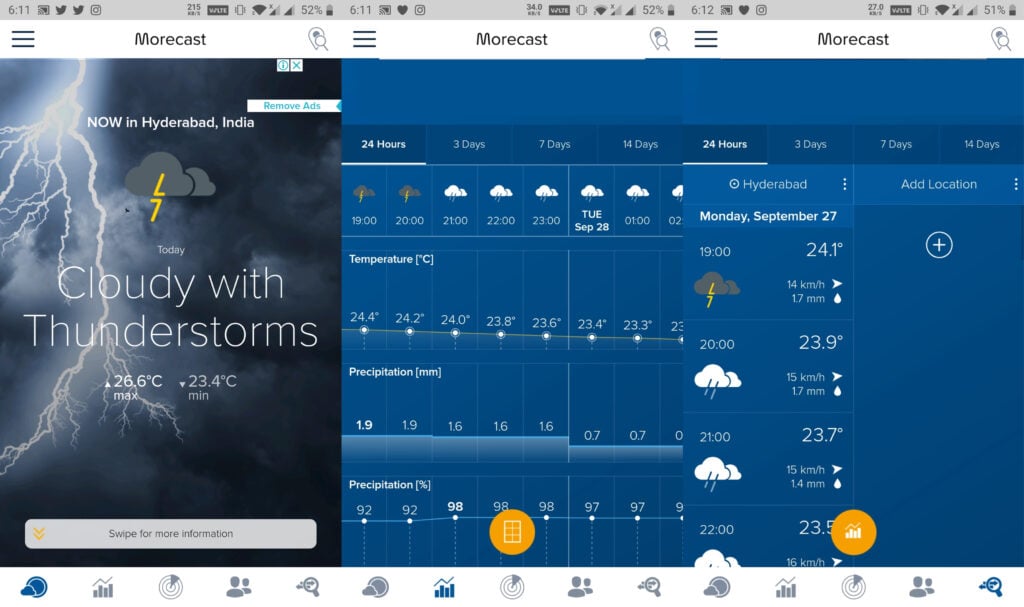 A Storm Tracker feature also informs you of any upcoming thunderstorms, heavy rainfall, and even snowfall. In addition to that, you get a customizable weather widget that looks better on your home screen. Even weather graphs let you visualize the weather Forecasts in 24 hours, three days, and 14 days Forecasts. This app comes with live webcams from around the globe that provides the weather at a particular place.
Furthermore, you can compare two locations side-by-side so that you can make decisions accordingly. There's also weather navigation giving you the ability to navigate around an area with the best route considering the weather notifications. This app comes with some advertisements that you can remove by paying a one-time premium fee of $3.49.
8. MeMeteo: Weather Forecast
MeMeteo weather app claims itself as one of the most accurate weather apps on the Play Store. It uses the ECMWF model to provide you with the data with much more reliability. With precipitation Forecast built into the app that lets you monitor the precipitation in real-time and the upcoming possibility of rain.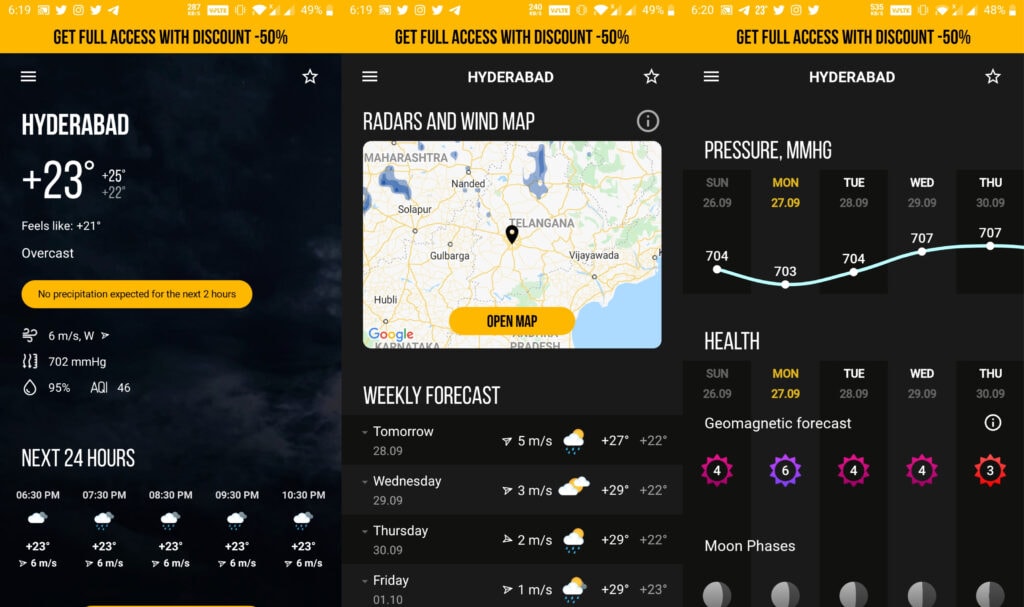 It gives you detailed information about the weather like temperature, atmospheric pressure, wind direction, air temperature, 7-day Forecast, and much more. In addition to that, you get unusual storm alerts for the next three days. There's also a UV index if you're curious and want to protect yourself from ultraviolet radiation.
The app also shows the Air Quality Index to give you awareness of your surroundings. There are many other features like Rain radar, air humidity, monthly forecast, thematic backgrounds, and much more. There are some additional features that you can unlock and get rid of advertisements by paying a one-time fee.
Also Read: 7 Best Photo Scanner Apps for iPhone and Android
Conclusion
So this was our list of the best weather apps out there for Android. There are many weather apps available out there on the Play Store. In our app selection, we considered different factors that suit the diverse audience and their preferences.
Since no weather app satisfies every user, you can check the above-mentioned apps and see what suits you the best. But if we were to choose one, we would go with the Overdrop weather app. If you have any additional questions or suggestions regarding this post, you can leave them in the comments below.