You've most likely encountered the events when you spend much time uploading a video to your website or app and then see a notification that a format isn't supported. Sounds familiar? No worries! Thanks to new technology and solutions, you can minimize that burden in advance by using one of the top 6 best video converters to choose from in 2023. They work both on Mac and Windows.
Things to Look At While Picking A Video Converter
Ideally, when choosing the right converting tool, you have to be knowledgeable about the most necessary features to have at hand. To save some of your time, just ensure your tool will be powered by the following capabilities:
Convert files from standard video formats to a variety of other formats quickly.
Should work on Mac or Windows, or Linux, or all the OS together.
Convert one audio codec to another, for example, MP3 to MIDI.
Video previews.
Should be able to convert 4K and other HD video files.
Adds subtitles.
Change the metadata information.
Add or Remove the watermarks.
Enhance the quality of the file.
Trim and crop the video, and improve or fix the color.
Convert video files to audio files.
Besides, you may find tutorials on how to proceed with the conversion of video or if needed audio files. For instance, you can learn in minutes how to convert M3U8 to MP4 among other things.
Let's dive in and have a look at our handpicked video converters for Windows and macOS:
1. VideoProc (Paid)
The primary suggestion is VideoProc Converter. It can convert all well-known formats including HEVC, AV1, VP9, VP8, MKV, and MOV, among others. Even the HD videos will not lose quality while being converted thanks to the high entropy compression.
The other cool features and elements include full GPU speed increase, hyper-threading, as well as AMD 3Dnow. The last one permits users to convert long stretches of video in seconds while consuming almost no CPU power.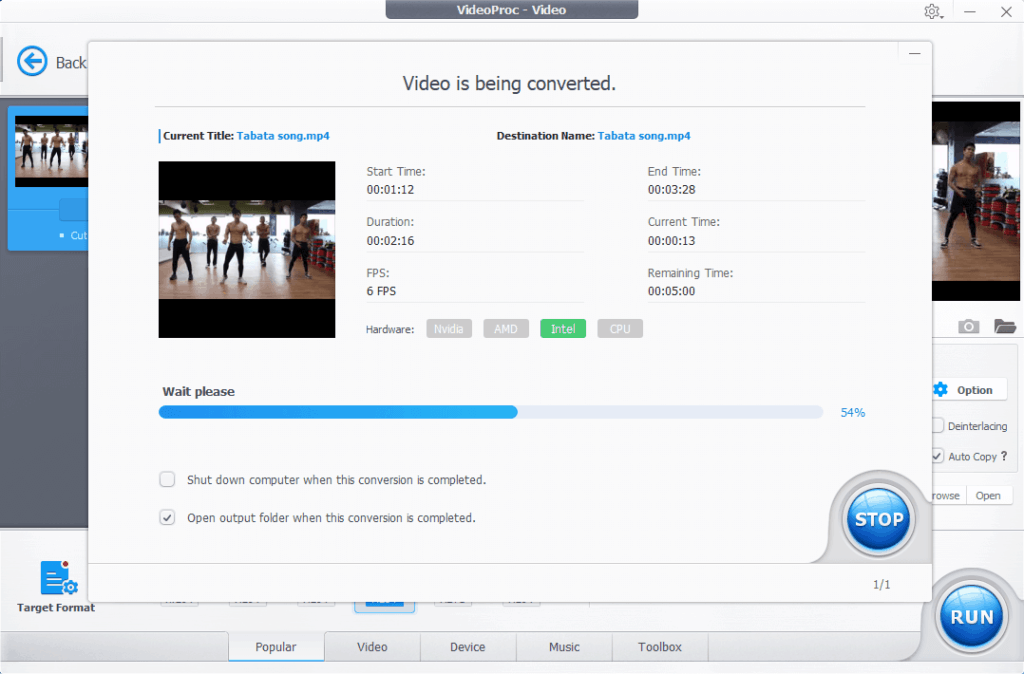 Shouldn't something be said about the costs? For one thing, you can try out this video converter without paying. Still, there will be a few limitations.
For example, you can get to the recording feature for free, but converting is allowed for five-minute videos only. If you want to use the tool in full with all of its capabilities, be ready to spend $29.95 per year. For those who crave savings, there are coupons to cut the cost of the subscription.
2. HandBrake (Free)
The primary feature of HandBrake is that it is viable with all OS including Mac, Windows, and even Linux. Then, you will be delighted to know that there's no need to pay for the features. HandBrake is fully free, and you can convert videos from practically any format available at ease.
The Outputs supported are .MP4(.M4V), .MKV, MPEG-4 and MPEG-2, DTS-HD, TrueHD, AAC, MP3, and MP2 among others.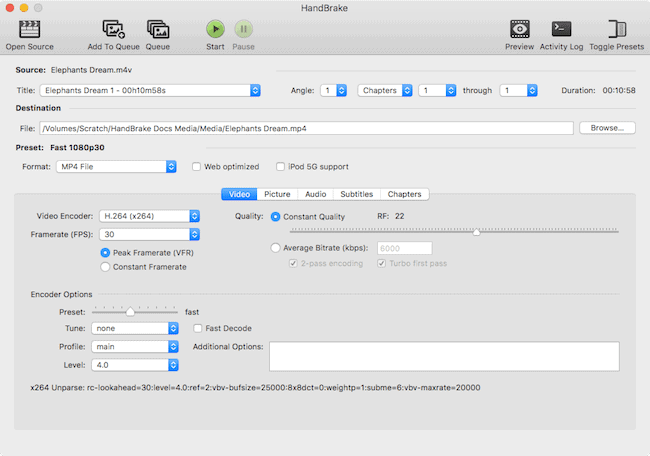 At the point when you install and open the HandBrake program on your device, it will promptly foster a profile that is fit to the specs of your OS. You may likewise alter and change different parameters to meet your requirements, yet the one it automatically creates is generally appropriate for an amazing result.
Other unmistakable highlights of this converter you ought to know about incorporate VFR/CFR compatibility, batch scanning as well as queuing of an encoder. The ability to add subtitles and section markers is there as well.
3. Smart Converter (Free)
The third option to consider in 2023 is Smart Converter, which is among the most useful media converter for Macs. You will have access to the ideal mix of speed and quality when converting.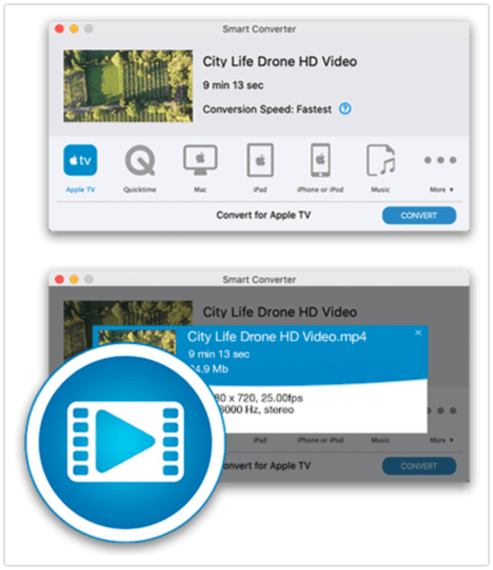 The supported file formats involve AVI, WMW, WMA, m4a, AAC, FLAC, and more. Your converted files will be also automatically added to the new Apple TV and Music applications. For those who love the aesthetics of the tools, Smart Converter now also features Dark Mode.
What else? You may convert videos by dragging, dropping, and clicking depending on your preferences. Finally, Smart Converter adds to iTunes all your converted movies and music automatically.
4. Movavi (Paid)
Movavi Video Converter for Mac is a paid application that boasts a really simple, and user-friendly design. Converting with it is super quick, and output quality is great. You are also given the possibility of setting up a resolution of up to 4K.
There are several pre-configured profiles available. What makes Movavi arguably the best mp4 converter for Mac and Windows is that you may select from over 180 formats including MOV, MP4, GIF, VOB, DVD, and MP3, among others.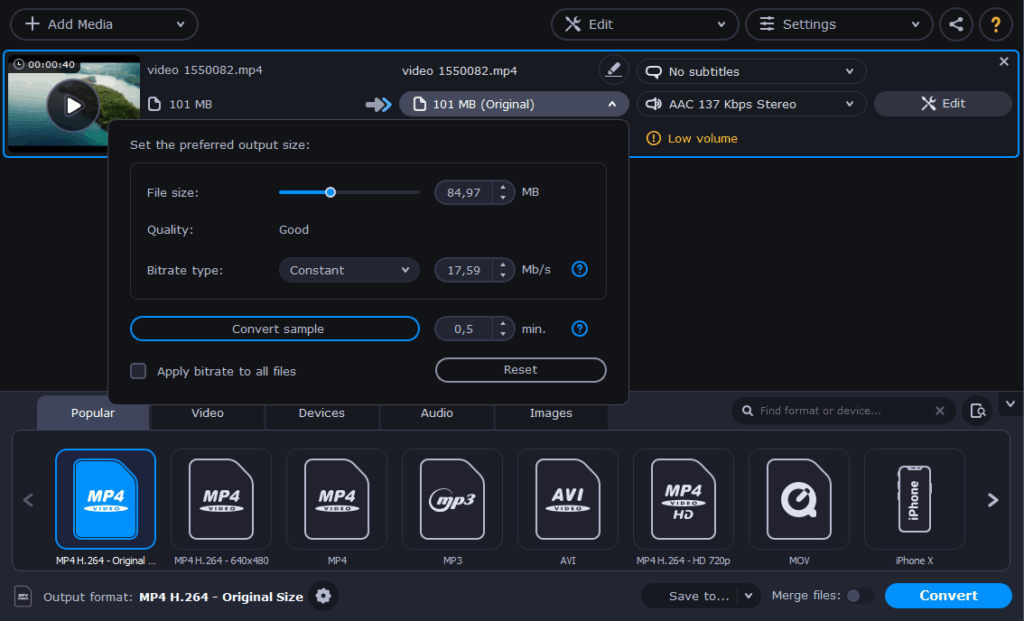 If you want to test out the tool without spending any money, you may do so with their seven-day free trial. Still, you will only be able to convert the first half of a video clip. However, it will help you be able to get a sense of its usability and converting speeds.
What about prices? A one-year license for one PC costs $39.95. Otherwise, you may choose a lifetime license that costs $49.95. The lifelong access opens more features.
5. Leawo (Paid)
Leawo is available for both Windows and Mac. With it, you can convert video to 720P, 1080P, lossless MP4, or even 4K lossless video. Aside from that, it incorporates Blu-ray/DVD Ripper and Blu-ray/DVD Creator that allows users to rip and convert the related file formats.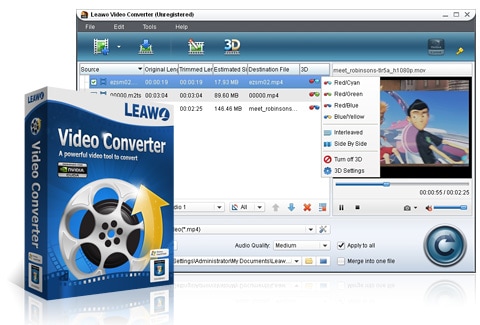 Leawo has an inbuilt video editor that helps users to work on enhancing the outputs of the 4K Blu-ray/DVD/Video effect. For instance, it concerns your possibility to proceed with cutting, cropping, watermarking, affecting, 3D creation, noise removal, and so on.
As for the prices, you may stick to the following plans – 1 Year Update License/Single User at $29.95 per year or Lifetime Update License/Single User at $39.95 for a lifetime.
6. WinX (Free)
Last but not least, you should take a look at the WinX Windows video converter. It's a free converting tool that smoothly and quickly converts videos. It currently supports over 200 different formats. As of now, you can encounter such formats supported as MP4/H.264, AVI, MP3, M2TS, MPEG, and others.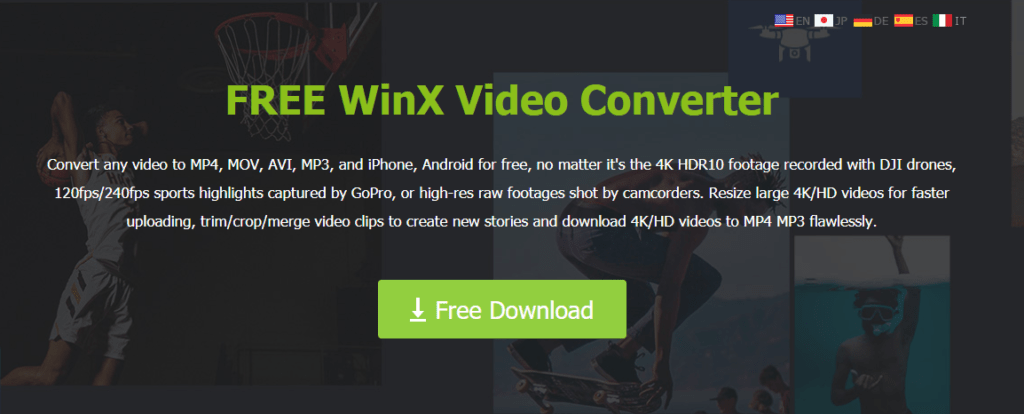 Then, there is a GPU Acceleration Technology that ensures that the conversion is quick. Aside from the functions listed above, this free converting tool allows users to also edit videos and merge and add subtitles.
It should be noted that Free WinX is available for Windows. If you have a Mac, you can utilize the designated MacX version.
Bottom Line
When choosing the best file converter, ensure to also learn whether there are any discounts or promotions if you have chosen a paid tool. Pay attention to the feedback and reviews on the vendor, as well as ensure there's a comfortable-to-use design. The latter one is especially crucial when you have a lengthy video, with lots of plans to add features.