If you are in the market for a new camera or maybe a better lens or even any kind of accessories you may have noticed a price difference in the store outlets versus the online counterparts, today we bring you a list of best websites to buy cameras or gear online and save up some of your hard earned money.
Best Websites to Buy Cameras Online Along with Accessories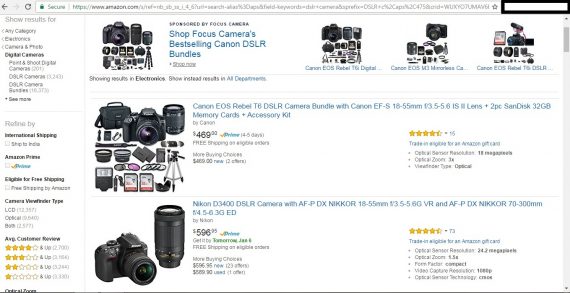 Amazon as well all know is world's largest online retailer and holds very low inventory in its own name, has a huge customer base and has very low overheads comparatively has an upper hand over the traditional brick and mortar stores and this is the reason it can negotiate a better deal from the manufacturer and get things at a competitive price. All the freebies and offers that are associated with buying from Amazon make it a worthy competitor to look at while buying anything online. One of the better deals we found on amazon was on the EOS Rebel T6 which comes with a host of accessories and is available for $549 as opposed to the usual $749 and for the price it's a steal. Amazon is one of the best sites to buy DSLR cameras with lenses and all kinds of accessories.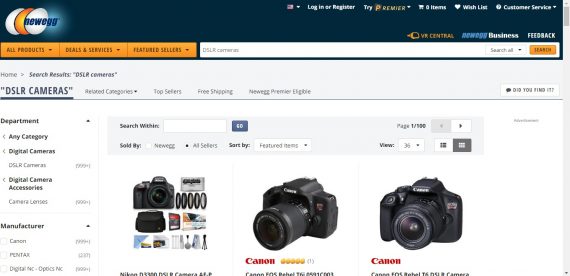 Newegg is a fast, reliable and customer-oriented online site to buy cameras which offers some crazy deals and discounts on a variety of products one of which is the camera and imaging technology. Now since Newegg isn't a camera focused retailer it does not carry as wide a catalog some of the other retailers do on our list but none the less have decent listings for the normal people, another big benefit of buying from Newegg is freebies and offers just like Amazon. Similar to the offers on Amazon Newegg is offering the D3200 with a slew of accessories for a price of $499 as opposed to the usual of about $629 which is a good $129 discount.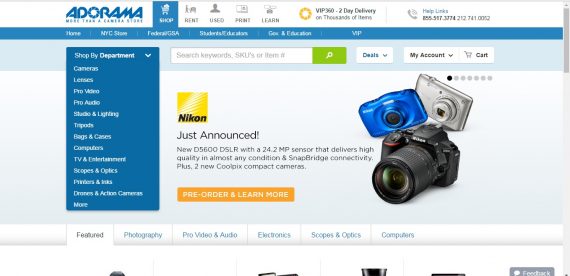 Adorama is a photography focused retailer carrying a wide variety of products in its catalog. Adorama sells both new and used gear and one can grab a lightly used gear or an open box product at a great price. They also have dedicated sections for clearance sales, open box items and used items from where one can snag a good deal. Freebies and offers again are a part of buying from Adorama and makes the experience worthwhile and yes they also have a great return policy on most products. One of the steal deals we'd recommend from Adorama would be the Nikon D3400 Dual Lense kit with 18-55 mm lens and 70-300 mm lens which is selling for about $600 as opposed to the usual $900 which is about $300 in instant savings. If you are looking for best online sites to buy cameras, then Adorama is one of them.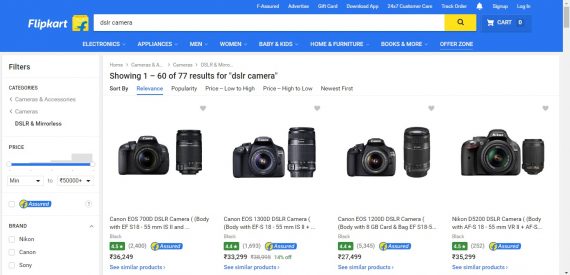 Similar to Amazon, Flipkart too has huge budgets set aside for promotions and offers which are good for the consumers who are looking for a bargain on a budget. The prices are competitive and offers are sometimes irresistible, on top of this they have a decent return policy too. It's a Win-Win situation. We found a good deal on the Nikon D3300 with 18-55 and 70-300 lens which is selling for about Rs. 33,500 ($492) which is a discount of about 17% from the usual Rs. 40,500.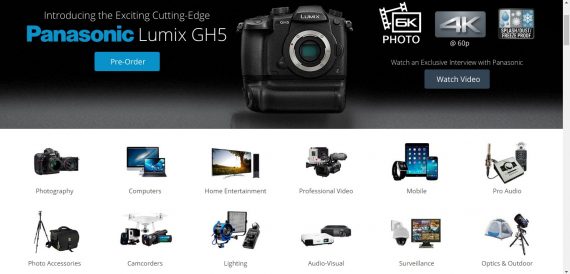 B&H has a huge store front cum operations center in New York City out of where it operates all of its virtual sales, the prices are fairly competitive and the customer service is excellent. They even throw in freebies if they can, although it may not be the cheapest it certainly one of the bests. It offers free and fast deliveries and there is no tax out of New York either. The only downside is that the store shuts down for a Sabbath from sundown Friday to sundown Saturday. B&H has a decent Deal on the GoPro Hero 5 which is being sold at $399 instead of the $449 and it comes with accessories like a headband and extra battery and a memory card as well. The Feiyu G4 Pro 3-Axis Gimbal too is at discount of $120 and is being sold for $179 instead of the $299 price tag.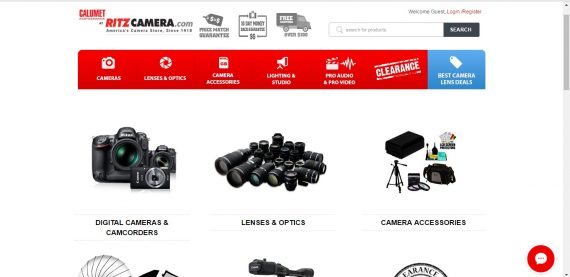 Don't miss this best site to buy cameras and accessories. Dedicated solely for cameras and Accessories Ritz camera carries a large catalog of products at affordable prices and often at deep discounts. It has different sections for clearance sales and special deals which will help you chose from a variety of products on discount. It also offers price match guarantee and free shipping. Among the Notable deals, the Nikon D5500 with 18-55 Kit Lense with Image stabilization caught our eye as it is selling at a discount of about $170 for $630 as opposed to its regular price of about $800. The Nikon D810 a full frame camera from Nikon too is available at $2,399 instead of the usual selling price of about $2,999 which essentially makes it a discount of $400 which is a big amount although the camera is for professionals and for people who know how to use a camera and not for the average person.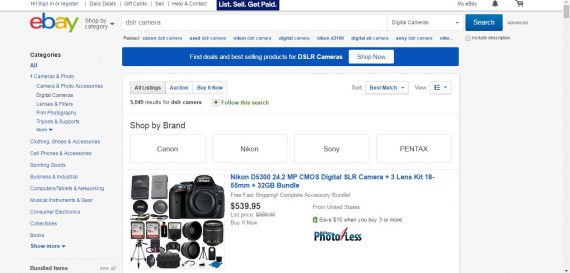 Now call me crazy if you will but if you do your research properly and buy from verified sellers you are sure to swoop an excellent deal from the online retailer. eBay has a reputation for scams but it also offers genuine sellers. One may also find gently used products on sale by people who have upgraded their gear and want to get rid of the extra stuff they have around. If you are looking for drones then the Parrot AR would be a deal to watch, if you want something more professional the DJI Phantom 3 professional pack along with 1.5 TB hard disk is also at a discount $550 and is available for $949 and if you want something more modern the Phantom 4 with a huge host of accessories like memory cards, extra batteries, extra propellers, Clean kits, Filter kits, hard shell carrying case and everything else one may need is also available at a discount of $299 bringing the price down to $1,299.
So this was our list of the best virtual retailers to buy camera gear, accessories, and other related products online. Buying virtually has many benefits but be sure to check a traditional brick and mortar store before buying anything who knows you might just end up getting a better deal.