Want to make your gaming session more immersive? Do you own PlayStation 5? Consider one of the best PS5 headsets from the list below and enhance your audio experience while playing games!
PlayStation 5 has attained massive popularity since pre-sales. Now, even after a year, gaming aficionados are raving about it. Apart from the stunning graphical upgrade, the DualSense controllers have enhanced the gaming experience for players. With 8K resolution and goosebump-worthy 3D sound, the PS5 console is one of a kind.
The PS5 console is powered by Sony's proprietary Tempest 3D Audio, making the audio technology a breathtaking feature. Are you ready to upgrade your audio experience while playing games on PlayStation 5? In that case, getting your hands on the best headset for ps5 is a must.
However, to buy the right PS5 headphones, there are various factors one must consider. For instance, comfort matters a great deal when you are too much invested in gaming. Other important parameters include a clear microphone, high-quality sound, and easy-access controls.
9 Best PS5 Headsets for an Enriched Gaming Experience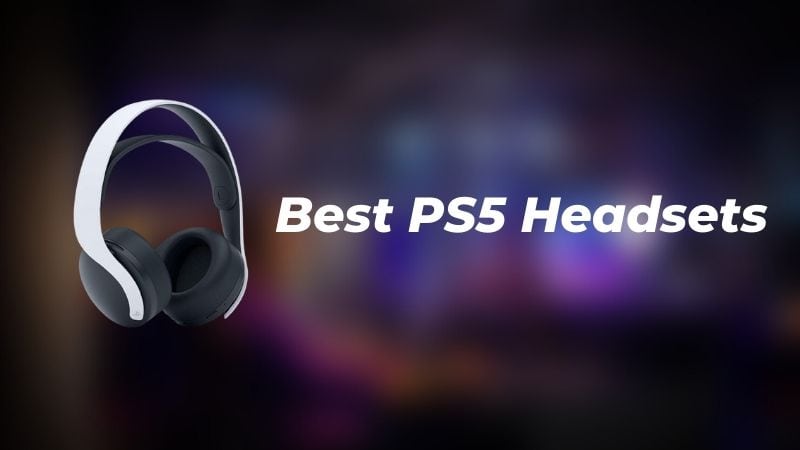 There are numerous PS5 headsets available in the market. With the constantly evolving technology, it becomes a must to choose the right one. In order to make your gaming lifestyle exciting, here is our pick of the best headsets for PS5 in 2023.
The HyperX Cloud Alpha S headset is undoubtedly the best gaming headset for PS5. It comes with the notable HyperX 7.1 Surround sound, tested by gamers to offer an excellent audio experience to players. You can also adjust bass up to 3 levels with convenient sliders present on the ear cups. Moreover, dual-chamber drivers aid in separating frequencies.
Now it is easy for the players to prioritize chat and game audio at their convenience. Moreover, the signature HyperX comfort makes the best gaming headset for PS5 cushy and stylish. The aluminum frame is particularly designed to make it more durable. Besides, the flexible noise-cancellation mic is a bonus.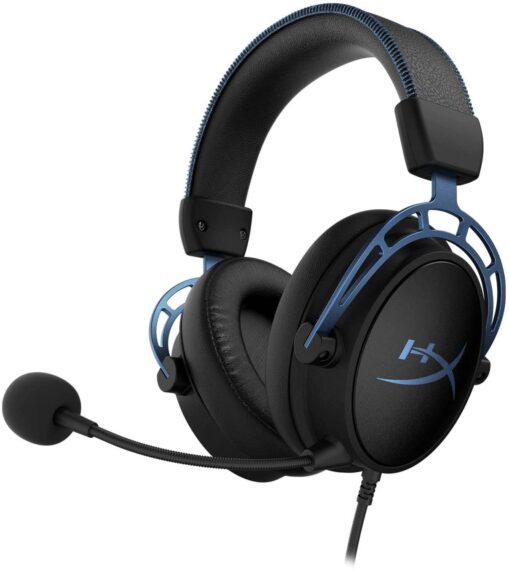 With all this, you get an advanced audio control mixer that will help you activate the 7.1 surround sound feature, mute the mic, adjust volume, etc.
Pros:
Integrated with HyperX 7.1 custom-tuned surround sound.
Noise-cancelation mic (detachable).
Sliders for bass adjustment.
This best headset for PS5 is highly comfortable.
Cons:
Some users reported an echo effect while using the mic.
Only two colors to choose from – Black and Blue.
The Sony Pulse 3D wireless headset will officially complete your PS5 console. The official PS5 headset has the same color style as the console, making it the perfect addition. Meant to fine-tune your PS5 audio experience, these headsets are an absolute delight. The sleek headset offers style and comes with a redefined headband strap and earpads for comfort.
Here, you will get two in-built hidden noise-canceling microphones. With easy-access controls, you can set up the game and ace the art of mixing controls with ease. The wireless adaptor allows you to connect with PS4 and PS5 consoles along with macOS and Windows computers.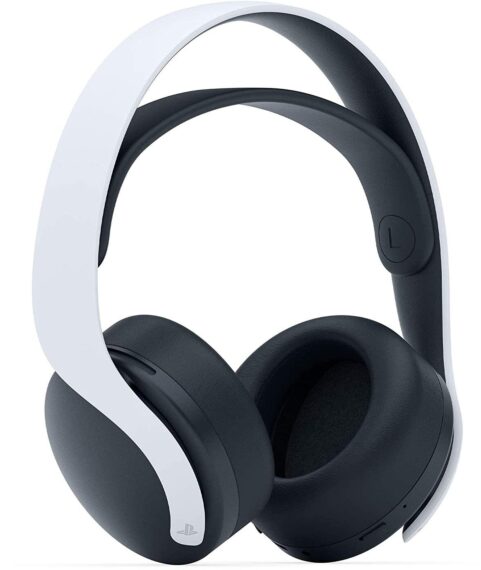 This best wireless headset for PS5 offers top-notch 3D Audio that provides a great virtual surround sound experience.
Pros:
Specifically designed for PS5 consoles.
Prance of easy-access controls to adjust chat and audio settings.
In-built rechargeable battery, providing 12 hours play.
Excellent 3D support tech.
Cons:
Only 12 hours of battery backup could frustrate heavy gamers.
Bluetooth connectivity issues faced by some users.
The SteelSeries Arctis 1 is a budget-friendly PS5 compatible headset. This wired headset is integrated with an excellent 3.5 mm connection. Doubling as a headphone, the product boasts of a sleek design and detachable microphone.
Tuned with the patent Arctis soundscape, the audio experience from this headset is amazing. Moreover, the detachable bidirectional microphone boasts top-quality noise cancelation. The intuitive controls aid in easy adjustments.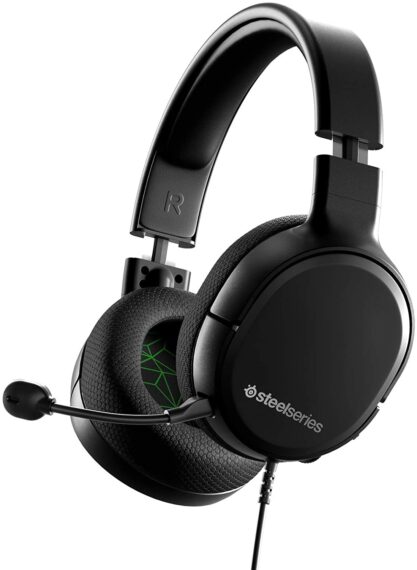 The steel-reinforced headband is adjustable, making it durable and lightweight. Besides, the AirWeave ear cushions keep your ears dry and cool. It is one of the best PS5 headphones that don't shell a lot of money from your pocket.
The same model has a PS5 wireless headset option too if you don't like the hassle of wires while playing your favorite games.
Pros:
Comes with the signature Arctis soundscape.
It has a Discord certified ClearCast noise-canceling, detachable microphone.
Steel-reinforced adjustable headband.
Affordable yet stylish.
Works great with Xbox gaming consoles as well.
Cons:
Mic quality is not as good as one expects.
Are you looking out for a high-quality gaming headset for your PS5 console? Look no further! The Turtle Beach Stealth 600 Gen 2 is an ideal choice for gamers. This cost-effective best wireless headset for PS5 comes with a rubber headband and delivers a top-quality performance.
The amazing sound quality of this headset enhances the gaming experience. With in-built 500mm drivers and a noise-canceling microphone, the audio experience will stun you. Moreover, you will also get 15 hours' worth of battery life. This is an excellent pick for those with a limited budget.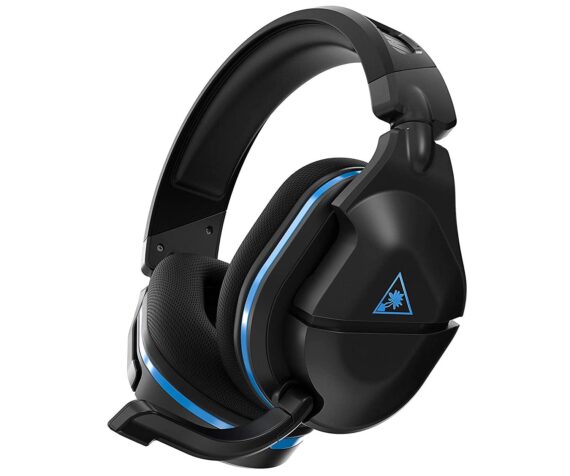 Turtle Beach Stealth 600 is one of the best PS5 headsets that support 3D Audio for the immersive spatial surround sound gaming experience.
Pros:
Finely tuned 50mm speakers and eat cup acoustic give an immersive audio experience.
Comes with Turtle's signature Superhuman Hearing sound setting.
It offers 15 hours of battery life
The noise-canceling microphone is integrated with an impressive flip-to-mute mechanism.
Comes in 4 colors to choose include the matching PS5 white color.
Cons:
The plastic build gives a bulky look.
Sometimes takes a few minutes to connect.
Definitely need a software upgrade.
Another one in our list of best PS5 headsets is coming from one of the renowned companies named Corsair. This best wireless headset for PS5 is stylish and easy to use. It boasts custom-tuned high-density 50mm neodymium audio drivers.
Also, you can get expandable frequencies ranging from 20hz to 30,000hz in this best gaming headset for ps5. Not only that, for the realistic gaming experience, it has a 7.1 surround sound feature. You won't miss even a subtle sound while playing games on PS5.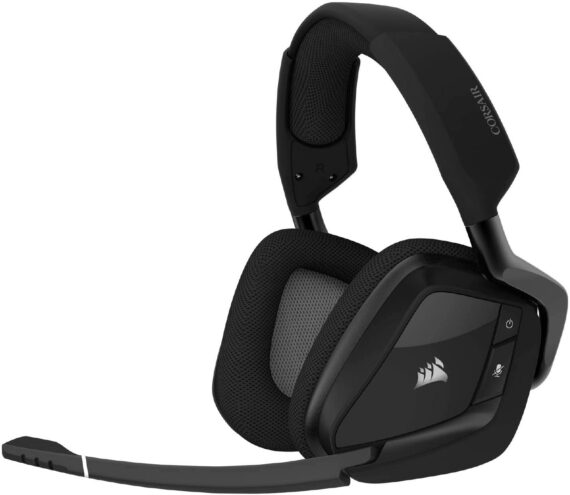 Moreover, the headset is made keeping in mind the comfort of the gamer. The breathable microfiber coupled with earpads of plush memory foam contributes to comfortability. Besides, the Corsair iCUE software aids in easy control over the headset. With this, you can opt for sidetone control and customize the RGB lighting. The omnidirectional microphone is impressive.
Corsair PS5 headphones come with a USB adapter to connect with the console wirelessly. Other features include a flip-to-mute microphone and a LED mute indicator so that you have an idea of when your mic is off.
Pros:
Custom-tuned premium 50 mm audio drivers with an excellent expandable frequency.
Low-latency 2.4GHz wireless.
Omnidirectional microphone with a flip-up mute mechanism.
Durable construction and has Aluminium Yokes for those who spend a long time playing games.
Cons:
Takes time to get the customizations done.
Not adjustable enough.
The Razer Kaira X wired gaming headset is the first one from the brand and is quite impressive. At an affordable price rate, this headset offers excellent value. Equipped with Razer's patent TriForce 50mm audio drivers, the sound quality is stunning and uncompromising.
Even though it's a wired headset, the Razer Kaira X is a perfect choice. A braided cord, ideal length, and a good right-angle connection make the product even more appealing. The HyperClear Cardioid microphone supports mic monitoring and excellent game-chat balance.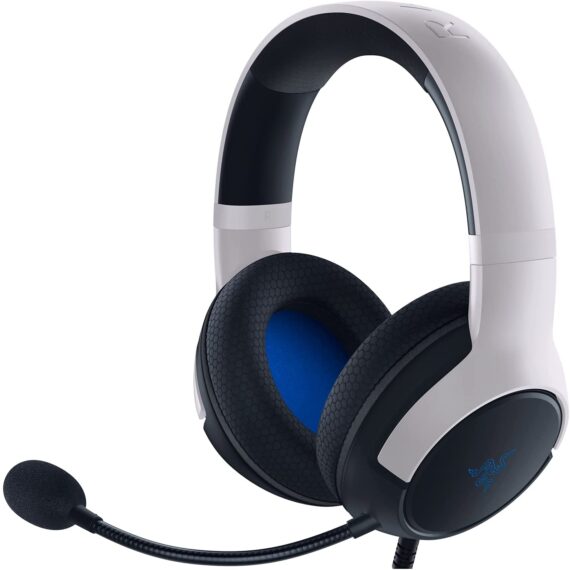 Besides, the headset comes with cross-platform compatibility. That means that you can use it with Mac, PC, and mobile devices. One of the best PS5 headphones that come with a Mic Mute Button and an on-headset volume slider. Flowknit Memory Foam ear cushions provide extra comfort for long hours of gaming.
Pros:
Excellent TriForce 50mm audio drivers.
Presence of breathable memory foam ear cushions for comfort.
Integrated with a bendable microphone.
Easy to access on-headset controls.
5 funky colors to choose from.
Cons:
Doesn't come with a detachable mic.
Bass is not so strong.
Without a doubt, the Astro A50 gaming wireless headset is the most reliable PS5 wireless headset available in the market. It enriches the PS5 gaming experience considerably. With this headset, you can expect impressive comfortability and high functionality. You could use it for hours and not feel an iota of discomfort.
The Astro A50 headset boasts custom-tuned 40 mm drivers which provide stunning sound quality. Moreover, the combination of Astro Audio V2 and Dolby Audio makes the sound experience impeccable. With an additional purchase of Astro HDMI adapter, you can take advantage of the in-built Mixamp.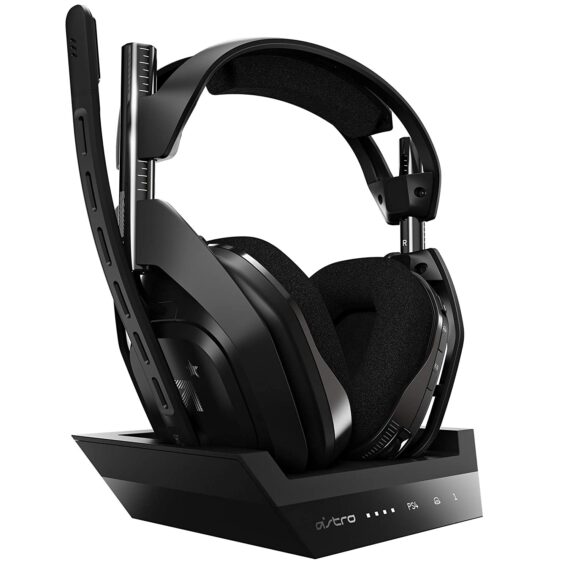 Charging this best headset for PS5 is pretty convenient as Astro provided a charging dock. Create and save custom EQ profiles for future use with your PlayStation 5.
Pros:
Integrated with Astro Audio VR for an immersive audio experience.
Excellent control over chat and game audio settings.
Comes with free Astro command center software.
Cons:
Quite expensive in comparison to its competitors.
The beyerdynamic MNX 300 headset was actually built for the private aviation section. Then, it was perfected to align with the different preferable criteria of the audiophiles. With a streamlined design and amazing sound quality, this best gaming headset for PS5 stands out from the rest.
The high audio quality of the MMX 300 headset makes this appealing for gamers. Apart from that, the integrated wired remote control aids in excellent control of different vital features. The superior condenser microphone with pop protection and cardioid polar pattern makes it perfect for tournaments and loud environments.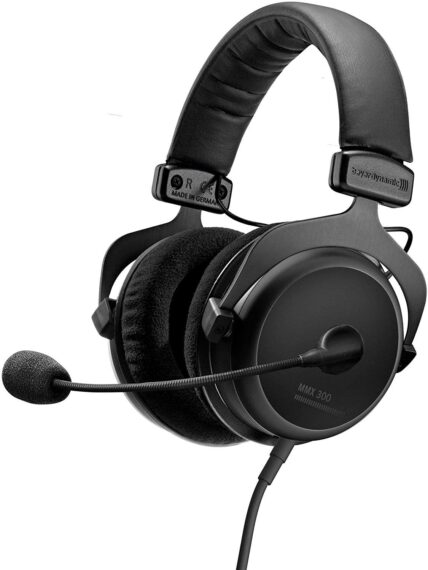 The sound is extremely clear and delivers a high-quality gaming experience. You will notice the workmanship the moment you purchase it. Made by experts in Germany, this is a one-time investment for all the gamers who are looking for the best headset for PS5.
Pros:
Comes with a wide range of frequency responses.
Top-grade microphone capsule.
The lightweight nature makes it comfortable for long hours.
Compatible with different gaming consoles.
Cons:
The clamping force can be too much for glass wearers.
Only comes in black color.
Another honorable mention in our list of best PS5 headsets is from Razer. The fact that the Razer Blackshark V2 Pro is touted as the best from the brand is no easy feat. Equipped with Razer's proprietary TriForce Titanium 50mm high-end sound drivers, the headset offers an excellent audio experience.
Moreover, the 2.4GHz wireless connection ensures that the audio is synced perfectly with the game. The retractable HyperClear Supercardioid Mic offers superior voice isolation. Apart from that, plush cushions, along with closed earcups aid in excellent noise cancelation.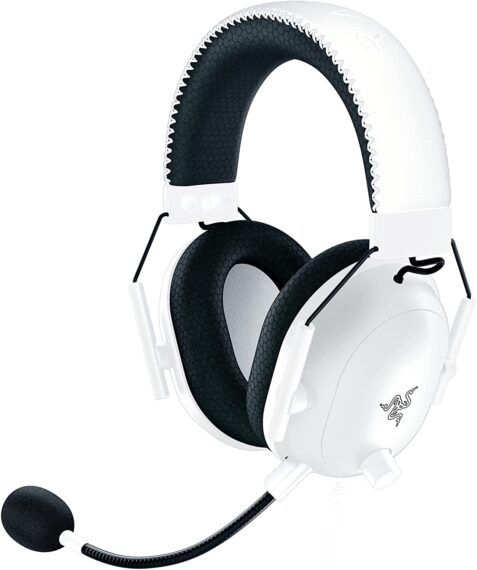 Without a doubt, this is the most comfortable PS5 headset that you can wear for long hours, thanks to well-padded ear cushions. Supports a 7.1 Spatial surround sound feature that you will love for sure while gaming.
Pros:
Integrated with THX 7.1 Spatial Surround Sound.
Breathable memory foam offers extreme comfort for long hours of play.
Excellent audio performance almost with every game.
Cons:
Difficult to attain a good fit sometimes.
The 3D audio experience is a miss sometimes.
Pick the Best PS5 Headsets You Love
This concludes the list of the best PS5 headsets available in the market. However, if you are eager to explore different headsets, go ahead! The list of PS5 headphones is huge but we have featured these based on our personal experience. We love using them while playing for hours of PlayStation 5.
Do you want to opt for the budget-friendly wired headset? Are you in love with the wireless models? Do you want PS5 headphones with Spatial Surround sound technology? Do not worry, we have featured them all. So, explore your choices and choose the one that fits your needs from our list of best PS5 headsets!
If you use any other headset for your PS5 and feel that it could be on the list, please mention it in the comments section.