Although pictures don't speak louder than words, we shouldn't ignore how fast we can process a picture. Studies Show: The information conveyed by photos can be perceived 60,000 times faster than in texts by humans. 90% of the information that we received is via visual.
Regarding the two facts, the importance of photos can't be ignored, let it be a commercial group or a person. It's an efficient way to express something to the outside world. One nice photo is enough, think how much you can convey via a photo collection. In this article, we are listing the best picture collage makers for PC and with them, you are capable of DIY a satisfying photo collection effortlessly.
1. Adobe Express (Formerly Adobe Spark)
Adobe doesn't need any introduction. One of the products from them is Adobe Express which is a go-to solution for all your social marketing graphic needs. Adobe Express online tool comes with tons of features like designing social graphics, short videos, collage maker, etc.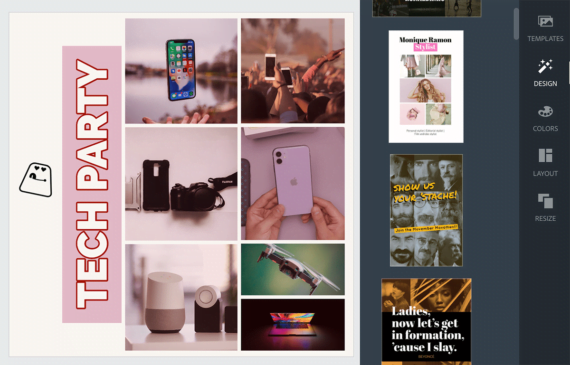 You can either use the online tool or use the mobile app available on the Play Store and App Store. To design your first collage, you need to log in using your email address or any of your social media accounts. Once logged in, you will find plenty of options to design the collage. 
If you don't wish to design from scratch, you can choose one from the available layouts or designs. After picking a layout/design of your choice, select the size of the collage depending on where you use it. Now add the images from your device, add text, icons, change colors, and whatnot, the sky is your limit.
Once you finish the design, click on the download button and export the design in PNG, JPG, or PDF format. 
2. FotoJet Collage Maker for PC
FotoJet Collage Maker for PC gets a lovely interface, well-classified access to various templates, and rich choices to edit and customize your collage. Choose a category and hit Enter, it will show you the available picture collage templates for use, under this category.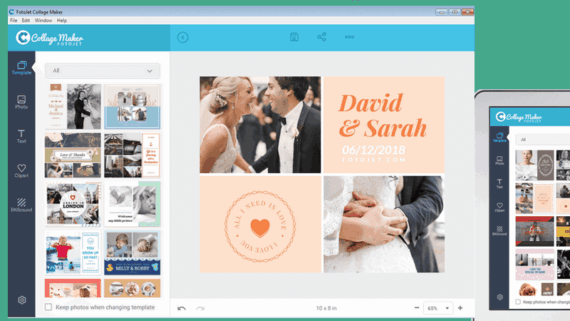 In Photo Grid, you will have the rights allowed to set the number of pictures and adjust the roundness for grid corners. Besides plain Photo Grid, as a simple photo collage maker, the software prepares versatile ready-to-use collage templates, which are easy to apply and customize. You can upload pictures from a PC, or search photos with a keyword. Very flexible! Besides the Windows edition, this brand has a partially free online edition and a Mac edition for college arts.
3. PicMonkey Picture Collage App Online
PicMonkey is the online picture collage app, whose boss is Google Picnic, made by an American-based company. It requires you to register an account to use the app. Its collage feature perfectly ties your uploading images together and renders a trendy look for your college collection.
More specifically, it lets you do image editing, including cropping and rotating. You can enrich your collage with all kinds of effects, overlays, fonts, textures, frames, and touch-up tools.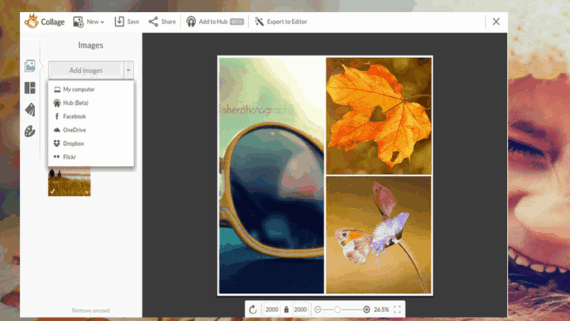 Compared to FotoJet Collage Maker for PC (The options are more streamlined without other features in the interface), PicMonkey requires more customization works, but it doesn't affect it to be elected as the best, easiest collage app on our list.
4. Canva Online Collage Maker
Canva is another picture collage app online, an alternative to PicMonkey online app and the FotoJet online app. The three apps share a little difference in appearance and how to perform the running.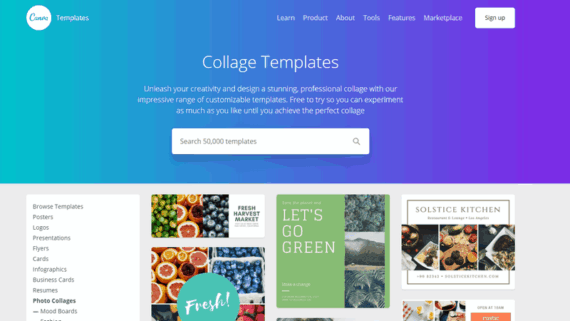 Canva interface has more serious feelings, let's say in this way, PicMonkey is a rapper, FotoJet is a pop singer, and Canva is a blues singer. Canva reacts to your search for related collage templates, but it seems no way to create a collage from nothing.
5. CollageIt Picture Collage Maker
If you use Windows or Mac, you will like to try this software when designing a collage without Photoshop. Take A quick look at its features, CollageIt Picture Collage Maker offers great photo collage ideas, which may leave you wondering what it can't do for collage making.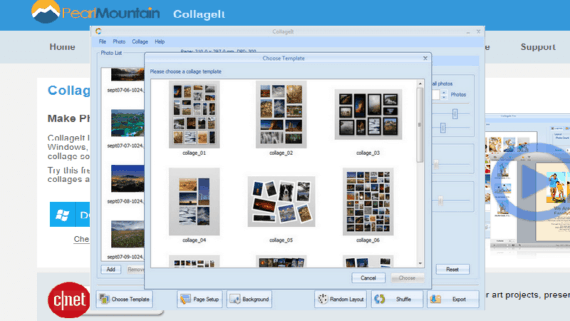 If you want to make a remarkable photo collage wall, the free software is worthy of your try. Furthermore, CollageIt lets you work with picture grids, stylish collages, photo albums, and posters, at the same time, leveling up the photo. The application is easy to use and supports WYSIWYG, but it has a pro edition.
6. PhotoScape Picture Collage Maker for Windows
PhotoScape is a very well-reviewed image collage software for Windows with a rich editing tool as well as a simple photo editing software. Its layout and interface look very basic, PhotoScape comes with a large number of detailed options.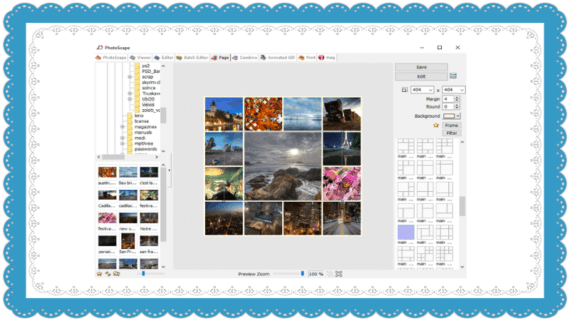 It makes precise picture collages and runs stably and offers easy ways to change brightness, add photo collage frames, or create text bubbles and balloons. Exceptionally, it allows animated GIF collage, which is a big highlight.
7. Photo Collage – Collageable for iOS
The so-called "Easiest pic collage app", Collageable for iOS lets you share your stories via photo collection, with the features of 300+ layouts, it is fun and very simple to use.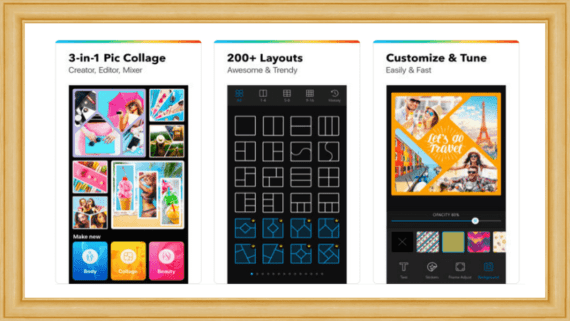 The iOS collage maker app offers the ability to mix and join photos, flip, and freely organize the photos you want to use in your collage. The features of photo collage frames, clipart, or photo filters give you the function to add special styles to each collage you made.
8. Pic Jointer – Photo Collage for iOS
Pic Jointer, the collage maker app for iOS, is very popular for making holiday collages among youngsters. To upgrade the user experience of collage creation, it has options for natural & basic edits. Like most mainstream commercial apps for free, it has in-app purchase options for advanced packages.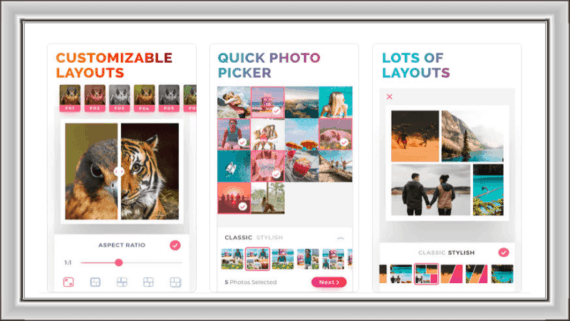 The experience of designing a collage in Pic Jointer is pleasant. 100+ stylish layouts are there, which allow you to combine up to 9 pictures in one frame. The layout of the app is simple and pleasant to use.
9. Collagerator – Picture Collage Maker for Windows And Mac
For both Windows users and Mac users, Collagerator is a nice choice as a quality picture collage maker. It allows users to paste pictures to a collage just like a picture wall, which is much more valuable to design a traveling collage.
It's the easiest to navigate: Choose images to add, Use them in a collage template and Customize the rest of the details.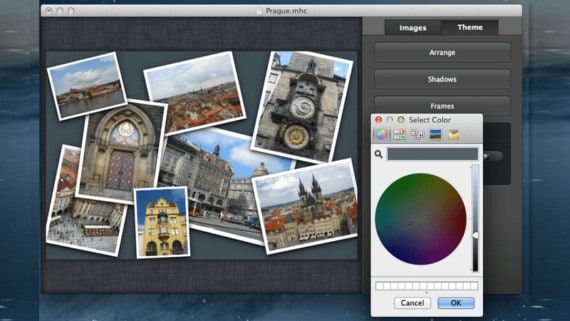 Additionally, it has a relatively big amount of output options for formats. But it doesn't have any inbuilt photo editor in this software, so it's a pity to some extent.
10. PhotoPad Picture Collage Maker for Windows And Mac
PhotoPad is a desktop graphics software with support for collage creation. It runs fast and is stable. Unlike using most online collage makers, you are not required to use your email or Facebook to register an account. In it, you can set the size of the picture collage and select a background whether in one color or with your image.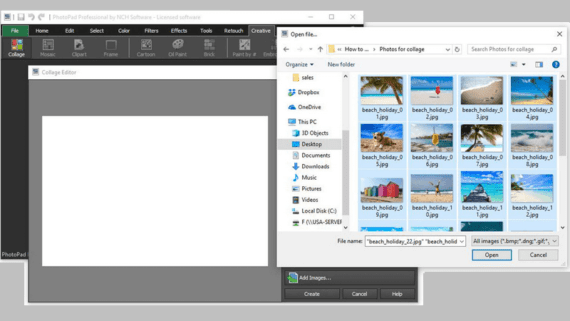 11. PicsArt Photo Collage App
Rating 4.5 in Google Play from 7,770,540 users. Without any questions, PicsArt, a simple photo collage app for Android is a popular collage app for a large number of Android users. A user can either create collages, edit photos, and many more. Rich in effects, simple in the navigations, all things run as you want them.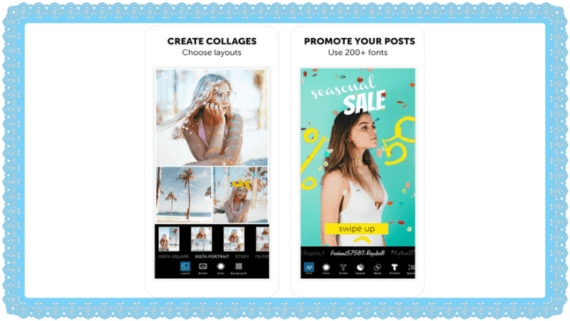 Wrapping up best picture collage makers apps and Software
We've selected a few best picture collage makers on our behalf. You surely will like some of them, but maybe not be satisfied with one tool or two regarding some features (i.e., how the feature is designed or running, feature deprivation). Glancing at them, you will notice they all get the must-have features for collage creation, so it's worth a try!