Photo scanner apps are no more a luxury but have become a necessity. With all the documentation moving online, we all need a photo scanner app on our smartphones. Be it for uploading a school assignment or for attaching self-attestations in administrative processes; a good photo scanner app is very important these days.
Not only for administrative purposes, but these photo scanner apps are also useful for preserving your memories. You might be seeing your old photos dying in some dirty albums. You can scan those old pictures and have a digital copy anywhere you want without worrying about getting destroyed by time.
There are plenty of best photo scanner apps available on Google Play Store and Apple App Store that you can download. This article will focus on some of the best photo scanner apps that will work well with your Android or iPhone devices.
Top Photo Scanner Apps for Android and iPhone
1. Picture Scan App by Photomyne
The first one in our list of best photo scanner apps for iPhone and Android comes from Photomyne company. Built with the help of cutting AI technology, this app allows you to scan multiple photos in one shot. The Picture Scan app automatically crops your pictures and restores the faded colors without any extra attention.
Not only that, but you can also add details like time, place, and audio recordings to your scans to make them more informative. The scans can be accessed from mobile as well as desktop via a web link. This app is perfect for scanning photographs and reliving special memories.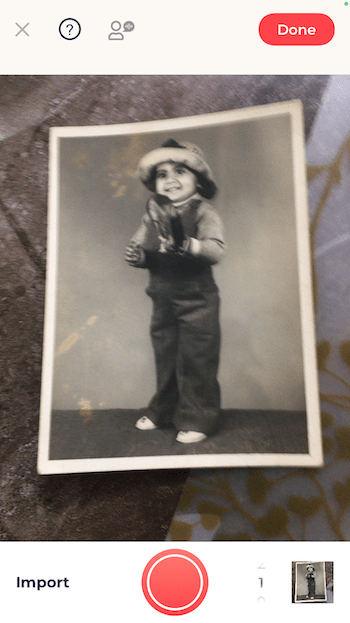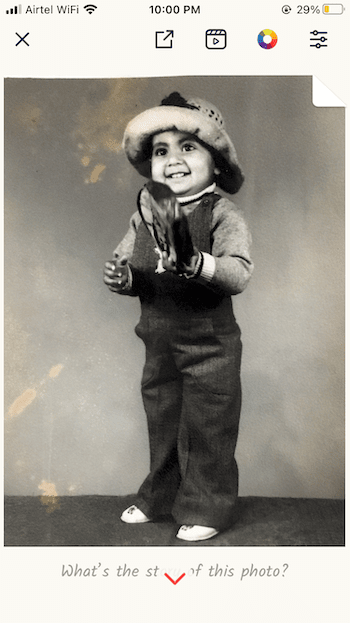 Pros
Fast and easy-to-use app.
Allows you to edit and curate your collection of memories.
The scans are easy to save and share with others.
Comes with Desktop, iOS, and Android App.
Cons
To get unlimited scanning and photo backup along with more photo editing options, you need to get a paid subscription.
Download Picture Scan App for Android
Download Photo Scan App for iPhone
2. Adobe Scan: PDF Scan, OCR
Coming from the house of Adobe company, this one is a hell of a powerful app that makes your mobile a portable scanner. Adobe Scan allows you to scan anything-from photos, notes to documents, bills, and many more.
You can convert the scanned documents into the desired format such as PDF, JPEG, etc. It has an optical character recognition feature as well so it will recognize the text from the scanned document.
You can also import the media from the device to add to the scan. This best photo scanner app from Adobe has advanced image processing technology that detects borders and enhances the content or photos scanned using this app.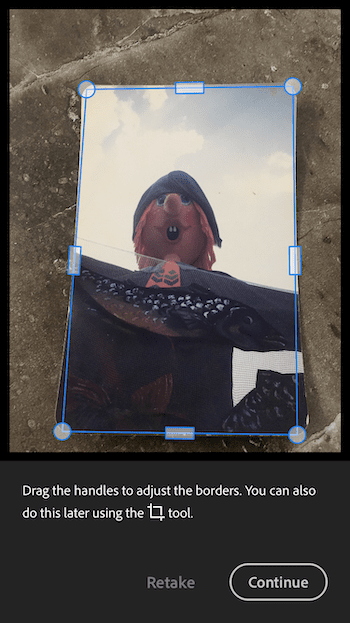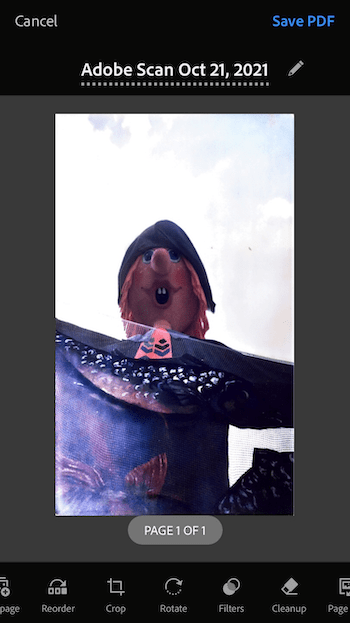 Pros
One of the most versatile and efficient photo scanners app for iPhone and Android.
Allows one to convert the format of the scanned file with ease.
It has auto-crop, OCR, and editing options. You can also correct the scans with their correction feature manually for enhanced precision to get rid of stains or marks.
Multiple scans can be rearranged, deleted, or added at any time to make a single file.
Each scan is uploaded to the cloud and can be shared easily on any platform.
Cons
The quality of the scan gets slightly compromised if the text or content is too small.
It has very few photo editing options in the free version.
Download Adobe Scan for Android
Download Adobe Scan for iPhone
3. Pic Scanner Gold: Scan Photos
If you looking for one of the best photo scanner apps for iPhone or iPad then Pic Scanner Gold is definitely you can rely on. With the help of this app, you can scan and auto-crop multiple photos in high resolution.
You can add metadata like time and place or captions to your scans to make them more informative. It supports various languages like English, Japanese, Dutch, Spanish, etc.
It comes with a professional-grade photo editor to adjust blur, brightness, contrast, saturation, etc.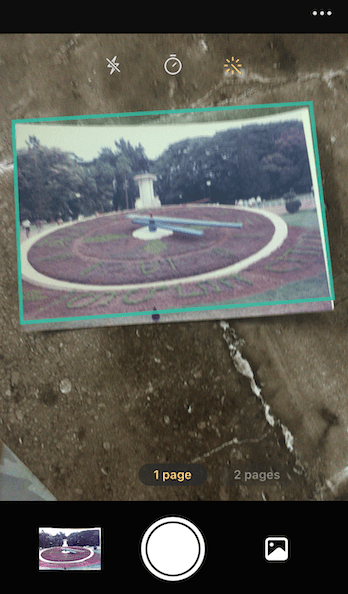 Pros
You can rotate, focus, sharpen or remove stains or blemishes from the pictures.
It is quick and easy to use. It is easy to rearrange the pictures and create a digital album.
The scanned pictures are easy to share, save or archive the scans.
One-time purchase for lifetime access, support, and updates.
Cons
Few users complain about the auto-crop feature not working properly on certain occasions.
Only available for iPhone and iPad.
Download Pic Scanner Gold for iPhone and iPad
4. vFlat Scan
This app has been recently gaining some attention and definitely one of the contenders in our list of best photo scanner apps for iPhone and Android. This is a cool app that can convert documents, old photos, or books into ultra-high quality JPG or PDF formats.
VFlat Scan automatically detects the border of the images, cropping as per the needs, and makes the necessary correction. Thanks to the OCR function, it recognized the text from the images that you can copy and paste to text files easily.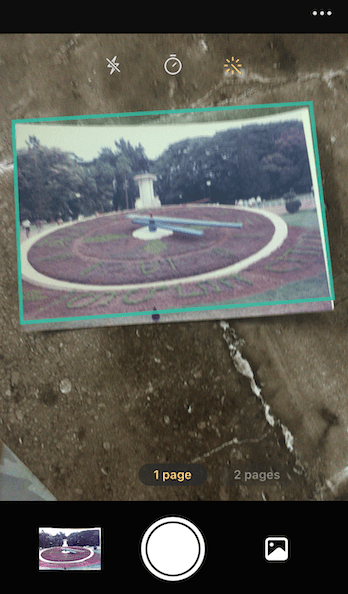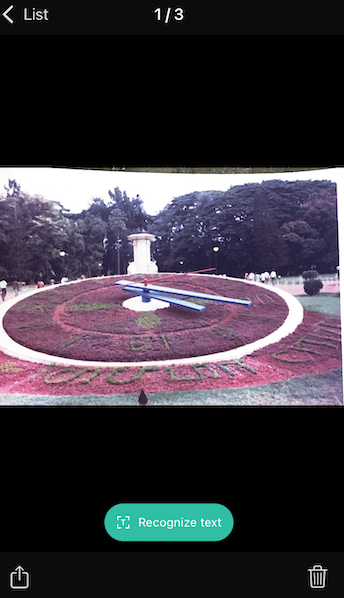 Pros
This app can recognize and fix curved edges.
Easily corrects the curve of the page and remove your fingers from the scanned document.
The app allows you to convert the files into pdf format and rearrange the page order, adjust the color and choose the PDF quality as well.
The OCR feature works perfectly well on non-English text too.
Cons
It does not have good functionality to crop the scans easily.
Download vFlat Scan for Android
5. ClearScanner
ClearScanner is a freemium document scanner apps that comes with an in-app purchase for advanced features. But, believe me, the free version of the app has many great features that will help you to do almost anything including but not limited to fast scanning, no watermarks on PDF and images, scan unlimited documents. Pretty great, isn't it for a free app?
Not only that, you can easily organize and edit the scanned documents within the app. ClearScanner is compatible with Google Drive, Dropbox, Evernote to easily backup your documents on the cloud.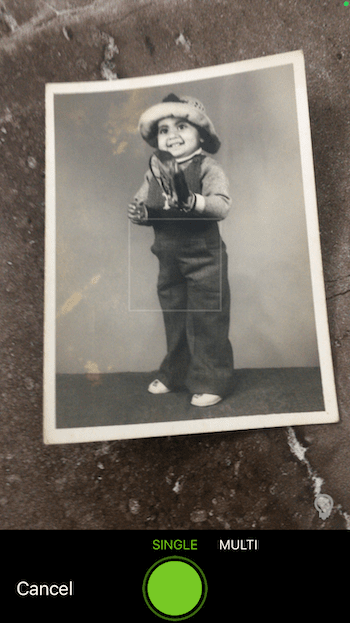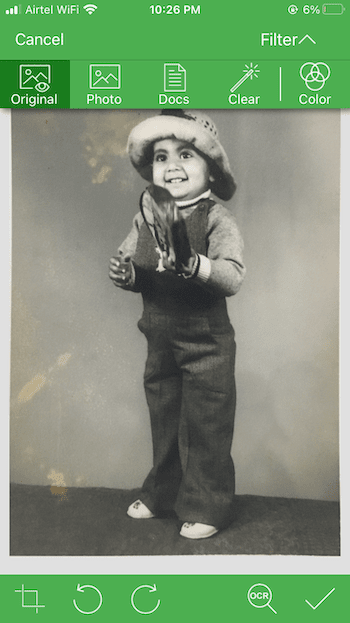 Pros
ClearScanner's page reordering feature is quite simple and easy to use. It does not take up too much memory space.
The processing is fast and editing is easy.
It has automatic document edge detection and perspective correction to get the best scans.
You can choose the page size for the PDF.
It can extract text from the scans with its OCR feature.
Open PDFs or JPEGs in Dropbox, Evernote, SkyDrive, OneDrive, and a few more cloud storage apps.
Cons
Nothing that can I can think of as a con.
Download CleanScanner App for Android
Download ClearScanner App for iOS
6. Microsoft Lens
When we talk about the best photo scanner apps for Android and iPhone, there's no chance we will forget about Microsoft Lens PDF scanner. This is one photo scanner app that comes with many features that too free of cost, not even a single in-app purchase integrated. Yes, you heard it right! Absolutely free of cost.
Microsoft Lens is a powerful scanner that can easily trim, enhance and take pictures of documents and whiteboards readable. The scans from this app can be converted into PDF, Word, PowerPoint, and even Excel files.
It allows you to digitalize the hardcopies and backup them up easily on the Microsoft cloud service OneDrive or your local device.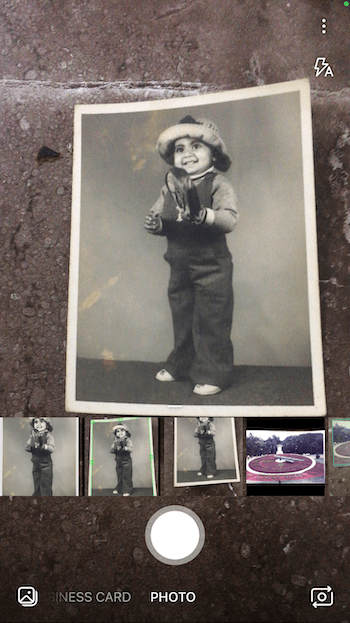 Pros
You can convert the handwriting into text or images into tables with ease.
The scan quality is good and it can be edited and shared easily.
This app can work offline and take high-quality scans that can be backed up on the cloud later.
Seamlessly integrated with OneNote which allows for easier organization of scans and notes.
The quality of the images is automatically enhanced if they are very old or faded.
Cons
Its OCR feature is not compatible with languages other than English.
Download Microsoft Lens for Android
Download Microsoft Lens for iPhone
7. Notebloc Scanner App
Notebloc is a 100% free mobile scanner app and supports unlimited storage. You can scan multiple documents in one go with a multiple-page scan feature.
Its OCR feature supports 18 languages which include English, Spanish, French, Italian, Danish, Catalan, Dutch, German, Finnish, Hungarian, Latin, Norwegian, Polish, Portuguese, Romanian, Swedish, Tagalog, and Turkish.
It has auto-crop and perspective correction features to improve the quality of scans. You can share PDFs and JPGs on social media networks with just one click of a button.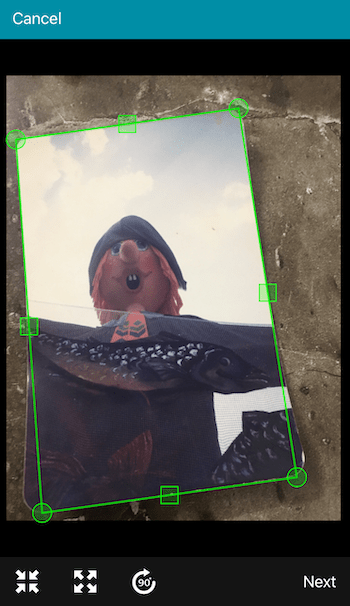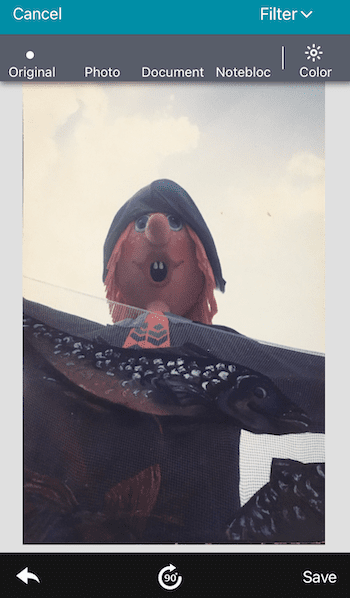 Pros
100% free to use with an unlimited number of scans.
 Fast scanning and processing and a very simple app to use.
The scans are of good quality as the shadows are removed and the lighting looks perfect in the clean scan.

You can save the files in PDF or JPG format.
Can choose the size of the PDF as well when saving the file.
You can create folders for better organization of the scans.
The scans can be shared easily on mail, social network, or instant messaging apps.
It has Google Drive Sync and the scans are easy to resize and edit.
Cons
There are too many ads popping up while using this wonderful free app which is the only drawback and quite annoying too sometimes.
Conclusion
There are a few more great apps for scanning the photos or documents like Google Photoscan, Simple Scan, and SwiftScan. But, I believe, the ones which I suggested above are the best of the best photo scanner apps that you can download with your eyes close.
You can always choose the one that suits your needs best. For both iOS and Android users, you can try Microsoft Office Lens, Adobe scan, and SwiftScan Pro to sync scans between devices seamlessly. Wait, here's a quick tip for iOS users — you can also scan documents with the built-in Notes app directly.
So, with this, our article featuring the best photo scanner apps for iPhone and Android comes to an end. All these best photo scanner apps not only scan the photos with great ease but works great with documents, books, notes, etc. If you are using any photo scanner app other than these, please let us know in the comments section below.