MP3 to MIDI conversion doesn't simply mean a conversion of audio format. MP3 is the preferred audio format by any music player. Musical Instrument Digital Interface (in short MIDI) is a technical standard unlike MP3 (an audio format). MIDI can be specified using pitch, velocity, notation, cues, clock signals, tempo etc. MIDI was invented to unite musical instruments and make every musical instrument compatible.
Put a period to the elegant introduction of MIDI and its contribution to the musical world. Having said that, we wanted to tell you about MP3 to MIDI converters. Hold your horses, what do you think these converters are? Online MIDI tools which are free to use? Windows/Mac MIDI apps which are free to download? Well, we have got you covered.
Also Read: Convert YouTube videos to MP3
Best MP3 to MIDI converters and online tools which are free to use
Let's peep in and see what each of these MP3 to MIDI converters are capable of.
Bear File Converter – Online & Free
Bear file converter is the best in business online tool and it is free to use. It is very simple to get your MP3 file converted to MIDI using this online tool. Not only MP3 but also various other file formats like WAV, OGG, AAC, WMA can be converted to MIDI. Just drag and drop your MP3 file and bear file converter will do the rest. Remember this is a free online MP3 to MIDI converter tool. That said, it has a limitation on file upload size. Upload any file of size <= 50 MB and your job is done.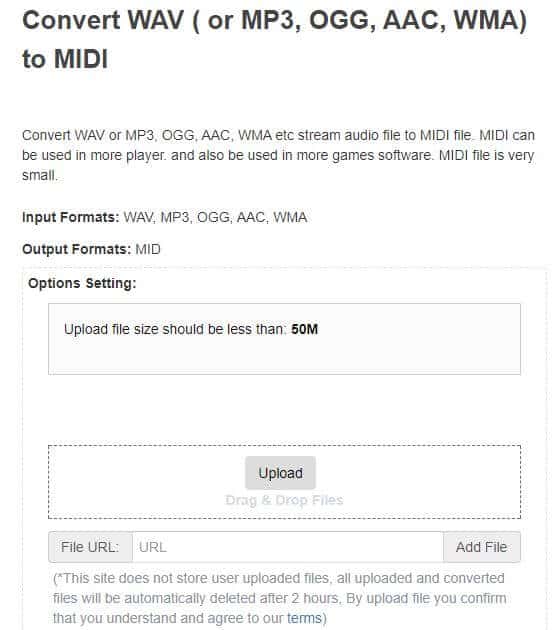 Note: No need to worry about the privacy. Your file will be deleted within 2 hours from the upload time. Please visit terms of usage for better clarity.
Widisoft Home – MP3 to MIDI and WAV to MIDI converter
WIDI recognition system along with WIDI Audio to MIDI plugin will help you in converting MP3 to MIDI. Widisoft is a paid Windows software. Having said that, it provides 30-days trial license for the user. The Windows platforms supported by Widisoft are Windows XP, Vista, 7, 8, 8.1 and 10. Basic technical music knowledge is must to use this software. If you don't want to make your life critical, please refrain from using this software. Keeping the technical knowledge apart, this is best to use.
Intelliscore – Convert any Audio to MIDI
Intelliscore is a dedicated software to convert any music files to musical notation from past 18 years. It helps in differentiating guitar sounds from the bass. Kickstart the conversion by playing the MP3 file using Intelliscore. Select the required notes by following the inbuilt easy-to-use wizard. Now you can do all impossible things with an MP3 file with Intelliscore. See the complete product details here.
AmazingMIDI – Anything to MIDI
AmazingMIDI is an extraordinary product from Araki Software to convert MP3 to MIDI. Like Intelliscore, AmazingMIDi is other Windows software for MP3 to MIDI conversion. It even converts WAV files to MIDI format. That said, it can handle both monophonic and polyphonic music. Start the conversion using AmazingMIDI and it will be simpler than you ever thought. Just download it from CNET and feel free to use it.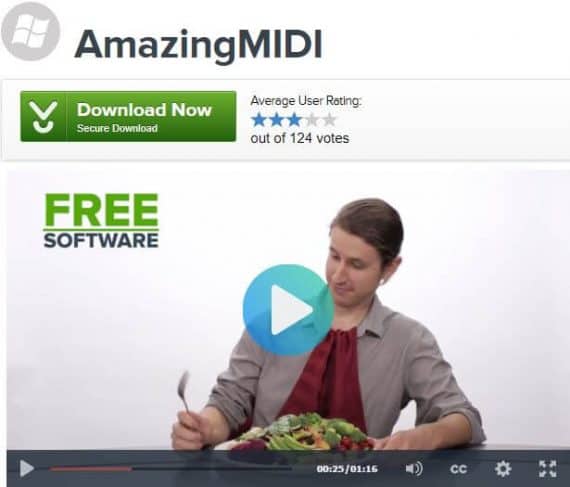 ConverterLite – Free Audio and Video Converter
ConverterLite is a free MP3 to MIDI converter for Windows users. With over 2,500,000 downloads, ConverterLite seems to be one of the best MP3 to MIDI converters available. But the support is limited to Windows 7, Windows XP and Windows Vista. You may find some difficulties running it on other versions of Windows. While installing the software, be careful in hitting next. Since this is a free software, they might ask your permission to install certain software. Be wise and choose skip when prompted for such permissions.

Zamzar – Free online file conversion
Zamzar is a free online file converter to convert MP3 files to MIDI format. Choose the file from either URL or from your local machine. Choose the format of the final output. Provide the email address to which you want to receive the file after conversion. Click on convert and within some time you will receive an email with a link to the converted file. Looks simple. Isn't it?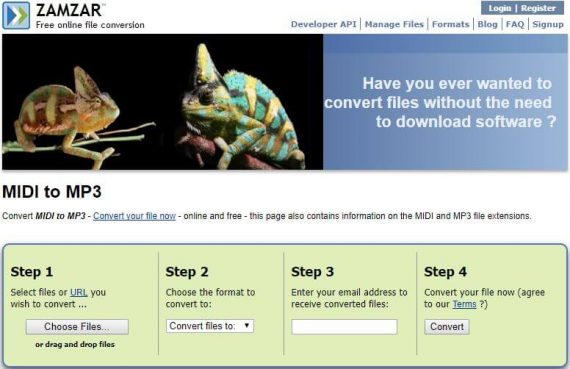 Audacity – Open Source MIDI converter
Audacity is the best open source for converting MP3 files to MIDI format. It is available for all platforms like Windows, MAC, and Linux. Being an open source, it is the best in the business for this conversion of MP3 to MIDI format. Windows platforms include Windows XP, Vista, 7, 8 and 10 whereas MAC platforms include MAC os X, 10.6 and later, and partial support for Sierra.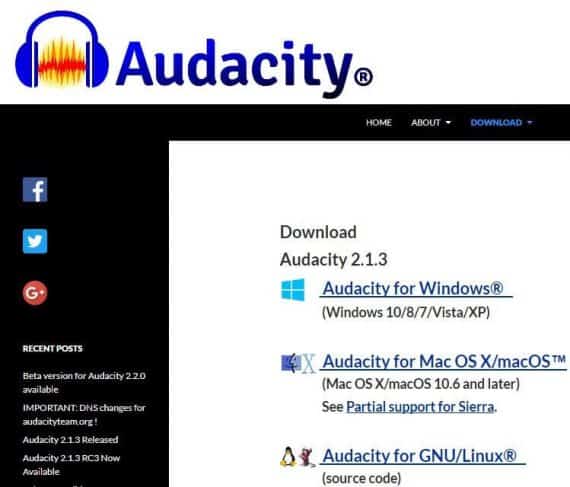 Here is the step by step procedure to convert MP3 to MIDI format.
Step 1: Install Audacity based on your Operating System (Either Windows/MAC/Linux).
Step 2: Launch Audacity, click on open and select MP3 file.
Step 3: Once the MP3 file is open, click on File and then Export. It will open 'Edit Metadata' dialog, click on 'OK' to move to next screen.
Step 4: Click on the drop-down near to Format field and select 'Other Uncompressed Files'.
Step 5: Click on the Options field and select MIDI as output type and Save your changes.
That's it. A progress bar will show the conversion progress. Once it is done, you will be able to access MIDI file in Audacity folder.
MP3 to MIDI converter Android Apps
We have put in all efforts to bring out the best Android App which can convert MP3 files to MIDI. Unfortunately, this conversion via Android app seems pretty difficult, but not impossible. You can try these two Android apps for MP3 to MIDI conversion.
These apps really got the lower rating. So please use it at your own risk. Else you can try above online tools which can work effectively
MP3 to MIDI converter for MAC
As iOS is not so flexible like Android, we have limited opportunities. But still, we got a better app to do this conversion. Pathetically, it is paid ($14.99). Audio effects, volume adjusting, customizable audio settings, replication of directory structure, add converted music to a playlist in iTunes are cool features in this app.
Final Words
With the in-depth research of the MP3 to MIDI converters, we have come up with these best MIDI converters. As an open source software, Audacity is the best MP3 to MIDI converter. Bear file converter is best for online MIDI conversion. We have provided dedicated apps for Android and Mac users too. Despite that, feel free to use online tools and let us know your experience.
If we have missed any special tool or software in this list, do let us know in comments section.