Here are best mobile apps for entrepreneurs people to take their start-up to next level. Are you constantly on-the-go and in need of tools that will make your life easier? Luckily for you, we've come up with a list of mobile apps for business that can do just that. Consider downloading the following apps for entrepreneurs that will help you stay in touch with business while on the move.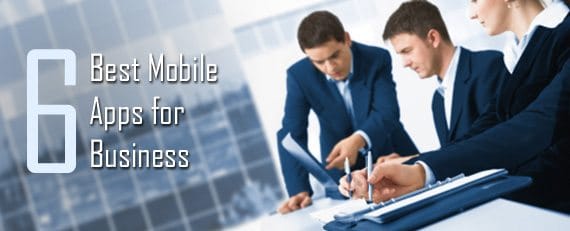 Collection of Best Mobile Apps for Entrepreneurs
If you are a business person or entrepreneur and damn busy with your works, then you may make your day better with these mobile apps for entrepreneurs collection. These best apps for entrepreneurs help you remind you of your work and will make you up to date:
1. Contactually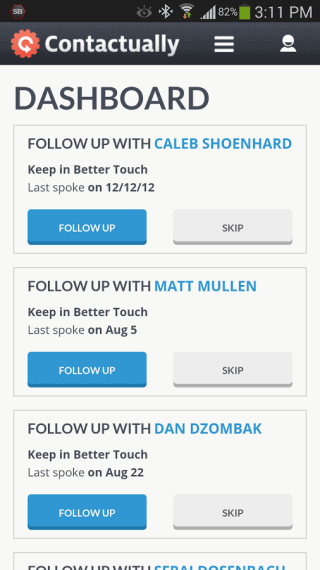 If your business duties include staying in touch with tons of clients and following up on leads, Contactually is one the best apps for entrepreneurs people and will be your saviour. This handy app promotes better business practices by managing your contacts, logging your calls, and making follow-ups easy. Plus, it syncs contacts with all your favourite programs such as Facebook, Twitter, Mailchimp, Gmail, and more.
The app works with Gmail and Outlook, on the web, and of course with Android and Apple products. Individual plans start at just $17.99 per month.
Download on Google Play
Download from App Store
2. Wunderlist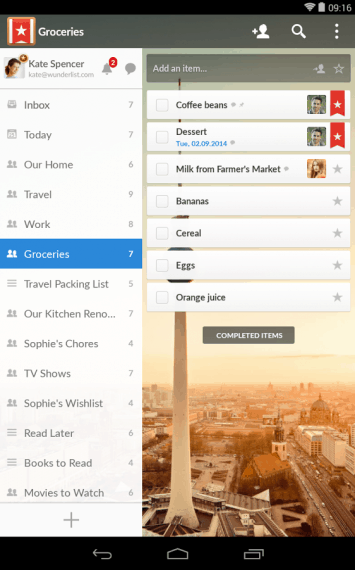 If you need an app that can help you stay organised in a busy environment, Wunderlist mobile app for business is the perfect solution. It helps you create advanced lists for everything from work to home to play. You can even sync your lists with other people such as coworkers or family members. Even chat with team members straight from the app. Grab it for free on iOS, Windows, Android, Chrome, and the web, or upgrade for more features for just $4.99 per month.
Download from App Store
Download on Google Play
Download from Microsoft Store
Download from Chrome Web Store
3. Feedly
Part of being a business professional is keeping up on the latest news in your industry. Feedly makes that easy by allowing you to subscribe to RSS feeds of the best websites in your field. No more sifting through endless streams of articles or Google searches. Customise your feed to deliver only the news that you love. Grab it free on Apple and Android operating systems.
Since this app means that you'll be doing a lot of web surfing, make sure that you have a data plan that can support all this information transfer. If your current plan doesn't do it, there are many phone plans for businesses to which you can upgrade including those with unlimited data to make doing business easier.
Download from App Store
Download on Google Play
4. Business Card Reader
You don't want to carry around a stack of business cards, but it's time-consuming to put contacts in your phone. Not anymore. With the Business Card Reader app by Shape, you can use your camera on your Blackberry phone or iPhone to scan business cards. The app will automatically add contact information into your phone for you. For professionals who do international business, the app can even read other languages such as French, Spanish, Chinese, and more. Get it for $9.99 on Blackberry products and for $6.99 on iOS.
Download from App Store
5. Sprout Social

If you're like most people, you probably have more than one social network profile. Facebook, Google+, LinkedIn, Twitter, and FourSquare are just some of the sites that you might use daily. It can take up a lot of time to switch between their apps and try to manage all the chaos.
That's where Sprout Social app for business comes in. Like the similar Hootsuite app, Sprout Social brings all of your social networking information into one convenient place. And it's great for teams, too, since it offers collaboration tools such as chat functions. Other features include a smart inbox, publishing tools, and even analytics data to help you improve your social media strategy. Start your free trial on Apple and Android products.
Download from App Store
Download on Google Play
6. TripIt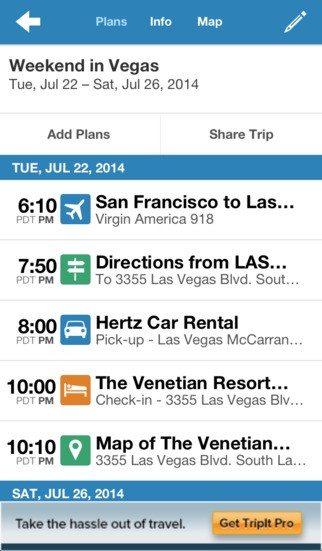 If you travel often, keeping track of everything can be tough, but not with the TripIt app. Free for Android, Blackberry, iOS, and Windows phones, TripIt is your go-to app for managing your business trip. Just forward your trip information to the app such as car rentals, hotel reservations, flight information, and restaurant reservations and it will keep you on track. Get directions, organise your schedule, and even share your itinerary conveniently. Want more features? Upgrade for just $49 per year.
Download from App Store
Download on Google Play
Download from Microsoft Store
This list doesn't even make a dent in the many apps for business available for busy professionals. Need more ideas? Check out this list of 50 best business apps for people like you who are constantly on the go.