When it comes to flowchart and diagramming software, Microsoft Visio takes the crown. It becomes much better with its familiar interface and also integration with other Microsoft Office apps. I understand you're here looking for the best Microsoft Visio alternatives and there could be many reasons behind looking for it.
The pricing is too high for an average consumer to afford. The Standard version costs around $280, while the Pro version costs around $530; even the online version costs around $5 per month. It is an insane amount of money to pay for Microsoft Visio. And that's the reason why you might be looking for a Visio alternative.
Don't worry, this guide will show you the best Microsoft Visio alternatives available out there.
Best Visio Alternatives to Try Right Now!
There are many alternatives to Microsoft Visio out there on the internet. But if you're looking for the best Visio alternatives, we suggest that there are six that share a resemblance to Microsoft Visio. Here are the six options for Microsoft Visio.
1. EdrawMax
When it comes to matching the simple UI on the Microsoft Visio, you can never go wrong with EdrawMax. EdrawMax is a great drawing and flowchart tool that helps you create and share them quickly. Moreover, EdrawMax comes with many built-in templates (around 280+) and symbols to get you started as soon as possible. It costs around $99 per user for one year license. Similarly, you can get a lifetime license for $258 or $179 for a perpetual license with a three-year upgrade guarantee.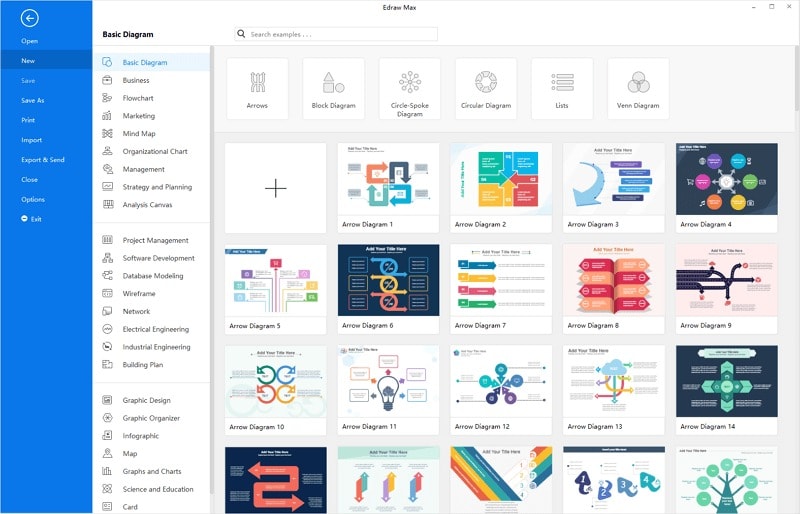 If you want to import a Visio file onto EdrawMax, it is also possible. You can import the Visio file on EdrawMax and even edit them to your liking. Once edited, you can even export them to Visio format (.vsdx format).
Furthermore, you'll also see features like custom themes, a clip-art gallery, a shape-drawing toolkit, and many more. In addition to that, it is cross-platform compatible, which means it's available on macOS, Linux, and Windows.
2. LucidChart
If you're looking for one of the best web-based alternatives to Visio, or even one for any platform, LucidChart could serve you the best. It's one of the best alternatives to Microsoft Visio. It comes with drag-and-drop options, and you can build diagrams with your team in collaboration.
So if you have got a group consisting of multiple members, you can collaborate with ease through this software. It is something that MNCs and IT companies prefer mostly.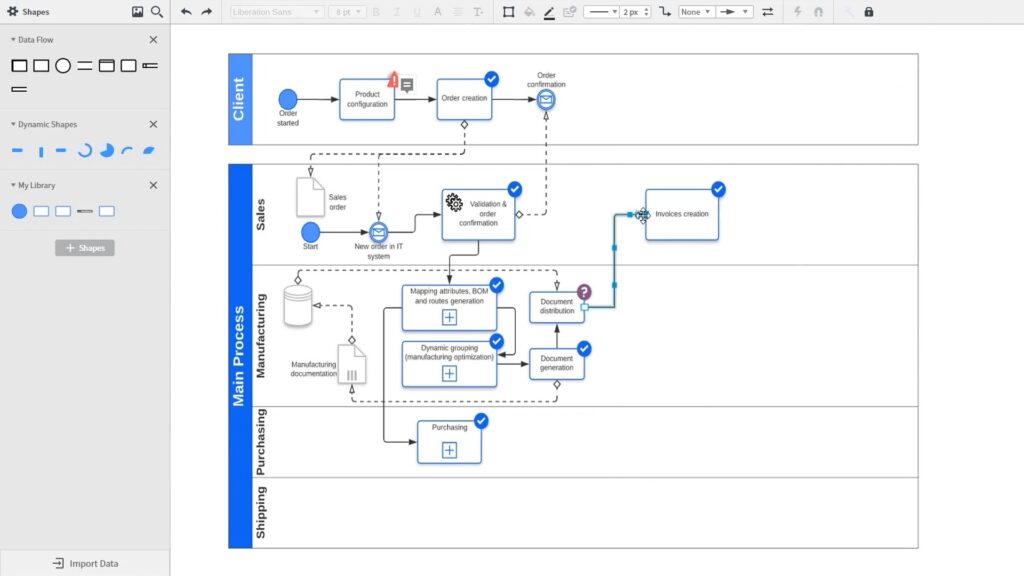 Similar to EdrawMax, LucidChart can also import and export Visio files (.vsdx format). However, you'll miss the different shape categorizations into their respective categories.
You can sign up for the free trial and start using it; afterward, they'll charge you for a subscription which starts at $7.95 for the Premium plan. This subscription gives you access to more features and more templates. LucidChart works on Windows, Linux, and macOS, making it cross-platform software.
3. Moqups
Moqups isn't your go-to wireframing tool for designers, but it's more than that. It doubles as a flowchart, diagramming, graph maker, and an online whiteboard as well.
However, since we're on the topic of Visio alternatives, Moqups stands out to be a unique one in its class. You can create flowcharts and UML diagrams by simply dragging and dropping.
Moqups lets you collaborate with your team and also share the work with minimal effort. It comes with many templates, and also choose to resize, rotate, and modify them at your will. You can also export these diagrams as PNGs or PDFs.
Since it doubles as a wireframing tool, the designers on your team will have the advantage of making full use of it. You'd also save a lot by doing so. Moqups starts at monthly pricing of $23 per month and $16 if billed annually. Since it's a web-based tool, anyone with a computer and the internet can access it.
4. Google Drawings
Microsft has Visio for drawings and flowcharts, but shouldn't Google have its tool? Well, they do have one—Google Drawings.
Google Drawings is a great drawing tool and can be used as a collaborative drawing as well. It's not only limited to drawings but also allows you to make flowcharts with the available shapes. Google Drawing is Google's alternative to Visio, in simple terms.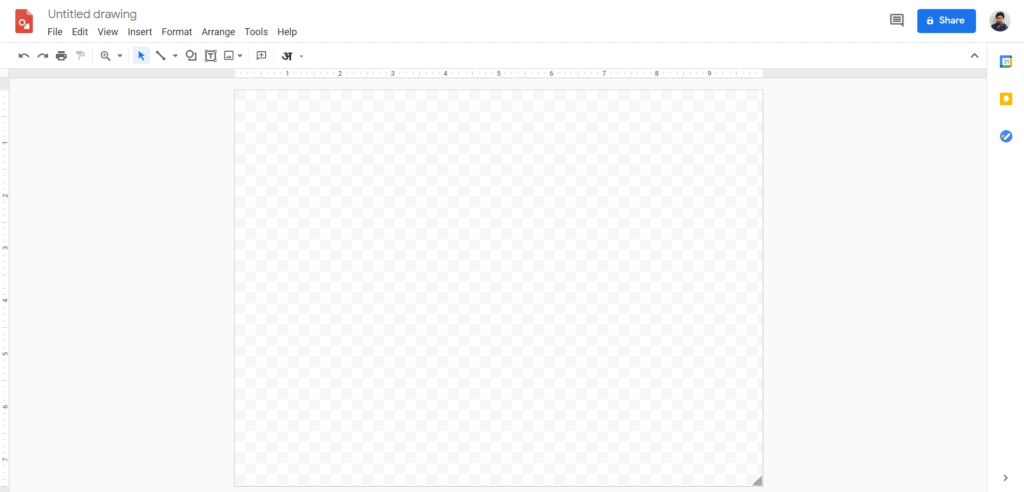 It's available by default on Google Chrome; if not, you can download it from Chrome Web Store. If you want to ignore the idea of extensions, you can go to docs.google.com/drawings and start a drawing right away and share the link with others as you do on Google Docs/Sheets/Slides.
Also Read: 2 Ways To View And Download Source Code of Any Chrome Extension
The best part is that it's completely free of cost; and can be used by anyone, anywhere if they have a computer. It works without an internet connection if you have the extension, but you'll miss the collaborative part.
5. LibreOffice Draw
When it comes to being open-source, LibreOffice could be the perfect alternative to Microsoft Office apps. LibreOffice Draw is an incredible alternative to Visio. LibreOffice Draw is a drawing and charting tool similar to Microsoft Visio.
What separates it from Microsoft Visio is its grouping feature, letting you move around multiple objects at once. This feature is beneficial when using the drawing and flowchart tools.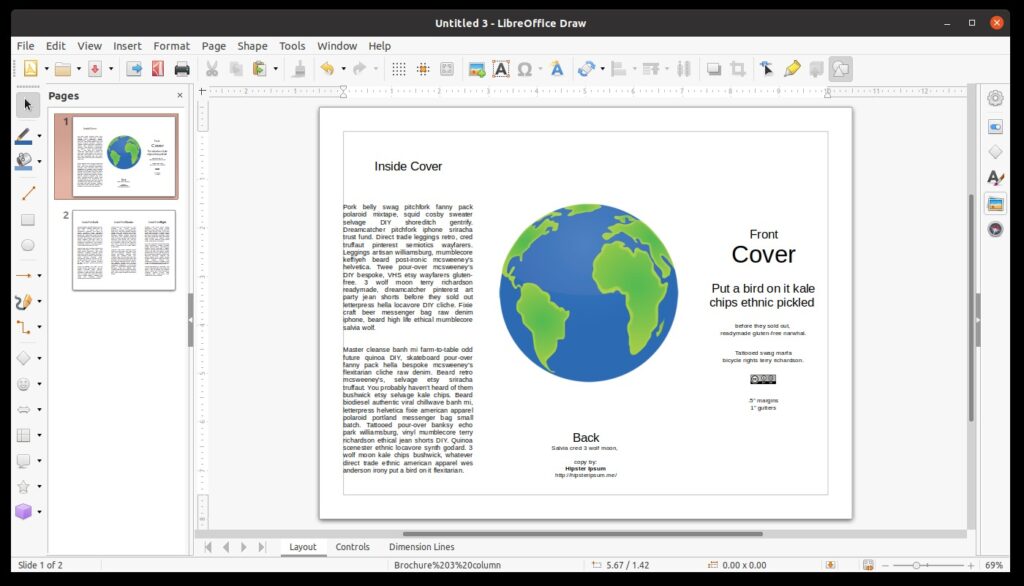 While LibreOffice Draw uses the XML format as default, you can export these diagrams into an SWF file format. You'll find many similar shapes and objects that are similar between Visio and Draw.
Being open-source software, it is a tad bit slow, but it's free, and you shouldn't complain either. It's available on Linux, Windows, and macOS. So it's the best free Vision alternative out there in the market.
6. OmniGraffle
Last but not least is OmniGraffle on our list of best Visio alternatives. If you're someone looking for a Microsoft Visio alternative on Apple's ecosystem, then you should consider OmniGraffle.
It's one of the best charting and drawing tools on Apple devices. Apart from being a charting and drawing tool, it also doubles as a wireframing tool and is termed "Rapid-Prototyping."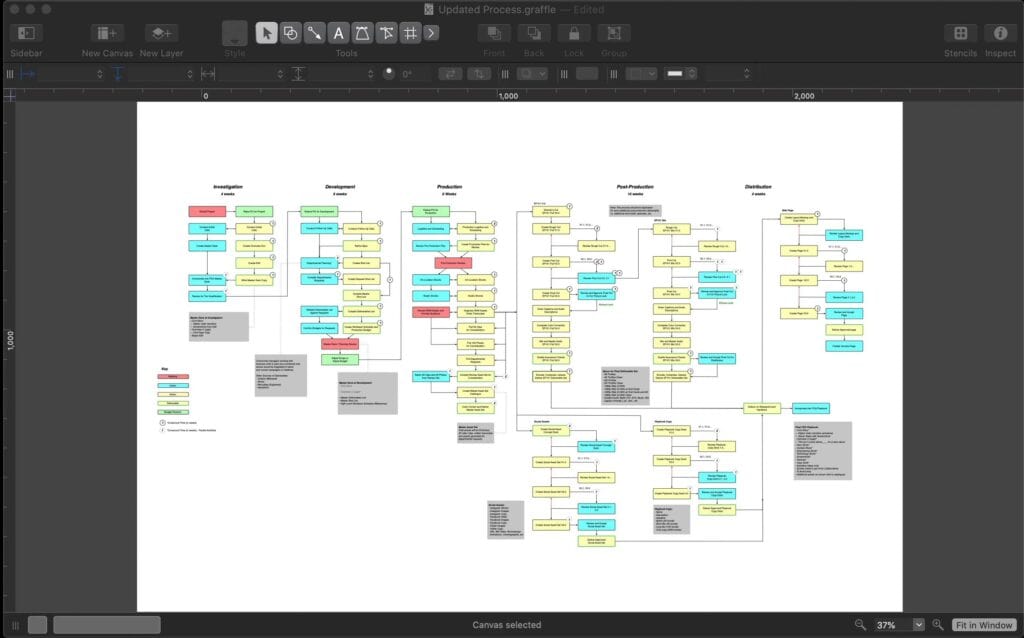 In addition to those, it also makes for an excellent vector designing tool with exceptional graphics precision. This precision is possible with intelligent grouping, snapping, and alignment tools. Since it's a vector-based designing tool, you won't lose any details when zooming in or out.
Being an app available in the Apple ecosystem, you can access it on your iPad, Mac, and iPhone. With cross-syncing, whatever you do here is also accessible on those devices. The Pro version also starts at $249.99 on macOS and $12.49 per month on iPad or iPhone.
Picking A Visio Alternative For Yourself
We hope our list of the best Visio alternatives helped you in selecting one. However, there are many other Visio alternatives available out there; but we chose the best ones that would work on any platform and suit different needs.
If you ask us, we recommend you go for EdrawMax or LucidChart if you can afford their plans. If you're looking for a free Visio alternative, we'd recommend you Google Drawings and LibreOffice Dark.