If you are into vBlogging, then this article about best microphones for YouTube videos is for you. It is said the best tools are the ones you have on you, that in most cases is true but if you want to enter into the YouTube game you definitely need to step up your audio as well as video quality. To help you do that today we bring to you our list of 8 best microphones for YouTube to improve your video production quality:
1. Tonor TN12326 Studio Microphone
Probably one of the cheapest condenser microphone on our list, the Tonor TN12326 come in at a price of just $13 and at the price is an absolute steal for anyone who is new to YouTube and is just trying their hand out. It is definitely a much better microphone than the one inbuilt in the camera; it comes with a 3.5 mm jack so you can record audio via your phone or camera as well. The Tonor comes with a mini tripod stand to mount the microphone on while recording or doing voice-overs. It is a budget microphone that you should give serious a consideration when buying a microphone and it is one of the best microphones for YouTube.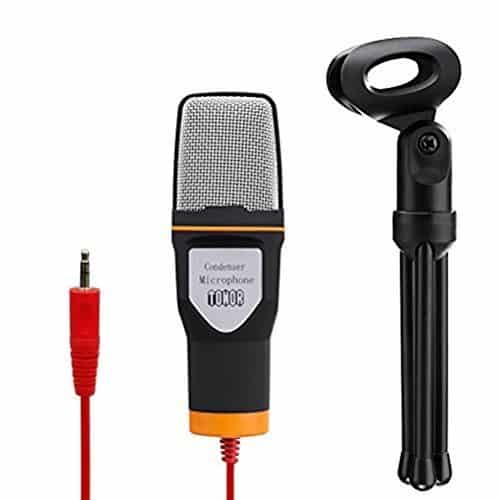 Pros: Good quality, Value for money
Cons: Can not expect best quality results
Buy: Amazon ($13)
2. Lavaliere Microphones
Lavaliere microphones or lapel mics as they are commonly known are extremely useful for a handful of tasks; they can be plugged right in the camera to record comparatively clearer audio or in a phone and be used for video calls and for recording or Vlogging which involves a lot of moving around. Lap Mics are small and can be hooked on to your clothes for better mobility. We recommend either the Neewer Mini Lapel Microphone for under $7 or the Sony ECMCS3 Omnidirectional Stereo Microphone for under $17 both some of the best microphones for YouTube.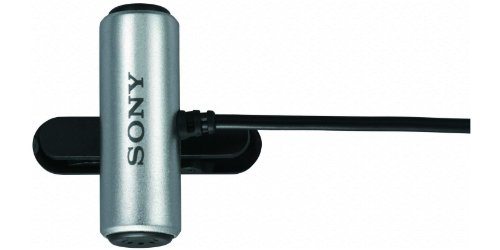 Pros: Great for mobility, Cheap
Cons: Not very good audio recording (better than onboard mic)
Buy: Amazon (Rs 1100)
3. Blue Snowflake
Now if you are planning to start a YouTube channel I'm sure you have heard about blue mics, every YouTuber has at some point used blue products and blue makes the best microphones for YouTube. Now blue has a variety of products in their portfolio but we will suggest 3 of their best microphone for YouTube namely the Blue Snowflake, the Blue Snow Ball and the Blue Yeti.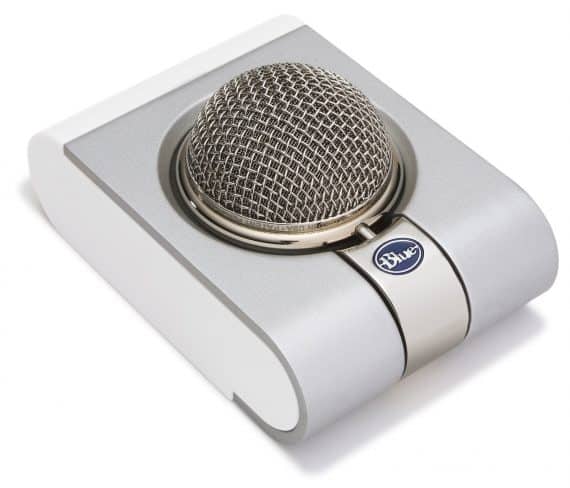 The Snowflake is a portable and small microphone which gives excellent audio output for its size and price. For about $40 it is one of the best microphones for YouTube gaming.
Rating: 3/5
Buy: Amazon (Rs. 4398)
4. Blue Snow Ball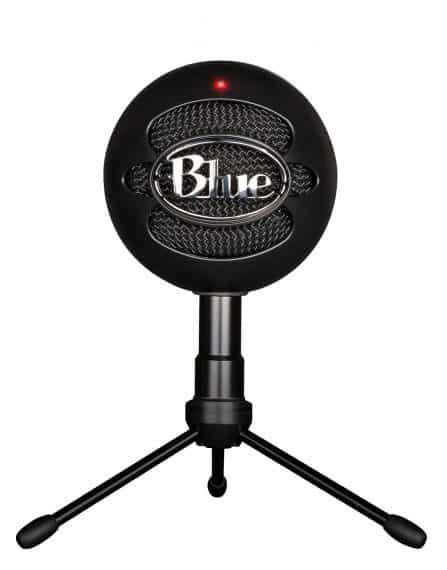 The Snow Ball is the awkward middle child between Snowflake and Yeti; it's good but not too good while being bad but not too bad. It's plain Jane to put it that way, it's not the worst but certainly not the best microphones for YouTube singing.
Rating: 3.5/5
Buy: Amazon (Rs. 6450)
5. BlueYeti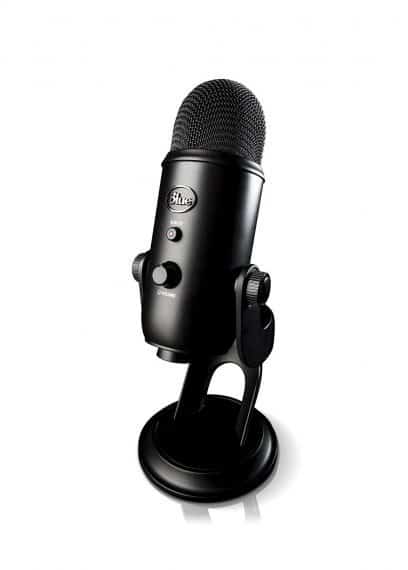 Hands down one of the best microphone for YouTube commentary. The blue yeti features a 3.5 mm jack for audio out, so you can listen to what you are recording, it also has various dials and features that let you customize it to a person's liking.
Rating: 4.5/5
Buy: Amazon ($129)
6. Neewer NW-800 Professional Studio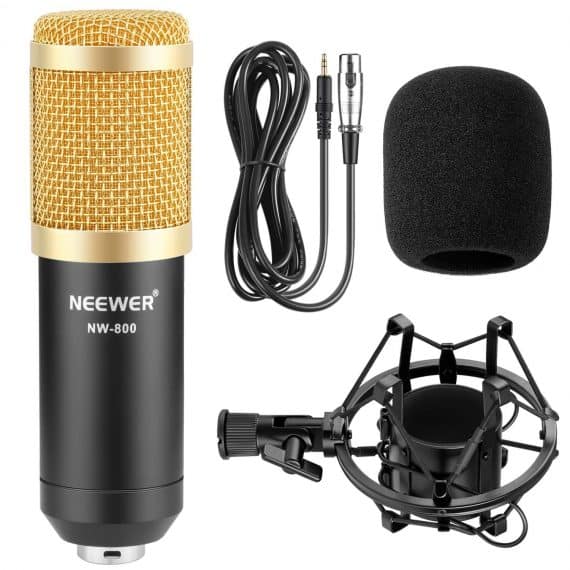 The NW-800 is another budget condenser microphone which you can purchase for crystal clear audio for your videos, it comes with an XLR to 3.5 mm jack connector and gives superior performance, it can also be attached to an audio interface device to get even better quality audio. The package comes with professional shock mount and an anti-wind foam cap included in the box which are nice adds on to have.
Pros: Good looking and best budget microphone for YouTube
Buy: Amazon ($24)
7. TASCAM DR-05 Portable Digital Recorder
The TASCAM comes with its own set of microphones on it which can be used for recording interviews and statements etc as it is a very portable microphone. The best part about this is the TASCAM is that you can join a 3.5 mm microphone to it and record via that mic, it also has a headphone jack to monitor what you are recording. The TASCAM is the best microphone for YouTube for news reporters.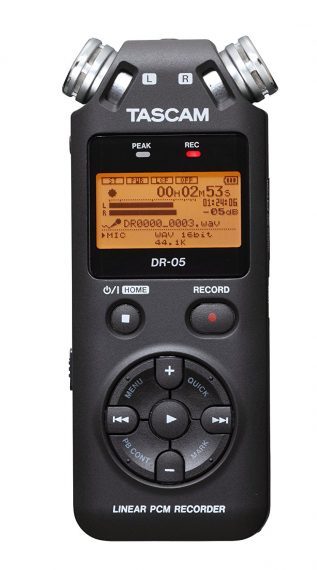 For a price of about $100, it is completely value for money. TASCAM is a microphone that can do a little bit of everything.
Pros: Portable, Versatile
Buy: Amazon ($100)
Well, all these microphones are great in themselves but these products can enhance their utility to another level altogether, an Audio interface and some accessories are all you'll need to step your YouTube game up.
8. Focusrite Scarlett Solo Studio USB Audio Interface
An audio interface gives your audio a professional quality and ups the game by unimaginable levels; the Focusrite audio interface comes in 2 options. One the stand-alone Audio interface while another all inclusive package which includes a Microphone, a pair of studio headphones and the interface itself.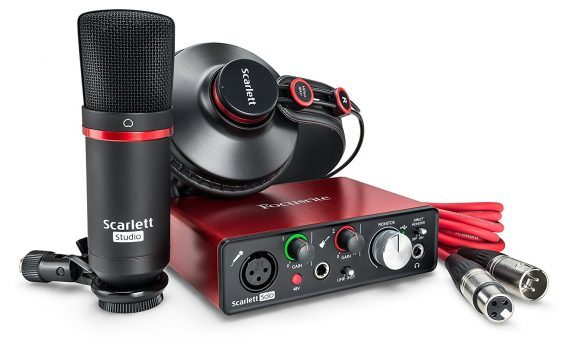 For the price of $100 for the standalone unit and $199 for the whole kit it is a definite must buy for a serious YouTuber.
Pros: Great quality, Easy to use
Cons: An added investment
Buy: Amazon ($200)
Bonus: Accessories for Microphones
Accessories such as an arm stand or a pop filter can make a huge difference in your production quality and should never be neglected, most of the mics on our list are compatible with a range of stands and we would like to recommend NEEWER Microphone Suspension Boom Scissor Arm Stand or Tree New Bee TNB-ARM01 2016 Pro if someone wants a complete set. You can pick up any generic pop filter you like to go along.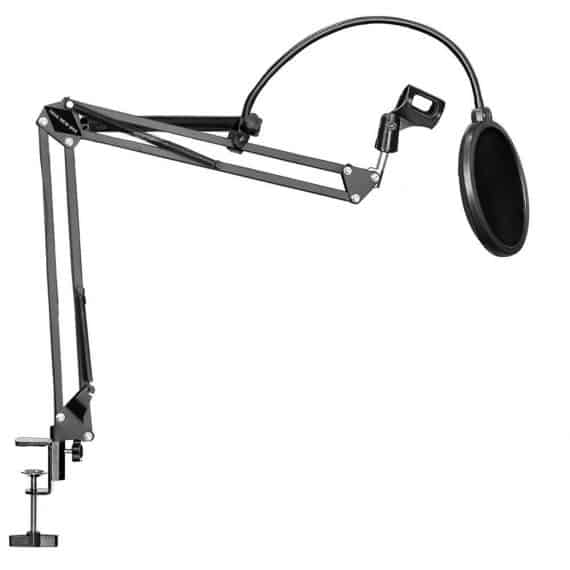 Pros: Amplifies the production quality
Cons: An added investment
Buy: Amazon ($7)
Final words about this list of best microphones for YouTube gaming and commentary
So this was our exhaustive list of the best microphone for YouTube you can buy and if you think we missed out on any of your favorite microphones or if you'd like to recommend any microphone do let us know down in the comment section.