Are you tired of the same old boring Google Chrome user interface and want to spice things up? Are you also a die-hard Marvel fan? Then you've come to the right place. We have curated a list of the best Marvel Avengers Chrome themes for all the Marvel fanboys.
These include the latest Avengers Chrome theme as well as themes from other Marvel superheroes like the fearsome mutant Wolverine and the notorious mercenary Deadpool.
Installing these Marvel Chrome themes is very easy and all the themes listed here are absolutely free. Even the ones with HD, high-quality wallpapers. So, without further ado, read on to know how to install these amazing Marvel themes in your Chrome browser and our list of the best Avengers themes available on the Chrome Web Store.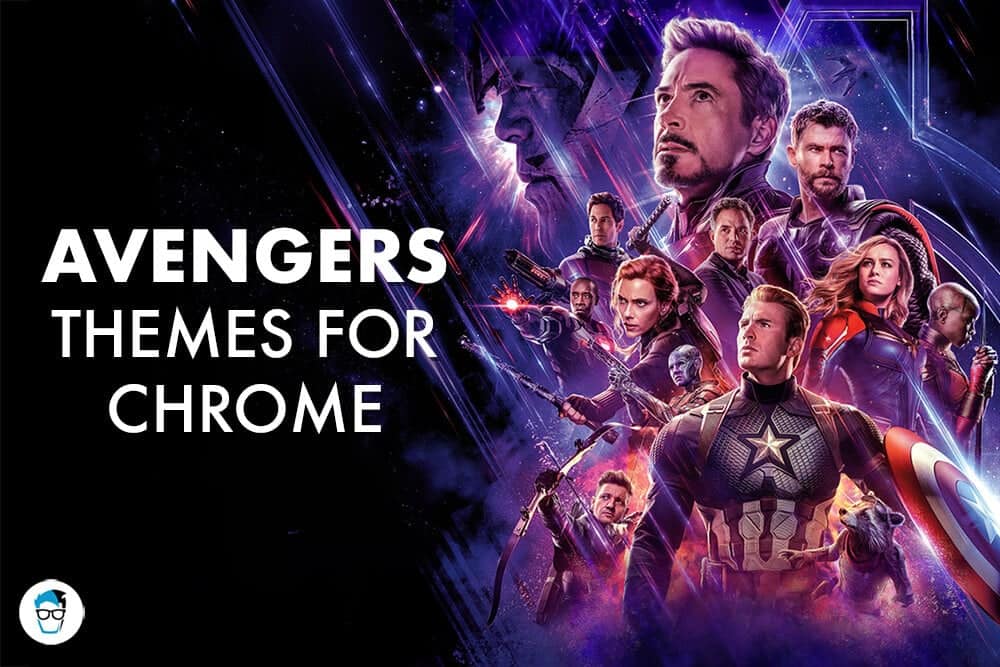 How to change Google Chrome theme?
Installing a theme in your Chrome browser is very easy to do. You can find a vast amount of different themes available to download on the Chrome Web Store.
1. To install a theme on your Chrome browser, you need to first head over the Chrome Web Store themes section.
2. Select the theme that you want to install from the vast library present on the Chrome Web Store. After selecting your favorite theme just click on the Add to Chrome button and the theme will download and install automatically.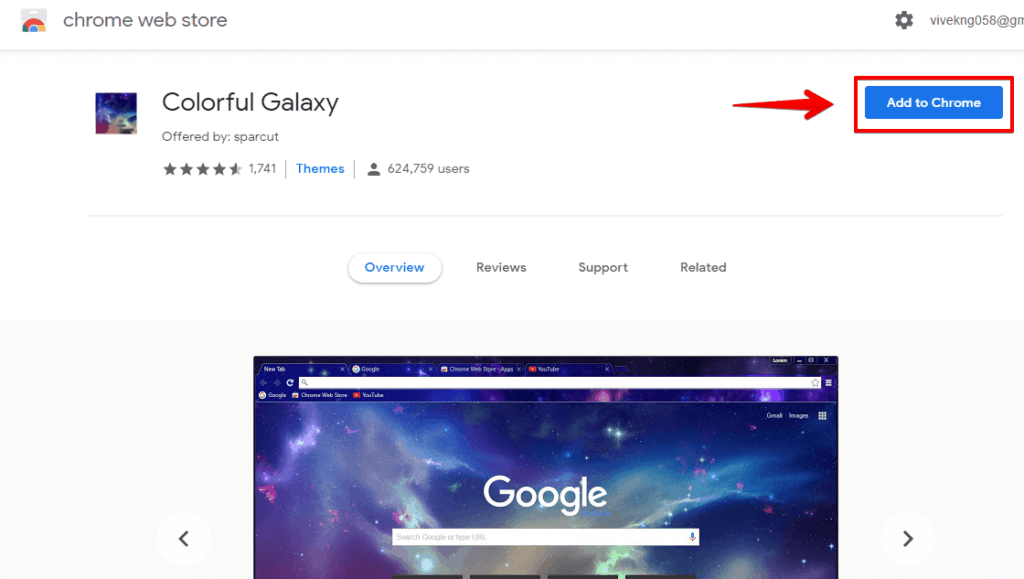 3. If the theme comes in the form of an extension, you might need to accept a few permissions. Double check the permissions and if you are okay with them, click on Add Extension button and you are good to go.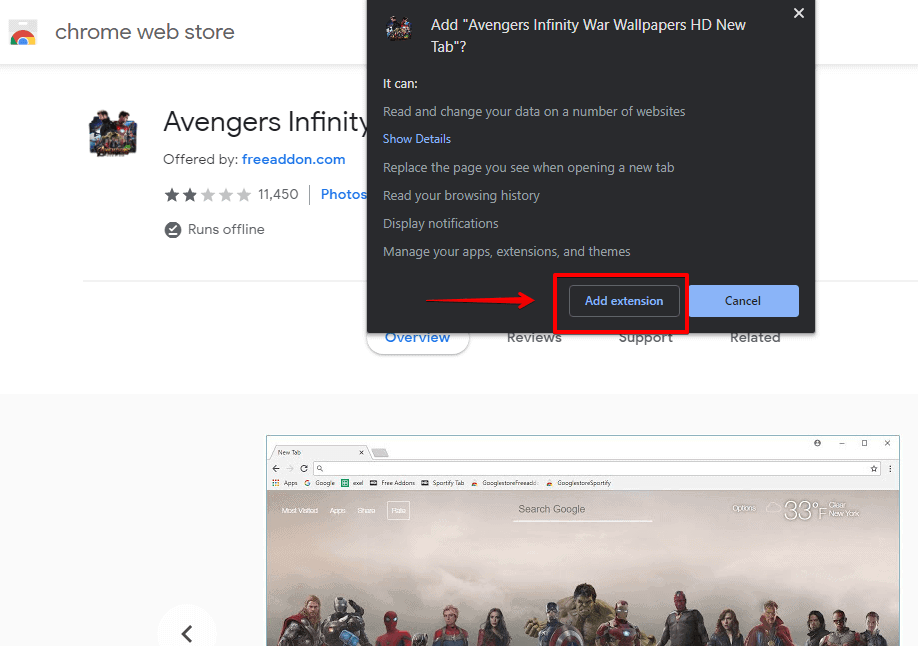 Enjoy your newly added theme and forget the boring Chrome UI.
How to reset or remove Google Chrome theme?
Using the same theme for a long time make the experience boring and you might wish to use a new theme. Or you might want to reset the theme to default for change. No worries, There are multiple ways to remove a Chrome theme or extension from your browser.
As mentioned earlier, Chrome themes might come as an extension too and we'll explain the steps to remove an extension and resetting the theme to default.
1. To remove a Chrome extension, right click on the extension icon beside Chrome address bar and click on Remove from Chrome… option.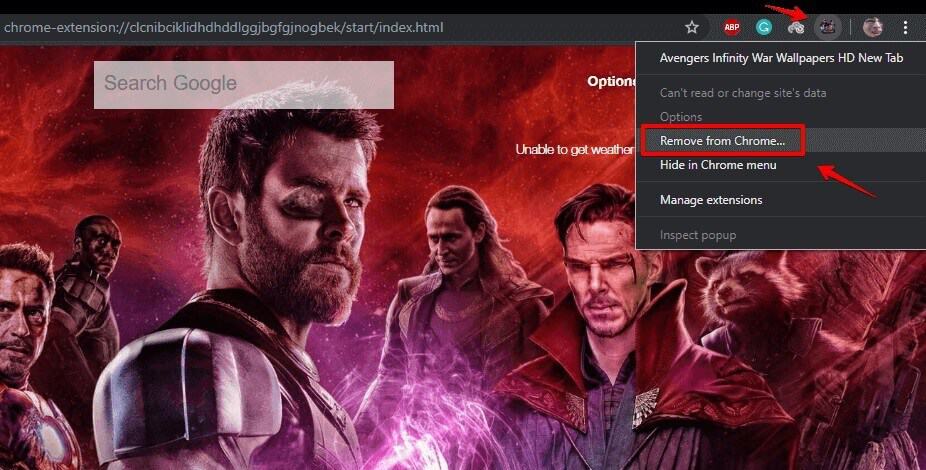 2. If you don't find the extension icon beside the Chrome address bar, click on the 3 vertical dots on the top right corner of your Chrome browser and select More Tools.
Now clicking on Extensions will open a new tab where you can manage all extensions installed on your browser. Just click on the Remove button to remove an extension from Google Chrome.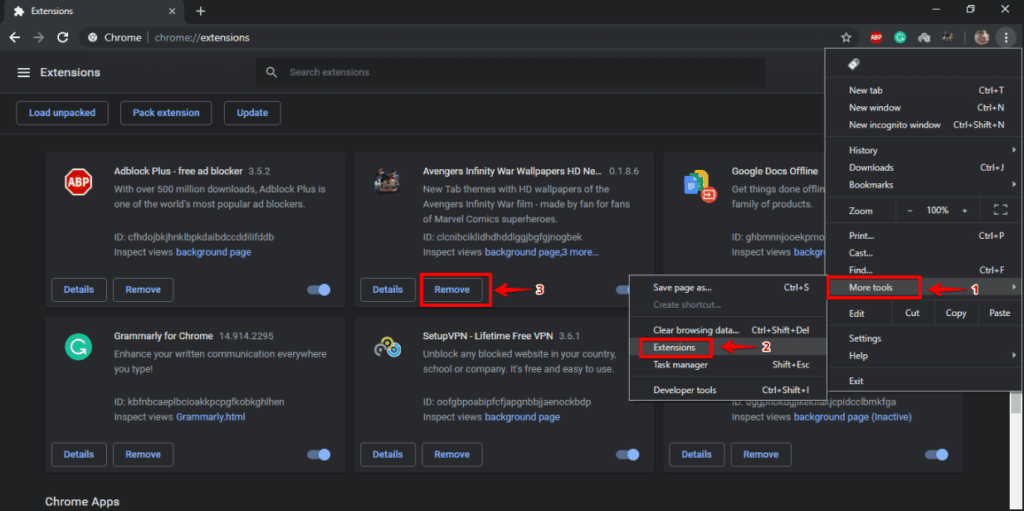 Tip: You can also type chrome://extensions in the address bar and hit the Enter key to open extensions tab directly.
3. To remove a theme from your Chrome browser, click on the 3 vertical dots on the top right corner of your browser and select Settings.
Search for "Themes", in the search bar and then under the Appearance tab click on Reset to Default button to remove any theme that you have installed on Chrome previously.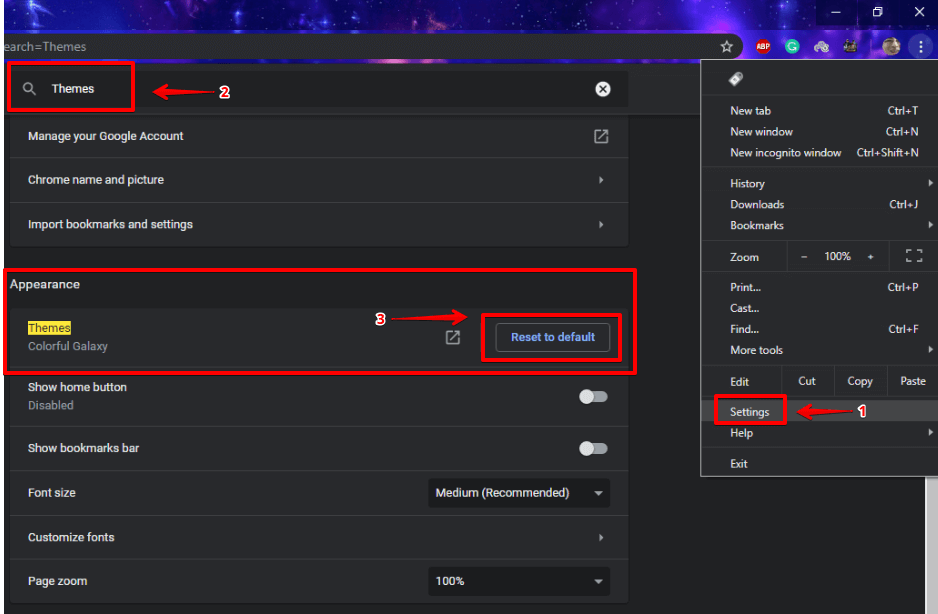 FYI: If you install a theme on Google Chrome, it will automatically overwrite the previously installed theme. Unlike an extension, you can have only one theme installed on the browser.
Best Marvel Avengers Themes for Google Chrome
Here's a list of the 11 best Marvel's Avengers Chrome themes for Windows and Mac that you can download and install on your Chrome web browser to give it the Marvel look and always be closer to your superheroes.
1. The Avengers HD Wallpaper New Tab Themes
This is one of the best Avengers Chrome themes available for Marvel fans. This Avengers Infinity War Chrome theme is offered by freeaddon which has a lot of great themes on the Chrome Web Store. There are tons of high quality crisp looking HD wallpapers in this Avengers Chrome theme.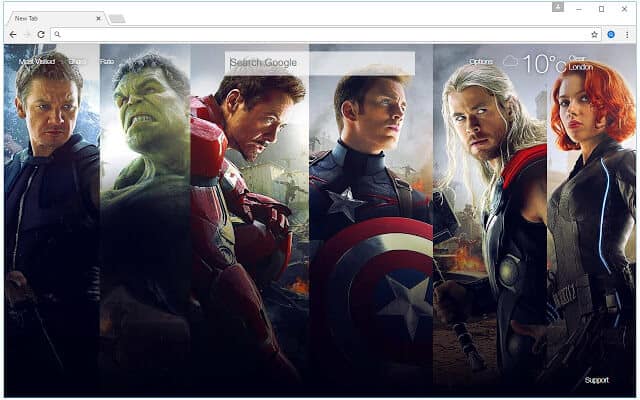 The best part about this theme is that each time you open a new tab you are greeted with a different and new Avengers HD wallpaper.
The theme also changes the UI of the Chrome browser and gives it a more futuristic feel. If you don't like seeing random wallpaper every time, you can select a permanent wallpaper from their vast library of high definition pictures.
This Avengers Chrome theme has over 200k users and has a lot of positive reviews. However, the developer claims most of the negative reviews are from bots and competitors. The Avengers HD Wallpaper theme is updated regularly with the latest wallpapers from the upcoming movies.
Download from Chrome Web Store
2. The Avengers theme
The Avengers Chrome theme is my favorite one on the Web Store. The theme is offered by Peter Noordijk who also has tons of other free themes available for download. This theme will change the overall look of your Chrome browser and it adds an Avengers feel to the browser window and a textured effect.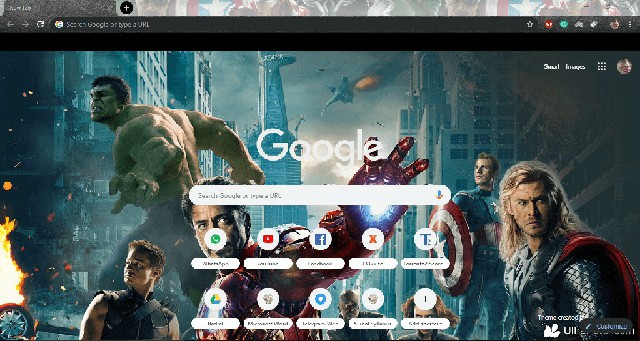 You can use these theme along with the Avengers HD Wallpaper theme to get the best of both. The Avengers theme has overwhelmingly positive reviews on the Web Store with an average grade of 4.7 of over 5k reviews. The theme has more than 55k happy users and they can't be wrong. The theme is quite old and it was last updated on July 23, 2013. 
Download from Chrome Web Store
3. Avengers Infinity War Chrome Theme
The Avengers infinity War Wallpapers theme provide you with the latest high-quality HD wallpapers from the movie Infinity War. The critically acclaimed movie is considered one of the best Marvel movies of all times as it paves the way for the concluding arch in End Game.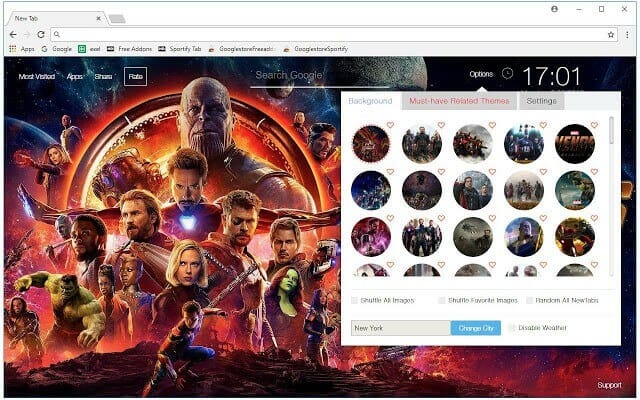 The movie has a lot of fans which is obvious since it has almost 300k Chrome users. The Avengers Infinity War Chrome theme is provided by freeaddon and it has a wide range of the best wallpapers from the movie.
You can shuffle the wallpapers, select your favorite and much more. There is even a slideshow option for you to enjoy your favorite superheroes right in your browser.
The theme has over 10k reviews of which most are positive and since it's provided by freeaddon it gets regular updates and new wallpapers in its library.
Download from Chrome Web Store
4. Avengers End Game Chrome Theme
Avengers End Game has broken all known movie records and is all set to become the highest grossing movie of all time. What better to appreciate the movie then to download a theme for it and customize your Chrome browser giving homage to one of the best superhero movies of all time. The End Game HD Theme gives a purplish hue to your browser reminiscence of Thanos.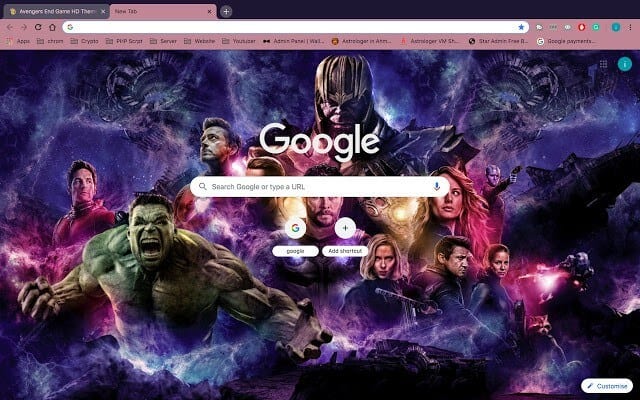 Die-hard Marvel fans will surely appreciate this theme as it provides high-quality End Game wallpapers. Avengers End Game Chrome theme is not obnoxious but at the same time, it makes its presence clear.
The theme is movie based and is still regularly updated even after the movie has long since released. It has over 10k users and most of the reviews are positive.
Download from Chrome Web Store
5. Iron Man 3 theme
The Iron Man 3 Google Chrome theme is one of the best Iron man theme available on the Web Store. The theme is provided by Peter Noordijk. This Iron Man Chrome theme is great for Iron Man fans as it changes the user interface of the web browser and adds a red texture that looks insanely good and reminds you of the shiny red Iron Man suit.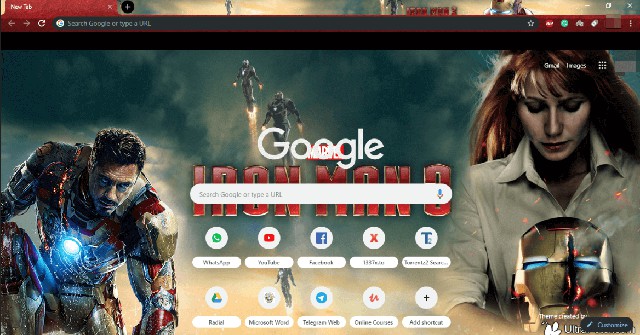 The theme has over 12k users and 3k positive reviews giving it an average rating of an astounding 4.8 out of 5. The theme was last updated on July 23, 2013, so it's quite old. The best part about the theme is how it changes the color of tabs and gives it an amazing red accent that goes well with the overall theme of Iron Man.
Download from Chrome Web Store
6. Captain America HD NewTab Theme
Captain America fans rejoice as this theme will surely help you remember the badass superhero that we all come to love. Chrome Themes Lab developed this theme and it offers a highly customizable tab with ever-changing-high-quality HD wallpaper of the first avenger.
The quality of the theme is particularly notable and you will be blown away from the stunning never seen before exclusive images of Captain America.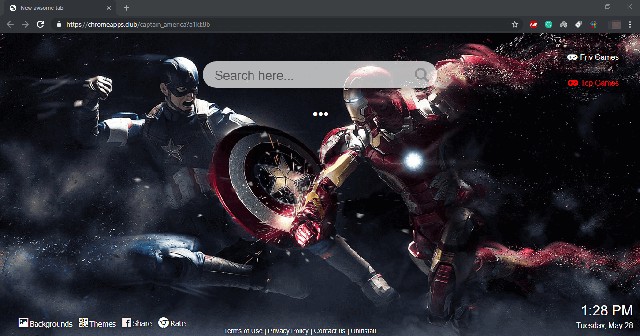 The new tab offers a futuristic looking clean UI that shows the time and date along with the weather forecast. You can also select a favorite background or just let it run in the default settings where you are greeted with a new wallpaper every time you open up a tab.
Captain America fanbase is directly responsible for creating this theme and its community drive. The content of this theme will never disappoint you. This theme has over a thousand users and a thousand reviews.
The almost 1:1 ratio of downloads and reviews is unheard of which shows the amazing quality of this theme. The theme was last updated in 2018 but has promised to regularly update with new features.
Download from Chrome Web Store
7. The Hulk Wallpaper HD New Tab Themes
The Hulk Chrome theme is yet another wallpaper theme provided by freeaddon. Apart from the large library of amazing looking Hulk wallpapers that this theme provides, it also comes with a number of additional browser features. The extension offers quick navigation icons so that you can easily access your favorite sites with just one click.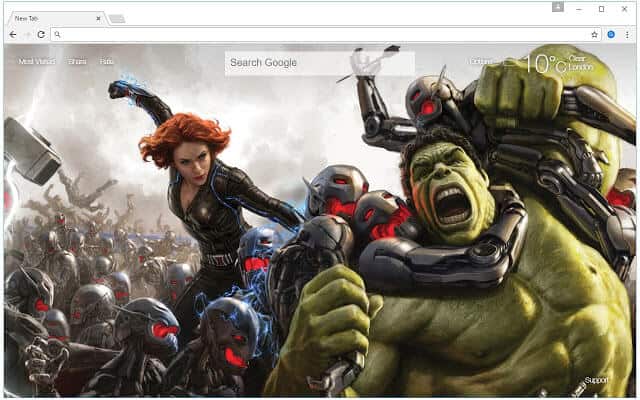 It provides support for Chrome apps such as Gmail and also provides a to-do list for your smashing reminders. This smash worthy theme even shows the date, time as well as the weather forecast. This Hulk theme has over 65k users and was last updated in December 2018.
Download from Chrome Web Store
8. Spiderman Into The Spider-Verse Theme
This theme is by far the best Chrome theme ever for Spiderman fans. This theme has an amazing red accent that will blow away Spiderman lovers myself included. It changes the overall look and feel of my browser and constantly reminds me of our friendly web swinger.
This amazing theme is relatively new and has about 2k users and a lot of positive reviews. It was last updated in March 2019 and is a must download theme for Spiderman fans and you should not miss out on it.
Download from Chrome Web Store
9. Deadpool Full Screen Chrome Theme
Who here isn't a fan of Deadpool? Every Marvel fan is familiar with the smart-mouthed mercenary who isn't afraid to break the 4th wall from time to time. What better than to pay a tribute to our favorite rebellious superhero than to have an amazing theme based on the ruthless part-time superhero, part-time supervillain, and all-time joker.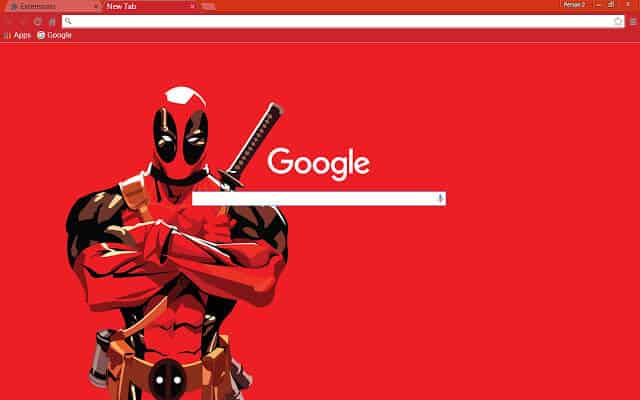 This Deadpool theme provides an amazing wallpaper featuring our hero and also gives the classic red accent reminiscent of the mercenary's infatuation with blood.
The theme has almost 100k users and overwhelmingly positive reviews which is not surprising given the fan following of Deadpool. The theme is quite old and was last updated on February 19, 2016, but it still looks amazing and you should definitely give it a go.
Download from Chrome Web Store
10. Marvel Thanos HD Wallpapers Theme for Chrome
This Thanos chrome theme is perfectly balanced as all things should be. If Thanos is your favorite villain from the Marvel Cinematic Universe, then this theme will surely keep you on edge with its stunning wallpapers of the cursed supervillain.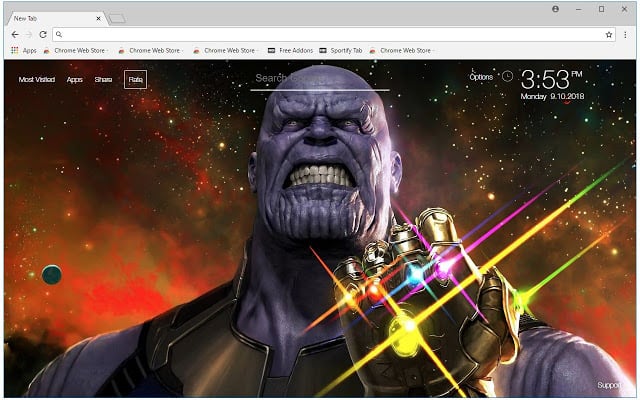 Freeaddon offers this theme and it features a huge library of HD Thanos wallpapers and its own custom new tab UI that features a lot of utility tools like Gmail, to do lists, weather forecast and many more.
Even though Thanos is the villain, his popularity cannot be questioned. And this shows in the fact that this theme has almost 200k users and growing with a rating of 4.8 out of 5. This theme is regularly updated similar to all the themes offered by freeaddon.
Download from Chrome Web Store
11. Wolverine Theme
Wolverine theme is also one of the best Marvel Chrome themes on the Chrome Web Store. This is another theme that is made by Peter Noordijk. This theme stays true to the Wolverine style accent and gives a nice looking textured background to your Chrome browser and the words "The Wolverine" written on top.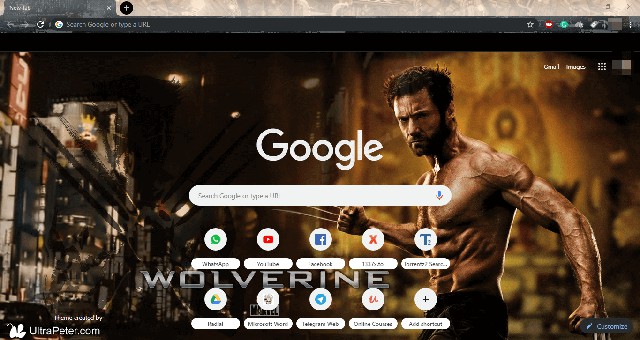 The theme comes with a badass looking wallpaper of our favorite mutant, the Wolverine in all its glory. The Wolverine theme lacks utility features and keeps it clean with just a single wallpaper but with an amazing overall look.
The theme has about 4k users with a thousand reviews giving it an amazing rating of 4.8 out of 5. If you are an X-men fan you should definitely try this out.
Download from Chrome Web Store
Final Thoughts on Marvel Avengers Chrome Themes
From the day that I started using Avengers themes on my Chrome browser, I have never looked back. The new accents and looks will truly redefine your experience of surfing the internet with your Chrome browser.
We are picky with themes on our smartphones, tablets and even our computers. So why not choose an amazing Avengers theme for Google Chrome? You can choose any of the best Marvel Chrome themes that we have listed, or you can just visit the Chrome Web Store to search and try out more new themes yourselves.
Tell us about the theme that you liked the best and also mention the themes that you found yourself on the Web Store in the comments below!