Messaging has been the basic form of communication in the smartphone industry. In this department, Google Hangouts has been one of the best options for both Android and iOS users. But, in recent news, Google will shut down Hangouts in October 2019 for G Suite users first and later for the regular users. This means that people would not be able to use the Hangouts app after October and may have to look for Hangouts alternatives.
The main reason for this shutdown is that Google wants to simplify and unify its messaging strategy in the future and also follow the five-app strategy. This strategy makes it easier to manage the apps and data of consumers for Google. Previously, Google had Allo, Duo, Messages, Voice, Hangouts, Hangouts Chat, and Hangouts Meet. To follow their strategy, they had eliminated Allo previous year, and now it was time for Hangouts to go.
Meanwhile, Google will transition Hangouts users to Hangouts Chat. These two apps might sound the same but are completely different. The former is the traditional app with all the bells and whistles while the latter only has the ability to chat and share media. Now with Hangouts retiring soon, you would need some better alternatives for Hangouts, won't you? So, I am here to let you know about the top Google Hangouts alternatives that you should give a try.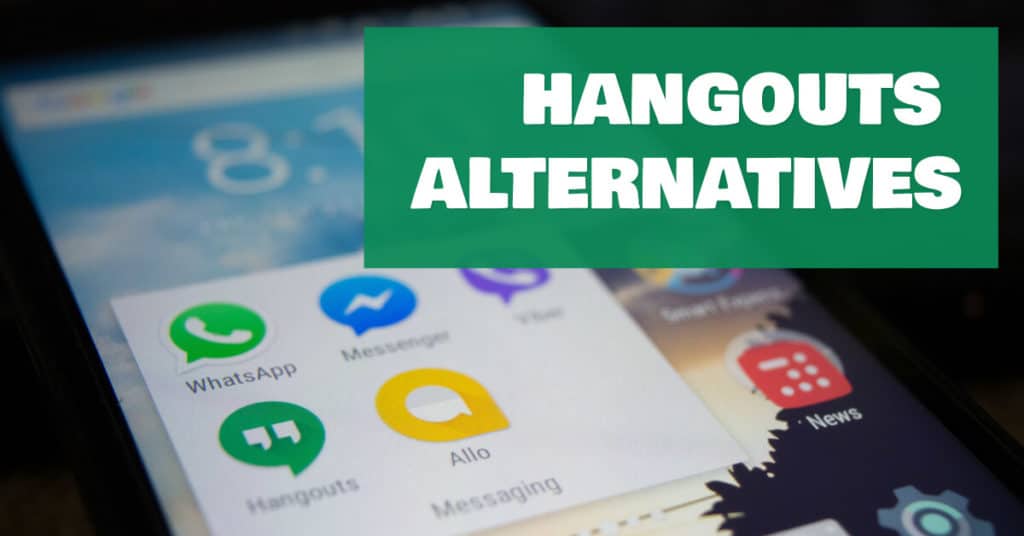 Google Hangouts Alternatives for Android and iOS
In the list of apps mentioned below, you would find the best Google Hangouts replacements on the market that would provide you the best video calling and instant messaging experience. Each app that has been mentioned in the list has its own pros & cons and we have mentioned them too. Read thoroughly to know more about the top Hangouts alternatives for Android and iOS:
1. Whatsapp
There is no denying fact that Whatsapp has been the number one app for all communication purposes. Moreover, this can be considered as the best Hangouts alternative that you could find. It offers a bunch of features like video calling, instant texting, audio calling, group calling, and group video calls. Along with that, you can also share media files like audio, video, documents, etc.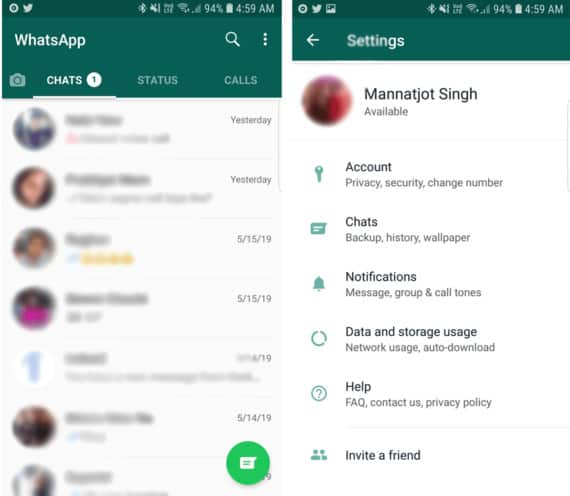 The User Interface of this app is as easy as it gets and it looks best in Android compared to iOS. When you the Whatsapp, you have your contacts list with recent messages and on the next tab are the Whatsapp Status which are mostly similar to Instagram Stories.
Then you have the Calls tab which shows the log of recent calls. Overall, the app is fluid and easy-to-use which covers a lot of basic features quite well.
Pros:
Very easy-to-use interface.
Checks all the boxes in terms of simple communicating app.
Ability to have a group video call session.
The app can be used through the desktop as well.
Cons:
You can use it only on one device.
WhatsApp web needs an internet connection on both your mobile and PC.
Impossible to migrate your chat history from Android to iOS and vice versa.
Media is stored on your local memory and eats a lot of phone storage.
You must first save the contact number to initiate the chat unless you use WA Direct Chat app.
No dark mode yet.
Price: Free
Download on Google Play
Download from App Store
2. Telegram
Telegram is another great Hangouts alternatives and a great competitor to Whatsapp as well. It has been increasingly gaining popularity among consumers because of its appealing features like 256-bit symmetric AES encryption and security, ability to hide chats using Secret Chats, ability to send any kind of media without any limits, create multiple accounts, and many more.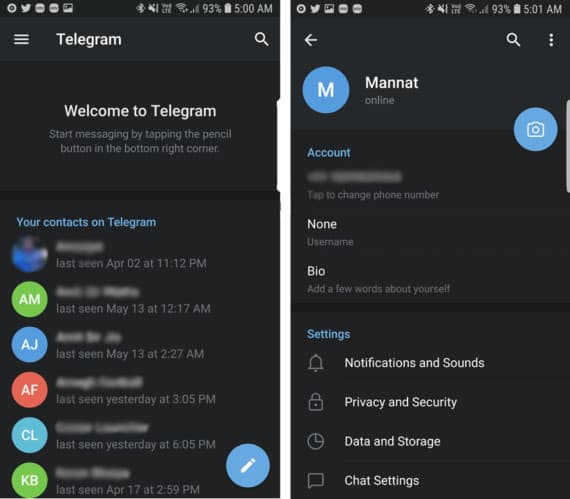 The design of this app is pretty simplistic. It uses the base color as white with blue accents. It also has an option to enable the dark mode in app settings which looks better in my opinion. Other than that, it allows changing the chat backgrounds to solid colors or you can choose an image from your gallery.
Pros:
Unlimited media sharing ability.
High-grade security.
Simplistic UI.
Ability to hide chats using Secret Chats.
Dark mode.
Cons:
Less user-base when compared with WhatsApp.
Used mostly for business and community discussions.
Price: Free
Download on Google Play
Download from App Store
3. FaceTime
For all the Apple users out there, FaceTime can be a great Hangouts alternative for iOS users. This app has all the basic features that you would expect from a messaging app like high-quality video calling, group video calls, and voice calls. Another bonus is that it comes pre-loaded with every iOS device and uses your Apple ID, so you don't have to go through the hassle.
The interface of the app is very simple and it can be navigated by anyone, even a non-Apple user as well. When you open the app, you will see the recent call history with your own live blurry face in the background as it opens up the front camera. Moreover, recently Apple has updated FaceTime which allows for up to 32 people to enjoy FaceTime at once. If you don't know, Facetime is only for video calling and there is no text messaging feature.
Pros:
Seamless Interface.
High-quality video calling.
Comes preinstalled and uses your Apple ID.
Cons:
Text messaging is not available.
Only available for Apple devices.
Price: Free
4. Skype
Microsoft Skype is another messaging and communications app that offers a lot more features than just regular messaging. Initially, Skype is used from desktops or laptops for video conferencing but now it can offer a lot more and that too on smartphones, like group video calling, messaging, sharing media across the platform, text messaging and many more. It supports a wide range of platforms that includes the Xbox One as well.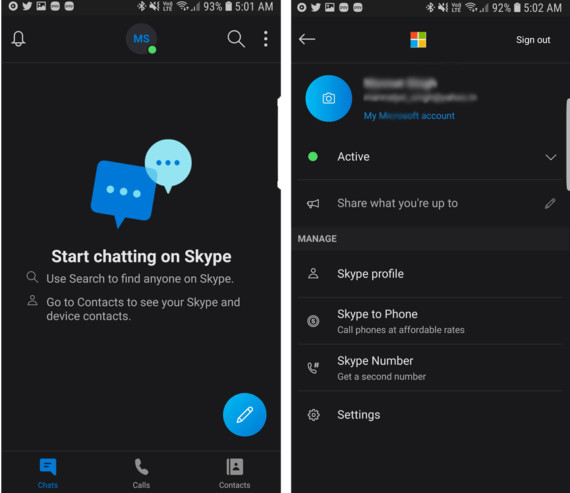 Design-wise, it is pretty good with colors similar to the apps mentioned above. There is also a dark mode available with high contrast that you can enable if you want. If you like, you can also change the color of the text message that you receive.
Pros:
Available on various platforms.
Screen sharing functionality available.
Cons:
Video quality gets worse with more people.
Used mostly for business use.
Price: Free, with in-app purchases.
Download on Google Play
Download from App Store
5. Signal
Aimed at privacy, Signal is a great app for those who are concerned over their privacy over messaging. This app uses advanced end-to-end encryption providing privacy for each and every message sent and received. Along with that, it supports group chats, video and voice calls, exchange media, mirroring messages to a desktop using the Signal Desktop Chrome extension, and more.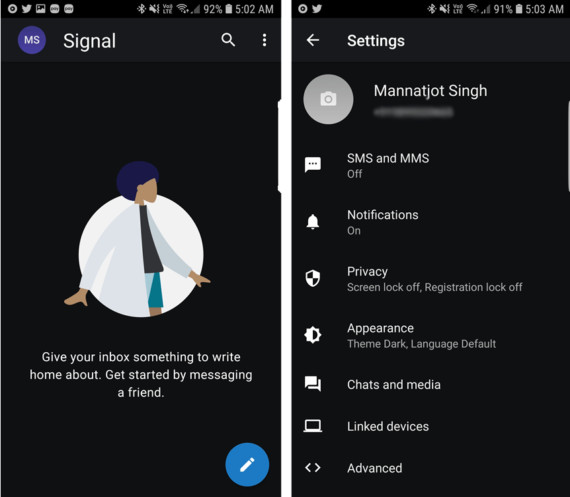 As the apps mentioned in the list, this also follows the same pattern of design in the app. After signing up, the app has a default Light mode which can be later changed to a Dark mode from app settings. Other than that, it does not offer a lot more in terms of changing the appearance of the app.
Pros:
End-to-end encryption.
Message mirroring using chrome extension.
Various media types supported.
Open source software.
Cons:
Can be used on only one device.
Price: Free
Download on Google Play
Download from App Store
6. Discord
If you are a gamer and you want a separate app that distinguishes your normal friends from the gamer friends, then Discord might fit your desires. This app has a lot of features that would appeal to gamers like creating secure chat channels, supports cross-platform, ability to join voice channels and participate in them using push-to-talk features, one-click invite system, and much more.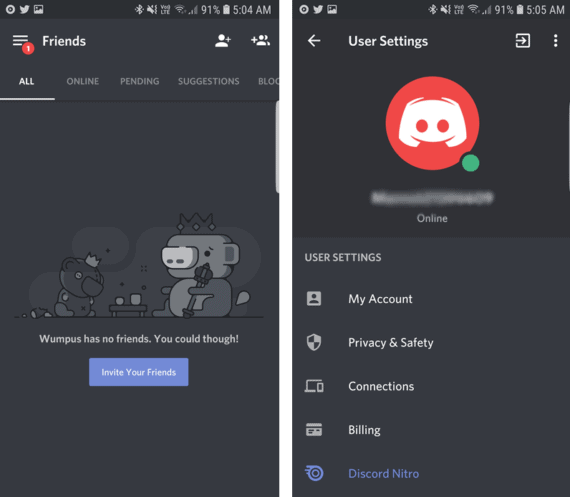 In the department of design, the app comes preloaded with a dark theme. You can change that dark theme to light according to your preference. Other than that, the app is filled with fun sketches that might amuse some of you.
Bots are the unique feature in Discord which can auto-reply to your messages, send important news and updates without human involvement. Anyone can create the Discord bots and users with appropriate permissions can add those bots to Discord servers. Similar to WhatsApp web, Discord too had the web version and you can use both app and web version simultaneously.
Pros:
Very useful for gamers.
Dark theme preloaded.
Game integration in the app.
Video and text support.
Discord bots.
Cons:
Not a lot of customizations available.
Not useful for casual users.
Price: Free, with in-app purchases.
Download on Google Play
Download from App Store
7. Facebook Messenger
In the race of messaging apps, Facebook has also introduced its contestant called Facebook Messenger. This app has a lot of similarities as compared to the apps mentioned in this list of Hangouts alternatives. Feature-wise, it is loaded with a good set of features that include video calling, media sharing, multi-party voice calling, ability to post stories on the app, and many more.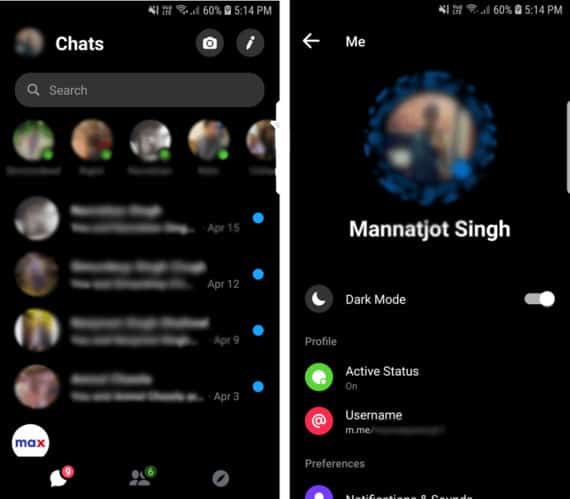 In terms of design, the app is similar to the other apps with a white base background and light blue accent colors. It also features an app-wide dark mode which looks pretty good than most of the others in my opinion. Facebook is currently working on a feature that would allow Messenger users to send messages to Whatsapp users as well, but we have to wait to see it in action.
Pros:
Easy-to-use interface.
Ability to upload stories.
Free games
App-wide dark mode.
Cons:
People might not see it secure looking after at Facebook's track record.
Unwanted permissions.
Battery Eater.
Impossible to see voice/video call logs. They are merged within the text messages.
Price: Free
Download on Google Play
Download from App Store
8. Riot.im
Riot.im is another great messaging app and alternative for Hangouts that specializes in terms of security. This app is very helpful for small businesses or groups in a big organization as Riot.im helps manage groups pretty well. You can also create rooms in the app and add people you want to talk to, can make voice and video calls, share media files, etc.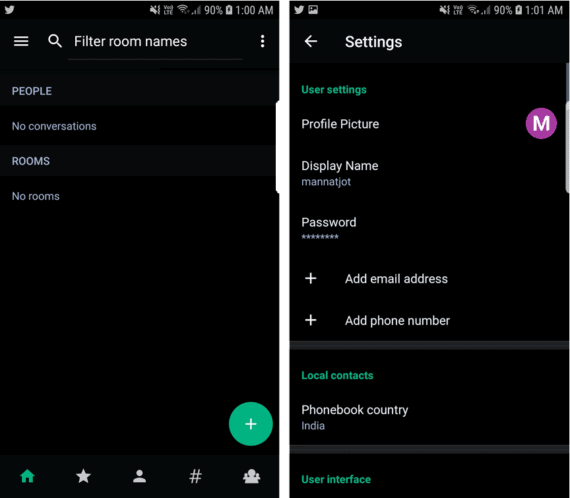 Interface-wise, the app looks pretty good with the ability to change the theme to either light, dark, black or Status.im theme, offering various options to customize it. Other features also include directly sending bugs and errors to the app developer through the app which is quite handy.
Pros:
Intuitive UI.
Good for organizational groups or small businesses.
End-to-end encryption.
Cons:
Not suitable for casual users.
Price: Free
Download on Google Play
Download from App Store
9. Viber
Viber is an app that is kind of similar to Skype but it has its own tweaks that makes it unique. For starters, it is a good messaging app which supports various features like the ability to call to international numbers and landlines, voice and video messaging along with the traditional text messaging, and so forth. Moreover, this app also allows you to get an international number that you can use but it is chargeable.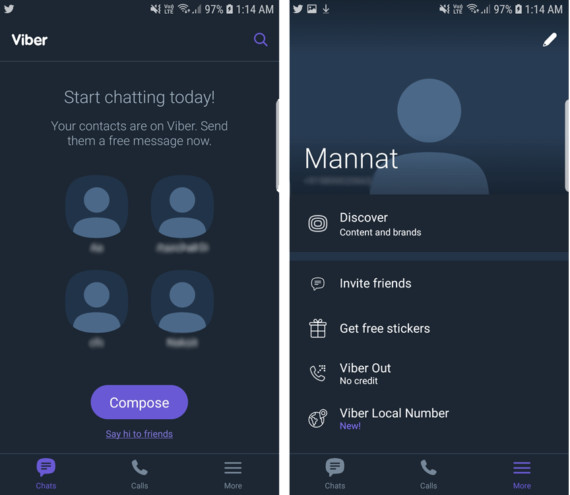 The user interface on this app is pretty good, better than most in the list. If you have used Viber before, you would kn0w that their signature accent color is purple which is pretty unique when it comes to color combinations. Other than that, you can also customize the background of the chat.
Pros:
Have the option to call international numbers.
Can get a local number of many countries for a fee.
The interface is vibrant.
Cons:
App annoys you with unread messages.
Price: Free, with in-app purchases.
Download on Google Play
Download from App Store
10. Imo
Imo, being featured in the last, is an app that should not be considered the least. This app is good for the people who just casually use some apps for video and voice calling as this app does not have a ton of features. It has the features that just get the job done like high-quality video calling, voice calling, text messaging.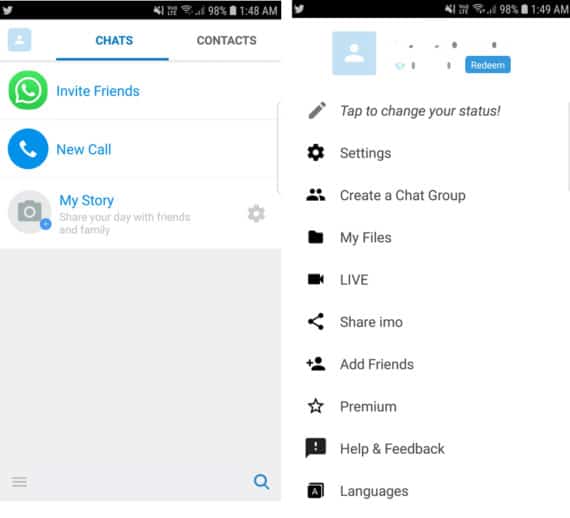 The interface of the app is pretty simple and easy-to-use for many people, even for elder people as the icons and texts on this app are quite large as compared to some other apps in this list. Other than that, it does not offer more options to customize, even there is no dark mode in this app. Being said that, Imo is the best Hangouts alternative for Android when you are on limited mobile data and speed.
Pros:
Good for people who just want to get the job done.
Video calls work best even on slow internet connections.
Group video calls.
Cons:
Dated user interface.
Large text and icons.
Does not offer dark mode.
No additional features as compared to other apps in the list.
Price: Free, with in-app purchases.
Download on Google Play
Download from App Store
Choosing the suitable Google Hangouts alternatives for your need
In the end, I have shown you guys the best Google Hangouts alternatives that are worth checking out. The list mentioned above features apps like Whatsapp who is the overall king of messaging and communications app to Discord who is mainly focused on helping gamers to achieve better communication amongst others.
Some of the apps that are mentioned like Skype and Viber offer additional features like the international calling to mobiles and landlines for a chargeable amount which might be helpful for users who have their relatives living outside the country. Each of the apps mentioned in the list of apps like Hangouts has the download link that takes you directly to the App Store and Play Store.
Did you think there are better alternatives for Google Hangouts? Please leave them in the comments section below with your feedback.