This is whether you lost your receipt or you are a seller and haven't much time & skills for creating your own receipts, suppose someone can help you make receipts for you but ask for payment. For preventing yourself from all of the above cases, web-based receipt makers are available. They help you to create custom receipts without anything to pay or even downloading or installing on your computer. For this, all you need is an online receipt generator tools to complete our work.
This is quite obvious that when we talk about online tools, you don't need to install heavy software on your computer which makes your device slower. All you will need to do is to visit a particular website and fill the blank fields with appropriate items and values, see the preview and download to your computer.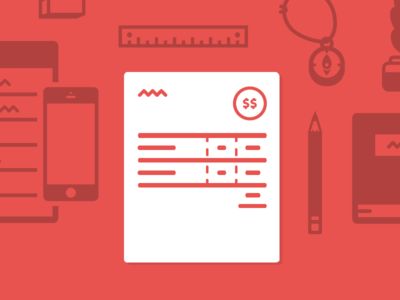 Anyway, the below collection of web-apps will have the ability to generate custom receipts on the web. Few of them are useful for any types of receipt while few are famous for specific bills like taxi receipt generator, gas receipt generator or famous for a specific country such as a gas receipt for Canadians or for the USA etc.
Which receipt generator is famous for which? And for which type of tool you are looking for? In the description of each individual online receipt generators, we will be mentioning that for what this tool is popular, so you will be easy picking up that one which accomplishes your needs
List of Best Free Online Receipt Generator
In this portion of the post, we are going to share the web-apps that we are talking about. Here is the list of best online receipt generators for taxi, restaurants and more:
1. Online Receipt Maker By Bucaro TecHelp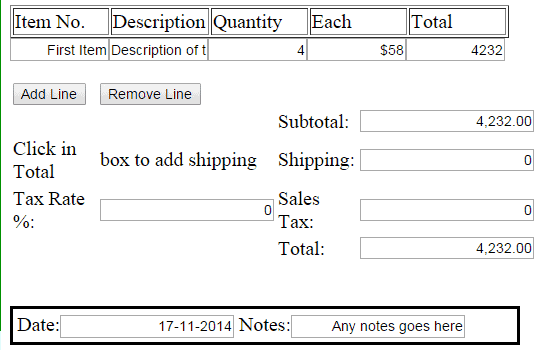 Bucaro TecHelp is a simple to use free online tool has the ability to create your custom receipts for free. With this simple to use tool you will easily generate one or more receipts directly from the web-browser.
All you need to do is to fill out the fields given there. There is a table in which you have to add items, descriptions quantity, each price and total price. You can add more rows by clicking on the button "add line". Also, if you wanna add additional taxes such as shipping or sales tax then fill the appropriate boxes with it.
Once you added those, click on the "total" field, it will automatically calculate total including the taxes. Another box of blank fields which has to be filled by the seller details and this is followed by the buyer information & details. Enter all these information to complete your receipt. Once you have done it, scroll down until you see a link "Click Here", click on it so a pop-up appears, right-click on it and save or print by choosing the particular option.
2. Fakereceipt online receipt generator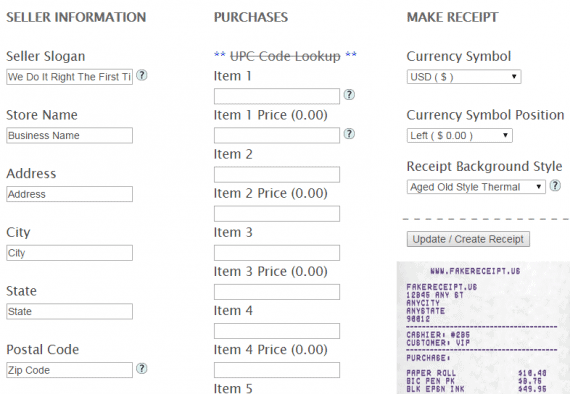 Fakereceipt.com is yet another web-based app which has the ability to create a custom receipt online for free. It promotes itself as a sales receipt, fake receipt and custom receipt maker. I think they are right because it has the ability of all the above three functions. You will majorly have three sections to create the receipt. Those are Seller information, Purchases and Make Receipts. In the first, fill out the fields with seller information while the second section is to add items, their prices, and applied taxes. And the third is to select whether you entered the prices in Dollars, Euro or GBP. So select an appropriate symbol and a satisfying background and click create receipt button. Now you can save the receipt on your computer or laptop.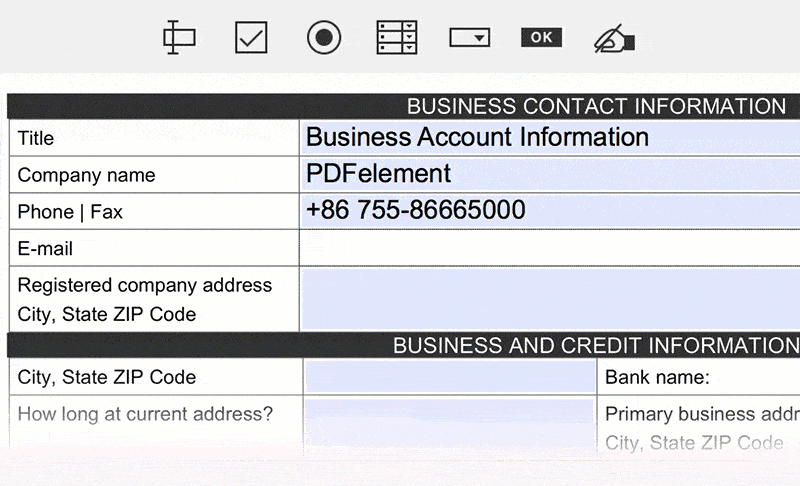 Wondershare PDFelement is a tool to create PDF files where you can also create, edit and print the receipts of your choice. Unlike other online tools, PDFelement has no restrictions on only pre-defined receipt formats. You can scan any old receipt or bill of any format or template and edit them accordingly with your required details. Form recognition and form data extraction technology will help you in saving a lot of time while creating a receipt of your choice.
You can use PDFelement to create restaurant bills, gas receipts, fuel bills and more. Possibilities are unlimited. After generating the receipt, you can add the watermark to it if required.
It is currently available on Windows, Mac, Android and iOS devices. PDFelement is not just limited to receipt generator, it also had all features of a PDF editor along with other powerful features like extracting text from images with OCR technology, file size optimization, adjustable page boxes, Bates numbering, on-demand product demonstration and lots more.
4. Lost Hotel Receipt

Lost Hotel Receipt is a simple and easy to use free online tool which is designed especially for creating fake receipts of hotels. It needs to sign up and log in with in order to save your receipt. All you need to do is to fill the appropriate fields with appropriate details and then click on save button to save it to your computer.
5. Fake ATM Receipt Generator by Frabz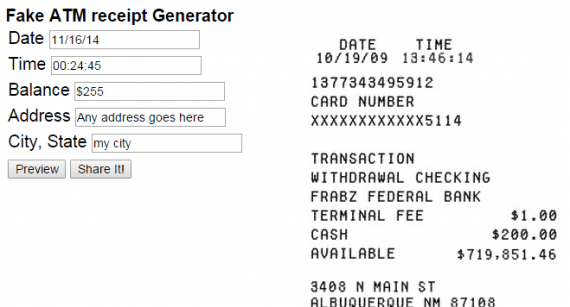 Frabz offers a simple web-app which is specialized for ATM receipt. It is all about 5, 6 blank fields to be filled out and then click on the preview button to see the preview and then save to your computer.
6. RedoReceipt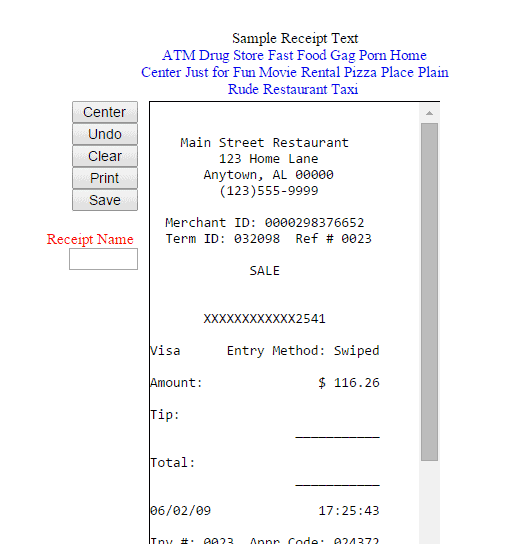 Redoreceipt is another simple web-based receipt generator by which you can either create an ATM, Drug Store. Fast Food, Home Center, Movie Rental, Pizza Place, Plain Rude, Restaurant or Taxi receipt for free. For creating a particular receipt, you have to select one from the top and make the desired editing in it. After completion, you can save or print the receipt. But make sure that you will need to create a free account and login in order to make your receipt watermark-free. Once you logged in, you can save the receipts you generate and can then print for the later time.
7. Custom Receipt Maker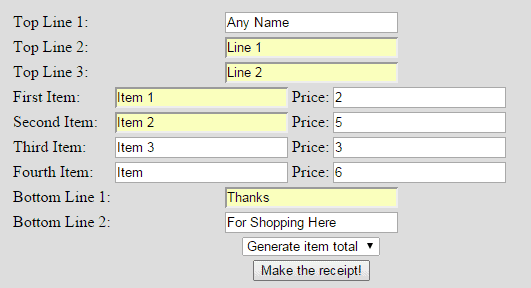 Custom receipt is a simple yet useful tool for generating custom receipt within your browser. In short, this provides you 14 blank boxes by filling necessary fields; you will be able to get a custom receipt. The first three fields you need to enter the receipt name with full address. The second portion of the receipt contains details about items/products you want to mention. Four blank fields are available for items names along with corresponding other four fields to enter the item prices. And by filling the two bottom lines, your receipt completes.
8. Express expense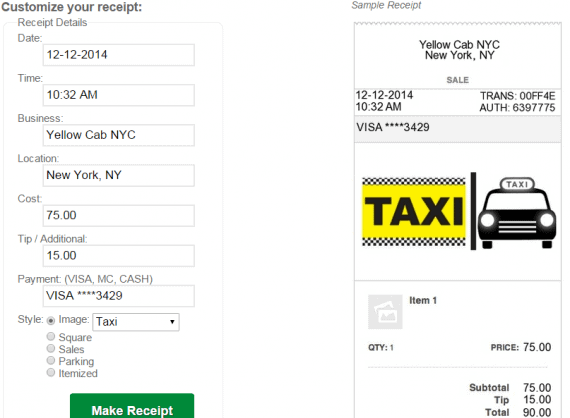 Express expense is an advanced receipt generator having the ability to make receipts with a lot of details required for a receipt. With this tool, you can make a taxi, coffee, restaurant, office supply and Map receipts easily. Unlike the other tools mentioned above this receipt generator is a paid tool. You need to sign-up and pay a one-time fee in order to get access to its watermark-free receipts.
That's it, dear readers, I hope you found our post useful. If it so then please share it on your social network profiles and let your friends know too about these useful online receipt generator tools.