These days many Android manufacturers include a File Manager app on their devices. These file managers don't have enough features compared to third-party file managers available on the Play Store. In this guide, we've prepared a list of the best file manager apps that you can find on the Play Store.
Some of these file managers come with features like opening multiple file formats, organizing files, cleaning out unused files or apps to save space on your smartphone. So here are the best File Explorers, File Browsers, and File Manager apps for Android.
Top Handpicked File Manages for your Android Smartphone and Tablet
There are a lot of third-party file managers on the Play Store. Most of them are free, while some come with a paid version. Some might charge a small amount for the Pro version, while others run ads and keep the app free.
However, if you're planning to install these file managers apps on Android TVs, then this article isn't for you. This guide covers file managers for Android smartphones and tablets only.
Here are the best file manager apps for your Android smartphones and tablets
1. Solid Explorer File Manager
Solid Explorer File Manager is the best file manager app that you can get for your Android device. Or one should say, the best in its category. It's completely free to use but has a pro version that unlocks the capability to access cloud storage too. This feature enables users to access their cloud storage like Google Drive, OneDrive, Dropbox, Mega, and many more services, all from your File Manager.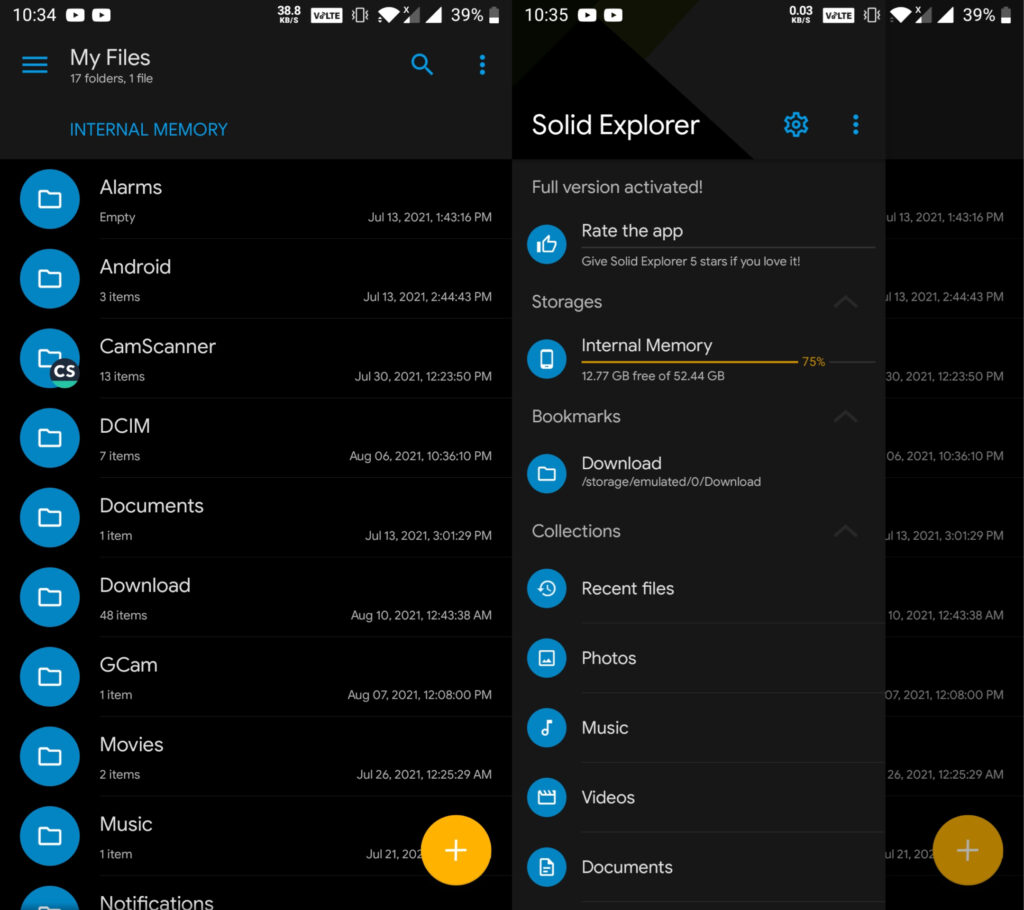 It categorizes your file according to their respective file types and organizes them. In addition to that, it supports fingerprint and password protection for your files and folders. You can also access your Root folders of Android if you have root access. There's support for network sharing protocols like FTP, SFTP, WebDav, and many more.
Solid Explorer File Manager brings in many customizations on the table. This file manager app includes custom themes, icon sets, and many others. This File Manager can also decompress and compress ZIP, 7ZIP, TAR, RAR files without needing an additional app to do that. It also works on Chromebook with support for keyboard and mouse, just like a native app.
Key Features: Easy-to-use, Clean UI, Chromebook Support, Support for Root Directory, Network sharing protocols
2. PoMelo File Explorer
PoMelo File Explorer is among the top file manager apps on this list to manage your files on Android. It automatically organizes them according to their respective category, making them easier to find. You can do basic tasks such as viewing, renaming, moving, deleting files with ease. In addition to that, you can also manage your apps available on your smartphone.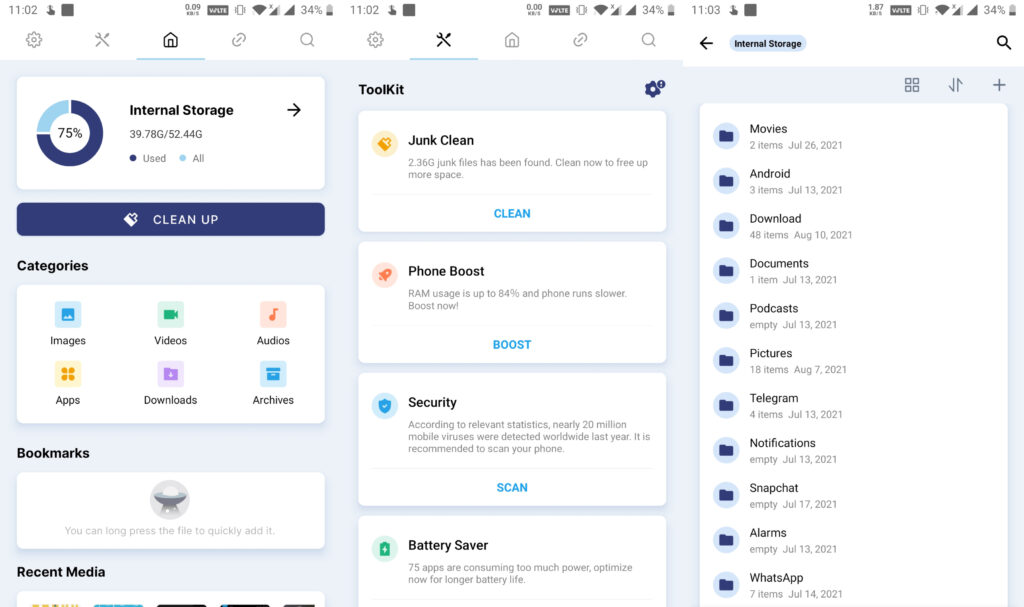 Moreover, this File explorer can also free up your phone storage from the unwanted cache, junk files, and many more. Your internal storage is visually visible to glance at the storage available and the type of files taking up the space. PoMelo File Explorer comes with an anti-virus engine that protects your Android from unwanted malware or viruses.
PoMelo File Explorer also comes with sharing feature to share files between two Android devices. The File Manager has a search bar to search for your favorite apps and files in one go. If you want to bookmark a file/folder, this file manager allows you to do it.
Key Features: Easy-to-use, Clean UI, Built-in anti-virus, Junk files cleaner, Share files between devices, Bookmark folders
3. Files by Google
Files by Google is one of the cleanest file manager apps that you can get on Android. It's available on almost every Android device these days that runs on Android 5.0 or above. Given that it comes from the house of Google gives it an advantage over the competition.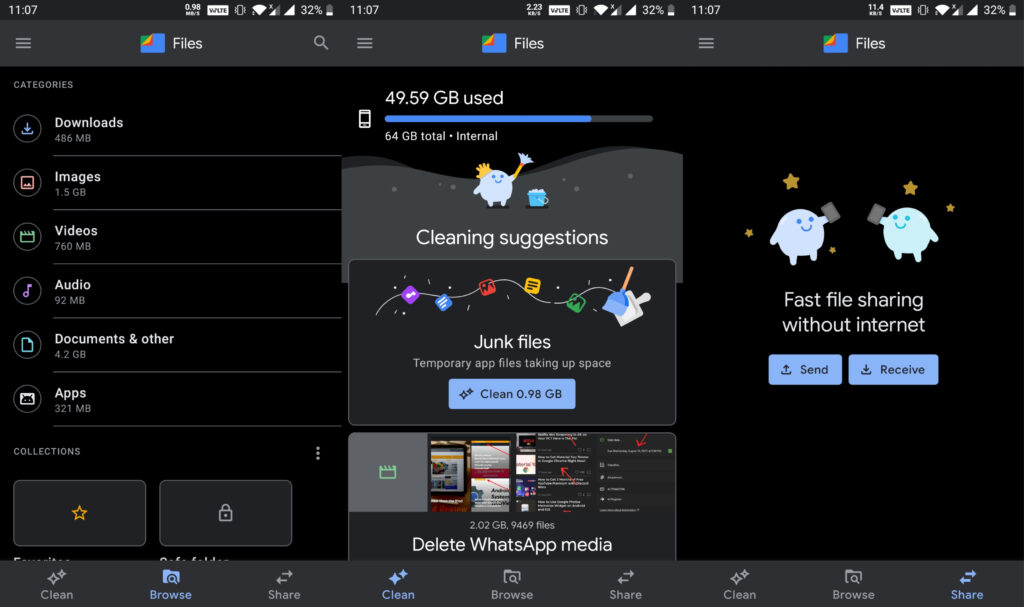 This file manager from Google is completely free to use and doesn't have any ads. It's one of the best-rated File Manager apps that you can find on the Play Store.
There are three tabs in Files by Google — Browse, Clean, and Share. On the Browse tab, you can find your files easily since they're categorized into their respective file types. On the other hand, you see the Clean section, which scans your storage for unused files and recommends cleaning them for additional space.
The Share Tab makes it easy to share the files between devices with Files by Google installed on them. In addition to that, there's a Favorites folder and a Safe folder to password-protect files on your device.
Key Features: Easy-to-use, Clean UI, Ad-free, Manage Junk files, Share files between devices
4. Cx File Explorer
Cx File Explorer is another powerful file manager for Android which comes with a clean and subtle interface. The app lets you browse your files on your device as well as any cloud storage service. It also supports network sharing protocols like FTP, SFTP, WebDav, LAN, and others.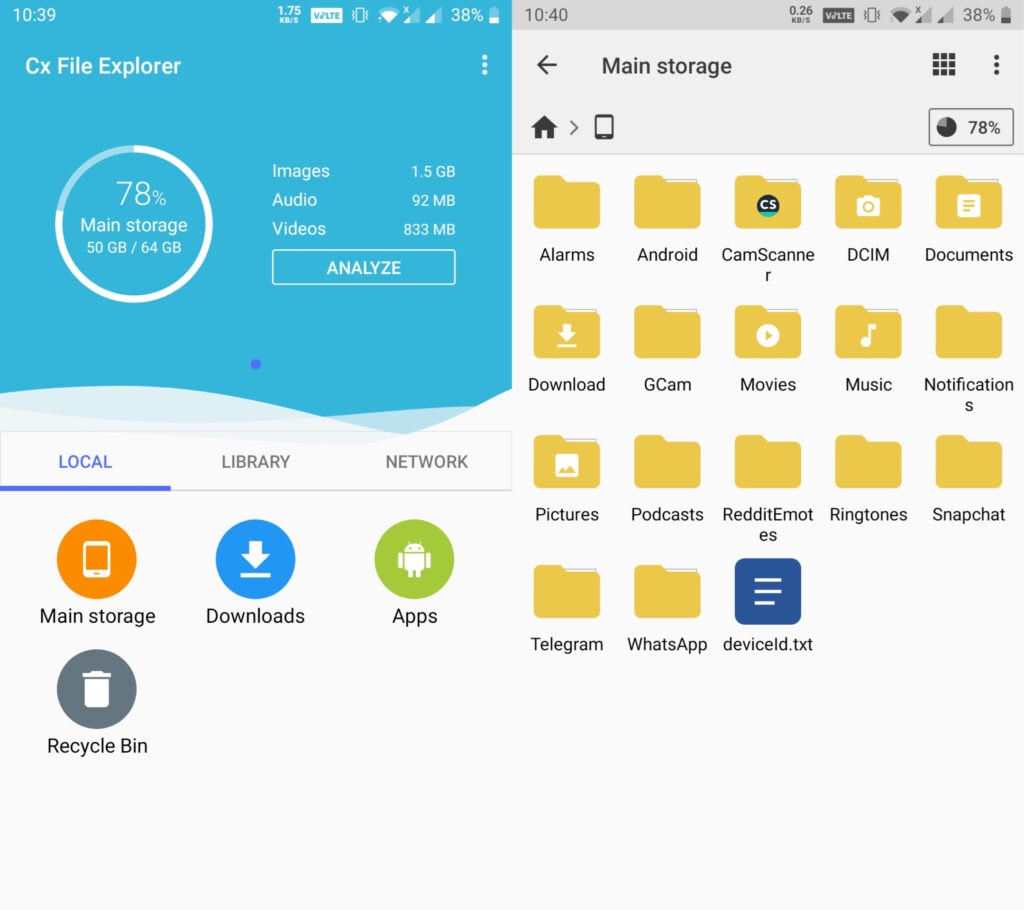 Cx File Explorer comes with the ability to manage apps on your Android too. Furthermore, it can also analyze your storage to keep it clean from junk files while providing you with a visual analysis of all the storage available on your Android smartphone or tablet.
The Material Design interface inspires this file manager so that the app will feel much cleaner to you. It has good ratings on Play Store, which makes it a great try on your Android device.
Key Features: Easy-to-use, Windows File Explorer inspired UI, Supports Network Sharing Protocol, Cleans Junk Files
5. Material Files
Material Files is an open-source file manager available on Android which is lightweight, clean, and secure. As the name suggests, Material Files follow Material Design guidelines precisely to offer a great experience on your Android device. This file manager app is simple, sleek, and minimalistic.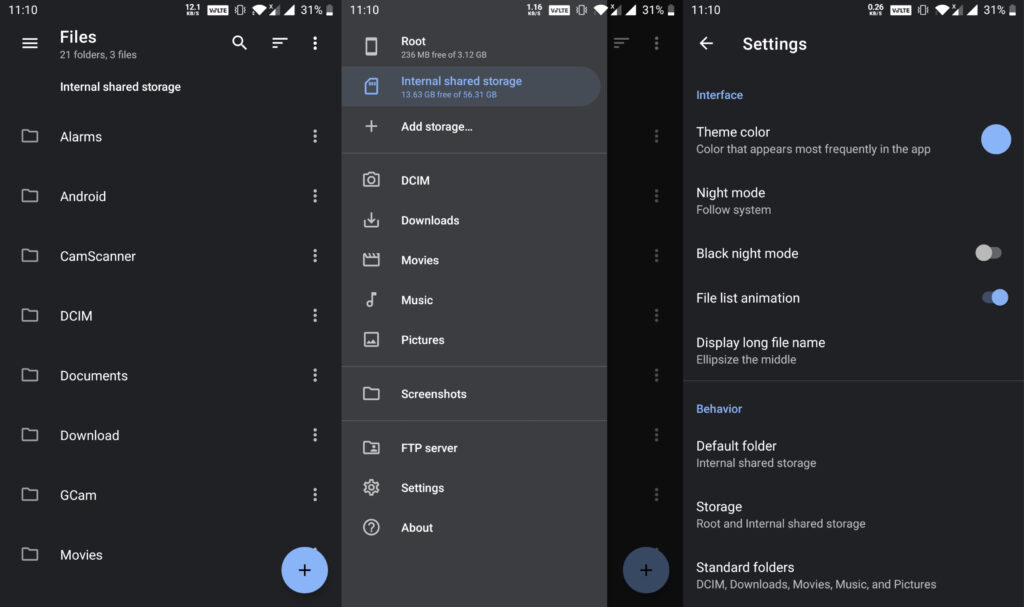 Coming to the features, the file manager supports the breadcrumbs system that lets you navigate throughout the files with ease. It can also extract and archive files without much effort.
Similar to other file managers on this list, it supports Network Sharing Protocols like FTP and SFTP so you can view and manage files on SFTP and SMB servers. It recognizes symbolic links, SELinux context, and file permissions by default.
You can customize the colors and the UI to match your needs. There is a night mode to try out when you feel your eyes need to relax from all the white that's been throwing up on you. Another great addition to this file manager is that it can navigate through root files if you grant this app the necessary root permissions.
Key Features: Material UI, Support for Network Sharing Protocols, Open-Source, Customizable, Lightweight
6. Astro File Manager
Astro File Manager is another popular file manager app for Android, and it has good reasons to be one. It brings all the Windows File Explorer aesthetics to Android, including the famous yellow folders. This file manager keeps your Android's storage clean and even boosts its performance.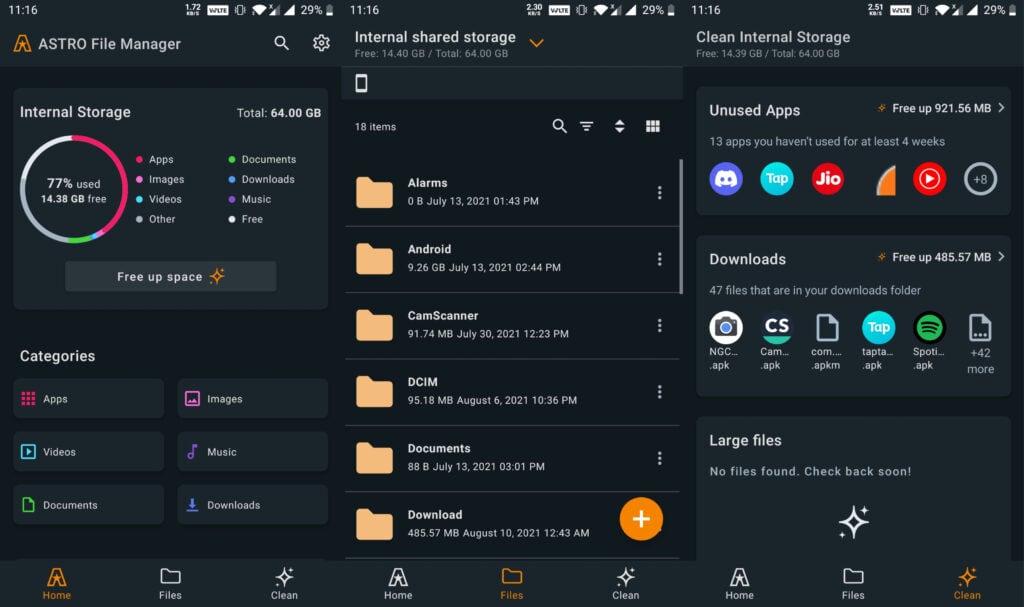 On top of that, it organizes files in their respective categories allowing you to move them in whatever manner you want. As a result of this, it has quite a manageable UI that is easy for navigation.
It also features ZIP files compression and decompression and supports cloud services like Google Drive, OneDrive, Dropbox, etc. The best part is that it lets you backup apps to an SD card and even restore them quickly. In addition to that, Astro File Manager is completely free and doesn't include any ads at all.
Key Features: Windows-inspired UI, Ad-free, Cloud-storage support, Storage Manager, Easy-to-use, File Categorization
7. File Manager by Xiaomi
Xiaomi File Manager is the default file manager for Xiaomi phones. If you're not using a Xiaomi device, Xiaomi lets you use this File Manager on any Android device and is one of the best file manager apps for Android.
The Recent category in this file manager helps you to access files that you accessed recently. Also, the files are arranged in their respective categories according to the file types. It also comes with a file cleaner that lets you clear junk files from your smartphone.
The File Manager by Xiaomi comes with Mi Drop to share your files between Android devices wirelessly. Basic features like compression, moving, deleting files is possible with this file manager.
Key Features: Easy-to-use, Clean UI, Storage Cleaner, File Categorization, Mi Drop to Share Files
Also Read: How to Install MIUI Dialer, Contacts, and Messaging Apps on Xiaomi Phones
Choose a File Manager for your Needs
So these were some of the best file manager apps for Android you can get. If we were to choose one among these file managers, then we would choose Solid File Explorer and its Pro version. When it comes to free choices, we would go for Cx File Manager or Files by Google.
All the file manager apps in this list offer almost the same set of features, so choosing any of them would do no harm. All the file managers in this list are good, and some might contain in-app purchases or ads to keep the app free as much as possible. If you have any queries or suggestions regarding any file managers, you can leave them in the comments below.