Are you suddenly experiencing a lag while playing games on your PS5? If you are a competitive gamer, then the unstable and slow internet connection will bother you. Sometimes, it can be due to network issues, or the problem might be with the DNS configuration. Having the best and fast DNS for PS5 would be a great choice if you want to play games without any lagging.
To improve the speed of the game and make it free from lags, you need to opt for fast DNS for PS5. Normally, it is the internet service provider who gives you the default DNS settings. However, it is advisable to change the default settings and set up the custom DNS for PS5.
If you don't want to ruin the excellent gaming experience, you can choose the fastest DNS for PS5. The best option to get rid of the gaming lag is to choose the best DNS server for PS5.
Before knowing the best DNS servers for your PS5 console, you must know what actually is a DNS and how to do its work. It will help you to pick the fastest DNS for your PS5 depending on your needs. 
What is DNS?
DNS or Domain Name System is the phonebook to reach any website on the internet. In general, to open a website, we type in domain names. However, web browsers bring you access to the site through internet protocol or IP addresses. Here, the main function of the DNS is to convert the hostname (domain name) into a specific IP address.
For example, when you type google.com in the address bar, your browser communicates with your DNS server to fetch the server IP address of google.com i.e., 142.250.77.110
There are different types of DNS servers. For example, most of the DNS servers that you use on a daily basis are private servers. For instance, if you use Jio, then they will offer you their private DNS servers. However, it also means that you cannot use other servers. On the contrary, public DNS servers are available for all. Besides, they are much safer and quicker than private DNS.
How Do DNS Servers Work in PS5?
There are numerous reasons why DNS servers work with PS5 consoles. First of all, you will get access to a stable internet connection. Moreover, these servers will reduce traffic considerably. Furthermore, the DNS servers are highly secured. Hence, you don't have to worry about information theft.
Do you want to gain a gaming advantage? Most gamers are competitive and strive to win the games they play. One of the best ways to get an advantage is to change the DNS settings on the PS5.
Often, the DNS servers of the private internet provider might be unstable. They might also offer a slow internet connection. That is why changing the DNS settings on the PS5 console is an excellent idea. Once you change the DNS settings, finding the fastest DNS for PS5 is pretty easy.
How to Check PS5 Internet Speed?
Do you want to change your DNS server? Understandably, you are not satisfied with the current internet speed. Firstly, you need to check the internet speed you are getting with your current DNS. That way, you can try different DNS servers and opt for the fast DNS that offers maximum speed.
Here are the 4 easy steps to check Internet speed in PS5:
Go to PS5 Settings by clicking on the gear icon.

Select Network.

Now choose the Test Internet Connection.

Wait for a few seconds for the test to complete.
Now down the Connection Speed (download) and Connection Speed (upload).

Now you need to try the below-mentioned custom DNS servers on your PS5 and repeat the test for every DNS to figure out which DNS works best for your location.
Benefits for Using Custom DNS on Play Station 5
There are multiple advantages that you can gain from using custom DNS on your PS5. Apart from decreasing game latency, you can also get other benefits for the system. Here are the advantages of using custom DNS servers for Play Station 5:
With the fast DNS server, you will get a faster loading speed. The reason is that shorter query times will evitably lead to the fast loading of the web pages.
Besides, you can also reduce jitter, ping, and packet loss.
Moreover, you can also get a stable internet connection.
You can also get access to high levels of security. That is mainly because good DNS servers are in sync with Phishing prevention and strong firewalls.

Apart from this, good DNS servers also allow you to set up parental controls.
15 Best and Fast DNS Servers for PS5 Console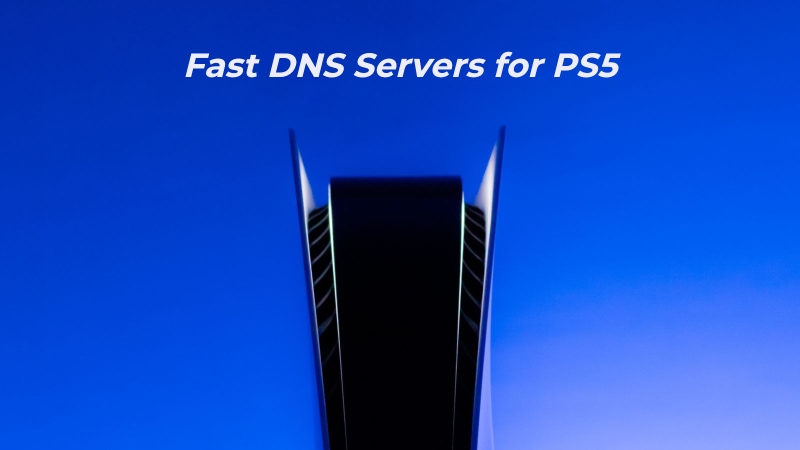 There are numerous private and public DNS servers that you can opt for your Play Station 5 console. However, if you want to gain a fast internet connection, changing the DNS setting to the public is a good idea. Moreover, there are multiple free and paid fast DNS for PS5 as well.
The presence of numerous custom DNS for PS5 might lead to confusion. In an effort to help you out, we have compiled a list of the best and fastest DNS for Play Station 5.
Here are the fast DNS servers for PS5 that you should try:
How to Setup Custom DNS on Play Station 5
The above section talked about fast DNS for PS5 and you must have chosen one to test it on your console. Are you curious to know how to set up custom DNS on your PlayStation 5? The process is simple and requires you to follow these simple steps to set up custom DNS on PS5.
Open PS5 Settings.
Choose Network.
Again select Settings.
Now select Setup Internet Connection.

Choose your LAN or Wi-Fi you are currently connected to.
Select Advanced Settings.
Change DNS Settings to Manual.

Similarly, change the IP Address Settings to Automatic.
Also, change DHCP Host as Do Not Specify.
Type in Primary DNS and Secondary DNS of your choice.
Once you are all set, click on Done to update the custom DNS on PS5.

Click on OK to make the changes take effect.
Once you are done configuring custom DNS for PS5, you need to test the internet speed by following the steps mentioned here.
If there's a change in the Internet speed on the higher side, you can start playing with the same DNS or can choose any other fast DNS for PS5 from the above list to find the best one for you.
Frequently Asked Questions
These general FAQs will help you to choose the fastest DNS for your PS5.
What are the fastest DNS Servers for PS5 according to me?
I have very good experience with the following DNS servers:
OpenDNS: 208.67.222.222, 208.67.220.222
Cloudflare DNS: 1.1.1.1, 1.0.0.1
Google DNS: 8.8.8.8, 8.8.4.4
Is Google DNS Suitable for Gaming?
Yes, Google DNS is an excellent choice for gaming. Here, players can get an exceptional gaming experience.
Do I need to enter both Primary and Secondary DNS?
Yes, you need to enter both primary and secondary DNS fields. Your PS5 will first try the primary DNS and if it finds any difficulties, it will pick the secondary DNS.
Is it Possible to Find What DNS I'm Using?
Is it safe to change DNS on PS5?
Yes, it is safe to use custom DNS settings on PS5. There will be no adverse effect on the gaming console. Moreover, you can always change it back to the default settings.
Can Custom DNS Make the Intenet Speed Slower too?
Yes, sometimes, DNS servers can make your internet connection slow. This mostly happens when the DNS server is far away from your location. Moreover, heavy traffic also has an impact on internet speed. The best solution trying a different DNS server.
Is it Essential to Change DNS on PS5?
No, it is not essential to change DNS on PS5. However, if you are having issues with the internet connection, you can try changing the DNS server.
Choose the Fast DNS Server for your Play Station 5
These are some of the best and fast DNS for PS5 that you can choose to increase the Internet speed and play your favorite games without lags. It might happen that your speed won't increase after choosing the best DNS for PS5 and there will be multiple reasons for that. The best way to find out is to try all the above-mentioned DNS servers one by one to know which DNS works best with your location and ISP.
However, if you wish to stick with your ISP DNS server at any point in time, you can easily revert the changes at PS5 Settings > Network > Settings > Setup Internet Connection > Advanced Settings of your connection and set DNS Settings to Automatic.
I would suggest you keep trying until you hit the right chord. Also, if you know of any other fast DNS for PS5, do let us know in the comments section below to help our readers.