If you can read this, you must be educated enough to understand this. We are living in a world where education is the topmost priority to make money online, start any business, or get a job in an authority firm. Also, technology had developed so much in the last few years and smartphones became smarter. You can even learn new things from them. And here are the best educational apps for Android that you must use or share with your kids.
Best Educational Apps for Android Devices
There are plenty of options available on Google Play Store to learn something new with the best educational apps for Android. But, which to choose?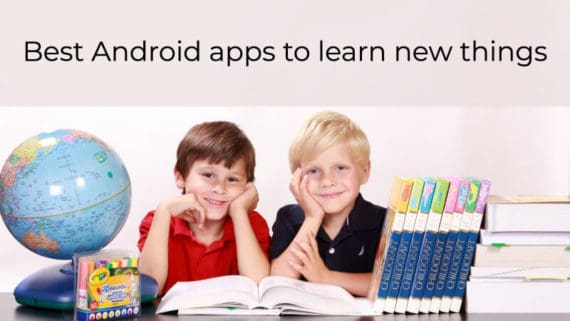 Here are the best 10 educational apps for Android from which you can choose one that suits you best:
1. Udacity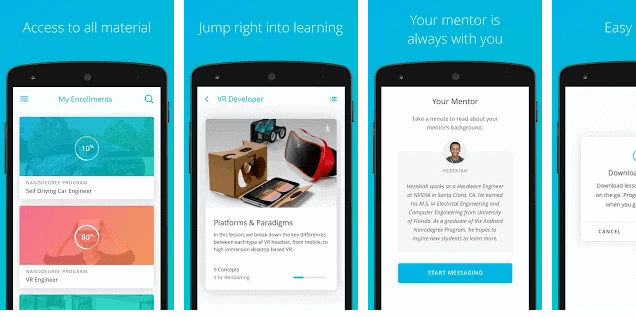 Udacity is an online learning website that offers courses in almost all fields. You can learn about web development, web designing, machine learning, etc. It is the best app that you must use to learn new things with the ease of watching video tutorials. They have some free courses but if you want to learn amazing skills, go for the paid ones, they are worth the price. Udacity generally focuses on in-demand skills for course material developed with Facebook, Google, and Amazon. etc.
2. Udemy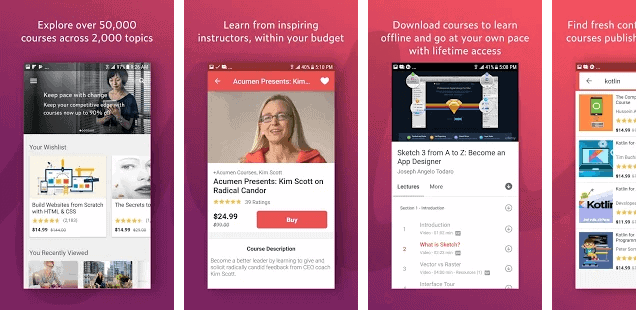 Udemy is an online learning platform where 60,000+ video courses are taught by expert instructors. This app will give you a course-style learning experience and focuses on skill-based learning like Video editing, enhancing vocabulary, cooking, etc. They have over 2,000 topics to choose from which suits your interest. Yes, it is paid. But, again, it'll be worth the price.
3. Lynda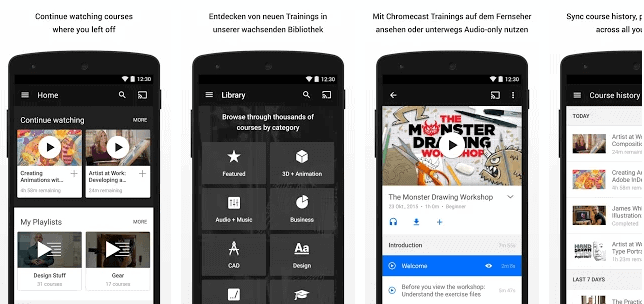 Lynda is yet another online learning app and one of the best educational apps for Android founded by Lynda Weinman, a self-taught computer teacher, educator, speaker, and entrepreneur, and now in partnership with Linkedin. They have a variety of courses for everyone. You have to subscribe to the membership of Lynda. Also, you can learn anytime, anywhere with offline video tutorials.
4. Duolingo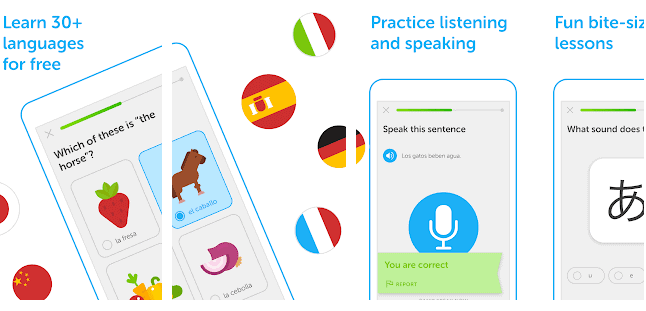 Duolingo appeared online in 2013-2014 and offers courses for learning the English language. Even you can learn different languages like Spanish, French, German, and much more. It is a free app to learn languages online with your smartphone in your hands within minutes. One of the best educational apps for Android to learn languages free and to be a great writer.
5. Bussu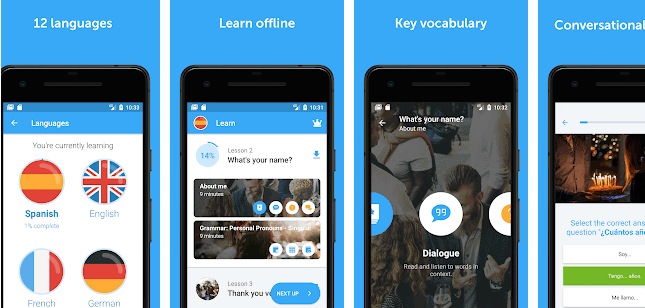 Bussu is almost like Duolingo which offers courses to learn any language (not all literally). They have over 80 million users and were awarded as Editor's Choice on Google Play Store. Any skill you need to enhance your language, vocabulary, they'll provide you with the best courses available.
6. edX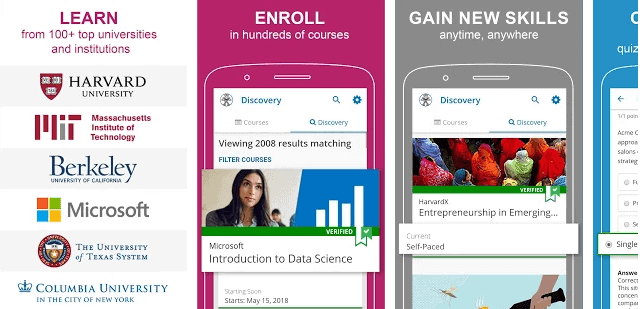 edX is the best educational app for Android for users who want excellent knowledge of a specific course. They offer over 2,000 courses taught by prestige authority universities like Harvard, MIT, etc. You can browse through the variety of courses they offer from programming language to marketing, music to medicine, etc. edX's free app for online courses gives you online videos any time, or download them for viewing them offline. You must use this educational app for Android at least once.
7. Khan Academy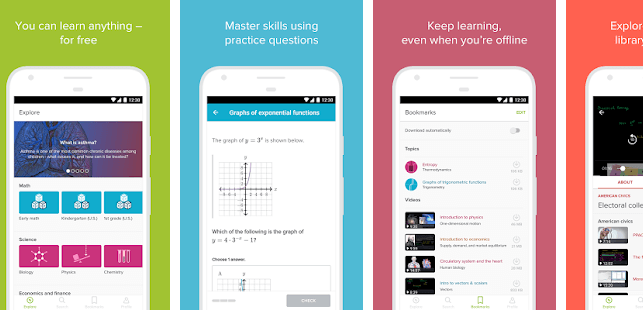 At first, when I heard about this Khan Academy app, I thought it is not the best as others. But, after using it, I was wrong. It is a free forever app where you can learn from 10,000 video courses. It focuses on the traditional subject taught in schools like Maths, Science, Economics, etc. They don't focus on more and more courses but build authority on their offered courses.
8. Coursera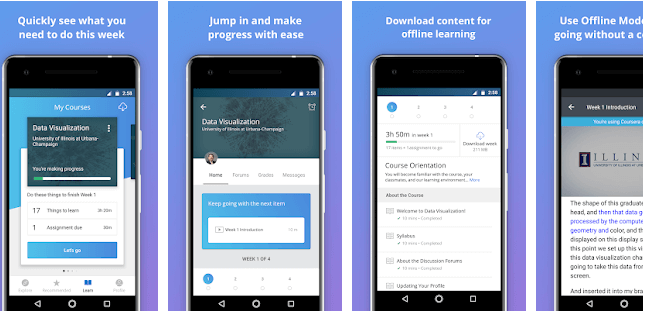 Coursera is just like a School that has various courses and you can go and learn. Just like edX, they have plenty of courses in every field of work with over 2,000 courses with video tutorials. You may be a teacher, developer, or a marketer, there are courses for everyone. They have both free and paid courses, but I will recommend you to go with the paid ones as they have their own benefits.
9. SoloLearn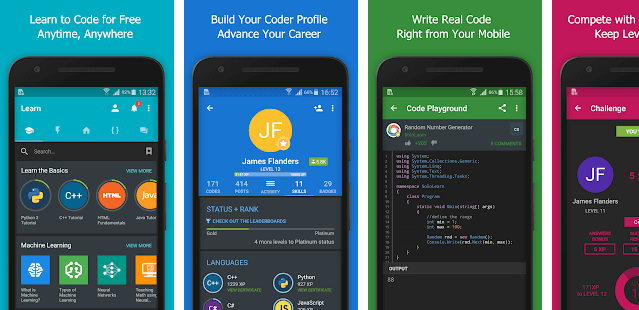 SoloLearn has the largest collection of free learning content. If you are a beginner or a pro, it is packed with learning content for both. They generally focus on Programming Languages with interactive content for C, C++, Python, HTML, etc. The SoloLearn app has an inbuilt code editor for practical learning. It is one of the best educational apps for Android to learn any programming language with your Android device anytime, anywhere.
10. Amazon Kindle
You must be knowing about Amazon Kindle already. Amazon Kindle app offers thousands of books to read in your free time, to get knowledge. It is best for enhancing your vocabulary, also very much helping for Bloggers. There are books for book lovers to professionals. Simply install the app and get started with it. You know Amazon is now the biggest eCommerce website in the world and hence offers the best services to its customers.
So, these were the best educational apps for Android that you can use to get the best knowledge out there on the internet available for free.  Choose the best course and best app wisely. These apps are specialized in every corner of the skills you need.
Tell us in the comment section below which app you use to learn online courses and which one do you thinks is the best educational app for Android?