Moto X is the flagship device for Motorola, The device comes with Android 4.2.2 or 4.4 out of the box and is up-gradable to future android versions. The Moto X packs some amazing specifications as well as customized features which made it a steal deal. Motorola also released an upgraded version of Moto X which is Moto X 2nd Gen. If you are using Moto X and I bet that you are enjoying the Moto X experience and What If I say you can improve it a lot more with the help of Custom ROMs for Moto X. Yeah you heard it right you can improve the performance as well as the way the device OS looks with the helps of Custom ROMs. Custom ROMs are mainly developed with AOSP or Other Custom ROMs source code so that they will work on other devices without any issues.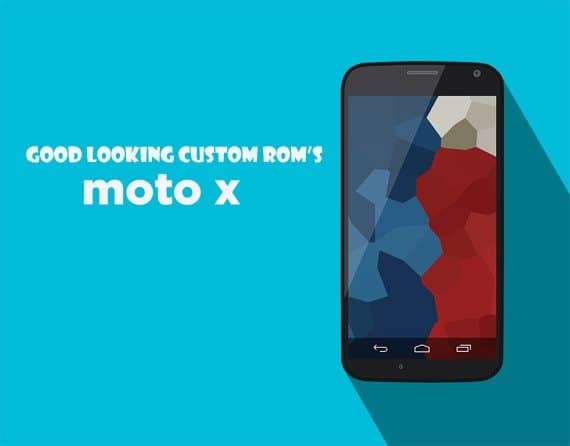 When it comes to Moto X the device grabbed the developers attention. Many developers ported many amazing Custom ROMs for Moto X and while some has created their own Custom ROMs which are used by many people all over the world. Custom ROMs are mainly used because the stock firmware which is loaded on to our devices comes with restrictions so that you can enjoy the device to its fullest. Some examples are you can't apply themes or tweaks on Stock ROM and if you have no experience in using tweaks you may end up bricking your device. You can get all the tweaks and tweaks installed in Custom ROMs which are made for Moto X. If you are a Moto X user and thinking to Flash a Custom ROM on Moto X then you can check this post on "5 Best Custom ROMs for Moto X" which we listed after using a number of Custom Roms available for Moto X.
All Guides produced on the site are for educational purposes only. Geek Dashboard is not responsible for damaged SD Cards or Bricked devices. Follow the guides at your own risk.

Note : The list of Custom Roms for Moto X are prepared by our experience with the Custom ROMs which are  available for the device and after a series of tests, we are listing them below. They are listed based on User Experience, Battery performance, Multi-tasking and many more aspects.
Prerequisites to Install Custom Roms for Moto X :
Make sure that you are trying this on  Moto X.

Make sure that your device is rooted and having Custom Recovery Installed.

Backup contacts, Messages and all important data as you may loss the data on your device during the process.

Make sure that you have backed the Stock ROM before flashing any Custom ROM onto your device.
Last but not the least ensure that your device has enough battery juice.
5 Best Custom ROMs for Moto X
#1.Eclipse ROM V4.0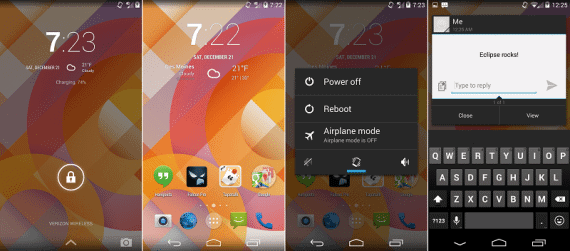 Eclipse ROM is one of the best Custom ROMs available for Moto X. It is based on Android 4.4.4 Kitkat and is V4.0 with a lot of improvements in performance and in all aspects when compared to previous versions. After installing the Eclipse Custom ROM there is no need to worry about features like Active Notifications and Touchless controls as you can get them on this ROM. There is no bloat ware in the ROM and the battery performance is top notch. The Custom ROMs comes with X-Control which will help you to customize your device. There are many more features and optimizations built in. You can download the Eclipse ROM V4.0 from here.
#2.KANGAKAT ROM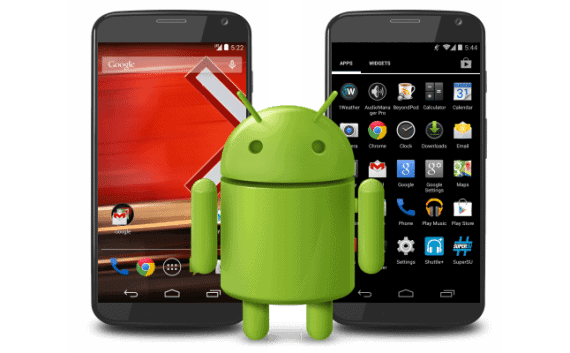 KANGAKAT ROM is next in our list. It is based on Android 4.4.2 which pre-rooted and all apps are deodexed for faster reboot times. The ROM is fast, fluid and simple. It also packs several features like Ad blocking which is pre built in the ROM itself. The KANGAKAT ROM comes with a lots of customization's as there are many addons available for the ROM like Silent Camera, Moto Assit, Gravity Box and much more. You can download KANGAKAT ROM from here.
#3.LiquidSmooth Custom Rom [Official]
LiquidSmooth ROM is available for many android devices which mainly focuses on smooth and lag free experience. Now LiquidSmooth Custom ROM Official version is available for Moto X. It is also the lightest Custom ROM available for Moto X which removes all the bloatware and it mainly focuses on true multitasking without any lags.  The ROMs includes many advanced features some of them are Quiet Hours, Slim Recents, SlimPie  and a lot more.  You can download the LiquidSmooth Custom ROM for Moto X here.
#4.Carbon Rom [Unofficial]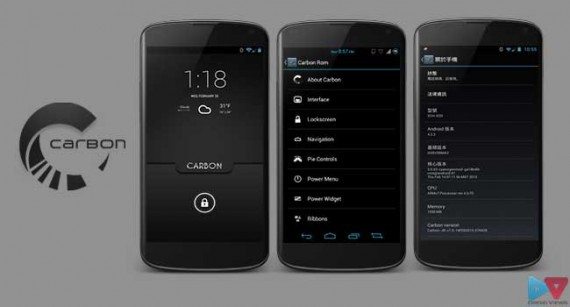 Carbon ROM is another amazing Custom ROM which available for only a few devices out there and the Unofficial port is available for Moto X. It is purely based on Android Open Source Project (AOSP). The custom rom mainly focuses on stability and the performance of the device. Although it is an unofficial port it has almost all features of the official version so that you don't miss any.  Previously the ROM used to have bugs which are fixed in the most recent update. You can download the Carbon ROM for Moto X here.
#5.Gummy Custom ROM [Official]
Our final pick in our list of "5 Best Custom ROMs for Moto X" is Gummy Custom ROM for Moto X which is official version and brings all the features of Gummy ROM to Moto X. The Custom ROM also sports a dark theme which looks cool on the device and it will make use of all touch screen area. There are many amazing features like themes, Statusbar mods, dark themes, notification settings and much more. There are no bugs at all in the ROM except you can't record HD videos in the ROM which will be fixed soon. You can download Gummy Custom ROM for Moto X here.
This is our list of 5 Best Custom ROMs for Moto X. Hope this guide helped you in selecting the best custom rom for Moto X. Do drop your comments if you have any queries and share the article if it helped you.