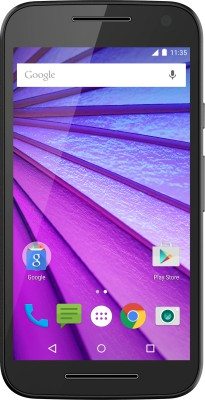 Custom ROMs for Moto G3: I think my dear readers that you will agree to me on the fact that Moto G3 2015 is the best budget phone available in the market. With the sell figures going high along with each passing day, I think it's my duty to bring up a new post to enhance your experience with the device. If you are a user of Moto G3 2015, you must have now known, how it feels to experience a premium Android. Do you want to enhance the experience? If the answer is yes then, I am here to help you. To get a liberation from the same old UI, you only need a Custom ROM. My friends, who have heard the word 'Custom ROM' for the first time, should know that it is basically a modified version of Android operating system. The Custom ROM generally includes additional features, tweak, themes that make sure, that the users get an enhanced performance and experience. Now that you know, what Custom ROM is, let us talk about the pre-requirements for getting the best custom ROMs for Moto G3 2015.
Pre-Requirements for Moto G3 Custom ROMs
Before we head to the section of knowing the 10 best Custom ROMs for Moto G3 2015, we should know the pre-requirements. There are few safety measures that should be taken before you proceed to get the best custom ROMs for Moto G3 2015. These include:-
The listed Custom ROMs are exclusively for Moto G3  2015. Make sure that you have this device.
Your device should be rooted.
Custom recovery should be installed.
Take the backup of the important data.
Take the nandroid backup before you proceed.
Your Moto G3 2015 should be fully charged. Above 60% is always recommended in the worst case.
Check out our guide to Unlock Bootloader, Root & Install Custom Recovery on your Moto G3 2015
It's now the time to go ahead to our next section, which will provide you information about the 10 best Custom ROMs for Moto G3 2015.
10 Best Custom ROMs For Moto G3 2015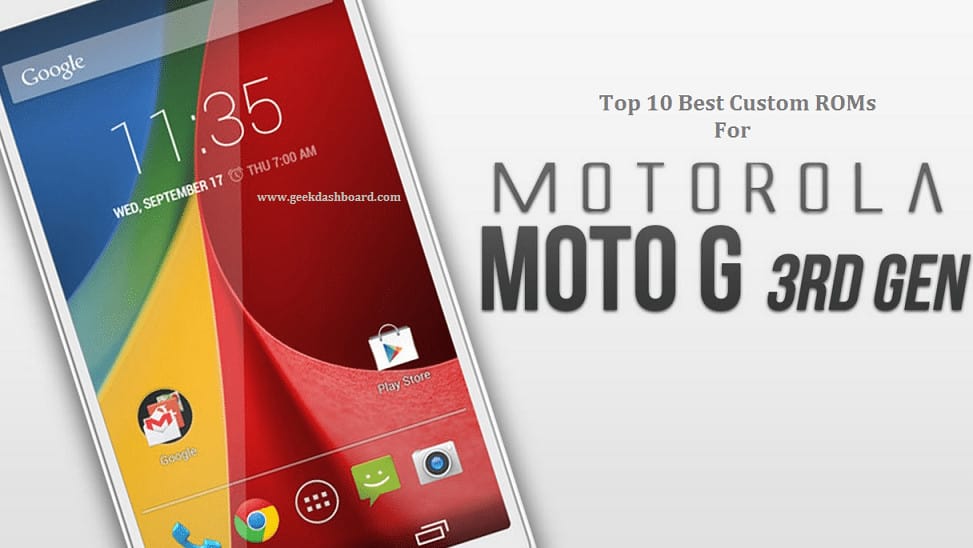 BlissPop ROM
You will go tired of checking all the features of Bliss ROM but will never run out of features in this Custom ROM. Bliss ROM will make sure that the Moto G3 2015 is all neat and tidy, filled with customization features. Customize your Moto G3 2015 to make it your own personalized device. This Custom ROM is not only filled with great features but also with remarkable style to make your style statement.
CarbonRom
CarbonRom gives you so much more than enhanced features, it will make the Moto G3 2015 work faster while keeping the device very stable. The carbon fibers, active display and quick launch give you scrollable tabs, quick notification and shortcuts on the home ring respectively. The ability to multitask in your device becomes perfect due to the blending of perfection from various features.
Download CarbonROM (only for Moto G 2014)
CyanogenMod 13 Custom ROM
It is based on Android Open Source Project. CyanogenMod 12.1 will surely boost your experience in Android Marshmallow. The performance of your Moto G3 2015 will increase drastically. The features available in CyanogenMod 12 to boost the experience of the users are not available in any version of Androids. With options like quick setting customization, advanced power menu and system profile, a door for the new world will open up. And CM12 is one of my most favorite ROM always.
Download CyanogenMod 13 Custom ROM
Epsilon Project ROM
It is a hundred percent stable ROM for Moto G3 2015 i.e; both light and updated to give the users an experience to remember. The battery life of Moto G3 2015 is maintained while allowing all the features to give an excellent performance. With new script installation, updated GravityBox 3.4.9, fixed status bar and many other improvements, Epsilon Project ROM will make sure that you are happy using it.
LiquidSmooth Custom ROM
As indicated in the name, this custom ROM will make sure that it functions smoothly. It is a light-weight ROM filled with heavy-weight features like CM 12 theme engine, custom navigation options, gesture unlock, navigation bar height control, custom lock screen shortcuts, screen density changer, dark UI, status bar brightness control, force rotation on IME, volume rocker wake up, filter spam notifications and many more. Just name a feature that you crave for and chances are there that LiquidSmooth Custom ROM has it. Give your Moto G3 2015 a new touch with this lightweight modified AOSP base.
Download LiquidSmooth Custom ROM (only for Moto G)
Nexus Experience ROM
You don't need to buy a new Nexus device to experience the working of a Nexus because, you can experience it on your own Moto G3 2015. The only thing that you need is Nexus Experience ROM. It is a powerful custom ROM with features like ability to close all the apps with just one tap, ambient display, filter spam notification, advanced display options, advanced sound options, advanced IME options, heads up, advanced reboot options, battery and notification lights control and many more.
PacMan ROM
PacMan ROM has included all the best elements and features from the best ROM available in the tech world. With their self-made tweaks and options, they have guaranteed a unique Custom ROM experience in Moto G3 2015. The users can also follow the development of PacMan ROM live on Gerrit review, to keep themselves updated on the new improvements.
Paranoid Custom ROM
It is a packet full of many innovative features that will surely make your experience while using Moto G3 2015 lovable. It will add more stars to the beauty of Android. The Hover feature of Paranoid Custom ROM eliminate all the distractions that you can face while doing something important by reading and interacting with the notification as soon as they arrive, the navigation bar of your Moto G3 2015 can be beautifully simplified by using Pie, the presence of a dynamic bar will polish your system like never before.
Resurrection Remix ROM
Features from many other ROMs has been packed in this extraordinary ROM known as the Resurrection Remix ROM. Filled with elegantly crafted features like pitch black theme, customizable head up notification, interface customization and many other miscellaneous customization, the users will never go out of choice. You can beautify your Moto G3 2015 with all the features by this battery friendly ROM.
Download Resurrection Remix Custom ROM
SlimKat Custom ROM
It is tiny package of many choices. SlimKat Custom ROM will provide with an ample amount of space for piles of apps. You can fit a bundle of 7 apps on the notification bar. Even the lock screen provided by SlimKat comes equipped with many important features like clocks and notifications, all you have to do is to tap to access it. The greatest beauty of the SlimKat is perhaps the custom dialer and do you really need a magic after you come to know that all the recently opened apps can be closed only with a pinch in Moto G3 2015?
Download SlimKat Custom ROM (only for Moto G)
Note: We are not responsible for any bricked devices due to the wrong installation of the Custom ROMs. Please proceed at your own risk.
Now, that you have the list of the 10 best Custom ROMs for Moto G3 2015, you can try it and share you experience with us. Please make sure that you are extra careful when you install these Custom ROMs for Moto G3 because a mistake can lead to a bricked devices. Enhance your experience of using Moto G3 2015 by an all new way!