We surf the Internet a lot in our daily life, either it is just for entertainment or for some important work. Accept it, we need tools and utilities which help in our work to make it more fast and perfect. We download files from the internet very frequently and we always wanted to accelerate the download speed without upgrading our internet speed. Google Chrome is one of the best web browsers available online and millions of people are using it.  We have collected a list of download accelerators for Chrome to boost your file downloading speed.
List of free Chrome Download Accelerators
The default Google Chrome downloader allows multiple file downloading but the download speed is too slow when you download the same files using Chrome download managers or Chrome download accelerators. These download accelerators split the single file into multiple small files and download them at the same time. Once all small parts are downloaded, they combine them automatically to a single file. This mechanism will drastically increase the downloading speed.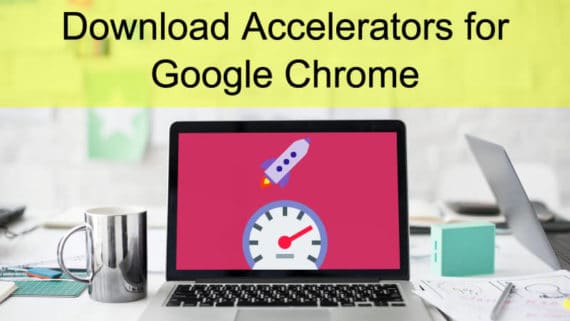 Here is the list of best Chrome download accelerators you need to increase the downloading speed:
1. Download Accelerator Plus (DAP)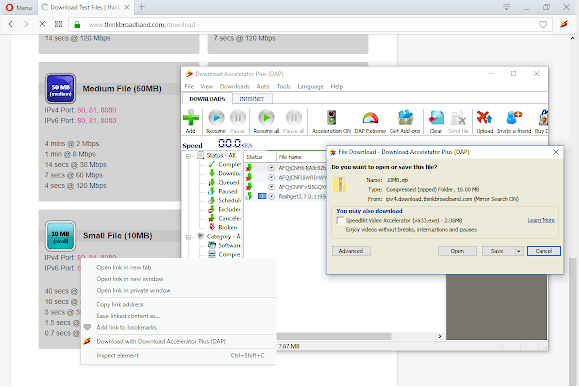 Download Accelerator Plus also known as DAP is the best Chrome download accelerator extension for all types of users. You simply need to install the extension on your browser to get started. When you enable this accelerator extension, it will disable your default download manager to replace all download links with DAP. As compared to others, DAP performs better and if your work includes a lot of files downloading and uploading, get the pro version of DAP.
2. Internet Download Manager (IDM)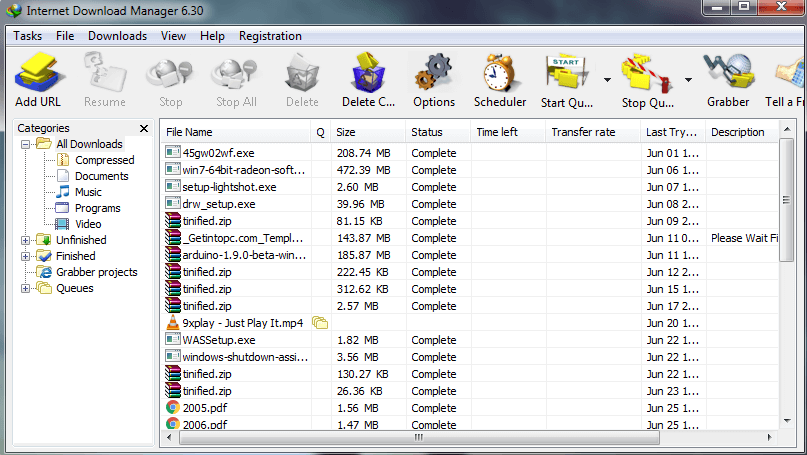 Internet Download Manager or IDM is in the market for a very long time I personally use it for all my downloads and it uses up to 32 connections to download a file. Literally, it boosts your download speed and makes it faster than any other download manager. IDM is also one of the best Chrome download accelerators you should use as it can download any file with ease.
To use this accelerator, you need to download and install the IDM on your computer and it will automatically take control of your downloads in Google Chrome.
3. FlashGet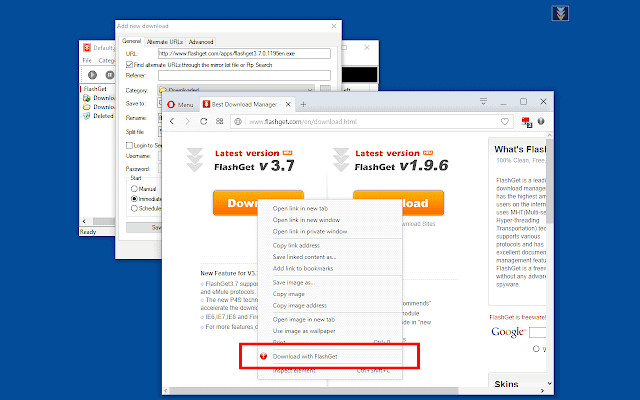 FlashGet is a Chrome download accelerator extension that can increase file downloading speeds rapidly. To download files with FlashGet from Google Chrome, you just need to right-click on the download link and select "Download with FlashGet". It can download any file like text, audio, video, etc. It also interrupts your default download manager just like DAP. I will recommend you to try out this free Chrome download accelerator to boost your download speed.
4. EagleGet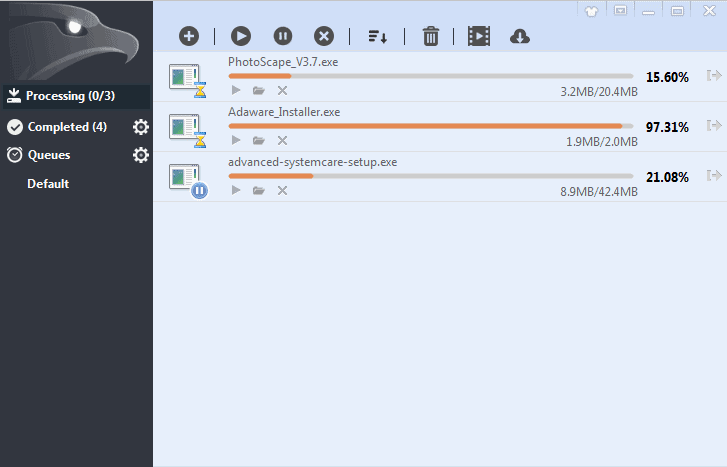 EagleGet is a free all-in-one download manager and accelerator for Google Chrome. The UI of this download accelerator is not as classy as others but the features are impressive. You can download any type of file when it is integrated with your Google Chrome web browser. EagleGet also supports multiple threads that help in speeding up the downloads. Additionally, EagleGet contains Clipboard and browsing live monitoring tools just like IDM and virus checkups, gaming mode (with all notifications disabled), task cleaner, etc.
5. JDownloader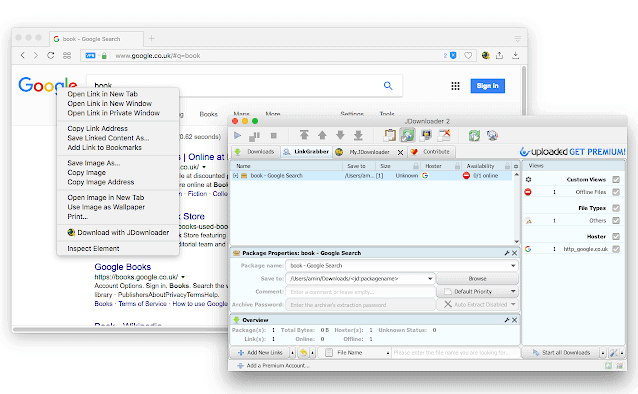 JDownloader comes in handy when you need to download simple files which are not way too complicated. It is a good Chrome download accelerator but when compared with others, it is far beyond the others. JDownloader will help you download various files like audio, video, etc. It works just like any ordinary download manager extension to help you with increasing the download speeds.
6. Download Accelerator and Manager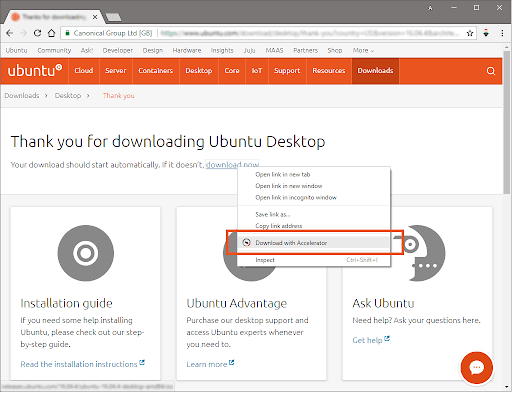 Download Accelerator and Manager is a powerful add-on that enables you to download big files with a multi-threaded method as DAP and IDM do. It uses a smart and multi-threaded JavaScript engine to divide the input file into various packets and then download all sections in parallel. Just enter desired thread number in a popup and then add a download task.
In order to add new downloads, you have 2 options:
1st option is through the context-menu item by right-clicking on the desired download link and choosing "Download with Accelerator".
The second way is by opening the toolbar popup and adding the desired download link. You can also add the number of threads you want to split your files.
Get Download Accelerator and Manager
7. Chrono Download Manager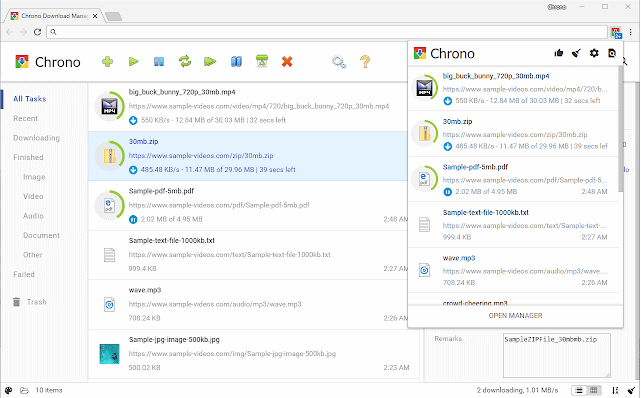 Chrono Download Manager is a Chrome download accelerator extension available in the Chrome store. It will automatically fetch the type of file on the web page and you can download all the available downloadable files on that web page by clicking on the Chrono icon. Just like Chrome's download section, it will also show you all the downloads in the web browser itself.
So, you don't need to search the files in your local directories. It is also the best video download helper to download videos from any websites you visit.
8. Download Ninja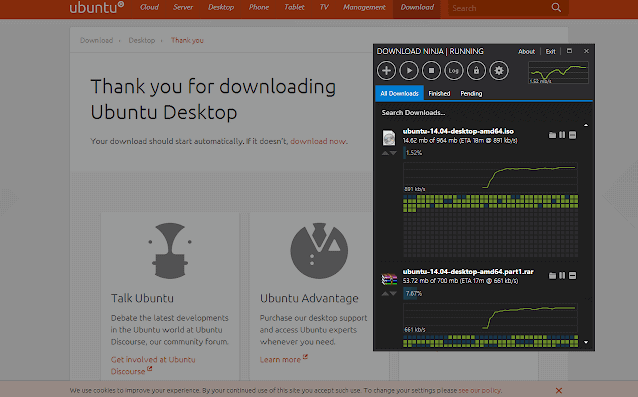 Download Ninja comes with a pretty and geeky-style user interface. It will show you the download speed when downloading any file from the web browser. You can download any file by right-clicking on the download link and it is supported by almost all the web browsers.
Download Ninja will list all the available media you can download from a specific web page. So, In my recommendation, you should try this Chrome download accelerator as it is lightweight and easy to use with geeky stats.
9. Turbo Download Manager

Turbo Download Manager aims to provide reliable file fetching from the server to download the file with resume capability. Even with a slow Internet connection, it works best. The best part of it is open source and free. Turbo Download Manager will increase your download speed depending on the number of threads your file is split and your Internet connection. Also, it allows you to continue broken downloads by introducing fresh links and downloading from multiple sources with media previews.
10. Internet Download Accelerator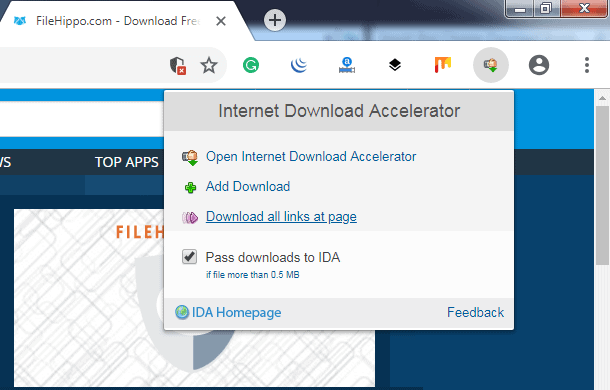 Internet Download Accelerator will help you download your files faster with simple UI and easy-to-use features. It is a pretty decent Chrome download accelerator extension you should try. You can download any file with just a few clicks and boost your download speed without making any changes to your network settings.
Get Internet Download Accelerator
Conclusion
So, these were the best Chrome Download Accelerators you can use in Google Chrome or any other web browser like Firefox, Opera, Safari, and Microsoft Edge. It will not only help you with downloading any type of file but also increase the download speed. Do tell your views in the comment section below and if there's any other download accelerator you use.