Audio editors and music editing software are a must on your computer if you constantly work on audio and music files. If you are planning to create music or working on audio files for your games, movie and any other project then a good audio and music editing software is a priority for you. I must say – you have to first get a good microphone with noise cancellation to record your voice and audio. Without a proper mic, it is impossible to generate a professional output no matter what song editing and mixing software you use. If you are not low on budget, I strongly recommend you to purchase Blue Yeti microphone.
Having said that, let's dig deeper into the list of professional audio editing softwares for all kind of needs to edit your audio and music files. You can find both free and paid editing softwares in this list. Most of the paid softwares listed here will have a limited trial period which is quite enough to test and understand it's capabilities.
Best Audio and Music Editing Software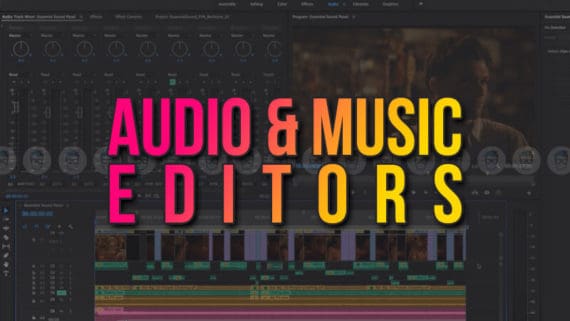 Similar to video editing tools, audio mixing and sound management is a very complex work. No one likes to watch your music with background noise and improper mixing and sound effects. The list includes light audio editing software along with professional music editing software for all your needs
1. Audacity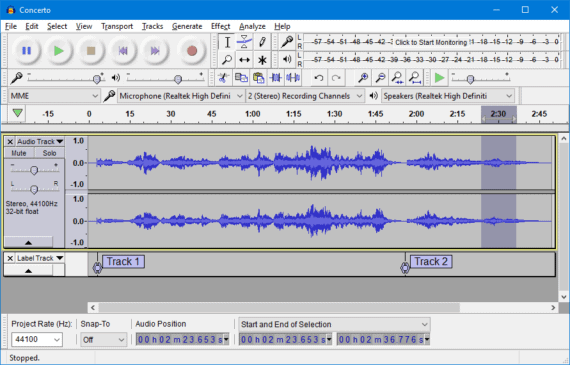 Audacity is one of the most popular audio editing software supporting multiple audio tracks in a single window. It has all basic editing settings for a beginner along with more complex editing features for a pro user. The user interface looks quite old fashioned but music editing is very easy and there are tons of tutorial available online. The best part is that Audacity is absolutely free music editing software with a wide variety of effects and plugins.
Price: Free (Download)
2. WavePad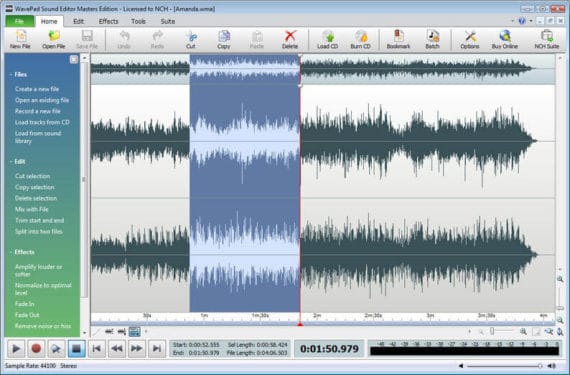 WavePad interface might look a bit complex but it has a very huge bundle of useful features. The installation is pretty easy and it comes with the basic effects like noise removal, reverb, compression and also offers more complex tools for professional users. WavePad comes with a unique feature called batch processing which alters a specific change like pitch in a large number of audio files simultaneously, saving you a lot of time. It is slightly older DAW, but still highly useful.
Price: Free or Paid version for $69.95 (Download)
3. Ocenaudio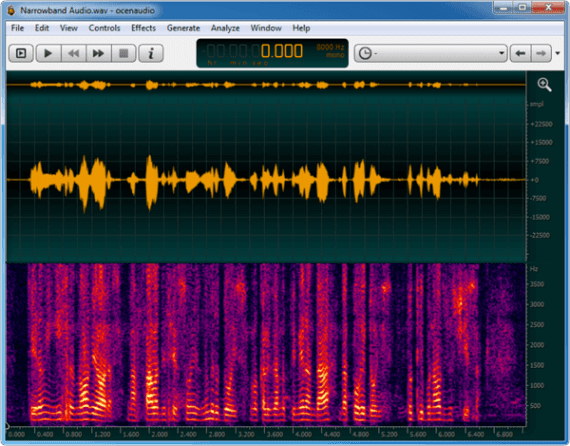 Oceanaudio is a lightweight professional audio editing program that comes with a large arsenal of useful features. The interface is very user-friendly and easy to use. It includes all the basic effects like compression, equalizer, and reverb. There is no support for multi-track editing. The best part is that Ocenaudio allows changes to be previewed in real time saving a lot of time for the user. It has VST support to use your own custom plugins.
Price: Free (Download)
4. Adobe Audition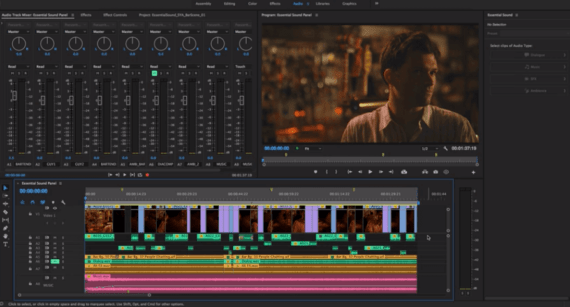 Adobe Audition is the best mixing software and a professional music editor from well-known market leader Adobe. It has incredible features that favor advanced and professional users. Adobe Audition has every feature that you will need to edit your audio file. There is support for multi-track editing and mixing. It also comes with Adobe's own AI, 'Adobe Sensei', that can figure out where to lower and change the pitch of the audio according to the noises in the file. Adobe Audition is a professional tool and will never let you down when it comes to the availability of features. The professional software obviously comes with a heavy price tag.
Same like other other Abobe products, it is also an advanced tool developed specially for professionals. If you are a newbie, you might feel this tool confusing and you must learn the basics before getting your hands on Adobe Audition.
Price: Free trial, $20 per month (Download)
5. Reaper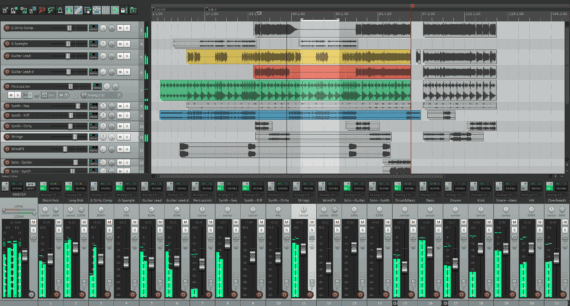 Reaper is yet another audio editing software which is quite powerful and has a large number of features in its arsenal. It supports multi-track editing and you can directly record audio and edit it directly. Reaper also applies effects in real time which saves a lot of time and allows the user to preview editing at the same time. Reaper supports ACID, AIFF, AVI, BWF, CDDA, EDL, FLAC, KAR, MIDI, MOGG, MOV, MP3, MPEG, OGG VORBIS, OGG OPUS, QT, RADAR, REX2, SYX, W64, WAV, WAVPACK, WMV, and many more audio files. It can be an alternative for Adobe Audition with the lifetime pro version license for just $60.
Price: Free Trial, $60 (Download)
6. FL Studio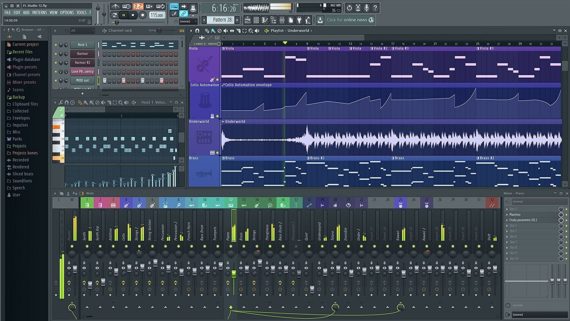 FL Studio editing and mixing software have garnered a lot of fame for its role in the making of EDM. Used by top DJs like Martin Garrix, FL Studio supports multi-track editing, pitch shifting, time stretching and many other advanced utilities. It also comes with a lot of effects to aid in your music making abilities. This tool supports AIFF, DS, DS, DWP, FLAC, MID, MP3, OGG, SF2, Speech, SYN, XI, and WAV for music creators.
Price: Free Trial, $99 (Download)
7. WaveShop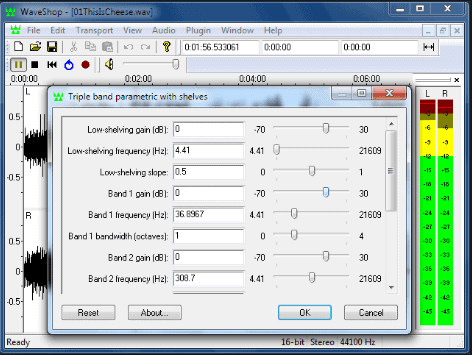 WaveShop is a free music editing software and has a great support for multi-channel audio. It is only available for Windows and is a very simple and basic audio editor. It is worthwhile to look at if you want something basic and easy to use and not be bombarded with complex settings and features a casual user would never use.
Price: Free (Download)
8. Acoustica Basic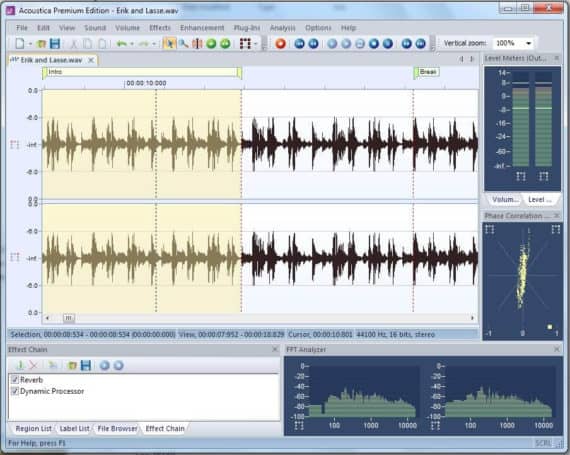 Acoustica Basic is very easy to set up and use but it doesn't provide multi-tracking in the basic version of the software. The user interface is designed for speed and accuracy. It is basically a software to quickly record and edit your recordings. It supports the creation of processing tools, external plugins and also supports VST and DirectX plug-ins. For advanced users who need to mix multiple audio tracks should get the premium version of Acoustica Basic.
Price: $59.90 (Download)
9. Ableton Live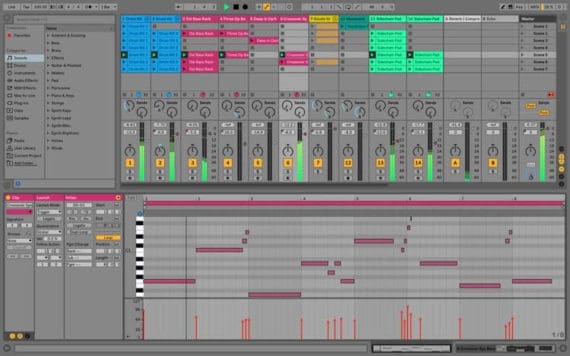 Ableton Live is a professional music editing program. The software is used in professional music studios by artists. It supports unlimited tracks, MIDI capture, 256 mono input channels, and 256 mono output channels. Ableton also provides the user with many software instruments, effects and also gives them 70 GB worth of pre-recorded sounds that can be used in your project. It is a good choice if you are starting your work as a professional music artist.
Price: Free trial, $99 (Download)
10. Hindenburg Pro

Hindenburg Pro is a cross-platform audio editing software that can work both on Windows and macOS. It supports multi-tracking and can import 24-bit audio files. It has all the basic features like compressors, equalizers and even has a Loudness Meter. The software supports all third-party plugins and you can even set up a profile for your audio files to save time. It will export your project in a large number of formats for you to use.
Price: Trial, $95 (Download)
Final Thoughts about Audio Editing Softwares
Before choosing a music editing software from the above list, you need to first understand your requirements. If you need a simple and free audio editing softwares, then go for tools like Audacity and WaveShop. If you are working on something a little more professional or planning a large project, you should opt for the complex and professional music editing software like Adobe Audition or FL Studio which comes with a price tag. Let us know in the comments section if you have any other best song editing and mixing softwares apart from this list and which tool you prefer the most.