Getting work done solely in the office is such a backward way of thinking in 2018. Nowadays, everyone from bloggers to senior management can work from home, on the train and even in a cafe. Basically, if you've got a smartphone or laptop with an internet connection, then there are many ways you can complete your work without necessarily having to be chained to a desk.
Talented developers across the world have come up with some of the most fascinating and exciting apps and software that can save us so much time by allowing us to work wherever we want whenever we want.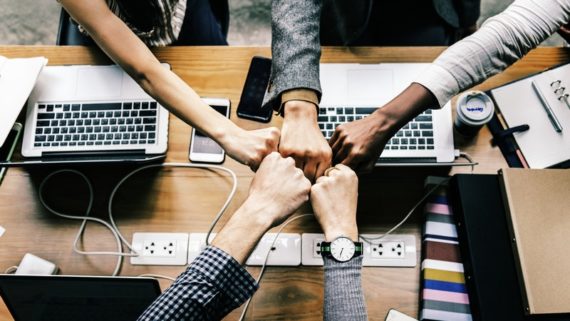 The following apps are fantastic if you're a business person who likes to work on the move.
1. Evernote
Not a day goes by where you won't find some sort of use for Evernote. Are you the kind of person who thinks of amazing ideas on the fly but writes them down on random bits of paper, only to misplace them a few hours later? An incredible thought should never be lost to the wind like that, so it's better that you simply write down notes, record your voice or even copy/paste particular areas of websites using Evernote.
Due to the fact that your Evernote account is synchronized across every device, that game-changing idea you thought of on the train can be accessed at your desktop computer when you arrive at the office. You can also take pictures of things that inspire you and store them on the app.
Download from App Store
Download on Google Play
2. Office 365
Microsoft Office products have hit such a level of renown that it's almost impossible to imagine using anything else than Word, Excel, or even PowerPoint. Although many smartphones come with these programs already installed, a lot of business people find that the features aren't good enough for what they want, which is exactly why a premium version is available of Office 365. With extra features, you can do more when on the go and additionally, the 1 TB of cloud storage is useful for sharing documents amongst your team, especially if the file size exceeds that of a regular email provider.
Download from App Store
Download on Google Play
3. Hootsuite
Whilst it's primarily those who work as social media managers that can benefit from Hootsuite, it's still an app which can be helpful those even in their personal life. When you need to send out posts on several different social media accounts for Facebook, Instagram, Twitter, and even LinkedIn, you'll find that certain times of the day are better for particular platforms. Instead of checking your watch and waiting for the right time to post, you can use Hootsuite ahead of time to schedule posts, meaning that no matter where you are, your post will be shown on each individual platform when you want it to happen.
Download from App Store
Download on Google Play
4. Skype
Although Slack is becoming incredibly popular in the workplace as a real-time messaging app, Skype is in some ways still the king. The design is flawless and intuitive and you'll likely find that everyone from New Zealand to New York will have a Skype account. The option to create groups of people for when numerous team members are involved in a project is great, as is the ability to send documents quickly. The emojis are quite fun too if you want to take a break from formal chat. It's fantastic for conference calls and you can also set your status to 'Do not disturb' if you hate the idea of receiving pop-up notifications when working on something important at the time.
Download from App Store
Download on Google Play
5. Doodle
If you're a project manager simply trying to find a date for a meeting that works for everyone, then there's no need to send emails back and forth anymore, as Doodle can solve that problem. When you create an event for your meeting or whatever it might be, you can provide a few different dates and times, and then the attendees can tick which ones for when they will be available. When given plenty of options, it's usually easy enough to find a time when all persons involved can be unified.
Download from App Store
Download on Google Play
Of course, many of these apps are great on-the-go, but if you're planning on a lot of work, then it's still best on a desktop or laptop. These apps are designed really for when you've got a bit of time on the train or standing in line, but it will probably be hard on your eyes and fingers if you're always doing work on your phone! There are several apps for business people, but these were the five that we liked the best. Browse your native app store and you're sure to find some more to suit you.