BenQ treVolo U arrives as the latest device from the brand famous for its desktop monitors and other peripherals. The company has brought this new speaker to the market which helps users face difficulty catching up with audio in meetings. The device can help users listen to the sessions with boosted voices for a crisp and clear understanding of the speaker.
The speaker is compact and lasts longer with the provided battery pack. The device even features a dedicated HD microphone for delivering the best experience. The enclosed design of the treVolo U speaker along with elevated positioning throws sound in the correct direction. The product puts itself in a unique market position as there are very few options in this category.
BenQ treVolo U Desktop Dialogue Speaker Overview
The treVolo U Desktop Dialogue Speaker comes with Voice Engine technology that helps enhance the voices of humans. The voice engine provided with the speaker will stop the background noises seeping into the microphone and input crystal-clear voices. Besides, the microphones on the speaker are positioned parabolically to pick up voices efficiently.
There's acoustic echo cancellation as well that will filter out the delayed echo and any kind of ambient noises. The speaker has the ability to enhance the all-round human voice and reproduce the natural voices.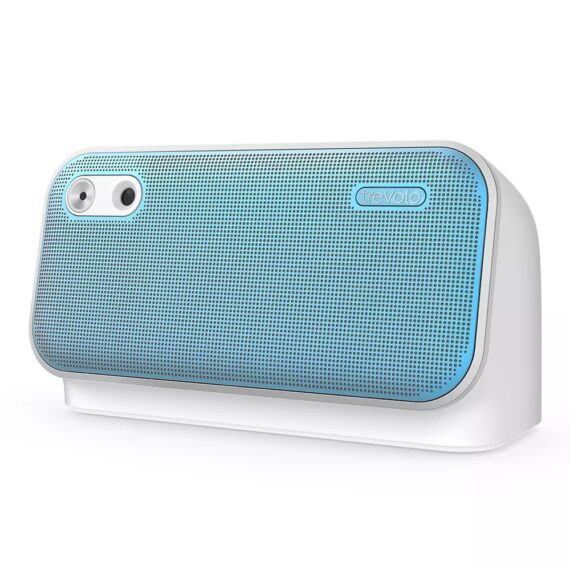 In this process, the speaker doesn't lose out on the quality of the audio and works flawlessly. The device is a boon for users who don't prefer using headsets or earphones while attending meetings.
BenQ has used human voice recognition algorithms on its new speaker for enhanced voice output. The dialogue speaker can easily identify and clarify frequency differences in male and female voices. Along with the integration of algorithms, the device has a 12-degree angled elevation which helps in catching the voice and throwing out voices in the perfect direction.
The speaker with its high-frequency tweeter along with a mid-range tweeter provides a rich and clear sound clarity. The materials used on the speaker will help in providing 30% higher volume and enhanced durability that even helps in a balanced sound profile in all scenarios. Moreover, the compact dialogue speaker even has AEC technology to cut down all types of echo during calls.
The speaker arrives with three different sound modes that include podcast, voice chat, Discord, and while playing Steam Deck. The modes will work in tune with the use of the speaker such as the tuning is different for listening to music and while taking classes. Overall, these customized sound profiles on the BenQ treVolo U Desktop Speaker stand out among the other speakers in the market.