After its new chatbot, Bard presented false information in a promotional film. Alphabet Inc., the parent company of Google, had its market value decline by $100 billion. This led to concerns that the business is falling behind rival Microsoft Corp.
Alphabet's stock fell as high as 9% on Wednesday during trading. Although it recovered somewhat to end the day 7.68% down. The value of Alphabet's shares, which had dropped by 40% the previous year, has increased by 15% since the start of 2023.
Google Bard AI Chat Bot Error and Competition with ChatGPT
Following the November release of ChatGPT by Microsoft-backed firm OpenAI. Google has been working nonstop to deploy Bard. Because of its human-like reactions, ChatGPT, an artificial intelligence-based chatbot, has caught the IT world by storm.
After the discovery of a mistake in Google's marketing for its brand-new chatbot Bard, which made its debut on Monday. The news agency Reuters alerted investors to the steep decline in share value.
On February 8, a presentation by Google featuring their most recent artificial intelligence (AI) technology was live-streamed on YouTube. The "Live from Paris" presentation highlighted AI with a brief mention of Google's "Bard" chatbot, which it debuted earlier this week.
Google's presentation was conducted a day after Microsoft's announcement. The surprise event included greater integration of AI technologies into the Bing search and Edge browser with OpenAI. However, it appears that Bard's one erroneous response has created havoc, as Alphabet shares have fallen precipitously, their worst decline in three months.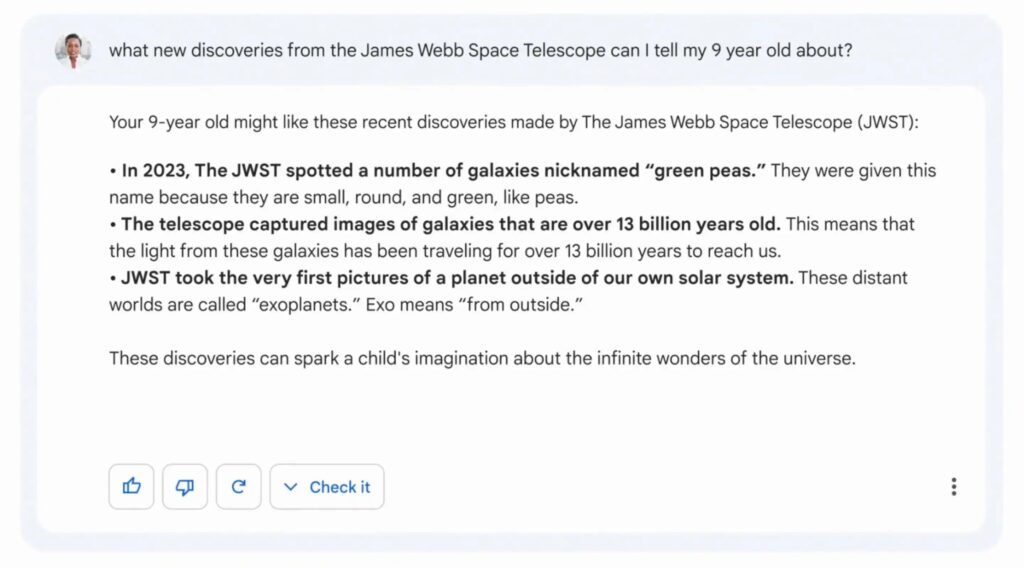 Many pointed out that Bard's claim that the James Webb Space Telescope (JSWT) was the first to take photographs of "exoplanets" in a promotional tweet was false. The net consequence was an almost 7% share price decline for Google's parent company Alphabet.
Google's Response to the Bard AI Chatbot Error
The blunder, according to a Google spokesman,
highlights the significance of a thorough testing process, something that we're kicking off this week with our Trusted Tester program
the spokesperson also said.
To ensure that Bard's replies satisfy a high standard for quality, safety, and roundedness in real-world information, they announced they will integrate external input with their own internal testing.
The LaMDA team is releasing Bard on a scaled-down version of the platform. Bard is not accessible to the general public at the time of writing this article. Before making it available to more users, it appears that Google is just keeping this open to "trusted testers" at the current time.
Additionally, Google demonstrated how responses to queries would now be generated by generative AI and presented as essays, much like ChatGPT does. But the exact release date for them is unknown.