What we think about
Coolmuster Android Assistant
If you are looking for a simple Android backup and restore software for Windows, Coolmuster Android Assistant is the best and simple tool available in the market. Check the trial version before buying the full version at $29.95
Ever lost your personal data on your smartphone and questioned yourself – It'd have been great if I had a backup?'. We are living in a technological era where anything might happen. Being precautious and backing up your data is the smart way to go ahead. Coolmuster Android Assistant is the tool that we are going to take a look at and also how it is going to solve your problems right from backing up your data to restoration. This application covers every aspect of the data backup which includes SMS, Contacts, Media (Photo & video), Calendar events, apps and everything else on your Android device. And restoration doesn't require any technical knowledge, just a simple click.
How to Completely Backup or Restore Any Android Smartphone
With Coolmuster Android Assistant, you can easily backup the entire Android smartphone and restore it anytime on the same or different devices. It comes handy during accidental data loss or when you upgrade your smartphone.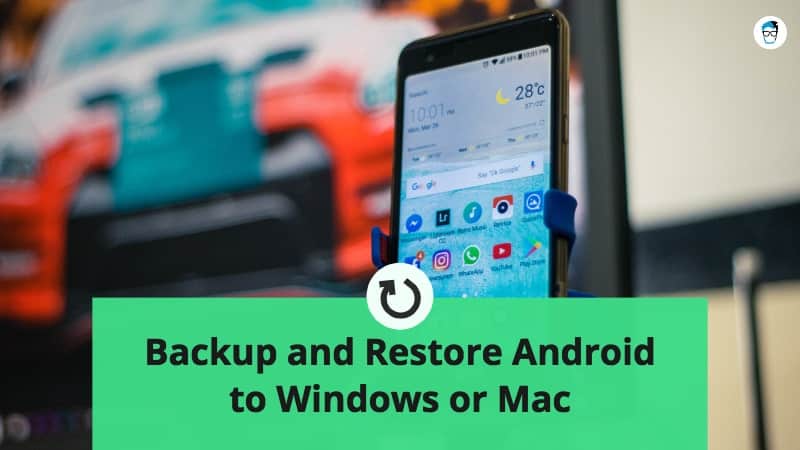 Here is the detailed step by step guide to backup and restore an Android smartphone:
Step 1: Download Coolmuster Android Assistant
To download Coolmuster for Android, visit here and select your OS (Windows or Mac) and click on the Download button. Currently Coolmuster Android Assistant is available for Windows 10, Windows 8, Windows 7, Windows Vista, Windows XP and all MacBooks running on macOS X 10.9 or higher. For this tutorial, we are using the Windows version of Android Assistant.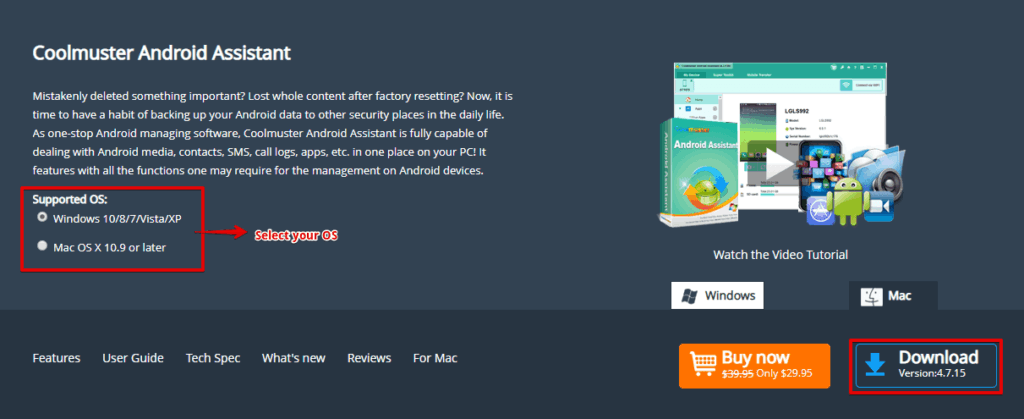 Though it supports the older versions of Windows, we strongly recommend updating your Windows machine to Windows 10 to stay secure. If you don't know, Microsoft has already stopped support for Windows 7 and lower versions.
Step 2: Install Android Assistant on Windows 10
After downloading the software, double click on the installer file and install the Coolmuster Android Assistant by following the on-screen instructions.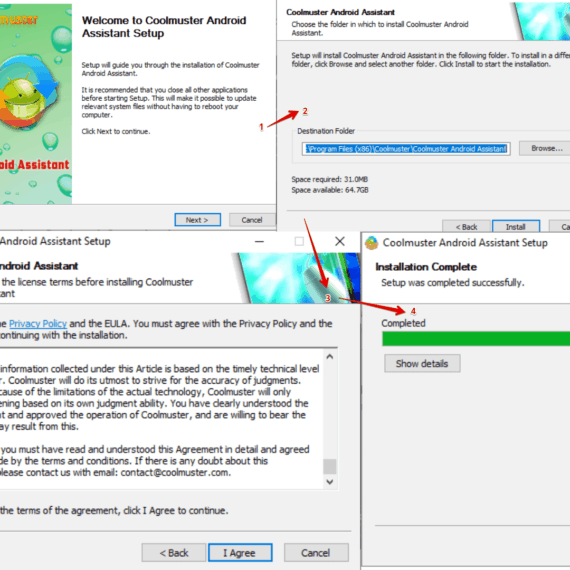 After successful installation, open Coolmuster Android Assistant and you will see the home screen as below. Activate your license (if available) immediately to use the software without any limitations.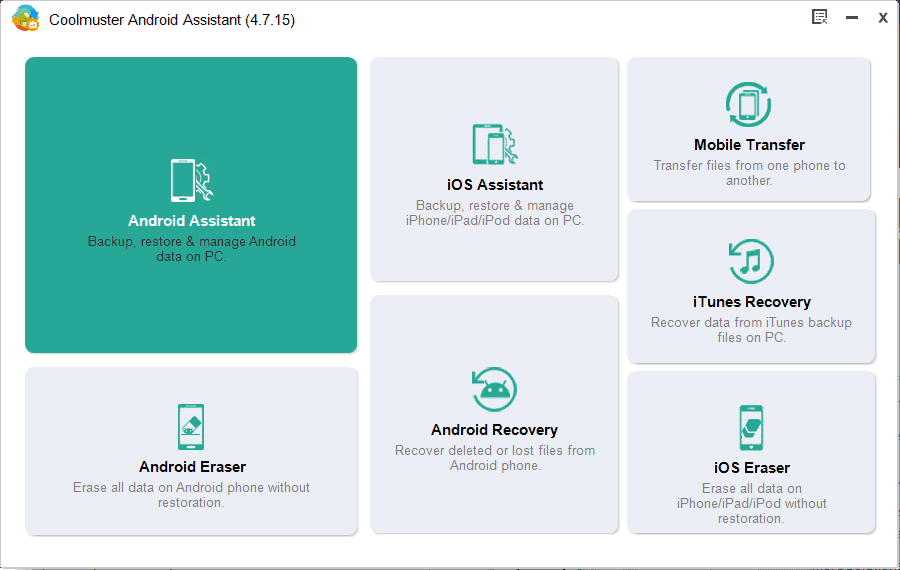 Step 3: Connect your Android Smartphone with USB Cable
Connect your Android smartphone to the computer via USB cable and wait for the application to detect the device. If the device is not detected, change the USB connection mode in your Android mobile to transfer files as the default USB connection mode will be set to charge only.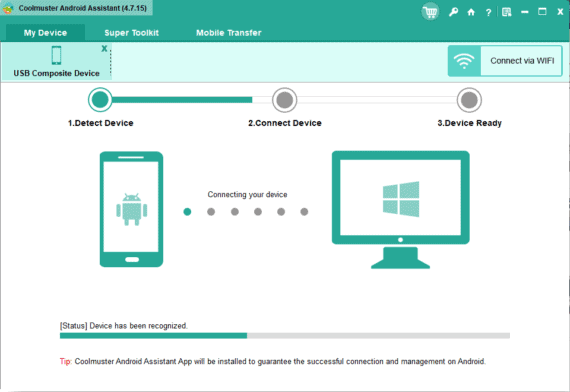 Once your smartphone is detected, enable USB debugging on your Android device at Settings > Developer options > USB debugging. If developer options are not available, go to About phone and tap on build number 7 times to activate the developer options.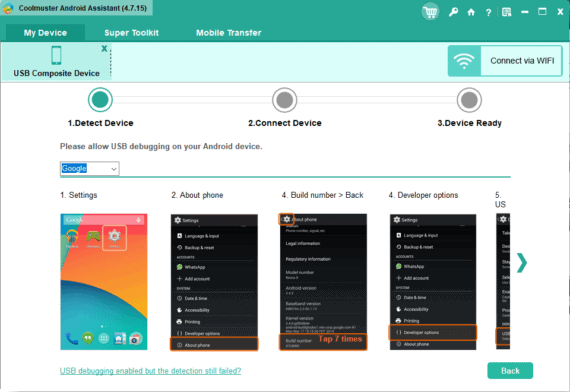 Now Coolmuster Android Assistant app will be installed on your Android device. Open the app (if not opened automatically) and allow Contacts, Phone, SMS, and Camera permissions in your Android device.
This will give access to the Coolmuster Android Assistant to access the necessary information on the computer via your mobile and allows you to use the application to the fullest.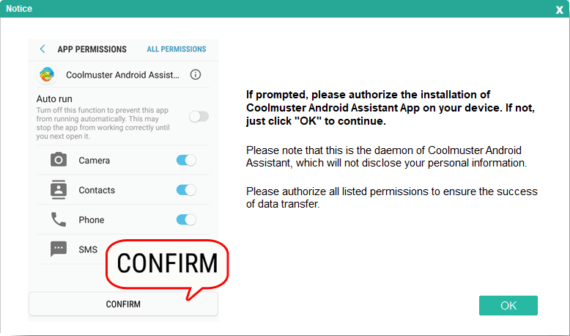 That's it! You have successfully connected your smartphone to the Coolmuster Android Assistant.
Step 4: Backup Android Smartphone
Coolmuster Android Assistant backup feature allows you to completely backup the data from your smartphone to your computer. By doing so, you can be precautious and stay safe from data loss that might happen anytime.
In case of any data loss, it also allows restoring your backup to your or another smartphone with just one click.
To backup your smartphone data select the Super Toolkit option from the top menu and choose the Backup feature.

You will find a pop-up with all the different options which can be backed up. You can choose the desired things to backup such as Apps, Contacts, Call logs, Messages and more. Once you select the desired items you wish to backup, it will show the total size on the bottom right side along with the desired location to save the backup file.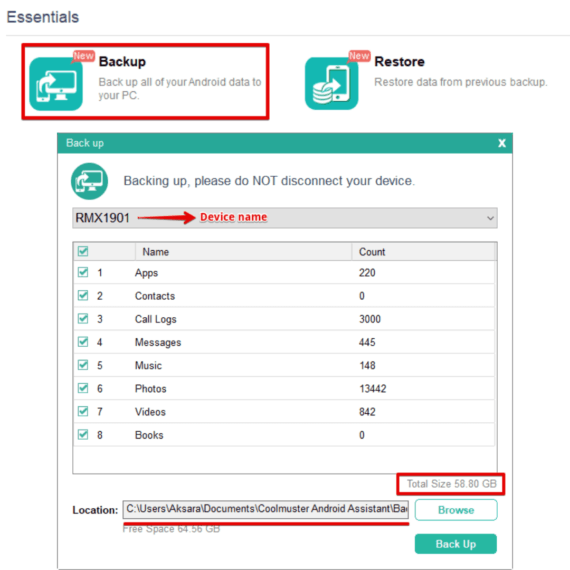 Click on the Back Up button and wait for the backup to finish. Once the backup is completed, you will be notified with the message "Congratulations! Backup successfully!".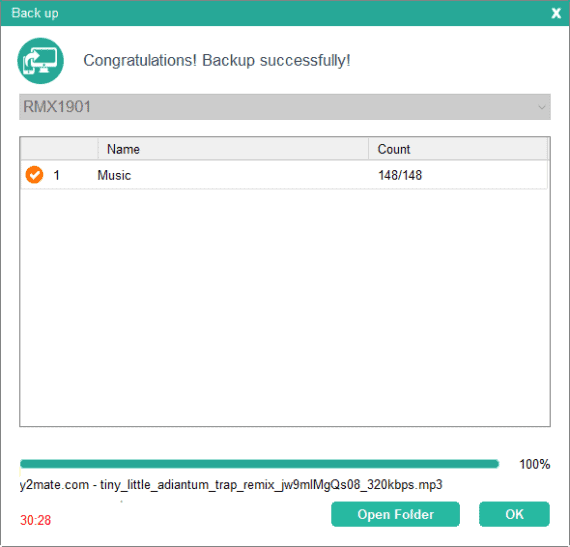 This backup file will be stored in the location you selected previously and you can use the same backup file to restore it anytime on any Android device.
Step 5: Restore Android Smartphone
To restore the backup file, connect your Android smartphone and select the Restore option under the Super Toolkit section. Here, you can see the previous backup made along with the device name, backup size and time. Simply select the backup and hit on the Restore button.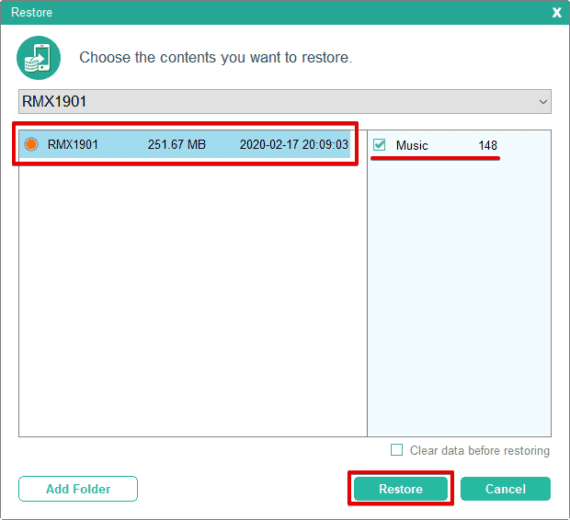 The restoration process might take a few minutes depending on the backup size. Once the restoration process is complete, you can safely disconnect your device and use it as usual.
Coolmuster Android Assistant Review
Just like any other software, Coolmuster Android Assistant has a generic looking home screen that displays all the necessary info such as the smartphone model, Android version, serial number and the total available storage in the device.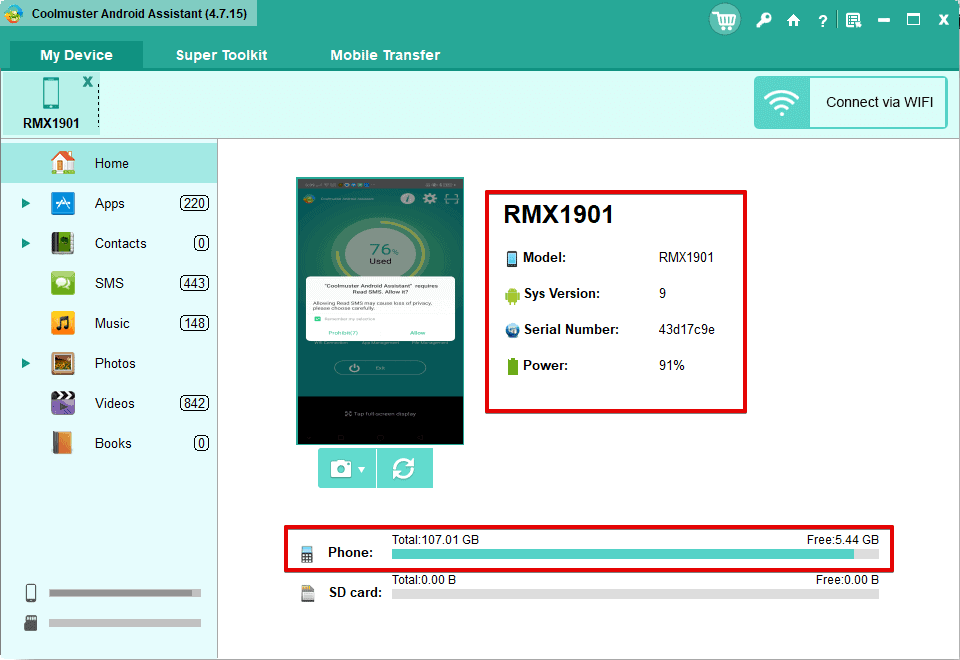 On the left side of the Coolmuster Android Assistant application, there's the count for different Apps, contacts, SMS, music, photos, videos, etc that's present in your smartphone. The simple and straight forward interface lets you surf the application at ease.
Coolmuster is a free application but limited to some features where all you can do is scan and preview the existing data on your smartphone. If you purchase the full version of the software, then lots of options will be available such as Export data, Import data, Edit & send SMS and the most important feature i.e backup and restore.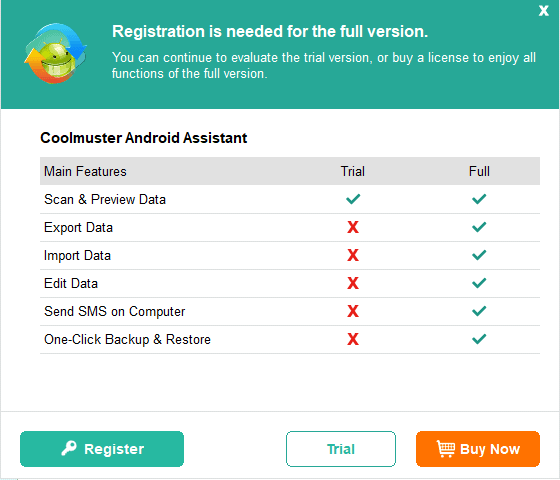 In case you have already registered for the full version of the software then let's see what Coolmuster Android Assistant got for us.
To register your product, click on the little key symbol on the top and choose the option, Register. Enter the email address and the license key that you have received in the email you used while making the purchase.
Once you enter a valid email address and the license key, Coolmuster Android Assistant will be registered for the full version.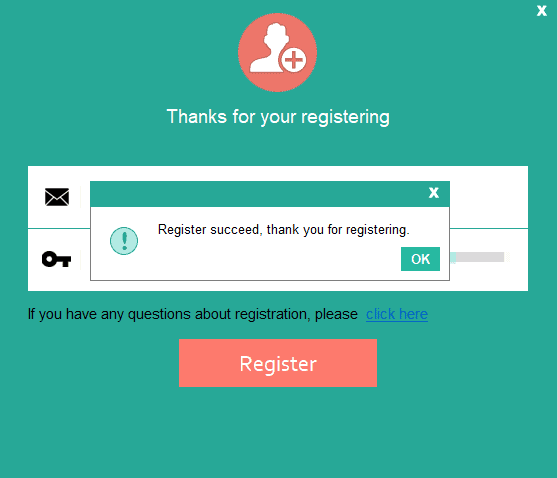 Features of Coolmuster Android Assistant
Takes complete backup of any Android device to Windows PC and Mac. Later you can easily recover full backup to either the same mobile or to a different Android device.
Easily copy phone contacts, call logs, messages, music, photos, and videos to PC or from PC to mobile.

It can delete the duplicate contacts in just one click.
Read and respond to text messages directly on your computer.
Uninstall multiple apps on your Android phone directly from PC.
Easy import and export of contacts from Microsoft Outlook.
Additional tools in Coolmuster Android Assistant
Android Assistant is your go-to feature as this contains all the necessary and important features such as backup and restore. It also comes with many other tools to manage your Android and iOS devices on PC.
Android Eraser: One-click to erase all your data from your Android device. This option won't back up your data thereby restoration is not possible. This will wipe 100% of the data in Android and restore it to factory settings.
Android Recovery: This option enables a user to recover files from an Android device or SD card no matter what type of file it is. It also has an interesting feature that shows you a preview of the deleted data before restoration.

Send SMS: Coolmuster Android Assistant also allows you to send SMS right from the application (Click on SMS > New > Send SMS).
iOS Tools: Just the same way Coolmuster has different applications for Android, Coolmuster also has different applications for iOS which includes iOS Assistant, iTunes Recovery, iOS eraser, and Mobile transfer.
By default, the Android Assistant feature is only available which is shown with a dark green color background. If you wish to install the other applications (with grey background), you can simply click on it and the feature will be installed automatically.
Android Backup and Restore with Android Assistant
Coolmuster Android Assistant is the go-to Android assistant to backup and restore data from your Android smartphone. The free version is a very basic version that helps to show you an overlook of the smartphone by displaying the count for the media file and apps. Whereas the full version lets you to backup and restores with just one click. Not just the backup part but this software also allows you to send SMS from your PC which comes in handy when needed.
Making it simple, this is one of the easiest backup and restore tool for Android. Also, $29.95 for the full version is a valid price for available features. This helps to keep the backup handy when needed.
So, If you are in the hunt for frequent backups, Coolmuster Android Assistant is the way to go. If you are not sure what you are looking at, download the trial version to explore and upgrade to the full version if you are happy with the tool.
What we think about
Coolmuster Android Assistant