Are you struggling with iTunes connecting issues and random network drops while you backup iPhone data? Not to mention the fluctuating upload and download pulses in this cumbersome process of data backup with iTunes. If you are also looking for a solution then you have stumbled on the right place. Recently, a frustrated friend of mine asked if he could backup an iPhone without iTunes to his PC just like the privileged Android devices.
Now, his question logically makes sense. While Android phones feature flash drive storage data transfer capabilities iPhones still rely on lengthy procedures of iTunes or iCloud for data transfer.
But what if there could be a utility tool that could help in easily transferring iPhone data without iTunes just via plugging in the USB cable. As a matter of fact, there is a simple solution. DearMob iPhone Manager is one stop solution for all iPhone data transfer problems and backup problems.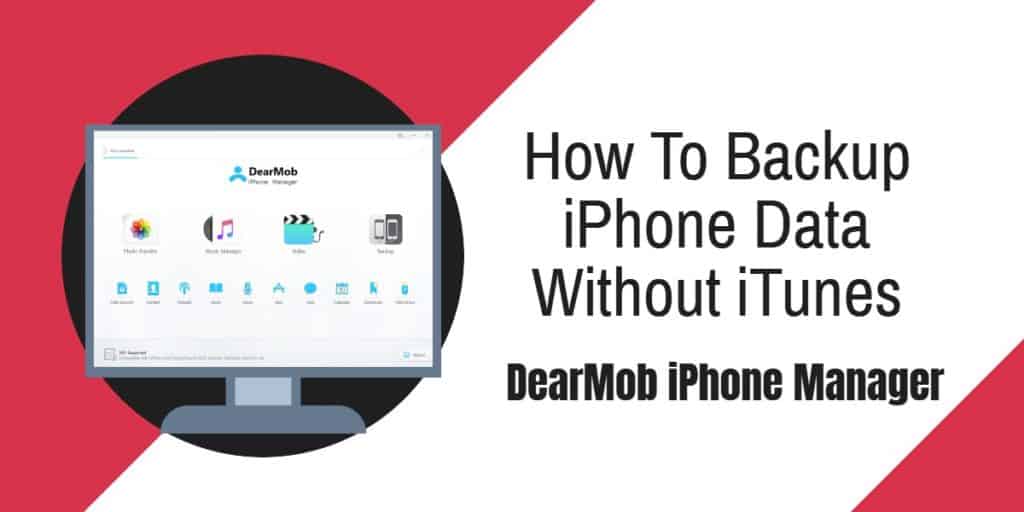 DearMob iPhone Manager is an easy to use PC utility tool and iOS manager available for both Windows and MacOS operating systems. Moreover, this tool works with just a simple plug-in function.
Yes, you read it right no worries for network drops and no stress over network bandwidth allocations for easy data transfers! Further to add, no tedious procedures on the name of extra security and privacy.
How To Get Started With DearMob iPhone Manager
To begin with, just download the latest version of DearMob iPhone Manager for Windows or MacOS depending on your device. For this tutorial, we are using the Windows version of DearMob iPhone Manager.

Click on the "Install" button and wait for the entire installation process to complete. In the meantime, connect your iPhone or iPad to a PC using a lightning USB cable.

At this point, a small dialog box will appear on your iPhone asking for permission from unknown devices. Click on "Trust this Computer" to unlock all the potentials of the software.

That's it, the software will display its default home screen with all available features. You can read about each individual feature below.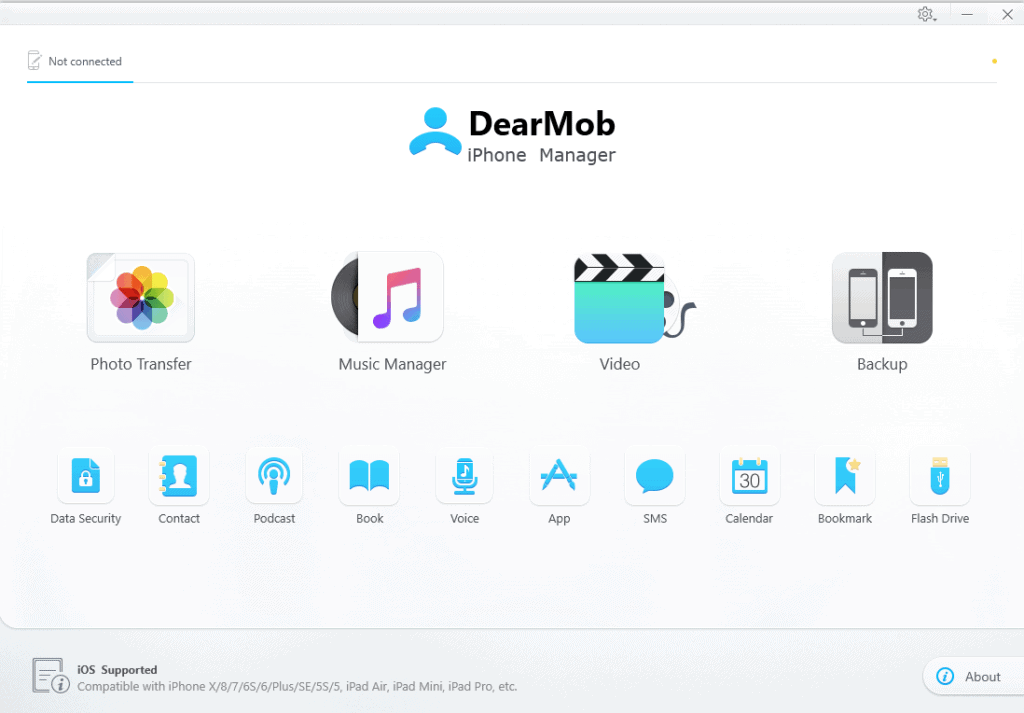 Features of DearMob iPhone Manager
DearMob lets you manage all of your files and folders on your iPhone and iPad. It reduces the dependence of cumbersome steps of iTunes and lets you easily convert, transfer, restore and backup iPhone without iTunes.
Before actually proceeding to the entire data transfer and data backup process, it will be fair to have a glimpse about the features of this iPhone Manager tool.
1. Content Management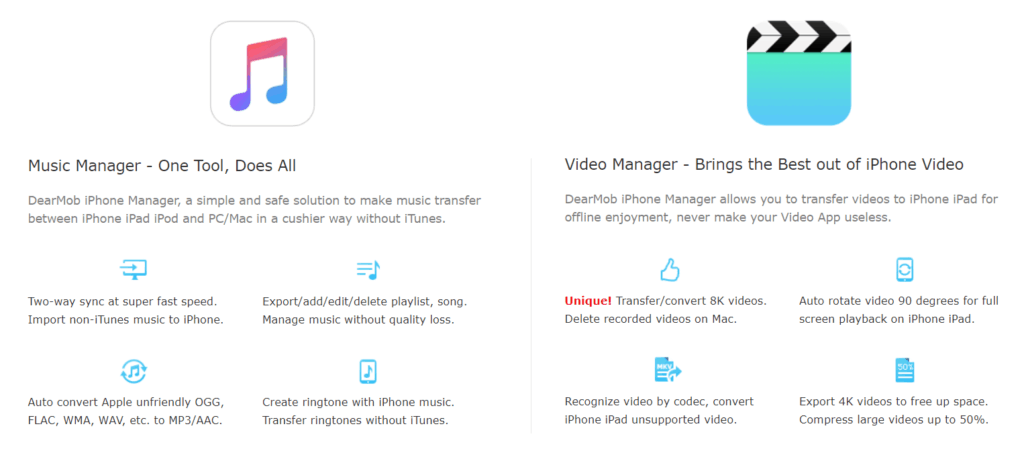 The saddest part of iPhones is that it comes with limited storage capacities. Although you can always select a 128GB or 256GB variant, those are relatively expensive.
Moreover, if you click a lot of photos and carry a huge music library with you then storage is always an issue.  With DearMob iPhone Manager you can transfer iPhone data without iTunes to your PC whenever you are short on storage.
Furthermore, you select all of the media content at once or be selective with the files. The software lets you select and transfer files by date, album or by folder as well.
2. Data Security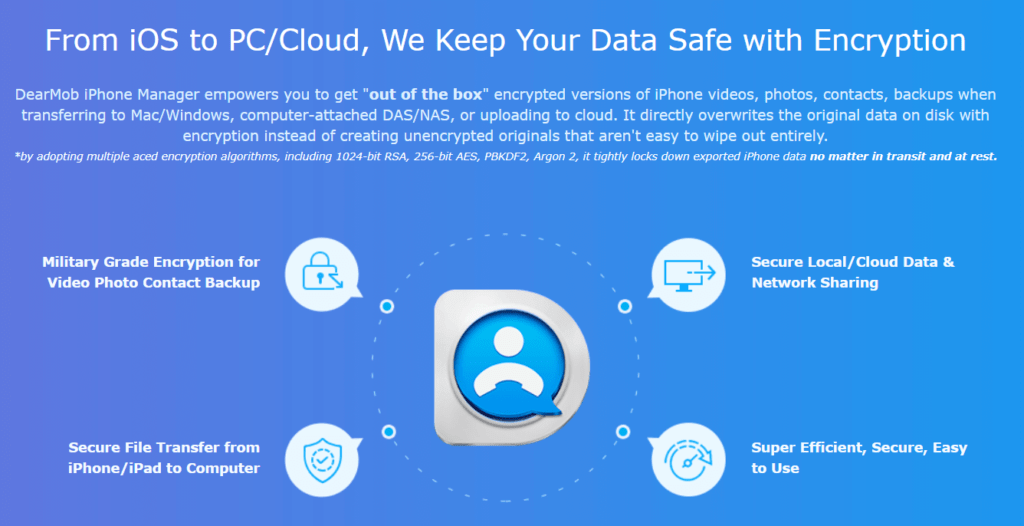 DearMob iPhone Manager offers military-grade encryption for all of iPhone's videos, photos, contacts, backups while transferring to Mac or Windows, or while uploading to cloud.
Additionally, it adopts multiple aced encryption algorithms for super efficient and secure data transfers and data backups without iTunes. The software lets you encrypt the iOS files selectively stored locally or even create an entire encrypted backup for all the data on the device.
Evidently, when you restore or backup iPhone without iTunes, you not only save time but are also adopt a much secure and efficient way of data management.
3. iPhone Data Backup without iTunes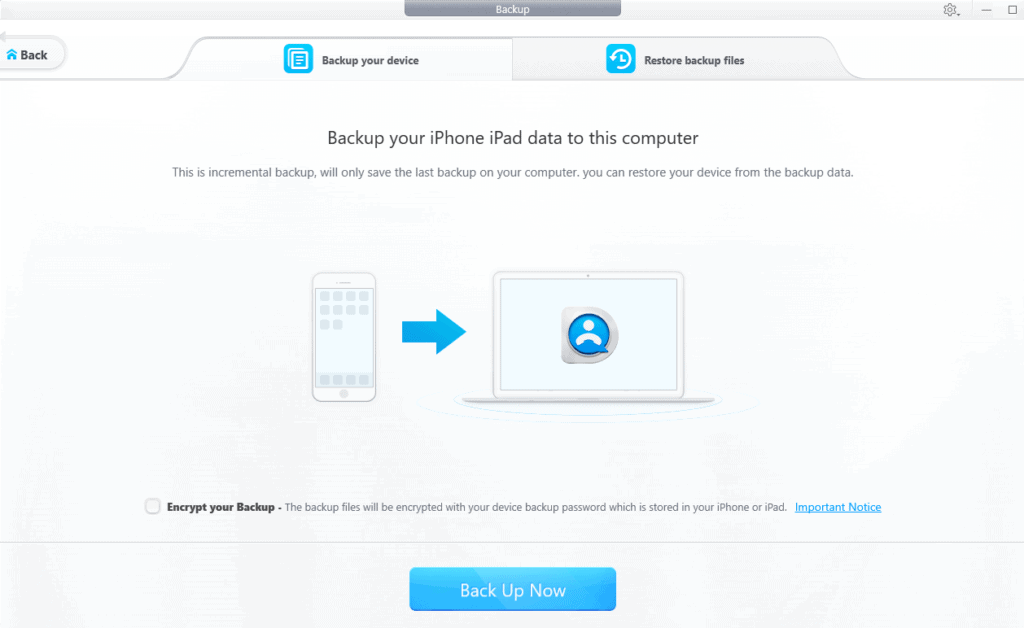 It's always advisable to periodically backup your iPhone or iPad to prevent any accidental data loss or breach especially while software updating processes.
Consequently, DearMob iPhone Manager gives options to take a selective or full backup of device data and even restore it later when required.
When I tried to iPhone data backup with this software, it actually took less than 10 seconds to complete the entire process and create the backup file, which is significantly very fast speed. With this single tool, you can save a lot from spending on those pricey iCloud plans and also easily backup iPhone without iTunes.
4. Media Conversion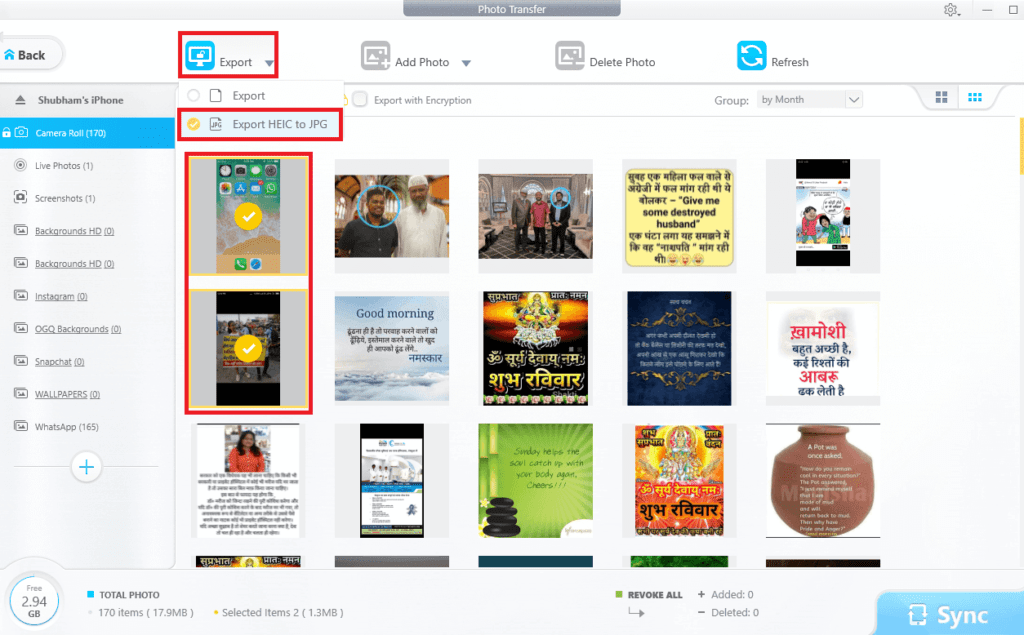 In addition to data transfer and data backup options, DearMob also has some advanced features. It can directly convert photos from HIEC to JPEG format to be able to edit and preview on Windows computer.
Also, it enables the user to merge and convert contacts to PDF file. Furthermore, a user can also rotate the videos, export SMS directly to PDF, and even backup iPhone books in universal formats like PDF and DOC.
Steps To Backup iPhone Without iTunes
Here is the step by step guide to backup iPhone without iTunes:
Connect your iPhone to Windows PC or Mac using a lightning USB cable.
Open DearMob iPhone Manager.
Tap on Trust this Computer button on your iPhone.
When the software detects your device click on the Backup option.

Click on Backup Now button in next screen to start the quick backup process.

And Voila! this is how you can easily backup iPhone without iTunes in Windows. The steps are same for the Mac version of DearMob iPhone Manager and the user interface is intuitive as well.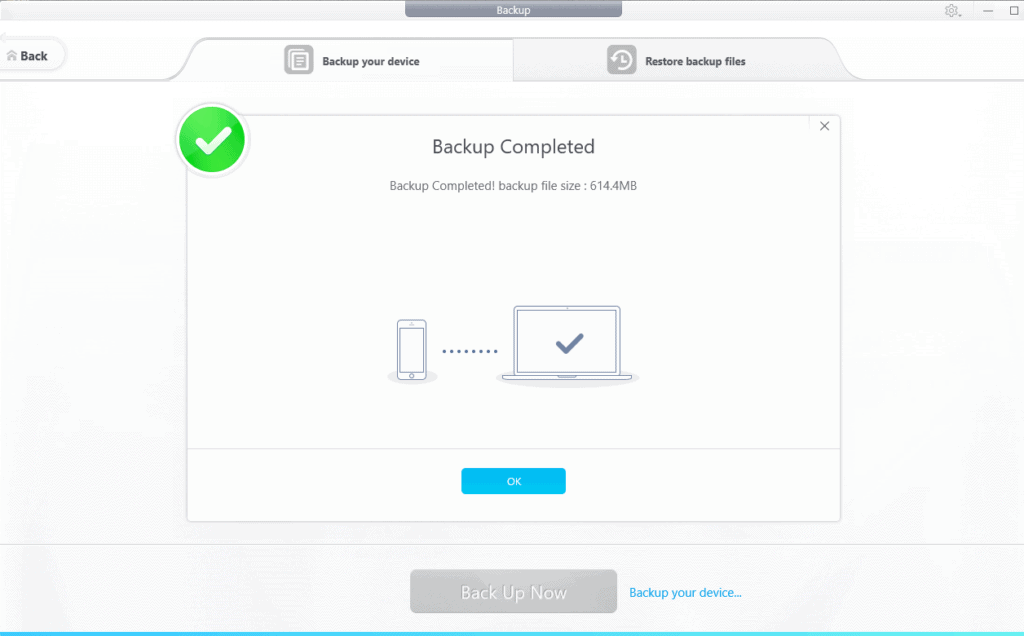 Step by Step Guide To Transfer iPhone Data without iTunes
Along with the conventional backup and restore capabilities, DearMob iPhone Manager also offers selective and batch data transfers.
You can easily export and import music files, video files, documents, SMS, and even Calendar events. Surprisingly, all this without the need for iTunes!
Here is your you can transfer your iPhone data to another laptop or PC without iTunes:
Open DearMob iPhone Manager and select the media category form the home screen you want to transfer.
Select the files you need to transfer to your PC.
Click on the Export button and the data transfer process will be initiated.

As soon as the iPhone data transfer process completes, the software will automatically open the folder where the files are saved.

DearMob iPhone Manager Pricing
In particular, DearMob iPhone Manager is not the most economical option out of all the iOS data managers available in the market. However, the ease-of-use, platform independence, faster data transfers coupled with security and encryption services, it surely stands apart from its competitors. The software is available with the following subscription plans.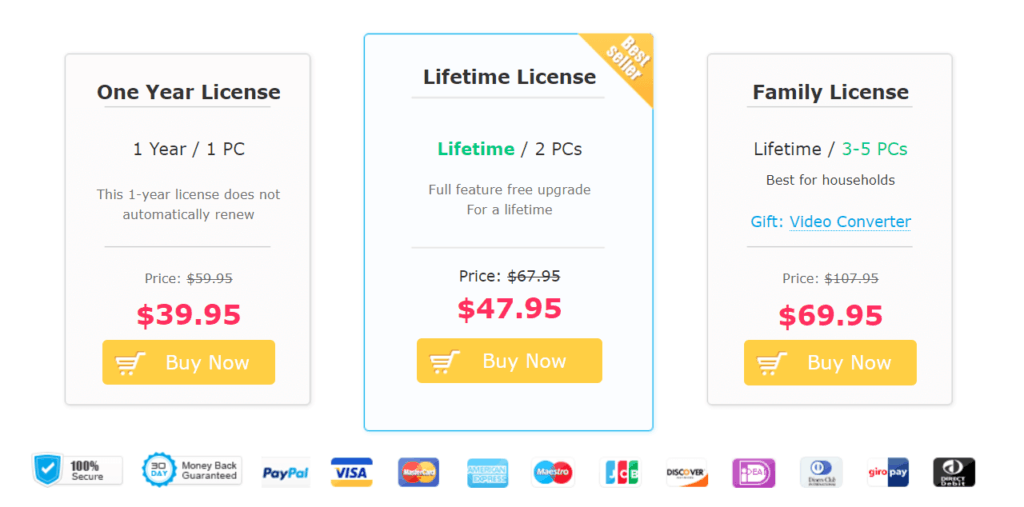 One-Year License: You get one license which will support 1 computer with free upcoming updates for 1 year. The subscription is priced at $39.95.
Lifetime License: You get two licenses which will support 2 computers with free upcoming lifetime updates. The subscription is priced at $47.95.
Family License: The subscription is priced at $69.95 and gives you lifetime access to DearMob iPhone Manager for 5 computers.
Giveaway
DearMob iPhone Manager is running a promotional offer where you can get 1 license copy for absolutely free. All you need to do is head over to the giveaway page and claim your free registered license key.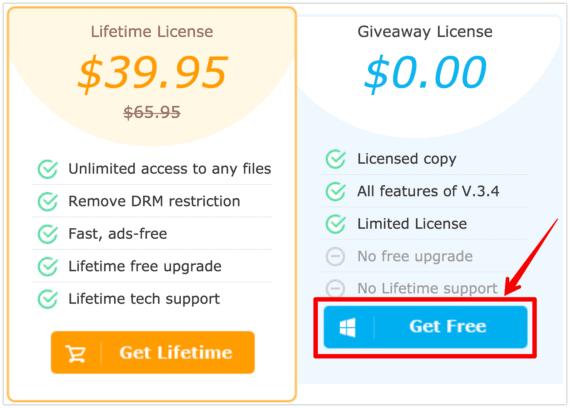 Final Words on iPhone Backup without iTunes
DearMob iPhone Manager is indeed way more than just a file manager. This iOS Manager is undoubtedly the best software that an iPhone user needs to manage the device even in limited storage. Whenever there will need to transfer and backup iPhone data without iTunes, DearMob iPhone Manager will cover it all.
It is indeed a straightforward, easy to use, simple, efficient and super secure option for all those media and app management requirements.
Moreover, with a promotional free license from their giveaway, this software deserves every bit of space on your computer. Summing up, if you have any questions regarding the software do let us know in the comments section below.