Before starting this AweEraser review, let's first blow your mind with the fact that you can't permanently erase your confidential data just by formatting the drive, whether it's your HDD, or flash drive.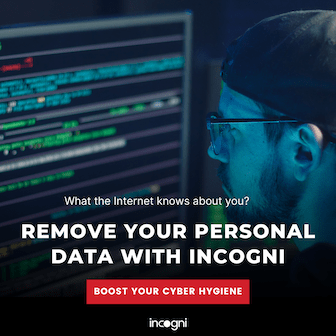 Wait, what? This sounds straight from the James Bond movies, isn't it? Sort of!
Think of this as your jigsaw puzzle; even if you scatter the pieces, someone can still figure it out and arrange them. The same goes for the data in your drives, computers, and phones. Even if you've formatted it, the data still remains but just gets scattered. And anyone with god-tier skills in computer science (hackers obviously, and who else?) can arrange the pieces and may misuse your data without you knowing.
But why am I telling you this? Because these frightening activities had happened to me in the past. At this point, you might have guessed my profession and that I write articles for paying off my EMIs.
Just last year, I accidentally leaked half of all my written articles after losing my pen drive, although I was pretty confident it was well-formatted. Nonetheless, I discovered later that many of my articles were being published with somebody else's name and credit, without my knowledge or consent. I was quite shocked because it was too late to claim my authority. So, I immediately started researching and brain-storming on how I can make sure this doesn't happen ever again.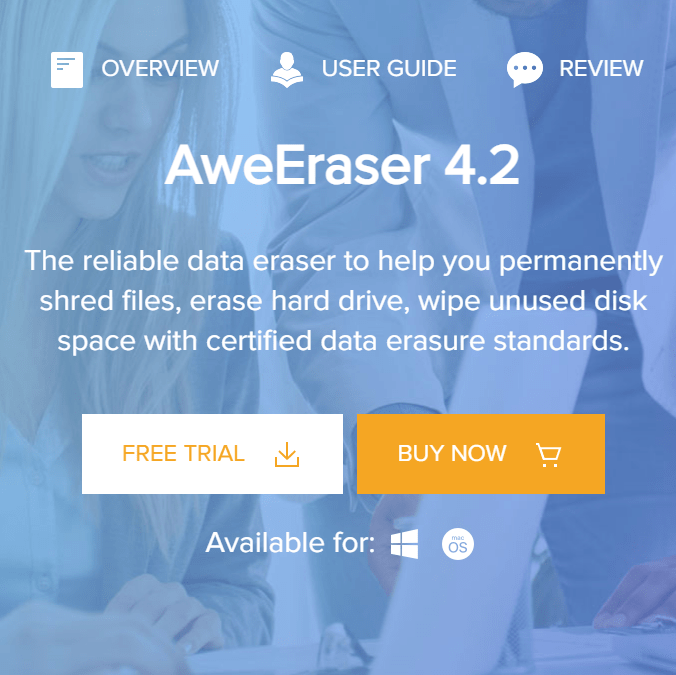 Soon I discovered AweEraser, which is an incredible tool for permanently wiping out your drives and folders without leaving any single file behind. And once I started using this data erasure tool, I slept pretty well ever since, knowing that I haven't accidentally left any private information in the drive that my colleague borrowed.
Then, I realized I should definitely gather my experiences with AweEraser and spread the word. Because once your private data falls into the wrong hands, the consequences would be unimaginable. And who knows how many people often face the same issues I did? So, I fired up my laptop and started compiling the AweEraser review that you're reading now.
What is AweEraser and How is This Tool Beneficial?
Available for Windows and Mac, AweEraser is one of the most reliable data erasers that helps you permanently shred files, erase hard drives, and wipe unused disk space with certified data erasure standards.
Now that's already mentioned on their website, so what's new?
As you just read from the introduction, securely erasing all confidential files from your drives isn't as easy as hitting the format button. Plus, you may not realize how dangerous it is to leave back your private data while you're sharing your drives, letting someone borrow, or simply reselling them.
Therefore, in order to make sure that your confidential data doesn't get stolen by strangers, we strongly recommend permanently erasing all your private information with secure and reliable data-shredding software.
Magoshare's AweEraser is an outstanding option that can permanently shred data on any storage device and overwrite the disk space with zeros.
It offers flexible data erasure solutions that not only help you securely wipe storage devices but also shred confidential files, wipe free disk space, uninstall applications & drivers, and clean up internet privacy.
Handy & Beneficial Features Of AweEraser
This software is designed with certified data shredding algorithms, including HMG Infosec Standard, U.S. Army AR380, and Peter Gutmann's algorithm. If the names didn't wow you, then let's run down the different data erasure modes of this software.
The software offers three different data erasure modes, with each having five strength levels for erasing any sort of private data from the system. Under varying circumstances, the users of this tool can ensure that confidential files have been permanently removed from their system, beyond the scope of data recovery.
1. ERASE FILES
Erase Files is the most common data erasure mode that everybody uses the most, including me. This software mode helps you permanently wipe out specific files and folders, far away from the capabilities of any data recovery service yet. Manually select your sensitive files and folders, and it will shred them once and for all with one click.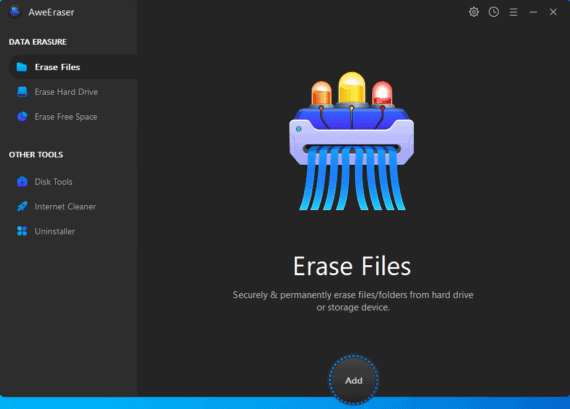 2. ERASE HARD DRIVES
Now, this mode is something that I often use before handing someone my flash drives. If you want to shred an entire disk partition of your system, then there's no better way. This mode also works well with external hard drives, USB flash drives, and even file management systems like RAID or ZFS. Just plug it in, and let AweEraser handle the rest.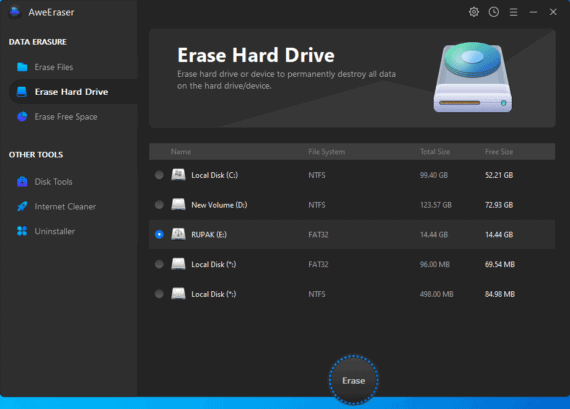 3. ERASE FREE SPACE
The third data erasure mode on this software stores all your deleted files so that you can recover them later from reliable data recovery services. However, if you prefer to keep your existing files while wiping out the remaining space, then you can select this mode. This mode won't affect the existing files which are already present in the drive.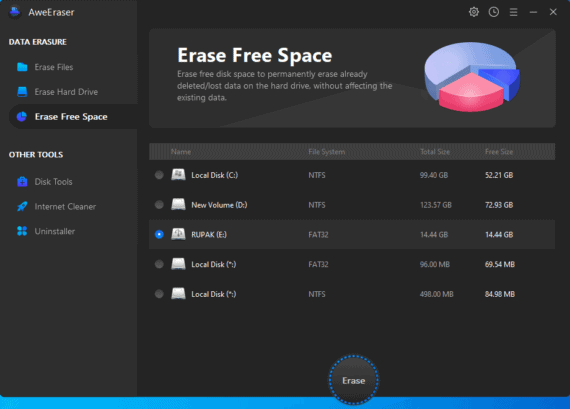 4. DISK TOOLS
As an early-user of AweEraser, I always wanted this feature, which the developers recently added. Disk Tools helps you scan and find logical errors and then fix them without affecting the rest of the information on the partition. You can safely format and rename hard drives or external drives, even if the file architecture is damaged or corrupted.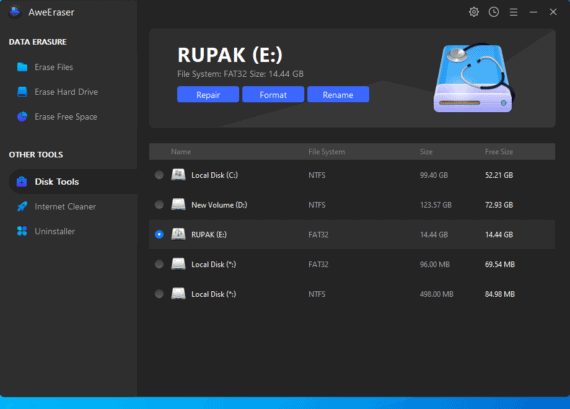 5. INTERNET CLEANER
This is yet another useful tool that has saved me more than I would like to admit. It's true that we all have private data stored in our browsers, such as browsing history, cache, passwords, and endless amounts of junk files. Internet Cleaner helps you erase everything ever stored by your data-hoarding web browser with just one single button.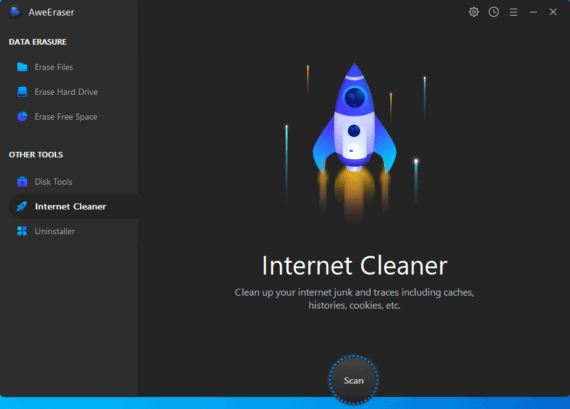 6. UNINSTALLER
The uninstaller does the exact thing as the name suggests; permanently uninstalls applications and drivers while also wiping out its associated data junks.
Once you select this tool, you'll be presented with the entire list of your installed third-party applications. Just choose the ones that you no longer need or cause issues, and shred them forever.
AweEraser Pricing: Unbelievably Affordable
Here comes the craziest part that attracted me in the first place. You may expect sky-rocketing pricing for one of the most potent data-erasure tools that provide peace-of-mind to thousands of businessmen, enterprises, and individuals.
But surprisingly, that's entirely the opposite. Individuals can own AweEraser for a lifetime just by spending $29.95, whereas businesses and enterprises can get relief for only $199.00. Now that's mind-blowing given the conveniences, features, and overall, the peace-of-mind AweEraser offers. Wiping your hard drives out now gets more affordable!
Not sure whether you should spend the money? Check out the FREE TRIAL version of AweEraser for Windows and Mac.
What I Liked & What I Would Like To Have
Now that we've extensively discussed the feature-sets and offerings of AweEraser let's jot down everything we have liked and disliked so far about this data-eraser tool. Or in other words, let's run down the good-old pros and cons.
Features That Stood Amazing
Permanently removes any sort of private data.
Implements industry-standard data erasure algorithms
Flexible data erasure modes for every requirement
Supports wide assortments of hardware and formats
Available for Windows & Mac with an intuitive UI
Supports server-grade architectures like RAID & ZFS
Features That Can Be Added Or Improved
Sometimes takes hours for slower & old-school drives.
Relies heavily on the storage pipeline like USB & SATA
Crashes on hardware-encrypted Mac devices with T2
No backup options for accidental data deletion
Native apps on Android & iOS would be appreciated.
Adding inbuilt data recovery algorithms would be great.
Let's See What Other Users Are Saying About AweEraser
AweEraser is well-received and appreciated by more than 200,000 users, especially those in the business and corporate world where every byte of data is confidential and should be kept secret.
So far, in this article, you've been reading my thoughts and opinions only. Let's now check out what other users think about AweEraser and how this data-erasure tool has helped them achieve peace-of-mind with their private data.
Davis Miller from Scotland says,
I had very private documents on my MacBook. But when I planned to resell it, I was really worried about leaking my personal information. Thanks to AweEraser; it helped me securely remove all my personal files beyond the reach of any data recovery. Plus, the UI is quite intuitive and takes just minutes to wipe out any information
Jennifer McKinnon from the United States adds,
I work for the US Government, thus, I strictly make sure that any of mine or the government's private document doesn't get leaked accidentally. Once I started using AweEraser across all my devices, I feel less worried about keeping my data confidential. AweEraser handles everything seamlessly and I'm quite happy with this tool.
Here's what Anthony Sebastian from Canada told,
Being enthusiastic about technology, I review dozens of phones and computers. To efficiently switch between all those devices without leaving my personal data, I find AweEraser quite beneficial. Honestly speaking, my devices are scattered in my office, thus, AweEraser makes sure even the last byte of data has been securely erased.
Should You Choose AweEraser?
That perfectly brings us to the final question; Should you go with AweEraser?
Definitely YES if you're cautious about your private documents. With this tool, you can shred and wipe out any form of confidential data – whether it's your hard drive, USB flash drive, portable media devices, or smartphones – no matter how complex the file architectures are.
AweEraser pretty much packs everything for individual and enterprise users. And as the AweEraser license code is valid for a lifetime, you won't regret your decision in the long-run. Even if you are undecided about buying this tool, you may check out the FREE TRIAL version of AweEraser for Windows and AweEraser for Mac.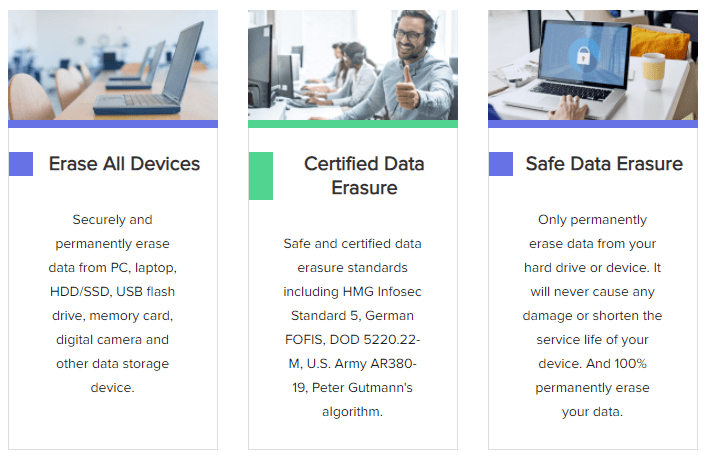 Frequently Asked Questions
What are the supported devices for AweEraser?
Compatibility is necessary for all, thus, AweEraser recognizes dozens of storage technologies with regular updates for further added support. For instance, you can connect and wipe hard drives and even advanced file systems like RAID.
Does AweEraser support advanced file architectures like NTFS and exFAT?
Not only advanced file architectures like NTFS or exFAT, but AweEraser is also compatible with enterprise systems and server file management systems, including FAT 12/16/32, NTFS-5, EXT-2/3, RAID, ZFS, HFS, UNRAID, etc.
What kind of backup options does AweEraser have for accidental wipeouts?
As of now, AweEraser doesn't have native support for data recovery in case of accidental deletion. However, the developers of Magoshare have stated that they are already working on it and will soon roll out this anticipated update.
Does AweEraser slow down the drive or system partition after erasing the data?
Rumors spread faster than computer viruses, and we cannot leave our readers infected. AweEraser does not decrease or affect the lifespan of the storage device; neither possesses features that harm the file architecture of the given drive.
From where can I get AweEraser License Code?
You can visit the official website of
Magoshare AweEraser
, where you can either try out the tool for free or purchase the AweEraser license code for individuals or enterprises. It also features an incredible 30-day money-back guarantee.
My Final Thoughts
Don't ever repeat the mistake I did, leaving my personal drives without wiping them out through reliable data erasure services like AweEraser. It's reliable, secure, not so fast but will get the job done, and incredibly affordable.
While the AweEraser pricing may seem daunting for some, believe me, once you purchase it and use it for securely wiping out your private information, the price will be completely justified. After all, the AweEraser license code is valid for a lifetime so that you won't regret it.
So, what's your opinion on AweEraser?
Let us know in the comments section. If you found this AweEraser review beneficial, don't forget to share and spread the word. Who knows, your share may save someone's private data from getting stolen.