Artificial Intelligence and its applications have been the rave for quite a while. After ChatGPT broke into the scene, everything seemed to be about AI. The list is unending, from AI photo enhancement and music creation to regenerative AI. Video upscaling is not left out, and in this review, we discuss AVCLabs Video Enhancer AI, exploring all its quirks and features.
Ultimately, we also give you our expert opinion and recommendations that should help you decide if the video-enhancing tool is the right choice for you. Let us get to it.
Overview of AVCLabs Video Enhancer AI
AVCLabs Video Enhancer AI is powered by AI and offers automated deep-learning video upscaling and enhancement. It restores old videos, colorizes black-and-white clips, and increases video resolution without losing quality.
It supports Windows 11, 10(64bit) systems, macOS 10.15 and above using the Apple M1 Chip, and can receive inputs in several formats including 3GP, 3G2, DIVX, AVI, F4V, FLV, WMV, M2TS, MOV, MTS, M4V, OGM, MP4, MPG, MPEG, DAT, TP, MKV, RM, RMVB, TS, VOB, WTV, DV, ASF, WEBM, etc, and outputs in MKV, MP4, MOV, and AVI.
The tool is regularly updated. For example, in July, a v3.2.0 update for the Windows app included support for TensorRT acceleration. This update is exclusive to the GeForce GTX 10 series, RTX 20, 30, and 40 series of NVIDIA GPUs, providing improved performance, faster processing of videos and images, and decreases the amount of GPU memory used.
Getting Started With AVCLabs Video Enhancer AI
Using this video upscaling and enhancing software is very simple. Once downloaded, you should process your first videos in just a few steps.
Download AVCLabs Video Enhancer AI from the official website.
Double-click the downloaded file to start the installation and follow the prompts.
Once installed, add your video by clicking the Browse button, selecting a video, or simply dragging a video to the Drop Video File or Click to Open area.

Select your Presets, Resolution, AI Enhancement, Video Format, and Output Settings on the right pane, then click Start Processing to begin video rendering.

Click the Open Folder button to view the final output.

Below are the before and after results we got.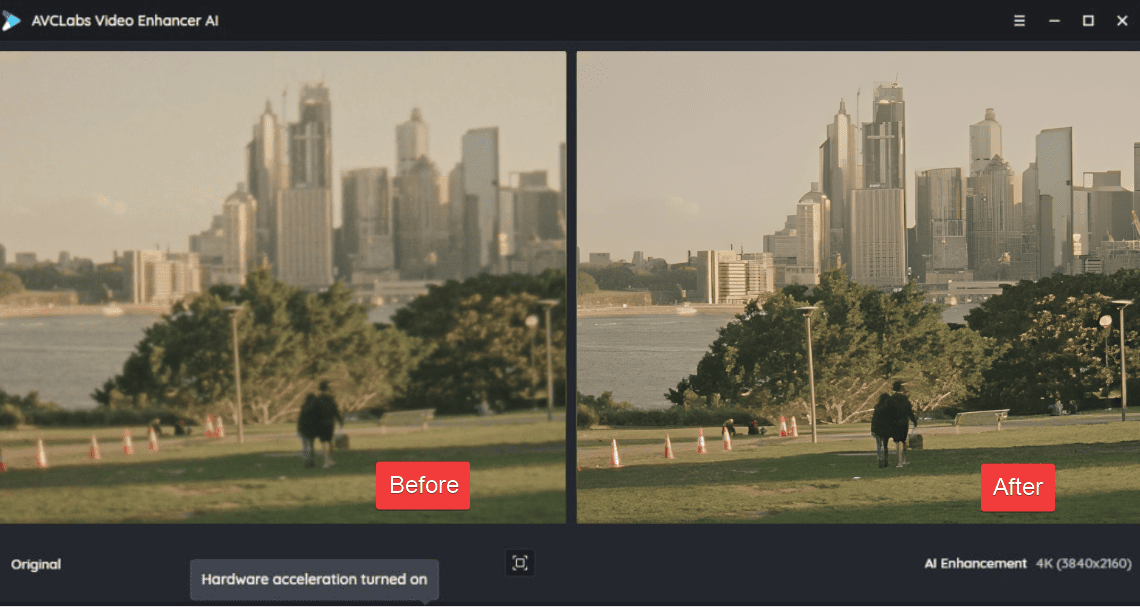 While the process above may be the most used, this tool's specific features make it stand out. We tried them out, and below are some of our favorites.
AVCLabs Video Enhancer AI Features
1. Multi-Frame Technology
AVCLabs Video Enhancer AI comes with a multi-frame technology feature that simultaneously enhances multiple video frames. Thanks to this feature, the tool will more accurately sharpen video details, identify and remove noise, and improve your video's overall quality.
The effect of this feature seems more vivid when used on videos shot in poor lighting conditions or shaky cameras. It reduces artifacts and blur, giving the video a better smoothness. The technology also makes upscaling low-quality videos more accurate.
2. AI Enhancement
AVCLabs uses its AI Enhancement tools to augment old video quality and upscale poor-quality videos to high-definition, 4K, and 8K resolutions. This feature gives you 5 options: Standard, Ultra, Ultra (Multi-Frame), Standard (Multi-Frame), and Denoise.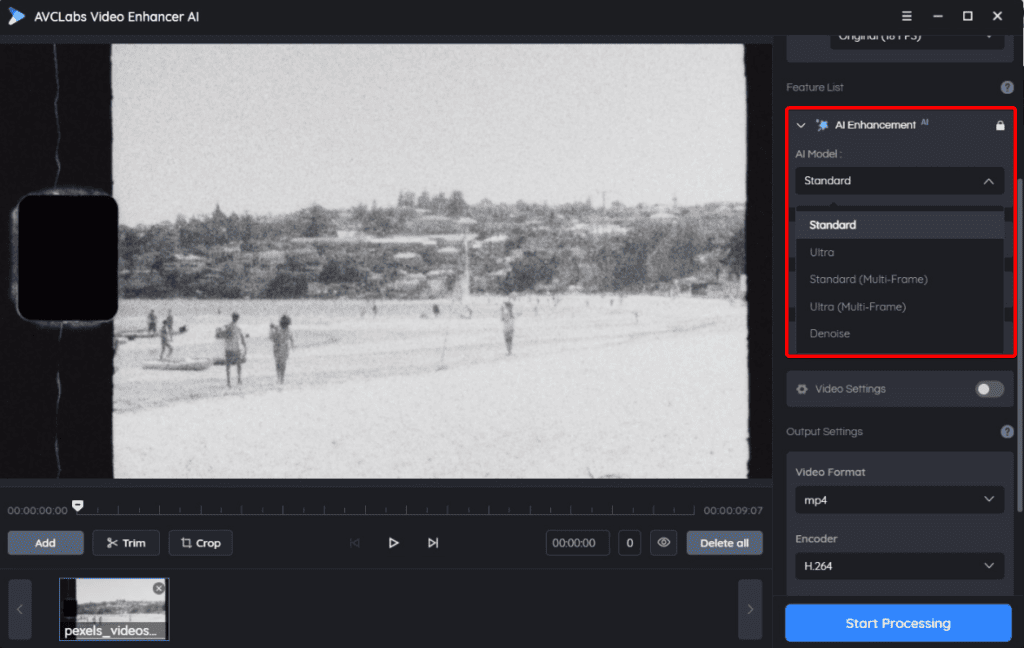 Standard: The Standard AI Enhancement processes videos frame-by-frame at the fastest possible speed. This is an option for computers with low performance. There is a multi-frame variant of this mode that will decrease blurring and flickers. However, it is a bit slower in processing and requires a dedicated GPU with a minimum of 6GB of memory.
Ultra: While the Standard mode processes at the fastest rate, the Ultra takes twice the processing time but is great for upscaling to 4K. The model also only works for computers with a dedicated graphics card and a minimum of 4GB of GPU memory. There is also an Ultra Multi Frame version that will process 13 video frames simultaneously. However, it requires a dedicated GPU with at least 8GB of GPU memory.
Note that the Standard (Multi-Frame) and Ultra (Multi-Frame) options are only available on Windows, and all of the AI enhancements support video denoising.
3. Face Enhancement
The AI-powered tool offers an efficient model for detecting, recognizing, and enhancing faces in videos. It allows users to restore faces from old videos and improve the overall quality of the footage.
We have noticed that enabling face enhancement will result in an additional processing time of 2 or more seconds per frame, depending on your computer's configuration.
4. Colorize
This feature is great for black-and-white images that seem to be shot on very old cameras. It brings them to life by including vivid colors to them.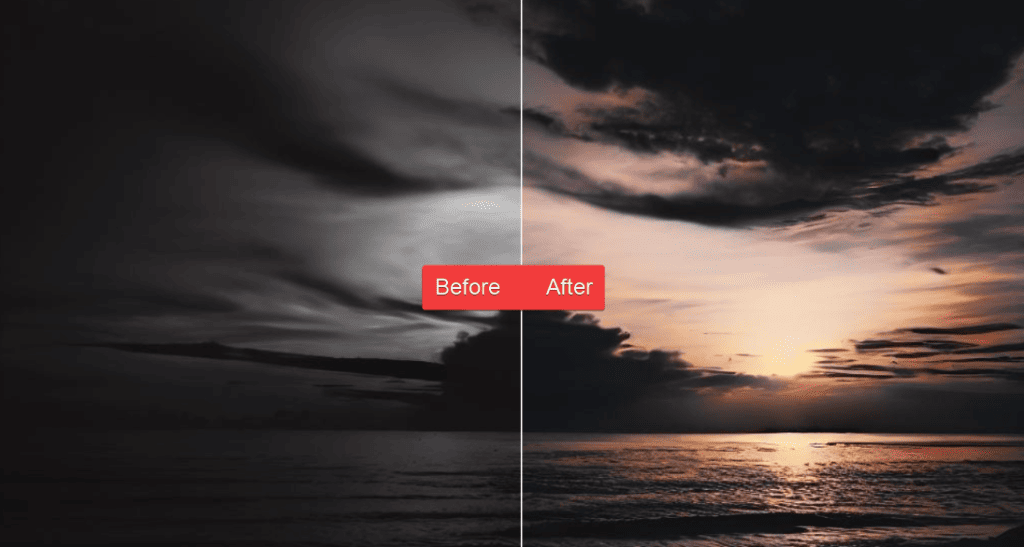 To use this feature, you will have to drag the Render Factor slider to a specified range before processing the video.
5. Easy Editing Features
Even though the tool is not seen as THE video editing app, it offers basic video editing features like trimming, cutting, and color adjusting. We like this because it means that you would not require other applications for most of the light editing you need.
The process of using these features is very user-friendly. For instance, to trim, simply input a timestamp into the box at the bottom of the AVCLabs Video Enhancer AI interface or select the trim portion by dragging the progress bar to mark start and end points, then click Apply.

Its crop function lets you remove specific parts from a video frame. This feature is very flexible, with provisions for cropping selected presets, the original aspect ratio, and cropping freely. With an Apply to all videos option, you may parse the crop settings and preferences to every video you have added to the app. This is a huge time-saving feature.
AVCLabs Video Enhancer AI Pricing
The tool has three pricing plans:
1-MONTH PLAN: $39.95
1-YEAR PLAN: $119.95
PERPETUAL PLAN: $299.90
All plans offer a full set of features, one license for 1 PC, and free updates & 24/7 support. However, the perpetual plan offers a 30-day money-back guarantee, whereas the other plans offer a 5-day money-back guarantee.
Pros and Cons of AVCLabs Video Enhancer AI
We love the tool because it is packed with so many great features. However, there are a couple of drawbacks. Below are the top pros and cons:
| | |
| --- | --- |
| Pros | Cons |
| It has an extensive set of powerful AI-powered video enhancement features | On mid-range computers, video processing is time-consuming |
| The interface is intuitive and very easy to use | It works with only Windows and MAC computers, there are no mobile versions |
| The pricing is affordable pricing, and you may avoid recurring subscriptions using the perpetual plan | |
| It has multiple settings to finetune the final video output | |
| The video enhancement process can be paused and restarted at will | |
Final Thoughts: Is this AI Video Enhancer Good Value for Money?
To conclude this review, the AVCLabs Video Enhancer AI is a tool that makes upscaling and enhancing your videos a seamless process. Like many video processing applications, it works better on higher-end computers, so we suggest installing it on computers that are well above the minimum installation requirements.
We love that it comes with many preset video quality options. This means you may go above and beyond in upscaling or video enhancing or keep it as simple as you need.
It is also beginner-friendly. Almost intuitively, you will know how to navigate and understand what the different settings do.
So, do we recommend it? Yes. We would love you to try it out and share your thoughts in the comment section. Remember, it comes with a money-back guarantee, so if you are not impressed, you may opt for this option.