What we think about
AudiOn
Recording

9
Background Audio

8
Audio Editing

8
Background Effects

8
Equalizer

9
Episodes

10
Export Formats

8
Pricing

10
User Interface

9
AudiOn is an iOS voice recording app that enhances audio quality, offering effects, editing, and seamless merging. The app is free to use but requires a subscription to export audio files.
The app is user-friendly and comes with features like background audio, various export formats, reverb effects, equalizers, and clip editing. The app is recommended for content creators, with a range of subscription plans available.
The guys at Global Delight are on a roll. Not quite long ago, we did a complete review of their amazing music-splitting tool AuDimix. At the start of August 2023, they announced AudiOn, and we've got our hands on it for a full review.
In this review, we explore the voice and audio recording app AudiOn for iOS and will discuss all its quirks and features.
We give you our thoughts and let you know how it fares compared to other iOS voice recorders. So, if you are a YouTuber, social media influencer, podcaster, or content creator, you will want to read to the end.
Overview of AudiOn
AudiOn is a robust iOS application that improves your voice recording experience. It allows you to effortlessly unleash your creativity and craft captivating audio moments, offering advanced effects, seamless editing, and exceptional sound quality.
It offers all its features for free, even though you will need a premium plan to export your files. We will talk more about pricing later in this guide.
The app is compatible with iPhones running iOS 14.3 or later and the iPod touch running iOS 14.3 or later.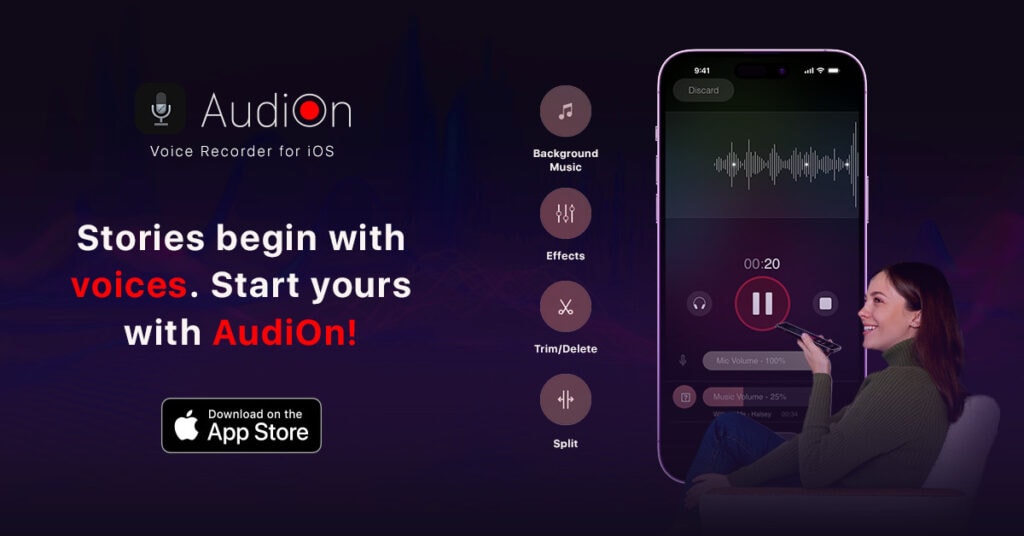 Getting Started with AudiOn
To get started, you need to visit its app page on the App Store to download AudiOn. After installation, open the app, and for the first three welcome pages, you may click Next, Next, and Start using the app button.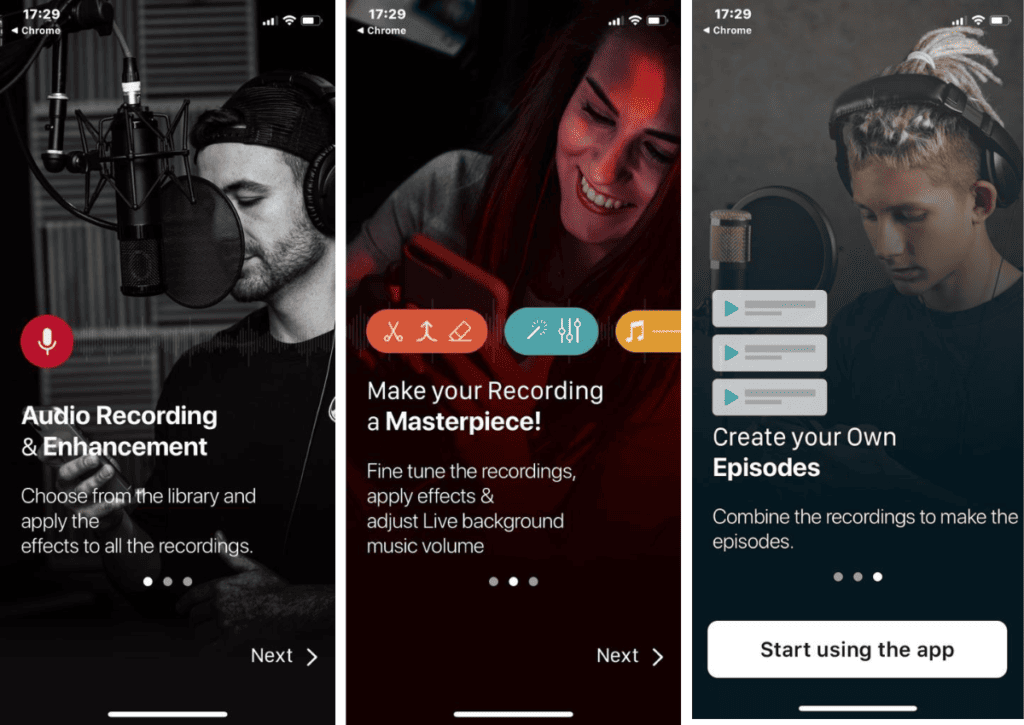 Next, you have a screen with a Settings gear icon at the top left and a Clips icon at the top right.
At the lower end, you get a big red recording button, an earphone icon that activates the feedback feature (earphones are required for feedback to work), a mic volume display, and buttons for Background Audio and Audio Effects.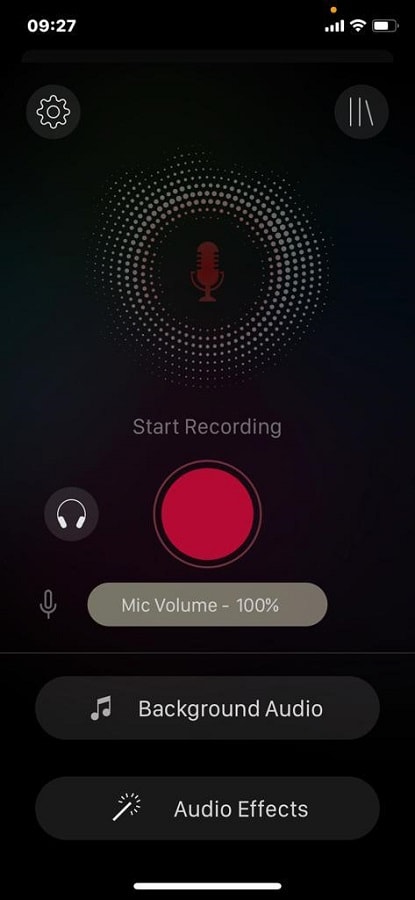 Recording with AudiOn
The app is intuitive; you only need to click the big red button to record. After recording, a preview of the recording starts playing automatically, and you may save, discard, rename, or edit the recording.
We love that there are flexible options for creating your final recording. For example, the tool allows you to select effects and equalizers even before making the recording.
Below is the after-recording screen.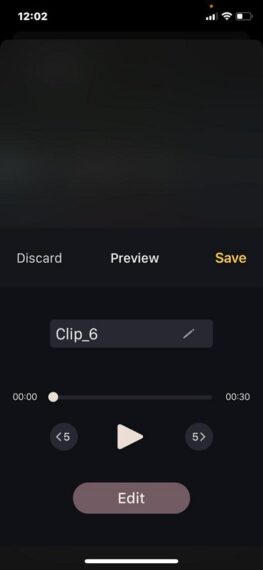 AudiOn iOS App Features
The AudiOn app bundles many features that allow you to capture your audio and seamlessly edit, trim, merge, and rearrange audio clips with precision. Below we share our thoughts on these features.
1. Background Audio
You can easily integrate background tracks into any AudiOn recording creating your desired ambiance for your episodes.
On installation, you get 10 background sounds to pick from. These are organized into 4 categories; Cheerful, Dramatic, Sad, and Electronic.
This may not seem so many, but what makes a huge difference is that AudiOn also allows you to import your own background tracks. So you could get as much as you want.
To use background audio, click the Background Audio button, then click the Select button on your preferred audio. After selecting an audio, you can adjust the music volume before recording.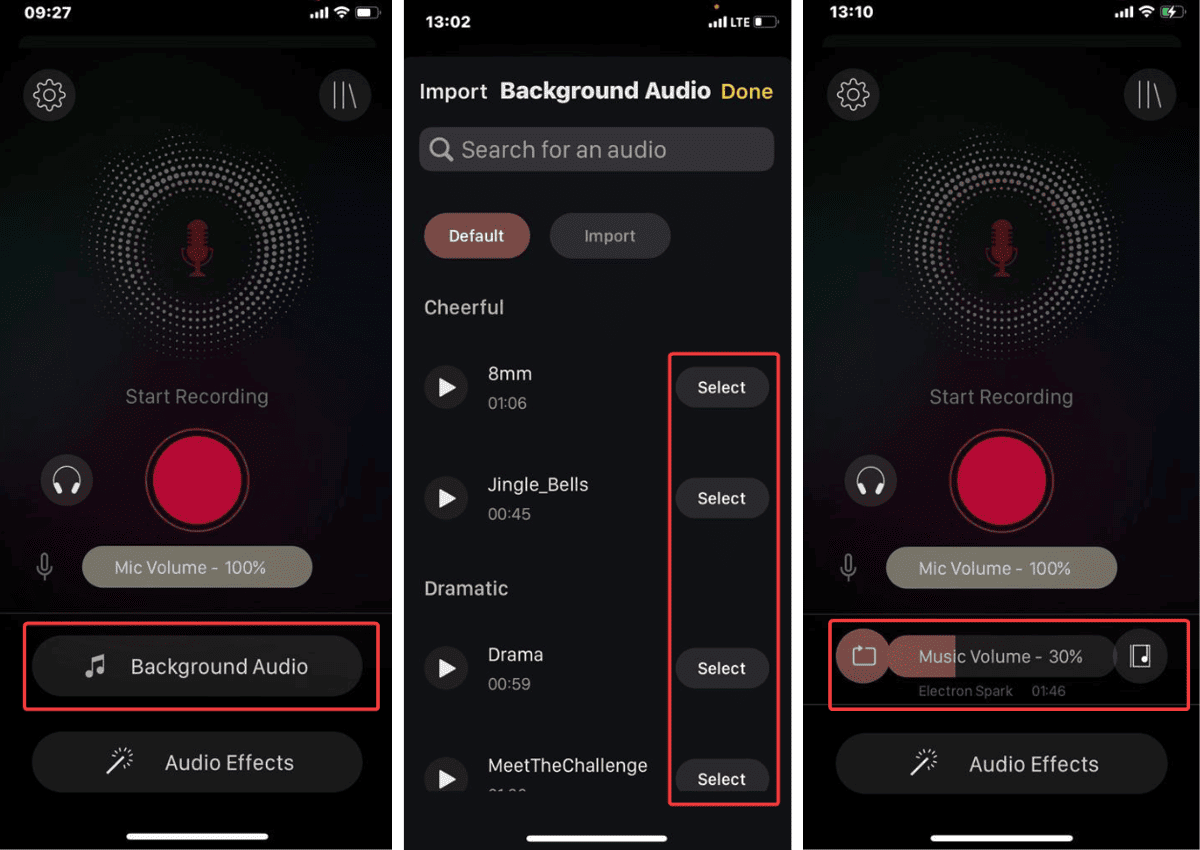 We recorded with background audio at 8%, and here is what it sounded like:
Recording with Background Music
2. Export option
The app comes with a decent set of export options. You will have a choice of any of the following formats: M4A (AAC), CAF (ALAC), FLAC (FLAC), WAV (LPCM), and AIFF (LPCM).
Also, it presents users with a range of sample rates, including 44.1k, 22k, 8k, Source, and 48k. These sample rate options are excellent for telephone calls, VoIP, VVoIP, digital video, and professional audio applications.
Once you have picked a format and sample rate, click the Convert button to prepare the file for export. You may then share or save the recording.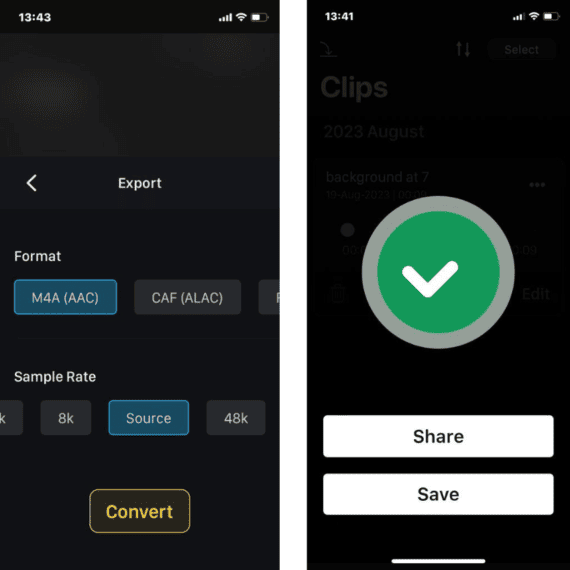 3. Recording Effects
The AudiOn recording app is loaded with effects like reverb, equalizer, speed, and pitch adjustments to create captivating content.
AudiOn Reverb
The reverb option includes Small Room, Medium, Large Room, Large Hall, and Cathedral effects, with the amount of reverb increasing as you move up the options. The difference in these options is shown as we stack the Small Room reverb against Cathedral reverb below.
Small Room Reverb
Cathedral Reverb
AudiOn Equalizer
The equalizer feature is equally impressive with the following options:
Deep: Our recordings with this setting boosted the bass frequencies and gave fuller sounds.
Vocals: In this setting, the midrange frequencies were boosted; we got clear and more pronounced vocals. This would be a good option to avoid attention being taken away from the voice.
Natural: In this setting, we did not experience any frequency embellishment, and the sound came out balanced.

Clarity: When we tried this option, it felt like higher frequencies were enhanced; we got a more detailed and brighter sound.
Standard: This option feels more like a default where you get balanced sound that will be easily adapted to different use cases.
Loud: Almost as expected, every frequency is boosted on this option to give a broader and louder effect.
Below is how each equalizer option sounded.
Deep
Vocals
Natural
Clarity
Standard
Loud
4. Editing Clips
AudiOn allows you to do basic editing on all clips. These operations may be carried out on in-app recordings or imported clips. Some editing effects could include updating equalizers or other effects like pitch and speed changes.
The available pitch options range over 10 semitones, from -5 to 5. This is adequate since going as much as 5 semitones below or above your original recording will be rarely needed. You also have a speed accommodation between 0.25 and 2.5.
Editing on AudiOn also includes a Skip Silence feature. This feature analyzes the audio file and skips parts with pauses or white noise.
5. Episode Creation
On AudiOn, episodes are merged clips and audio recordings. When merging these clips, you may use the Skip Silence feature to get rid of any awkward pauses. This gives your episodes a seamless and neat flow.
We also love that the process of creating episodes is straightforward. You simply click the Episode icon at the bottom of the screen, then click the plus sign. Next, name your episode and click on Create. Once you click on the newly created episode, you may add clips.
Once you are done adding clips, you may easily drag and drop them to reorder them. You can also include interludes and sound effects like applause, boring, boo, laughter, etc., or add background music. AudOn makes all these processes very intuitive.
6. Other AudiOn Features
Above, we have shared some of the major features that caught our eye, but we found some other cool quirks very interesting.
On the Settings screen options for Reminders, Add Siri shortcut, and Secure App with Lock are revealed.
The Reminder option will use a designated clip as your iPhone reminder for any time and date you choose. This works like the regular reminder on the phone, the only difference is that you customize the message with AudiOn.
The Add Siri shortcut allows you to prerecord a phrase for Siri. You will use this Siri command to trigger AudiOn to start recording automatically.
Lastly, you can lock the app so that only you can access all its recordings. This is a nifty security feature, especially if other people often pick up or use your phone.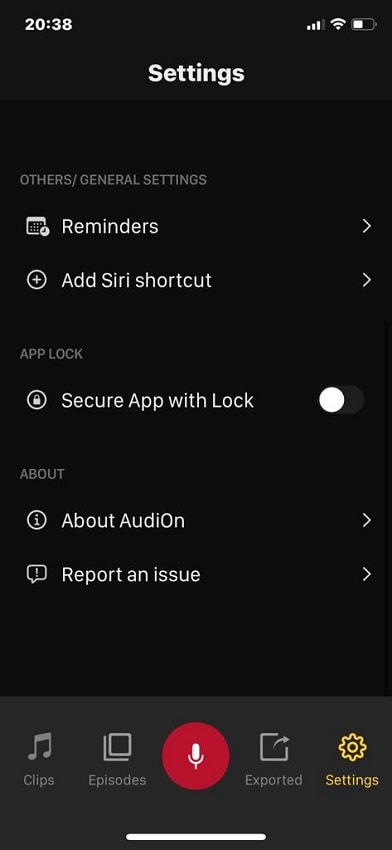 AudiOn Pricing
The app is free; however, you need a subscription to export your work. We especially love this because you may only commit to payment if satisfied with its results. The app offers numerous payment packages, including a lifetime plan shown in the table below:
| Subscription Type | Price |
| --- | --- |
| 1 Month Subscription | $1.99 |
| 6 Month Subscription | $4.99 |
| 1 Year Subscription | $7.99 |
| Lifetime Pack 1 | $14.99 |
What are the Advantages and Disadvantages of AudiOn?
Pros
Very intuitive user interface
Pre-set equalizer options make it easier for users less experienced in sound production
Easy trimming and editing features
It offers an extensive set of features without payment
The equalizer options give distinct recording customization
Cons
The free plan doesn't support exports
The 10 included background audio may not be sufficient
Rather than pre-set equalizer options, a mixer to set equalizer preferences will be preferable
Final Thoughts: Do we recommend AudiOn?
AudiOn will be a vital part of your tool repertoire for a content creator. Ramachandra Acharya, CTO of Global Delight said,
AudiOn is a quick and simple audio recorder app that is perfect for every podcaster, professional, and anyone who wants to record high-quality speech content. We aim to simplify audio recording to help people provide remarkable content to their target group of audiences.
While it is only expected for the owner of a product to give it a high recommendation, he is not far from the mark. We will proudly recommend it. Download it, and probably start free, then give us your thoughts. We love to know if you like it as much as we did.
Frequently Asked Questions
AudiOn is a voice recording application for iOS developed by Global Delight. It is a Freemium app available on the App Store for recording and editing audio on iPhone. AudiOn comes with features like background audio, equalizers, reverb effects, and seamless clip editing to improve the recording quality.
AudiOn is free to download from the App Store. However, while the app is free to use, you'll need a subscription to export audio recordings. There are various subscription plans available starting from just $1.99.
No, currently AudiOn is available only for iOS devices running on iOS 14.3 or later. It is not compatible with Android OS at the time of writing this review.
Yes, AudiOn comes with preset equalizer options, reverb effects, and other effects to enhance your recordings. Within the app, you can choose from features like deep bass, clear vocals, natural sound, and more. These will help you customize the recordings according to your preferences.
Yes, with the AudiOn Episodes feature, you can create podcasts by merging multiple audio recordings. You can leverage the "Skip Silence" feature to automatically remove pauses in audio clips to ensure a smooth flow.
To create an episode in AudiOn, click on the Episode icon from the bottom main menu, add clips, and reorder them as required. Additionally, you can include interludes, sound effects, and background music to make your episodes engaging and dynamic.
If you are subscribed to a plan other than Life Time Subscription, then the subscription ends after a certain period depending on your plan. You can still use the app once the subscription ends but you will be not able to export the audio files.
All your recordings are still accessible within the app and you can export them after renewing the subscription.
What we think about
AudiOn