Yesterday, we published the launch of ZenBook 13, 14 and 15 series laptops from Asus. Now, we have another launch from Asus in its ZenBook laptop lineup. However, these are the flagship ZenBook laptops from Asus named ZenBook Duo and ZenBook Pro Duo. As the name suggests, ZenBook Pro Duo is the more premium of two laptops in this Duo lineup.
Now, this lineup is named as Duo series because it comes with two screens. One of the displays is the traditional one that we see on every laptop and the second screen is in the other half of a laptop where the keyboard sits. Asus ZenBook Duo laptops have a keyboard beneath its second display.
Asus ZenBook Duo lineup with dual 4K displays unveiled
Talking about the ZenBook Pro Duo, we have two 4K displays on this laptop. However, this is not a foldable laptop by any means. Rather, we get two displays on either side of the laptop.
We have previously seen a touch bar on the Apple MacBook Pro which is an AMOLED strip for quick shortcuts and tasks. However, the ZenBook Pro Duos second display feels like a primary display too.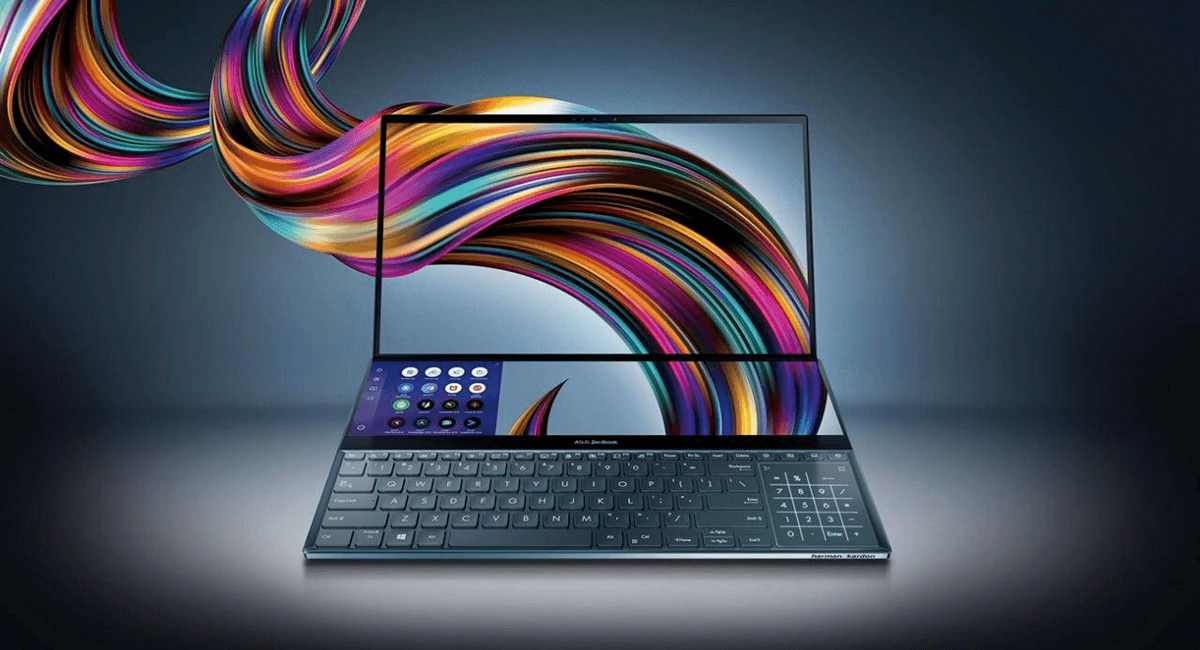 Asus gave a demo of the use-cases for the second display on ZenBook Pro Duo. And one of the use cases involves an on-screen piano which creators can use to create music.
Apart from that, you can also open a PDF file on the second display and write on the main display. All in all, the implementation of dual 4K displays is mostly aimed at creators for improved productivity.
Talking about those displays, Asus ZenBook Pro Duo comes with a 15-inch 4K display which is a 16:9 panel. The second display on Asus ZenBook Pro Duo is a 32:9 IPS screen with "ScreenPad Plus".
The keyboard on this models is a slightly redesigned one with the same width but much less height. This means that the trackpad had to be shifted on the side of its keyboard.
The most interesting part, however, is that you can set these displays to work as an extension of each other. So you can see the part which is left out from the main display on the secondary display in a seamless manner.
Obviously, both the ZenBook Duo laptops run on Windows 10 and come with up to Intel Core i9 processor. However, the laptop has a weight of 2.5kgs which is fairly hefty considering the less-than-2kg weight of today's 15-inch laptops.
Asus' ZenBook Duo will have a smaller 14-inch display and all other features remain the same. The company has not announced the pricing of these laptops yet. But they are expected to be available in the third quarter of 2019.