We have seen many phones coming up with Qualcomm's Snapdragon chipset. But have you ever wondered how it handles a computer? The company has taken the challenge and they made it possible.
Joining hands together with Asus, Snapdragon went on to powering a full-fledged laptop. The smartphone and laptop manufacturer has announced the arrival of the world's first gigabit LTE laptop running on Windows at Snapdragon Summit in Maui, Hawaii.
Asus NovaGo, World's First Gigabit LTE Laptop Launched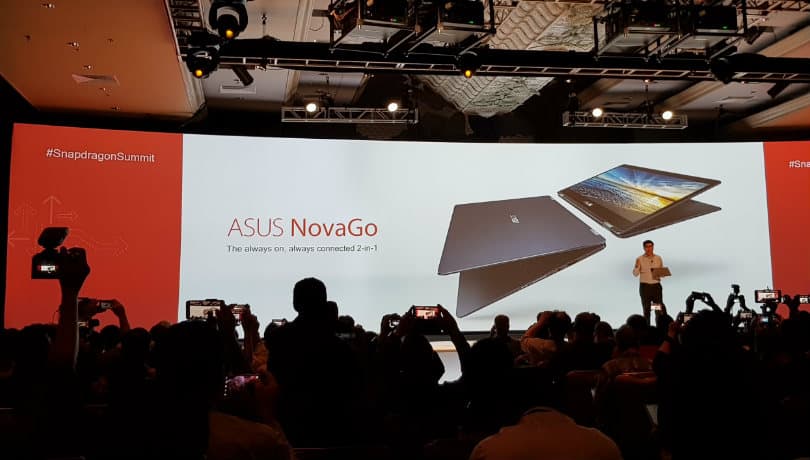 Laptops aren't an unfamiliar field for Asus given they already have many. However, a Snapdragon laptop is not only new to the company, but to the whole world.
Asus NovaGo sports a 13.3-inch full HD display. Given the small footprint, the user might not feel it bulky. Up front, you will also get a front-camera, which makes video calling possible. Like every other laptop, the keyboard has a touchpad near it, but covered by Glass. The company like to call it the Precision Touchpad.
The main highlight of the laptop is the chipset underneath. As stated earlier, it has got a Qualcomm Snapdragon 835 inside coupled with Adreno 540 GPU. You will have the option to choose either 64 GB/ 4 GB or 256 GB/ 8 GB storage/ RAM variants.
The Asus NovaGo is actually an always connected PC aka AC-PC, which Microsoft announced at the same event. The term implies a computer that offers prolonged battery life with a less powerful chipset (than most of the computers contain). Not to mention, it also represents a Windows PC using an Arm-based smartphone SoC. Considering the chipset inside, an always connected PC provides you with optimum performance without leaking much battery juice.
You might have already known Snapdragon 835 goes through 10 nm manufacturing process. That means, better performance and less power usage. NovaGo runs on a trimmed down OS from Microsoft named Windows 10 S. However, you can always upgrade it to Windows 10 Pro.
The chipset inside the laptop also contains an X16 modem, which can offer up to 1 Gbps of downloading speed and a 150 Mbps uploading speed.
Asus included a fingerprint scanner as a convenient unlocking method for the laptop. Moreover, they have gone generous in the number of ports and slots. You get two USB 3.1 Type-A, one HDMI ports, and one DC in along with an audio jack, a nano SIM slot, and a microSD card reader.
They haven't started selling the laptops yet. Nonetheless, announced price for the 64 GB variant is $599 (around Rs. 41500) and the 256 GB version is $799 (around Rs. 55200).