Asus is not an estranged company for a gadget enthusiast. They have been manufacturing laptops and computer innards for quite some time now. When it comes to smartphones, they may be new on the block with the ZenFone series (not as new as some of the Chinese brands, though).
When the power of the mobile processors touched the peak, the OEM came up with Rog Phone. Aimed at gamers, the lineup flaunts impressive specs and performance at fairly affordable prices. The latest into the list of products is a couple of laptops.
Asus ZenBook Duo UX481 and ZenBook Pro Duo UX581 Go Live in India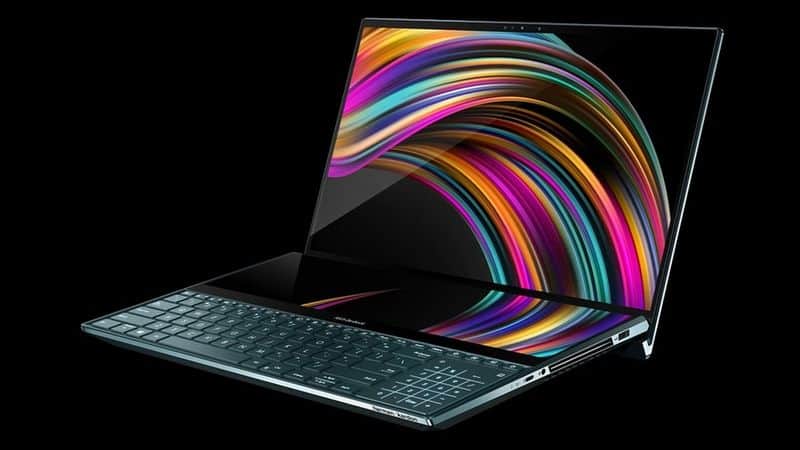 For a regular customer, the spec sheet doesn't matter. In case you are a power-hungry user with the need for ample resources, you should always be on the lookout for the features because low-end laptops don't run every program in the way you want it to. The new laptop duo from Asus isn't actually basic with regards to specs and pricing.
As for the specs, ZenBook Duo UX481 features a 14-inch full HD NanoEdge display. You will see only minimal bezels on all the four sides of the screen. And, it results in a 90 percent screen-to-body ratio. Going deep, you will find Intel Core i5 and i7 processors inside different variants. The graphic performance is powered by NVIDIA GeForce MX250 GPU with up to 2 GB GDDR5 VRAM. There are two RAM variants you can opt for; 8 and 16 GB. The secondary screen pad display measures 12.6-inch in size.
Akin to the previous one, ZenBook Pro Duo also comes in two processor variants; Intel Core i9-9980HK processor and Intel Core i7-9750H processor. Irrespective of the processor, every unit makes use of NVIDIA GeForce RTX 2060 GPU with 6GB GDDR6 VRAM. You can buy it in three different RAM options; 8, 16, and 32 GB. The display is a 4K OLED panel.
The pricing starts at Rs. 89990 for the ZenBook Duo and at Rs. 209990 for the ZenBook Pro Duo. Along with these, the brand also released ZenBook 13 (UX334), ZenBook 14 (UX434), ZenBook 15 (UX534), VivoBook S431, and VivoBook S532.
Launching these the Head of Consumer Notebooks and ROG Business, Asus India, Arnold Su said in a statement that the need for the industry to evolve with the changing times necessitated innovation. As one amongst the industry incumbent, they realized it was both an opportunity and responsibility for them to push the envelope, disrupt the status quo, and come up with a magnificent offering.