In the world of smartwatches, the most fierce competition right now is between the newest Apple Watch product: Series 4 and the latest Samsung product: Galaxy Watch.
Apple Watch 4 and Samsung Galaxy Watch Comparison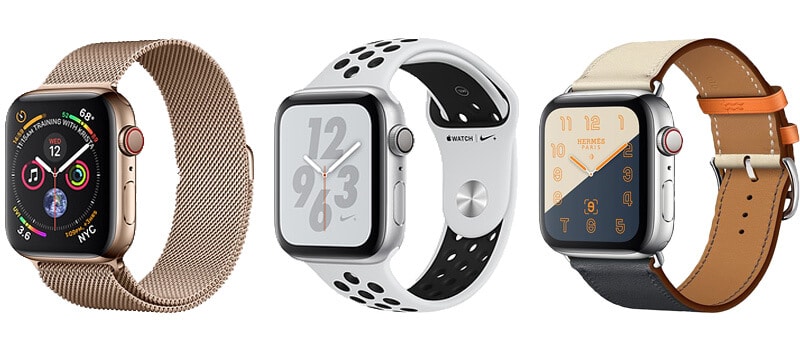 So if you're looking for a good smartwatch to buy in 2019, in this article, we'll draw a comparison between the two smartwatches so we can help you reach a conclusion on which one is more suitable for you.
1. Design and Display
Apple Watch 4:
The Apple Watch Series 4 comes in two sizes. The 40mm model has a 1.17-inch display and the 44mm one has a 1.5-inch display. It overcomes the challenge that all manufacturers face when making a watch and that is increasing the size of the display without increasing that of the case too much or reducing battery life.
The narrower borders that give you a 30% larger viewing area and LTPO display technology make it power-efficient and get you through the day.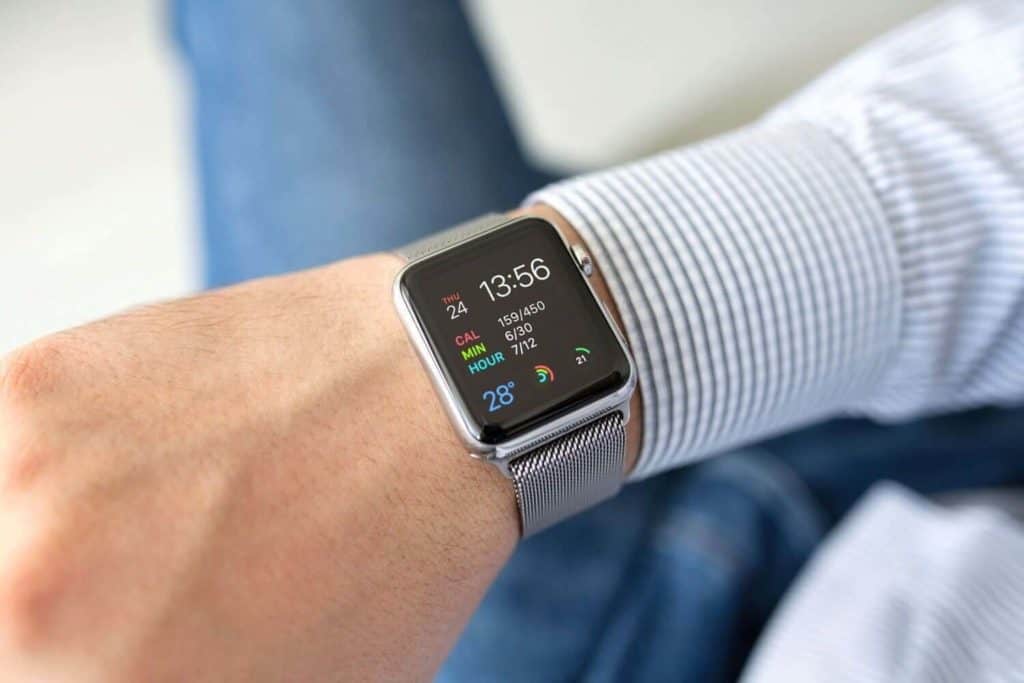 The watch has a Digital Crown that facilitates navigation through the apple watch without coming in the way of the display. And although it is about 30% smaller in size, it integrates 21% more components.
Samsung Galaxy Watch:
The Samsung Galaxy Watch comes in two sizes. One is 46mm and the other is 42mm. The former is available in silver while the latter is available in black and rose gold.
Both of them have an AMOLED display with a 360 x 360-pixel resolution with a slight difference in size as the 46mm's is 1.3 inches and the 42mm's is 1.2 inches. The display is generally sharp and vivid, so it's fun to check and easy to read even in direct sunlight.
Both models have a nice look that would go well with any attire, either formal or casual. The matte-black finish of the bezel also adds some classiness to it. It's easy to use and intuitive, providing you with smooth navigation through apps and notifications.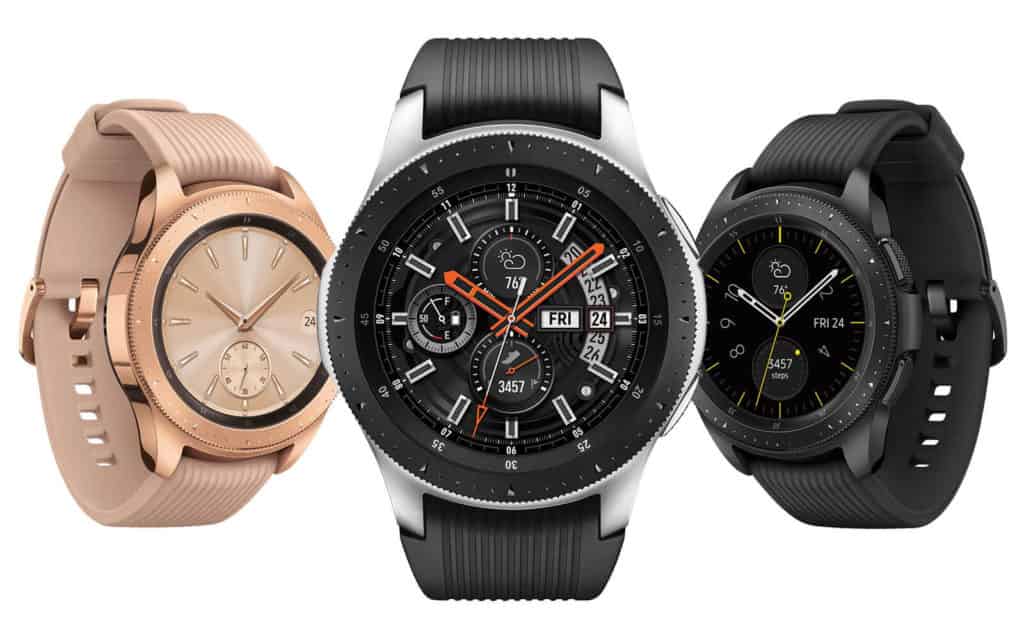 The 2 textured rubber buttons are easy to find and use, the top button is a back button and the bottom one serves as a home button.
Winner: The Apple Watch Series 4
2. Durability and Build
Apple Watch Series 4:
The Apple Watch Series 4 is made of durable aluminum or stainless steel. It's also water-resistant up to 165 feet, so you can hop into the pool or in the shower without worrying about damaging it. The only customization you can bring to the Series 4 is by changing the clock faces as the straps are not interchangeable.
Samsung Galaxy Watch:
The silicone strap of the Galaxy Watch makes it durable and comfortable. You can submerge it up to 165 feet without inflicting damage on it as it's water-resistant.
It is MIL-STD-810G-certified which means it will withstand drops, extreme changes in temperature, dust, and high altitudes. You can switch the strap with any standard 22mm one for extra customization with many available watch faces.
Winner: The Samsung Galaxy Watch
3. Fitness and Health Features
Apple Watch 4:
The Apple Watch Series 4 automatically detects different workouts including yoga and hiking. Keeping track of your progress while displaying 5 metrics at once including distance walked and calories burned.
It has 3 rings that motivate you to exercise, stand, and move more and sends you reminders to make progress and close them.
It also offers head-to-head competitions, activity-sharing, personalized coaching, monthly challenged, and achievement rewards to encourage you to be more active.
With both an electrical and optical heart rate sensor, the Series 4 will accurately monitor your heart-rate and notify you of any irregularities that last for more than 10 minutes.
The Apple Watch Series 4 has detailed sleep-tracking as it shows you how long you've spent in each sleep stage including REM, light, and deep sleep.
The watch is also capable of detecting if you've fallen down and are unable to get up and sends an Emergency SOS as a consequence.
Samsung Galaxy Watch:
You can track up to 39 different workouts with the Samsung Galaxy Watch including cardio, circuit training, and weight training. It automatically recognizes and records walking, running, and cycling once you start the activity.
Even though it doesn't track all weightlifting exercises, it is capable of detecting the more common ones like bench presses, shoulder presses, deadlifts, and arm curls. It logs the number of sets and the reps per set as well.
The built-in altimeter and barometer enable it to detect changes in pressure and altitude so it counts the number of steps you've climbed throughout the day.
The heart sensor monitors your beats per minute and notifies you when they rise above or fall below a specified threshold. It also provides you with guided breathing sessions to regulate them along with your breath and help reduce stress. This also enables it to detect sleeping patterns and analyze your sleep stages in terms of quality and duration.
Winner: The Samsung Galaxy Watch
4. Smart Features
Apple Watch 4:
Every inch on the Series 4's screen is utilized and gives you plenty of information. This includes an index for Air Quality, Ultra violet rays, heart rate, activity, music, workout, breath, and weather. It also has a Walkie Talkie feature that you can enjoy with other Apple Watch owners.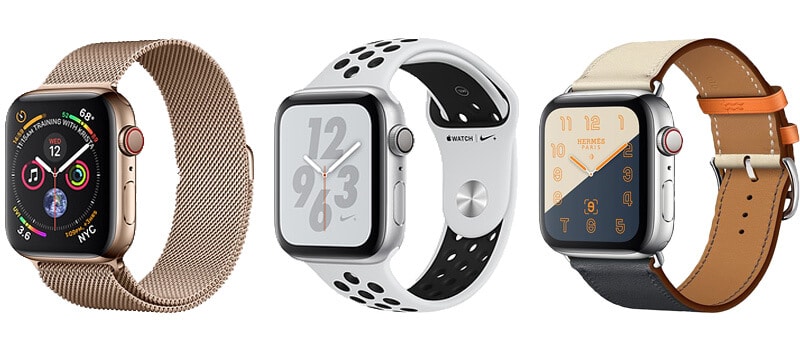 The calls are made clearer as the microphone was relocated to the opposite side to reduce echoes and the speakers were made 50% louder, larger, and more powerful. Apple has really developed the WatchOS 5 that runs the Apple Watch.
They also introduced a raise-to-speak movement for Siri which can be really handy in situations where your hands are too busy or too sweaty to interact with the touchscreen.
Samsung Galaxy Watch:
Receive and send phone calls, send text messages or voice dictations (through the Bixby virtual assistant that replaced S Voice) with clarity thanks to the built-in microphone and speakers.
It also integrates NFC technology that allows you to make online. You'll easily sort out your day with the "My Day" feature that shows you all the events, meetings, and plans you have for the next 10 hours.
Saving the best for last, we listed the IoT (Internet of Things) feature at the bottom.
This technology allows you to turn your Galaxy Watch into a home automation hub by connecting all the compatible smart appliances and controlling them from your wrist. This includes air conditioners, TVs, and vacuum cleaners that you can program according to your activity and sleep patterns.
5. Performance
Apple Watch 4:
The processing speed of the Apple Watch Series 4 is simply out of this word. Thanks to the S4 chip and System in Package (SiP) technology, it is able to pack a very powerful system with a lot of technologies into a single component.
Its fourth-generation CPU is twice as fast as rival processors and leaves you with no lag or slow performance as it boosts the speed of the responsiveness immensely.
Samsung Galaxy Watch:
Samsung's Exynos 9110 dual-core processor clocked at 1.15GHz gives you very fast performance and quick responses. While Tizen 4.0 OS makes the watch easy to use and is well-optimized for the rotating bezel that it has.
The Samsung Galaxy Watch comes with 4 GB internal storage, only half of which is usable, however. It's not that big, but good enough to store a couple of your favorite songs, some photos, and download some apps via the Galaxy App store.
Winner: The Apple Watch Series 4
6. Battery Life and Price
Apple Watch 4:
Unfortunately, the Apple Watch Series 4's battery life is one of the most disappointing things about it. It only lasts 18 hours and can be extended a couple of hours if you barely use it.
It is mostly compatible with iOS devices and will give you the best results if you pair it with one.
It may seem a bit overpriced, but you wouldn't get anything with the same technology it has to offer and the high-quality components and performance for a cheaper price.
Samsung Galaxy Watch:
The Galaxy Watch's battery would get you through around 3 to 4 days. You can get the watch in the Bluetooth-only version or the LTE one. The latter obviously being more expensive and more battery-consuming. But generally, the price of either model doesn't seem too much when you put the things it has to offer in perspective.
You can pair your Samsung Galaxy Watch with Android or iOS devices, but you might miss out on some of Bixby health integration if you go for a non-Samsung device.
Winner: The Samsung Galaxy Watch
Verdict:
Factor
Winner
Design and Display
Apple Watch Series 4 (Buy)
Durability and Build
Samsung Galaxy Watch (Buy)
Fitness and Health Features
Samsung Galaxy Watch (Buy)
Smart Features
Tie
Performance
Apple Watch Series 4 (Buy)
Battery Life and Price
Samsung Galaxy Watch (Buy)
Both of these smartwatches are really high-value devices and will definitely make a difference in your everyday life.
The Samsung Galaxy Watch seems to overall beat the Apple Watch Series 4 as it perfectly combines every aspect you might look into. If you want a little bit of everything at an affordable price, it's definitely the one for you.
However, if you want insane precision mixed with high-end build and performance, nothing will suit you better than the Apple Watch Series 4.